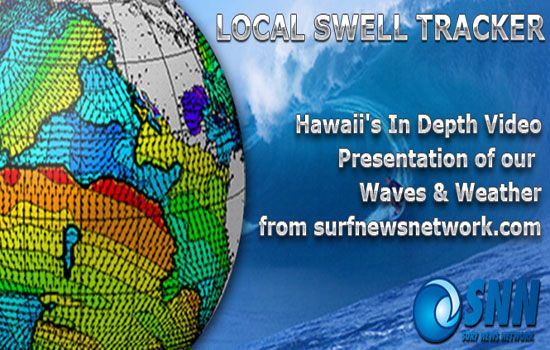 Sunday dawn. Note correction to Saturday's model output. It's GREAT news.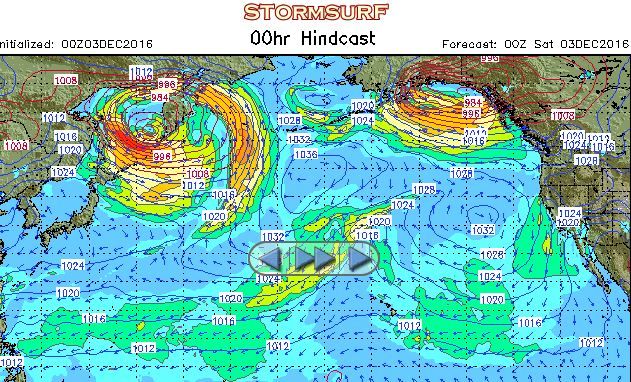 ww3 tho' hinted at a possible smaller reinforcement later Saturday the pulse surprised us all with some 8′ sets from the NW-NNW. Add in the light ESE and you're frothin'. SNN.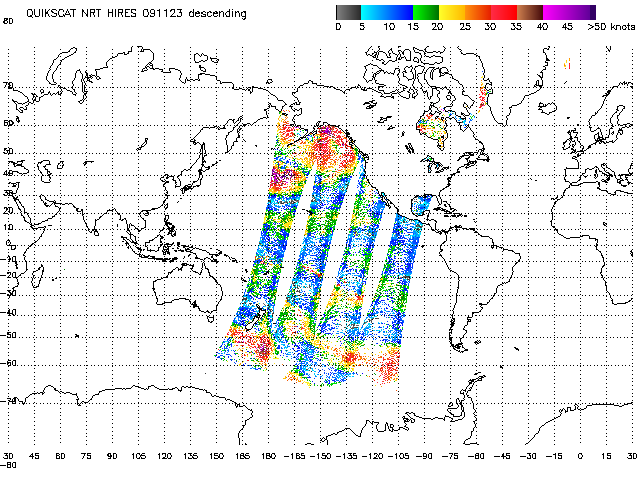 Note the RED Bulge 1000 miles to our NE (we sit at 20N). Those a real winds not models. Sometimes they don't line up.  SNN.
BIG PICTURE Saturday 12.3.16
NPAC
The Jet has split to our NNW but luckily a deeper trough Jet shaped up off Japan again. To our NE over 1500 miles sits a 1034 High which has until today had our trades ramped up to Gales off and on. Thus the large trade swells for days, even weeks on end. By Sunday the Jet is super weak for a couple days hinting of a short break in swell production after the Dec 7-9th episode (below). By Tuesday she's trying to come our way of Japan but ends up having some trouble extending and consolidating which allows for the formation of Lows and a closer track toward Hawaii. By Sat Dec 10th it looks like we might get more outta this large upper air current flowing west to east about 30,000 feet up.
Today it went off. Original WW3 estimates pegged this event near warnings; tho' we did see some 10' local scale WNW-NW sets at sunset beach for the Vans World Cup. This will fade from the NW at 14 sec Saturday in the 4-7' range (~12' faces or 2.5X overhead). It'll be smaller later in the day as they finish day 3. This swell came from some 55-65kt winds in a wide fetch but it sent plenty to our NE. Seas hit near 30' but 2000 miles off so lotsa swell decay (about 50% per 1000 miles) and so it was to be….7-8' swell at 16 sec translating into 12-18' wave faces centered on 315. The other feature besides being the best direction for Sunset were the East winds blowing offshore, brisk at times for sure. Love those rooster tails on the west bowl.
#1 Friday a large storm tries to come off Japan/Kurils but much of the Low stays land bound centered in the Sea of Japan. A decent fetch with weaker winds points our way by Saturday the 3rd as the system tracked east. I thought models were running hot on this last weekend as they're calling for 10' swell at 14 sec Thursday Dec 8th. Sure enough, it now looks like a 5' NW swell at 15 sec for Wednesday or 5-7' surf. Either way it will certainly get heats out at Pipe day 1 of the holding period Dec 8-20th.
#2 We have some strange stuff going on thru mid week with Japan storms tracking North and one off to our NE tracking N as well. Right now models hint of a 4' 15 sec NW Sunday the 11th or 4-6' surf. I'd give it 65%.
#3 By Friday Dec 9th we have 2 Lows spawned, one off the Kurils that morphed from the prior storm and one 1200 miles NE. Models may be running hot on this too for the 12th. But GFS seems sure it still could happen. Just too early for confidence.
#4 GFS (Global Forecast System) hinted just a day ago that a large Low near the Aleutians Tuesday the 13th could deliver warning level NW. I figured WW3 was way overcalling it. Often the further out you go this occurs. I pegged a 35% chance yesterday and zero chance today. Indeed, the Pipe Masters will not likely get classic waves this year. The best surf will be from the 7th till the 8th or days and after that it's a marginal trend at best. Let's hope and pray for a pattern change.
SPAC
The Jet was semi decent for this late in the season but now it is weak and broken. So, there's little chance of swell generation in the next 7 days. We had one week old low on the charts hugging NZL (below) and thus the SW this week.
Indeed the past couple weeks we've had tiny back ground Taz swells or SW angles mixing with SE Trade wrap. It's been pretty bad but rideable. Last, Sunday we saw another pulse of 16 sec SW getting us up to chest high but the very East Trades has made it chunky side shores.
Then this past week thanks to the above Taz source tracked east over the south Island of NZL getting to just off the east coast Monday the 21st Thus, we got more typical SSW energy Monday the 28th thru Wednesday the 30th. Some 1-2.5'(waist-chest) maybe 3' at top spots/sets as buoys read 1.5' swell at 15 sec.
Another low just SE of NZL rolls ENE Tuesday-Thursday added to the event and keeping surf in the same zone of up to shoulder high into Friday. It tries to hold but slowly fades over the weekend.
#1 A Taz Storm spawned Thursday the 24th into Saturday. WW3 says 1' 15 sec Dec 1st only. This would mean 2' surf. Not bad for December.
#2 The storm above is expected to just breach the east coast of NZL Monday the 27th Add a week and presto: more of the same small waist to chest SSW at 15 sec around Monday Dec 4th declining from Thursday. After this say goodbye for 2 weeks (Wed Dec7-21st). If anything pops we'll print.
Trade Swell
It's been solid 4' all week (the past 2) with some higher sets off and on and it's going to fade this weekend. This is due to the High N to NE tracking east. But prior the upstream trades have been up to 800 miles long and thus the longer 9-10 sec windswell. This is why even tho' Trades backed down Friday we still had 4' at Makapu'u. Watch for small windwaves for awhile or at least till next weekend of the 10th.
The Tropics
So far they're nothing forecasted on Hawaii for the next week or so.
Surf Advisory and Warning Criteria
Location/shoreline Advisory Warning
North-Facing Shores- 15 Feet faces (8′ Local) 25 Feet faces (15′ local)
West-Facing Shores – 12 Feet (7′ local) 20 Feet (12′ local)
West-Facing- Big Is. – 8 Feet (4'+ local) 12 Feet (7′ local)
East-Facing Shores- 8 Feet (4+ local) 15 Feet (8' local)
Tropical Storm – winds 39-73 mph (34-63 kt)
Category 1 – winds 74-95 mph (64-82 kt)
Category 2 – winds 96-110 mph (83-95 kt)
Category 3 – winds 111-130 mph (96-113 kt)
Category 4 – winds 131-155 mph (114-135 kt)
Category 5 – winds 156 mph and up (135+ kt)
Please visit the Central Pacific Hurricane Center website at www.weather.gov/cphc for the most recent bulletins.
Hurricanes
Andres,Blanca,Carlos,Dolores,Enrique, Felicia,Guillermo Hilda Ignacio Jimena Kevin Linda….Marty Nora Olaf Patricia Rick Sandra…..Terry Vivian Waldo Xina York Zelda
• Tropical Storm – winds 39-73 mph (34-63 kt)
• Category 1 – winds 74-95 mph (64-82 kt)
• Category 2 – winds 96-110 mph (83-95 kt)
• Category 3 – winds 111-130 mph (96-113 kt)
• Category 4 – winds 131-155 mph (114-135 kt)
• Category 5 – winds 156 mph and up (135+ kt)
ENSO is a single climate phenomenon, it has three states, or phases. The two opposite phases, "El Niño" and "La Niña," require certain changes in both the ocean and the atmosphere because ENSO is a coupled climate phenomenon.  "Neutral" is in the middle of the continuum. The MJO (Madden-Julian Oscillation) is an eastward moving disturbance of clouds, rainfall, winds, and pressure that traverses the planet in the tropics and returns to its initial starting point in 30 to 60 days, on average, unlike ENSO which is stationary. In a nutshell, more active means more surf.