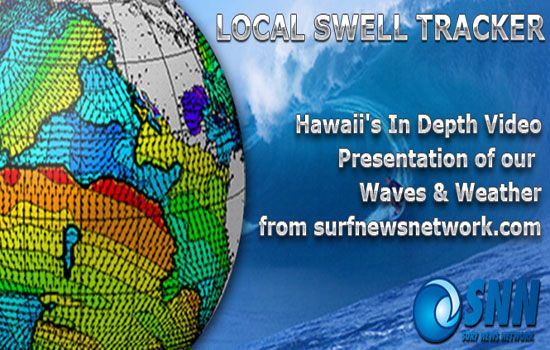 BIG PICTURE  Monday 9.12.16
The Country (all NW shores) are now trading places for dominant surf size but the Taz and East Coast of NZL are not giving up so easily. After a long period of semi mediocre swell we finally light up in Paradise for a week straight.  
NPAC
The transition into fall continues as the Jet solidifies and drops in latitude. The first swell we get this week comes from a Low that deepened on the dateline last Friday centered about 1500 NW. Due to the slow ENE track and broad fetch of 40 kts this one should last 3+ days peaking solid 6' from the NNW Tuesday toward midday dropping to 5' Wednesday, 4' Thursday and 3' Friday when the next longer period NW pops the buoys. Trades will make it good.
This storm creeps East off Kamchatka Monday with its center tracking along the Aleutians and long wide fetch off its SW flank. The fetch is a nice direct hit Monday-Wednesday then Thursday it points most the energy off to our NE. Winds are stronger than the last Low but the system is further so swell decay will limit us from seeing 10' surf. This 5-7' NW is peaking Saturday; the event will be filling Friday afternoon to 3-5' with 18 sec forerunner;  after Sat. peak it should last 4-6' Sunday morning, 4' Monday…
Nothing worth noting after these 2 other than a 2-3+ NW around the 23rd.
SPAC
            A powerful Low in the Taz last Tuesday the 6th grew 30' seas with 50kts. The buoys are feeling 18 sec forerunners today Monday and take a solid day and a half to fully fill. The storm moved off NZL and will add to SSW to the SW. The peak on Wednesday should be 2-4' with long lulls esp. Tuesday. Thursday should still have some 2-4' sets and trades. Nice.
 Next in line is whopper low moving East from under NZL Tuesday the 13th with more reinforcement by Wednesday. The issue is the storms zonal or west to east track. Thanks to swell dispersement of its broad area of 30' seas we'll should see some fun 2-4' SSW surf by Wednesday the 21st. Forerunners will be 18 sec Tuesday with lully 3' surf. (Southern Chile will hit 12-18' easy by the 20th due to the captured fetch and storm track.
We go into a slow pattern after this.
 Tropics and Trade Swell
          Trade swells are average most this week with average trades. Then Friday there's a ramp to solid 3' due to the High NW of us tracking east just 1200 miles off.
Hurricane #15 Orlene is a few hundred miles off the south tip of Baja and is tracking our way. Right now models show it becoming an issue for Hawaii but it's too long range to claim, but at least an early heads up. If model fantasy plays out a warning level ENE hurricane swell will move in and peak Wednesday the 21st with swells of 8' 12 sec which will refract and shoal up some 5-8' surf along windward. Early forerunners could reach us as early as Monday the 19th. Needless to say it's been an active season which lasts through Nov. The Hurricane machine may shut down as some models suggested a while ago. But clearly this one's showing whose boss: Mother Nature.
Surf Advisory and Warning Criteria
Location/shoreline Advisory Warning
North-Facing Shores- 15 Feet faces (8′ Local) 25 Feet faces (15′ local)
West-Facing Shores – 12 Feet (7′ local) 20 Feet (12′ local)
West-Facing- Big Is. – 8 Feet (4'+ local) 12 Feet (7′ local)
East-Facing Shores- 8 Feet (4+ local) 15 Feet (8' local)
Tropical Storm – winds 39-73 mph (34-63 kt)
Category 1 – winds 74-95 mph (64-82 kt)
Category 2 – winds 96-110 mph (83-95 kt)
Category 3 – winds 111-130 mph (96-113 kt)
Category 4 – winds 131-155 mph (114-135 kt)
Category 5 – winds 156 mph and up (135+ kt)
Please visit the Central Pacific Hurricane Center website at www.weather.gov/cphc for the most recent bulletins.
Hurricanes/T-Storms so far….
Andres
Blanca
Carlos
Dolores Enrique Felicia
Guillermo Hilda Ignacio Jimena Kevin Linda
Marty Nora Olaf Patricia Rick Sandra
Terry Vivian Waldo Xina York Zelda
Hurricanes/T-Storms so far….
Andres
Blanca
Carlos
Dolores Enrique Felicia
Guillermo Hilda Ignacio Jimena Kevin Linda
Marty Nora Olaf Patricia Rick Sandra
Terry Vivian Waldo Xina York Zelda
• Tropical Storm – winds 39-73 mph (34-63 kt)
• Category 1 – winds 74-95 mph (64-82 kt)
• Category 2 – winds 96-110 mph (83-95 kt)
• Category 3 – winds 111-130 mph (96-113 kt)
• Category 4 – winds 131-155 mph (114-135 kt)
• Category 5 – winds 156 mph and up (135+ kt)
Surf Advisory and Warning Criteria
Location/shoreline Advisory Warning
North-Facing Shores- 15 Feet faces (8′ Local) 25 Feet faces (15′ local)
West-Facing Shores – 12 Feet (7′ local) 20 Feet (12′ local)
West-Facing- Big Is.- 8 Feet (4'+ local) 12 Feet (7′ local)