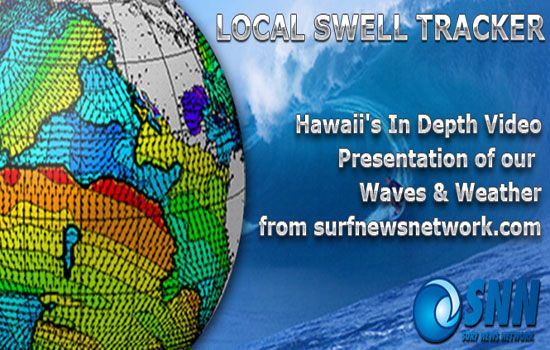 5AM BUOYS….NW 12′ 19 WEST (275), HANALEI 5′ 20 (309), WAIMEA 4′ 20 (309). RISING A COUPLE FEET PER COUPLE HOURS. DAWN HAD SOLID THICK 6′. SNN.
BIG PICTURE  Friday 1/13/17

NPAC
The Jet is long low and consolidated off Japan and ends up reaching all the way to the west coast over the next week. Thus, plenty surf in the forecast.
#1 The gorgeous 15 sec NW on Thursday up to near 10' at Sunset and 8' at Pipe from a compact ENE tracking Low on the dateline last Monday-Tuesday. It had 40-50kt pockets and 20+ seas. We ramped first 4 hours as dawn was considerably smaller. Conditions were epic with variables to SE. Some seabreeze did kick in but Da Hui Shootout still scored.
#2 A much bigger WNW (290-310) is building all day Friday peaking near 20' around 8pm after dark. A Low off Japan was spawning Sunday the 6th and really grew by Monday-Tuesday with some 55-65kts and 30' seas nearly 2500 miles out.  The center tracked ENE for a spell but it produced a broad fetch. As the system elongated there was some captured fetch into Wednesday that nosed closer to us tho' winds were weaker. 22 sec forerunners 'popped' on Waimea around 5pm. With more 20 sec reading in the morning about 8am. Around noonish surf should really ramp dangerously fast with 18 sec of 6+' swell building to over 12' 'swell' after dark. Surf could crack outer reefs by noon pending shadowing. A 6' 18 sec open ocean swell can easily refract and shoal 10' even 12' surf at Sunset and Pipe. Lotsa water will be spilling over, outracing Thursdays declining episode. The limiting and confounding factor will be the degree of shadowing from Ni'ihau and Kauai which block from up to 294 degrees. Best to error on the overcall since danger is higher on swells of this magnitude. The long fetch means we'll have a longer than normal event with surf cranking 15+' Saturday dawn. Wrap should make it to town's select reefs.
#3 This Sunday the 15th yet another 'large and in charge' storm moves east off Japan in the same region as the prior fatty. It's another Super west with near hurricance force and 30+ seas moving our way. It's spreads in wings about 1000 miles around reaching the dateline Monday. Tuesday it tightens up as it reaches 170 longitude or under 1200 away. The track is fast and by Thursday its half way to the NW coast. Still, WW3 predicts a building warning level WNW Wed the 18th into Thursday in the 12-18' range again. It's too early for confidence but not too early for a big heads up. None of these 2 WNW swells are near big enough or peaking properly for the Eddie Aikau.
SPAC
The Jet down under has been useful as of the last couple weeks, troughs pointing our way for out of season SSW's. The last one reached 4' solid. The Taz sea has seen the most energy in the Jet but some flow has been getting out beyond. In fact, the next 'meridional' flow (opposite of zonal or west to east) happens Friday the 13th for a short time.
Recently (1&2): what a fun out of season run of SW to SSW events…esp with the light winds (not including seabreezes). The recent above average run came from 2 sources. One was south of us early January and the other was off the east coast of NZL for a SSW. We still had solid 3' Thursday even plus' but both is fading. Surf goes into hiding next week until a large but zonal Low is moving fast across the Taz this weekend into Monday. Don't expect much as the track is not good. The storm was large and powerful so we can look for 1' open swell at 18 sec the weekend of the 21-22nd. This means 2' surf for us.
 Trade Swell
Wind swell has been minimal or 2' average from upstream trades. Local Trades won't be back till Tuesday and for sure by Wednesday we'll be back to the usual 10-20+.
The Tropics
So far they're nothing forecasted on Hawaii for the next week or so.
Surf Advisory and Warning Criteria
Location/shoreline Advisory Warning
North-Facing Shores- 15 Feet faces (8′ Local) 25 Feet faces (15′ local)
West-Facing Shores – 12 Feet (7′ local) 20 Feet (12′ local)
West-Facing- Big Is. – 8 Feet (4'+ local) 12 Feet (7′ local)
East-Facing Shores- 8 Feet (4+ local) 15 Feet (8' local)
Tropical Storm – winds 39-73 mph (34-63 kt)
Category 1 – winds 74-95 mph (64-82 kt)
Category 2 – winds 96-110 mph (83-95 kt)
Category 3 – winds 111-130 mph (96-113 kt)
Category 4 – winds 131-155 mph (114-135 kt)
Category 5 – winds 156 mph and up (135+ kt)
Please visit the Central Pacific Hurricane Center website at www.weather.gov/cphc for the most recent bulletins.
Hurricanes
Andres,Blanca,Carlos,Dolores,Enrique, Felicia,Guillermo Hilda Ignacio Jimena Kevin Linda….Marty Nora Olaf Patricia Rick Sandra…..Terry Vivian Waldo Xina York Zelda
• Tropical Storm – winds 39-73 mph (34-63 kt)
• Category 1 – winds 74-95 mph (64-82 kt)
• Category 2 – winds 96-110 mph (83-95 kt)
• Category 3 – winds 111-130 mph (96-113 kt)
• Category 4 – winds 131-155 mph (114-135 kt)
• Category 5 – winds 156 mph and up (135+ kt)
ENSO is a single climate phenomenon, it has three states, or phases. The two opposite phases, "El Niño" and "La Niña," require certain changes in both the ocean and the atmosphere because ENSO is a coupled climate phenomenon.  "Neutral" is in the middle of the continuum. The MJO (Madden-Julian Oscillation) is an eastward moving disturbance of clouds, rainfall, winds, and pressure that traverses the planet in the tropics and returns to its initial starting point in 30 to 60 days, on average, unlike ENSO which is stationary. In a nutshell, more active means more surf.