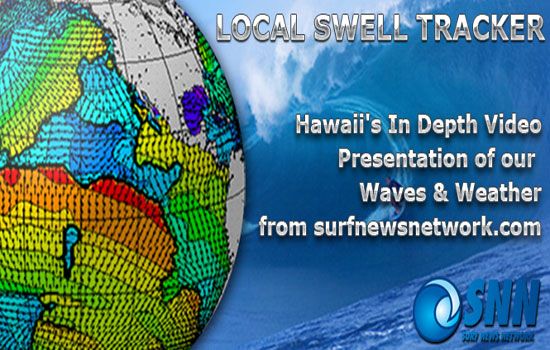 See Chart Below for the 'Travel Time' Buoy 51101 to Waimea Buoy
BIG PICTURE 2017: Update for Tuesday, Aug 8
NPAC: The Jet is still very weak and disorganized with little to no chance of ground swell from the typical WPAC to Central Pac zones. There are minor troughs (dips) to our North-NE into Friday leading to barely noticeable 1' NNW events Thursday 10th and Sunday the 13th.
#1 Recent:  Basically 1' wind wrap and barely rideable surf off and on at Laniakea etc.
#2 Last: We could see some tiny 2' WNW surf @  12 sec popping buoys 21-22nd but this is scratching. Keep you posted.
SPAC:
Same ole… south branch of the split Jet is far down there near the Ross Ice shelf and zonal or west to east.  Plus, with our blocking Highs keep moving in from the West. So, down under leaves us with a relatively poorly positioned jet stream/surf outlook for 'significant' surf.
#1 Recent: We've seen some SW and SSE swell recently and esp. last weekend it got to 4' from the mix. Background fading 12 sec surf today keeps up chest highs at top reefs off and on.
#2 Next: A small storm south of French Polynesia will push up some minimal 3' surf at 14 sec this Saturday/Sunday (filling all day Friday 8/11 with 15 sec forerunners). Good thing the proximity of the storm is about 1200 miles closer than the usual zone SE of NZL. The event should last 2-3 days. The American Samoa Buoy did start popping earlier today 14-17 sec from the SSE (due to swells bending out from source. It takes near 4 days to work its way to our buoys. Watch the West, SW and SE buoys to 'pop' mid Friday with 15 sec allowing a slow rise esp. midday into evening.
#3 Next: A more powerful but zonal tracking Low far SE of New Zealand might bring us some more 3' SSW surf at 15 sec veering South thru the event from Tuesday-Wed. 8/15-16.
Last: We have to wait awhile and nothing over 3' is in the 14-day outlook. Possible small SSE and SW events near Sat the 19th.
TRADE SWELL
Trades swell have backed off some but reassert Wednesday 8/9 as trades ramp to fresh through the weekend. It's 2+'surf Tuesday at 8 sec along Windward shores. We're looking at 3' midweek-weekend at least.
TROPICS: Hurricane season began June 1st-Nov 30th. Tropics are neutral for Hawaii until about the 15th when models show a Low tracking west under Baja. Way too early for specifics.
The Central Pacific Hurricane Center outlook for the 2017 Central Pacific Hurricane Season calls for 5 to 8 tropical cyclones to either develop or cross into the Central Pacific with a 40% chance for an above-normal season, a 40% chance for a normal season, and a 20% chance for a below-normal season. An average season has 4 to 5 tropical cyclones, which include tropical depressions, tropical storms, and hurricanes.
Tropical depression forms when a low-pressure area is accompanied by thunderstorms that produce a circular wind flow with maximum sustained winds below 39 mph. An upgrade to a tropical storm occurs when cyclonic circulation becomes more organized and maximum sustained winds gust between 39 mph and 73 mph. A tropical storm is then upgraded to Category 1 hurricane status as maximum sustained winds increase to between 74 mph and 95 mph. (The highest classification in the scale, Category 5, is reserved for storms with winds exceeding 156 mph).
Right now we have Tropical Storm (TS) Nanmadol approximately 163 nm east-northeast of Taipei,
Taiwan, and had tracked at 14 knots over the past six hours (As of 3 pm Monday 7/3. Maximum sustained surface winds were estimated at 50 knots gusting to 65 knots. We are not expecting swell from this region.
There are 3 disturbances in the East North Pac…1st, by Mexico 625 miles south of the tip of Baja. The other 2 have 0 chance of becoming more than a depression.
Tropical cyclones go by many names around the world, and the terminology can get confusing. Once a tropical cyclone strengthens to the point where it has gale-force winds—39 mph or greater—it becomes a tropical storm. A storm that reaches tropical storm strength usually gets its own name to help us quickly identify it in forecasts and warnings. Once a tropical storm begins producing sustained winds of around 75 mph, we call the storm a typhoon in the western Pacific near Asia and a hurricane in the oceans on either side of North America. A "typhoon" and a "hurricane" are the same kind of storm, they just go by different names…it's only a matter of geography.
Shoaling is the effect by which surface waves entering shallower water change in wave height (or grow) due to speed change (or slow down). Wavelength is reduced when going from deeper to shallower. The 'energy flux' must remain constant (nature's liquid law) so the reduction in wave group (transport) speed is compensated by an increase in wave height (and thus wave energy density). Yeah, I know…waves are complex AND amazing.
Refraction is the change in direction of waves that occurs when waves travel from one medium to another or depth change. Refraction is always accompanied by a wavelength & speed change. Diffraction is the bending & spreading of waves around obstacles ('reefs' and openings).
High Surf Advisories & Warnings NWS criteria below in coordination with Hawai'i civil defense agencies & water safety organizations.
All surf height observations & forecasts are for the full face surf height, from the trough to the crest of the wave.
Advisory and Warning Criteria

| Location | Advisory | Warning |
| --- | --- | --- |
| North-Facing Shores | 15 Feet | 25 Feet |
| West-Facing Shores – Big Island | 8 Feet | 12 Feet |
| West-Facing Shores – Remaining Islands | 12 Feet | 20 Feet |
| South-Facing Shores | 8 Feet | 15 Feet |
| East-Facing Shores | 8 Feet | 15 Feet |
'Travel Time' Buoy 51101 to Waimea Buoy
Distance: 269 nautical miles (~310 miles)
Angle: 307 deg
Wave   Wave        Wave   Depth      Wave Direction (deg)———-
Period  Length      Speed  Shallow   295,  305,  315,  325,  335,  345,  355
(s)       (ft)    (nm/h)  (ft)                  Travel Time (hours)———-
10sec. 512.  15.        256.                   17.3, 17.7, 17.6, 16.9,  15.7,   14.0,   11.9
12sec. 737.  18.        369.                  14.5,  14.8, 14.6, 14.0, 13.0,  11.6,  9.9
14sec. 1003. 21.      502.                  12.4,  12.7, 12.5,  12.0,  11.2, 10.0,  8.5
16sec. 1310. 24.      655.                  10.8, ,1 1.1,  11.0,  10.5,   9.8,   8.7,  7.4
18sec. 1658. 27.     829.                   9.6,    9.8,     9.8,   9.4,   8.7,   7.8,  6.6
20sec. 2047. 30.    1024.                8.7     8.9      8.8     8.4    7.8    7.0   5.9
22sec. 2477. 33.    1239.                 7.9     8.1       8.0     7.7    7.1     6.3   5.4
24sec. 2948. 36.    1474.                7.2      7.4      7.3     7.0   6.5     5.8    4.9
Tropical Storm – winds 39-73 mph (34-63 kt)
Category 1 – winds 74-95 mph (64-82 kt)
Category 2 – winds 96-110 mph (83-95 kt)
Category 3 – winds 111-130 mph (96-113 kt)
Category 4 – winds 131-155 mph (114-135 kt)
Category 5 – winds 156 mph and up (135+ kt)
Please visit the Central Pacific Hurricane Center website at www.weather.gov/cphc for the most recent bulletins.
ENSO (The El Niño-Southern Oscillation) is a single naturally occurring climate phenomenon with three states or phases. These involves fluctuating ocean temperatures in the equatorial Pacific. … When temperatures in the ENSO region of the Pacific are near average it is known as ENSO 'neutral', meaning that the oscillation is neither in a warm nor cool phase.The two opposite phases, "El Niño"(warmer than average) and "La Niña"(cooler than average) require certain changes in both the ocean and the atmosphere because ENSO is a coupled climate phenomenon.  "Neutral" is in the middle of the continuum. The MJO (Madden-Julian Oscillation) is an eastward moving disturbance of clouds, rainfall, winds, and pressure that traverse the planet in the tropics and returns to its initial starting point in 30 to 60 days, on average, unlike ENSO which is stationary. In a nutshell, a more active ENSO means more surf.