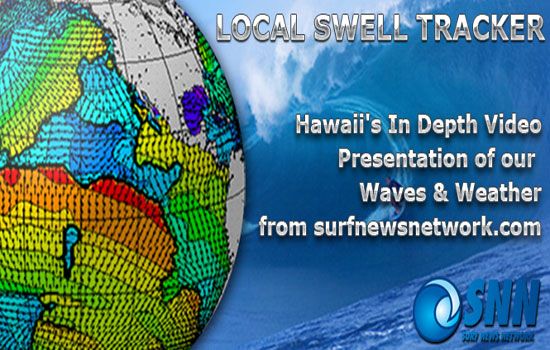 Powered by Hawaiian South Shore

See Chart Below for the 'Travel Time' Buoy 51101 to Waimea Buoy
BIG PICTURE: From Sunday 9/3/17
GOOD NEWS for first real ground swells of the transition to Fall.
NPAC: More energy has built over the last couple weeks with our transition to Fall. Currently, the strongest 170kt winds 'dip' from the west Aleutians SE and loop back up into the gulf around the High in the East Aleutians. This sets up some NNW today and esp Wed-Friday. By Friday it's weak at just 110kts and zonal. Not a set up for surf.
#1 Recently and currently:  yesterday we were flat, Sunday we're at 3' from a 9 sec NNW. The fetch from a weak low centered over Kodiak Is. In the Gulf popped last Wednesday 8/30 but didn't last long. Thus, the marginal 9 sec and small head high surf. But we'll take it.
#2 Next: Former Typhoon Typhoon Sanvu is off of North Japan tracking North. The Low spawned Monday nearly a week ago as a tropical event & really kicked in thru out the day Friday with 40+' seas. Sat/Sunday WW3 showed the now BIG cold core extratropical Low tracking North off Japan with 40' seas. It just keeps on going centered right over the Kurils and now it is predicted to hang a right and track east Monday-Wednesday where it weakens a lot. The now sub gale storm actually reaches the NW west coast. A long rare journey. Surf will have a WNW start and NW finish.
The first phase is super west so shadowing will be an issue. As of Thursday, 1.5' deep water with 16 sec will pop the buoys for some maybe shoulder high WNW sets into Friday. Then, 2' NW swell @ 16 sec Friday afternoon may get surf to hit up to 3' surf. We should be able to ride some 4' hopefully 5' surf Saturday the 9th from the 2-3' deep swell at 15 sec. Sunday could still see some 3+' sets with the 3' swell at 12 on Sunday. From Monday on it dies off fast.
#3 The next storm, born long after the preceding one, is now once again, going to bring us our first legit swell of the month/new season. Models have been really fickle, hinting 8-12' NNW a week ago and then 4' surf a few days ago. And today it looks like we can finally be confident for a well overhead 3-5' NNW @ 12 sec. First popping the buoys Tuesday nite and filling first half of Wednesday.  Peaking Wednesday and fading 2-4+' Thursday afternoon.
SPAC:
The JETSTREAM: The complex up and down flow across the S Pacific isn't conducive to any new 'real' events like the one we're just ending. High pressures just keep moving into the 'zone' where we need the Lows moving up New Z's coast. Sometimes, well placed adjacent Highs increase the pressure gradient next to Lows which can help support (feed) the fetch for south or NW swells or any swell for that matter. This is what occurred for this recent good (The High was to the West of the Low under Tahiti). The issue is now we have no BIG lows to go with the High. Friday had Just a tiny compact Low SSE of Tahiti and sorta out of our window.
#1 Recent + Today: relative to the last 2.5 months, Surfs been pumping since Thursday-Sunday from the straight south. We've had light Trade winds and with Great textures. Tho' top sets 5-6' have been inconsistent plus there's been on and off afternoon South flows and midday on shores. Sunday saw plenty sea-breezes mush out most the leeward coast. The swell was still up to 5' for top reefs. Bigger than expected.
A complex storm centered about 1500 miles East of New Zealand to the SSW of Tahiti starting Wednesday the 23rd. This multi staged system merged with a complex area of Low pressure and semi-stalled into Friday where the 45-50kt fetch lengthened to about 1000 miles straight south of us. It hung around for a few days so this episodes peak will last a full 3 days.
Buoys to pop 16 sec early Thursday the 31st and S to SSE surf to fill all day to 4' by later afternoon at 'focals'. Surf continued to build all night to see 3-5' solid all-day Friday for the Pt Panic Body Surfing and Handing Boarding Champs (lucky timing at end of permits). Some reefs may see peak moments of 6' as WW3 was under calling.
The last phase of the fetch down south reinforced 'swell' to 4' 14 sec Saturday. This still translated to 3-5' occ 6' at 'magnets'. Sunday will be supposed to begin to fall off pretty fast, but with the period going to 14 sec. and the swell hanging at 4' surf was still pumping! By Monday 2-3' barely higher' and dying from there.
A rising SW swell could get up to 2' late Saturday- Monday but it's over ridden by the South. There was Low deep in the Taz last weekend…They always start super slow from the Taz thnks to the distance AND the swell gets 'cheese grated' by Fiji & Samoa…. This makes the surf smaller and less regular plus rise slow.
#2 Last: On Friday Sept 8th Models show a large storm in the Taz with seas 30-45'. Right now models only hint at 2' 15 sec around Saturday the 16th.
TRADE SWELL
Trades swell eased again to below seasonal averages of 1-2' surf at 8 sec along most Windward outer reefs + shore pound due to light trades, variables. It will have moments when it's super clean with a South flow tho'.
TROPICS: Hurricane/Typhoon season began June 1st-Nov 30th.
A storm is moving up the Baja Peninsula since Friday but luckily is almost gone Sunday. No surf for us.
Tropical cyclones go by many names around the world, and the terminology can get confusing. Once a tropical cyclone strengthens to the point where it has gale-force winds—39 mph or greater—it becomes a tropical storm. A storm that reaches tropical storm strength usually gets its own name to help us quickly identify it in forecasts and warnings. Once a tropical storm begins producing sustained winds of around 75 mph, we call the storm a typhoon in the western Pacific near Asia and a hurricane in the oceans on either side of North America. A "typhoon" and a "hurricane" are the same kind of storm, they just go by different names…it's only a matter of geography.
Shoaling is the effect by which surface waves entering shallower water change in wave height (or grow) due to speed change (or slow down). Wavelength is reduced when going from deeper to shallower. The 'energy flux' must remain constant (nature's liquid law) so the reduction in wave group (transport) speed is compensated by an increase in wave height (and thus wave energy density). Yeah, I know…waves are complex AND amazing.
Refraction is the change in direction of waves that occurs when waves travel from one medium to another or depth change. Refraction is always accompanied by a wavelength & speed change. Diffraction is the bending & spreading of waves around obstacles ('reefs' and openings).
High Surf Advisories & Warnings NWS criteria below in coordination with Hawai'i civil defense agencies & water safety organizations.
All surf height observations & forecasts are for the full face surf height, from the trough to the crest of the wave.
Advisory and Warning Criteria

| Location | Advisory | Warning |
| --- | --- | --- |
| North-Facing Shores | 15 Feet | 25 Feet |
| West-Facing Shores – Big Island | 8 Feet | 12 Feet |
| West-Facing Shores – Remaining Islands | 12 Feet | 20 Feet |
| South-Facing Shores | 8 Feet | 15 Feet |
| East-Facing Shores | 8 Feet | 15 Feet |
'Travel Time' Buoy 51101 to Waimea Buoy
Distance: 269 nautical miles (~310 miles)
Angle: 307 deg
Wave   Wave        Wave   Depth      Wave Direction (deg)———-
Period  Length      Speed  Shallow   295,  305,  315,  325,  335,  345,  355
(s)       (ft)    (nm/h)  (ft)                  Travel Time (hours)———-
10sec. 512.  15.        256.                   17.3, 17.7, 17.6, 16.9,  15.7,   14.0,   11.9
12sec. 737.  18.        369.                  14.5,  14.8, 14.6, 14.0, 13.0,  11.6,  9.9
14sec. 1003. 21.      502.                  12.4,  12.7, 12.5,  12.0,  11.2, 10.0,  8.5
16sec. 1310. 24.      655.                  10.8, ,1 1.1,  11.0,  10.5,   9.8,   8.7,  7.4
18sec. 1658. 27.     829.                   9.6,    9.8,     9.8,   9.4,   8.7,   7.8,  6.6
20sec. 2047. 30.    1024.                8.7     8.9      8.8     8.4    7.8    7.0   5.9
22sec. 2477. 33.    1239.                 7.9     8.1       8.0     7.7    7.1     6.3   5.4
24sec. 2948. 36.    1474.                7.2      7.4      7.3     7.0   6.5     5.8    4.9
Tropical Storm – winds 39-73 mph (34-63 kt)
Category 1 – winds 74-95 mph (64-82 kt)
Category 2 – winds 96-110 mph (83-95 kt)
Category 3 – winds 111-130 mph (96-113 kt)
Category 4 – winds 131-155 mph (114-135 kt)
Category 5 – winds 156 mph and up (135+ kt)
Please visit the Central Pacific Hurricane Center website at www.weather.gov/cphc for the most recent bulletins.
ENSO (The El Niño-Southern Oscillation) is a single naturally occurring climate phenomenon with three states or phases. These involves fluctuating ocean temperatures in the equatorial Pacific. … When temperatures in the ENSO region of the Pacific are near average it is known as ENSO 'neutral', meaning that the oscillation is neither in a warm nor cool phase.The two opposite phases, "El Niño"(warmer than average) and "La Niña"(cooler than average) require certain changes in both the ocean and the atmosphere because ENSO is a coupled climate phenomenon.  "Neutral" is in the middle of the continuum. The MJO (Madden-Julian Oscillation) is an eastward moving disturbance of clouds, rainfall, winds, and pressure that traverse the planet in the tropics and returns to its initial starting point in 30 to 60 days, on average, unlike ENSO which is stationary. In a nutshell, a more active ENSO means more surf.