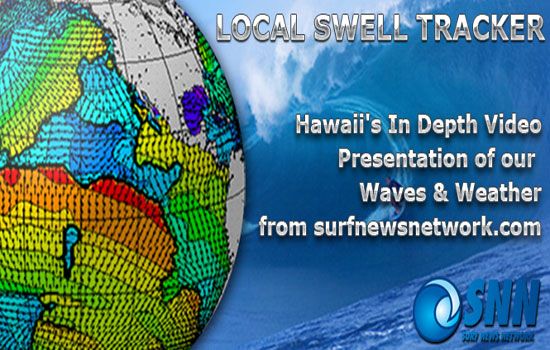 BIG PICTURE Quick Update Friday 3/24/17
 NPAC
The Jet is energetic extending off Japan to just beyond the dateline (winds up to 210). She weakens this weekend but slowly extends beyond out Longitude. Also the large upper air current is overall low in latitude for this time at 25n-40n.
By Monday the 27th it's consolidated off Japan again and by Tuesday its just out our side of the 180 dateline. A good sign for 2 weeks out.
 #1
Great week starting from Monday; a super fun WNW hit 6' solid Monday with fair-good side offshore fresh trades. It faded to 4' Tuesday but was still really fun offshores for 1st day of spring. A broad big Low centered near Kamchatka last Friday 3/10; she spun almost in place (occluded) for about a day.
 #2
The storm that spawned the Monday 3/20 event stalled and spun some new fetch for us March 17th just over 2000 miles off. it weakened Monday but not before generated some 5′ deep water WNW @ 14 sec. it's hitting 3-5′ mostly with top sets top spots reaching 6′. It's fading into Saturday when the REAL DEAL kicks in.
 #3
A winter caliber east tracking Low is progressed off Japan from Tuesday (Spring) with winds up to 50+kts. We're expecting a build esp. second half Saturday with 20-22 sec forerunners, peaking Sunday at 16sec w/t LARGE WNW surf reaching over 15' possibly 18'… big enough to crack outer reefs; this is above the High Surf Warning Criteria (25' crest to trough). Most spots will wash out. Sunset will have some ballzy takers for those 12' inbetweeners. This Wintery episode drops slowly thru the day as it laughs at spring averages. Monday should still be above advrys at 8-12'.
 #4
Next in the lineup: A decent storm following up in the wake of the above (now NE tracking) Low shows up this Sunday the 26th.  This new 30-40kt storm is on the dateline with a slow track and builds some 25' seas but some pointing to our NE. Still it should be enough for a 6-8'+ NW Friday March 31st.
 #5
Last in the lineup: Another whopper is coming. This WNW producer is starting east off Japan Monday the 27th. By Tuesday it's twice as big generating 35' seas 1500 miles away.  The peak tho' was Wednesday at the seas build to 44' on the dateline just 1200 miles away. Thursday the wintery beast is 900 miles to our NW. By Friday it starts to weaken as it nears and then passes our longitudes. Surf should kick off WNW wit 18-20 sec forerunners Thursday night the 30th. The surf will be ramping fast Friday the last day of the March. Just after dawn we could see 8' deep water with 18 sec. This means likely 8-12' occ 15' by 9am. The peak in the afternoon could be over 15' just like the big one before. The swell will be veering to the NW near the end around Sunday.
 There's no other big events on the charts and its more likely this will be the last one of the season.
 SPAC
 A BIG high has been spinning over NZL
The Jet down under has been zonal, too (west to east) but things are looking up as a deepening Jet under NZL is lengthening with a ENE tilt. By Friday it's weaker with 120 kts but points NNE right up the NZL coast where we like it. The Jet does look to be 'steering' a couple nice Lows our way to kick off the first official run of SSW in Spring.
 #1
Recently, it's been tiny 0-1.5' background SSW and some West wrap to 2' Monday. Super nice offshores tho' it's really small (there have been spotty 2' sets here and there).
 #2
Up next we get a warm up around Monday the 27th with some 15 sec S-SSW. But the storm only expected to build 1.5' of swell by the time it gets here. This means only waist/shoulder high on average into Tuesday as it fades. The fetch 1000 miles east of NZL was pointing to SE of us (off to the Americas) so it wasn't maximized.
 #3
Up next, the main one. Wed the 27th has a low SE of NZL with a more typical NE track. It gets supported by another faster moving Low and they merge Thursday/Friday the 24th. Seas hit 28' and some following fetch is predicted to bring 16 sec SSW surf up to 3' Thursday 23 and peak Friday at just above 3' or 1' overhead at focal reefs. Even Saturday should have a few sets this size at 14sec.
 #4
Last in the lineup…. An ENE tracking Low in the same region 600+ miles SE of NZL is on the charts Monday the 27th. If all goes well, we'll see some 3' surf from the SSW Tuesday April 4th veering to South by Wednesday as it moves under French Polynesia.
 Trade Swell
Below average with minimal 2' with occas NE pulses. Nothing significant is on the models yet.
The Tropics
So far they're nothing forecast on Hawaii for the next week.
Surf Advisory and Warning Criteria
Location/shoreline Advisory Warning
North-Facing Shores- 15 Feet faces (8′ Local) 25 Feet faces (15′ local)
West-Facing Shores – 12 Feet (7′ local) 20 Feet (12′ local)
West-Facing- Big Is. – 8 Feet (4'+ local) 12 Feet (7′ local)
East-Facing Shores- 8 Feet (4+ local) 15 Feet (8' local)
Tropical Storm – winds 39-73 mph (34-63 kt)
Category 1 – winds 74-95 mph (64-82 kt)
Category 2 – winds 96-110 mph (83-95 kt)
Category 3 – winds 111-130 mph (96-113 kt)
Category 4 – winds 131-155 mph (114-135 kt)
Category 5 – winds 156 mph and up (135+ kt)
Please visit the Central Pacific Hurricane Center website at www.weather.gov/cphc for the most recent bulletins.
Hurricanes
Andres,Blanca,Carlos,Dolores,Enrique, Felicia,Guillermo Hilda Ignacio Jimena Kevin Linda….Marty Nora Olaf Patricia Rick Sandra…..Terry Vivian Waldo Xina York Zelda
• Tropical Storm – winds 39-73 mph (34-63 kt)
• Category 1 – winds 74-95 mph (64-82 kt)
• Category 2 – winds 96-110 mph (83-95 kt)
• Category 3 – winds 111-130 mph (96-113 kt)
• Category 4 – winds 131-155 mph (114-135 kt)
• Category 5 – winds 156 mph and up (135+ kt)
ENSO is a single climate phenomenon, it has three states, or phases. The two opposite phases, "El Niño" and "La Niña," require certain changes in both the ocean and the atmosphere because ENSO is a coupled climate phenomenon.  "Neutral" is in the middle of the continuum. The MJO (Madden-Julian Oscillation) is an eastward moving disturbance of clouds, rainfall, winds, and pressure that traverses the planet in the tropics and returns to its initial starting point in 30 to 60 days, on average, unlike ENSO which is stationary. In a nutshell, more active means more surf.