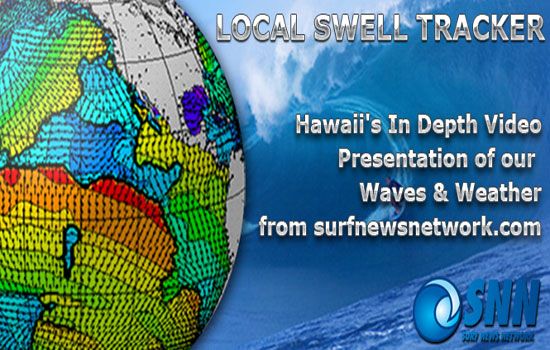 GO DEEPER…the upcoming 10 days
Your LATEST IN-DEPTH VIDEO PRESENTATION of HAWAII'S WAVES & WEATHER by SURF NEWS NETWORK
Click for BIG PICTURE Monday 12/3 & LATEST EL NINO OUTLOOK from 11/27 HERE
OR READ BELOW
SNN BIG PICTURE: Monday 12/3/18. XL Wednesday-Thursday.
NPAC 
JET: Regime change in flow cranked up several weeks ago and we've seen the affects last Monday…more to come Wednesday-Thursday.
One character of El Nino seasons is a more powerful, active and lower Jet stream. However, it is not the only characteristic of Mother Nature's ability to work magic outside of the Ocean temps.
Side Note: We are technically in a 'neutral' ENSO (El Niño-Southern Oscillation). This recurring climate pattern/cycle -involving abnormal-warmer changes in waters Temps in the central and eastern tropical Pacific Ocean- is in a zone between El Nino & La Nina. Though we were in mild El Nino since October we have yet to see it's affects on the Atmosphere & Ocean according to the WMO (World Meteorological Org). So, no… Monday's XXL was not El Nino.
As of today, we see an overall broad but semi weak wind speed of 140-160kts on our side of the dateline and super weak off Japan.  Highs have been pushed south with one to our far ENE and one to our NW which tracked to our North. A new High 1032mb is coming our way from off Japan.
The Key this week was the trough or dip in the Jet far to our NW helping a surface Low spawn into an XL swell producer. It will be 'steered' east toward us for a day before lifting NE. Read below.
Through this weekend: The Jets main power pockets drift toward and past Hawaii as the High to our WNW is pushed East. The long range has the Jet getting pushed to higher latitudes thanks to a large High forecasted into next weekend. So, this points to a quite period after the Big One this Wed-Thursday.
Jetstream: river of wind above 30,000ft flowing west to east 'round the blue planet. It has major impacts on climate, weather, and airmass (Lows and Highs) which help create and steer storms (winds) that bring us waves.
Recent-Current: Last week was really small. Then a new short 13 sec period 5-7' NW to NNW come in Friday night. It came with a frontal passage leading to North to NE winds which side chopped the water but we had nice weather and the Van World Cup Rnd 2-3 got underway with very contestable waves leading to amazing performances. The surf source was a small Low with up to 20-25' seas near crossing the dateline midweek Wednesday 11/28. It tracked our way with a partial captured fetch… thankfully, otherwise it would not have been more than 4'.
Next: Another BIG one is nearing, but it won't be a big as Monday's XXL. By Wednesday late morning-Thursday: surf to be mostly 12-18' or 30' faces with a few bigger sets at select focal reefs. It is very unlikely to meet 'The Eddie' threshold for his event (20' average or 15-25' for an 8 hour day) and it's guaranteed to be too big for Sunset by midday. A slight chance of getting a few hours/heats in early Wednesday with occas. wash throughs. Watch for Friday-Saturday to be Epic for the Vans World Cup finish. The Surf Source spawned Sunday 12/2 off the Kuril Islands at 160East or 2400 miles NW. But the storm deepens rapidly and marches quickly toward the dateline with 40-48' seas.  By Monday this beast is on the dateline just 1200 miles NW with an East track which then rapidly lifts North. The fetch is close and broad but not quite what we need for XXL…we have to settle for XL😊
Next: We have a couple days of no swell production (late Tuesday-Friday) then…Saturday, a Low moves SE down under the east Aleutians sending most its swell to our East. We might get clipped with some 14 sec NNW to NNE sideband swell of 6' or 7' late Sunday the 9th peaking 6-8'+ Monday, if lucky. It will fall fast Tuesday to 3-5'.
Last: A couple swells to overlap for a long-term moderate NW.
A powerful Low way up hugging the Kurils tracks NE with some 40-48' seas and a short fetch on its SW flank Sat-Sunday. Models hint that 20sec hit late Tuesday the 11th with some 3-5' NW surf at 16 sec Wed.  This will get some help from a Low's track East off Japan Sunday 12/9. It's broad and builds some 28' seas but begins to lift ENE. The fetch on its SW flank suggests a moderate period of 3-5' surf Thursday into Friday. The fetch intensified and may reinforce the NW to 5-8' Saturday the 15th. It's a bit early to claim, but it's not too early for a heads up.
The WMO El Nino/La Nina Update from Nov 27th 2018.
Conditions in the tropical Pacific Ocean have been at a weak El Niño level since October 2018, but the corresponding El Niño patterns have not developed in the atmosphere.
Model predictions and expert opinion indicate a 75-80% chance that the ocean and atmosphere will couple, leading to the occurrence of an El Niño during the period December 2018-February 2019. Odds are about 60% for El Niño to continue through February-April 2019.
Model predictions and expert opinion also lead us to expect a weak to moderate El Niño event, with sea surface temperatures of about 0.8 to 1.2 degrees Celsius above average in the east-central tropical Pacific for the December 2018-February 2019 season. A strong El Niño event appears unlikely at this stage.
Through Northern Hemisphere spring 2019, the development of La Niña is highly unlikely.
SPAC: Background swells only from off the Ross Ice shelf by weak NE tracking Lows but…2' tops.
The Jetstream tries to improve Monday Dec 3 in the Taz and to the South of Tahiti. However, there's just not enough energy transposed to the surface to make it up 4000-4800 miles. All we get from WW3 for Hawaii is less than 1' of swell at 14-16 sec. We need at least 2' swell and preferably 3-5'.
Recent/current/future: 2' or less for the next 1-2 weeks.
Windward Shores: We've had moderate North wrap mixing with small ENE. Wind waves up to 4' but mostly 2' and 3'. We can expect this variation to continue. Up a hair Tuesday then down Wed-Thu, then up again Friday through the weekend of the 8th. Winds will ramp big time to 20-35mph Sat-Sunday, even some 40mph gusts. Surf should reach 3-5' or adv levels. This will ease the following work week.
Tropics:
Nothing for the WPAC, EPAC, Central Pac.
Terms: Eg. The split Jetstream is why all the Gulf and Alaskan storms are sending North swells. There's that strong, persistent blocking ridge west of the dateline bumped the Jet up and over into the Bering Sea most November.
Note: The spectral density graph in the SNN Buoy Page (link below) shows slivers of forerunners that initial text readings do not 'show' till later on written buoy updates. Also, note the vertical graph is not 'wave height' rather its a measure of wave energy in hertz (frequency or cycles/sec) for the whole 'band' (the distribution of power/period in the total wave energy field/spectrum).
For SNN's Buoys 'per shore' arrangement pls GO HERE
Links: Get the latest on the tropics at www.hurricanes.gov
For more on the Westpac Typhoons GO HERE
The Central Pacific Hurricane Center outlook for the 2017 Central Pacific Hurricane Season calls for 5 to 8 tropical cyclones to either develop or cross into the Central Pacific with a 40% chance for an above-normal season, a 40% chance for a normal season, and a 20% chance for a below-normal season. An average season has 4 to 5 tropical cyclones, which include tropical depressions, tropical storms, and hurricanes.
Tropical depression forms when a low-pressure area is accompanied by thunderstorms that produce a circular wind flow with maximum sustained winds below 39 mph. An upgrade to a tropical storm occurs when cyclonic circulation becomes more organized and maximum sustained winds gust between 39 mph and 73 mph. A tropical storm is then upgraded to Category 1 hurricane status as maximum sustained winds increase to between 74 mph and 95 mph. (The highest classification in the scale, Category 5, is reserved for storms with winds exceeding 156 mph).
Tropical cyclones go by many names around the world, and the terminology can get confusing. Once a tropical cyclone strengthens to the point where it has gale-force winds—39 mph or greater—it becomes a tropical storm. A storm that reaches tropical storm strength usually gets its own name to help us quickly identify it in forecasts and warnings. Once a tropical storm begins producing sustained winds of around 75 mph, we call the storm a typhoon in the western Pacific near Asia and a hurricane in the oceans on either side of North America. A "typhoon" and a "hurricane" are the same kind of storm, they just go by different names…it's only a matter of geography.
NWS criteria for High Surf Advisories (first number) & Warnings (second number).
In coordination with civil defense agencies & water safety organizations in Hawai`i, the NWS uses the criteria below for the issuance of High Surf Advisories & Warnings in coordination with civil defense agencies & water safety organizations in Hawai`i.
All surf height observations & forecasts are for full 'face' surf height, or 'trough to the crest' of the wave.
Advisory and Warning Criteria Shoreline or Location
North-Facing Shores 15 Feet and 25 Feet
West-Facing Shores – Remaining Islands 12 Feet and 20 Feet
West-Facing Shores – Big Island 8 Feet and 12 Feet
South-Facing Shores 8 Feet and 15 Feet
East-Facing Shores 8 Feet and 15 Feet
'Travel Time' Buoy 51101 to Waimea Buoy. Distance: 269 nautical miles (~310 miles). Angle: 307 deg
Shoaling is the effect by which surface waves entering shallower water change in wave height (or grow) due to speed change (or slow down). Wavelength is reduced when going from deeper to shallower. The 'energy flux' must remain constant (nature's liquid law) so the reduction in wave group (transport) speed is compensated by an increase in wave height (and thus wave energy density). Yeah, I know…waves are complex AND amazing.
Refraction is the change in direction of waves that occurs when waves travel from one medium to another or depth change. Refraction is always accompanied by a wavelength & speed change. Diffraction is the bending & spreading of waves around obstacles ('reefs' and openings).
High Surf Advisories & Warnings NWS criteria below in coordination with Hawai'i civil defense agencies & water safety organizations.
All surf height observations & forecasts are for the full face surf height, from the trough to the crest of the wave.
Advisory and Warning Criteria

| Location | Advisory | Warning |
| --- | --- | --- |
| North-Facing Shores | 15 Feet | 25 Feet |
| West-Facing Shores – Big Island | 8 Feet | 12 Feet |
| West-Facing Shores – Remaining Islands | 12 Feet | 20 Feet |
| South-Facing Shores | 8 Feet | 15 Feet |
| East-Facing Shores | 8 Feet | 15 Feet |
'Travel Time' Buoy 51101 to Waimea Buoy
Distance: 269 nautical miles (~310 miles)
Angle: 307 deg
Wave   Wave        Wave   Depth      Wave Direction (deg)———-
Period  Length      Speed  Shallow   295,  305,  315,  325,  335,  345,  355
(s)       (ft)    (nm/h)  (ft)                  Travel Time (hours)———-
10sec. 512.  15.        256.                   17.3, 17.7, 17.6, 16.9,  15.7,   14.0,   11.9
12sec. 737.  18.        369.                  14.5,  14.8, 14.6, 14.0, 13.0,  11.6,  9.9
14sec. 1003. 21.      502.                  12.4,  12.7, 12.5,  12.0,  11.2, 10.0,  8.5
16sec. 1310. 24.      655.                  10.8, ,1 1.1,  11.0,  10.5,   9.8,   8.7,  7.4
18sec. 1658. 27.     829.                   9.6,    9.8,     9.8,   9.4,   8.7,   7.8,  6.6
20sec. 2047. 30.    1024.                8.7     8.9      8.8     8.4    7.8    7.0   5.9
22sec. 2477. 33.    1239.                 7.9     8.1       8.0     7.7    7.1     6.3   5.4
24sec. 2948. 36.    1474.                7.2      7.4      7.3     7.0   6.5     5.8    4.9
Tropical Storm – winds 39-73 mph (34-63 kt)
Category 1 – winds 74-95 mph (64-82 kt)
Category 2 – winds 96-110 mph (83-95 kt)
Category 3 – winds 111-130 mph (96-113 kt)
Category 4 – winds 131-155 mph (114-135 kt)
Category 5 – winds 156 mph and up (135+ kt)
Please visit the Central Pacific Hurricane Center website at www.weather.gov/cphc for the most recent bulletins.
ENSO (The El Niño-Southern Oscillation) is a single naturally occurring climate phenomenon in three states or phases. These involve fluctuating ocean temperatures in the equatorial Pacific. … When temperatures in the ENSO region of the Pacific are near average it is known as ENSO 'neutral', meaning that the oscillation is neither in a warm or cool phase.The two opposite phases, "El Niño"(warmer than average) and "La Niña"(cooler than average) require certain changes in both the ocean and the atmosphere because ENSO is a coupled climate phenomenon.  "Neutral" is in the middle of the continuum. The MJO (Madden-Julian Oscillation) is an eastward moving disturbance of clouds, rainfall, winds, and pressure that traverse the planet in the tropics and returns to its initial starting point in 30 to 60 days, on average, unlike ENSO which is stationary. In a nutshell, a more active ENSO means more surf.