PAT CALDWELL
Starting November! Aloha Surfers, Divers, Paddlers….
Mahalo for your support of the SNN/Pat Caldwell Team. Go deep with Pat's forecasts and  join our Premium Membership!
Pat Caldwell's renown Forecasts are Monday, Wednesday, and Friday.
Starting November 1st: Monday's are free and we'll offer Wednesday and Friday updates for Premium Members. It's just 5.00 a month (about a buck a week).
In addition to ALL Pat's updates, you'll also get the SNN 10-day forecasts plus our Multi Cam Views free from Cam Ads & hours of viewing.
Pending your increased support we hope to add 4 more cams over the next several month!
We are stoked for your support of all local surf companies! Mahalo for helping us grow to serve you bigger and better.
Drop in Today!
Sign Up Today for your FREE first 2 months with coupon code SNN-PAT. All 3 Pat Caldwell Updates Weekly. SNN's 10-day forecasts, and Multi Cam Views…
Again, Mahalo! The SNN and Pat Caldwell Team
SwellCaldWell

Update 3 PM Wednesday, October 13, 2021
DATE

SWELL

HGT

SWELL

DIR

SWELL

PER

SURF

H1/3

SURF

H1/10

TREND

PROB

WIND

SPD

WIND

DIR

TREND

1 PM

7.5

ENE

9

6

8

DOWN

12-19

ENE

DOWN

10/13

2.3

S

14

4

6

DOWN

 

 

 

 

THU

7

ENE

9

5

7

SAME

LOW

12-19

ENE

SAME

10/14

1.8

S

13

3

5

DOWN

LOW

 

 

 

FRI

1.5

NNW

15

2

4

UP

LOW

12-19

ENE

DOWN

10/15

6.5

ENE

9

4

6

DOWN

LOW

 

 

 

 

1.5

SSE

11

1

3

SAME

LOW

 

 

 

SAT

2

NNW

12

2

4

SAME

LOW

11-16

ENE

DOWN

10/16

5

ENE

9

3

5

DOWN

LOW

 

 

 

SUN

1.5

NNW

11

1

3

DOWN

LOW

10-15

ENE

DOWN

10/17

4

ENE

8

2

4

DOWN

LOW

MON

1.5

NNW

11

1

3

SAME

LOW

9-13

NE

DOWN

10/18

3

ENE

8

1

2

DOWN

LOW

 

 

 

Table Definitions given after Discussion
Summary.
Low mode fall season spell with east side topping heights into weekend. Looking up next week for Country.
Discussion
Midday Wednesday 10/13 on northern shores has breakers for exposures to the trade wind swell. Similar conditions are expected for Thursday.
On this day, 10/13, in the historical H1/10 visual surf observation Goddard-Caldwell database (starting 9/1968) for the north shore of Oahu, the average is 4.7 Hs, (9' peak face) and the largest surf on this date was 15 Hs (30' peak face top spots) in 1982. Fall 1982 was a rambunctious surf season (Hurricane Iwa 11/23) leading into a strong El Nino winter and choke XL to giant days.
If you just ate lunch and are still hungry, blame it on the nada enchilada, which is giving the same treatment to the Hawaii surf this period. The pendulum is expected to swing the other way next week.
A narrow fetch of gales associated with a fast-moving low shifted east along the Aleutians from Kamchatka Sunday night to the Date Line Monday night, and into western Canada Tuesday night. That was one seriously zonal jet stream situation. Strongest winds with Hawaii aim were late Sunday into Monday in the Kamchatka corner over 2500 nm away. Low odds for a bump building Friday from 320-330 degrees, then lingering through the weekend into Monday as the local direction tracks clockwise on the compass.
Midday Wednesday 10/13 on the east side has wind swell breakers from 50-90 degrees above the trade wind swell average. Similar surf is predicted for Thursday.
ASCAT satellite measured strong breezes still stretching out about 1200 nm to the E to ENE of Hawaii Tuesday night into Wednesday morning. This ensures wave periods on the high end of wind swell (8-12 seconds) into the weekend, even though the overall local breezes have already started to shift down (and really shifted down when my kite hit the wind hole and fell in the ocean, then too weak to relaunch around 11:30 off Kailua today, nice little mile-long swim, got my thruster kick well practiced). An upper-level low is enhancing the cloud/occn shower bands passing through, and making for up/down conditions. Winds should hold about the same into Friday then slowly trend down to gentle by Monday. Breakers from wind swell should fall to the trade wind swell average on Saturday 10/16 then head toward a trade wind swell minimum early next week. For the long range, models suggest local winds leaning gentle through midweek, though strong trades could flare up again leading into the weekend of 10/22.
Midday Wednesday 10/13 on southern shores has declining, above average, long-period swell centered from 180 degrees. Heights should drop to near average Thursday morning from 170-185 degrees and steadily fall to background by late Thursday.
On this day, 10/13, in the historical H1/10 visual surf observation Goddard-Caldwell database (starting 1972) for the south shore of Oahu, the average is 2.4 Hs, (~5' peak face) and the largest surf on this date was 5 Hs (~10' peak face) in 2003 from SSE under 25 knot ENE winds.
An austral midlatitude weather pattern gave the recent abundance of surf — mostly from S to SE of New Zealand. Phase Three of the pattern was due south of French Polynesia at the edge of the Hawaii swell window 10/3-5. This pulse picked up locally Tuesday 10/12 bigger than expected with still some head to bit overhead sets Wednesday morning 10/13 still with some 14-16 second energy. NOAA southern buoys show the dominant energy by midday 10/13 has shifted down to mostly 12-14 seconds. The PacIOOS/CDIP buoy is also trending down. Likely one more morning with near average surf on the bigger sets, but the event will be fading fast as the wave periods shift down toward 10-12 seconds by Friday. No other sources of southern hemispheric surf are expected this period. An event within background to average is predicted locally from 185-200 degrees 10/20-22.
Into the long range, let's see what Wooly Worm is up to. Where is that bugga? Oh I hear some snoring in the backroom. He was out on a pub crawl last night. There he is sleeping on my old Kodak camera. Kodak, sorta like Kodiak, that must be the clue. Yea, models place the midlatitude cyclonic center of action SE of Kodiak going into early next week. A fast-moving severe gale starting off south of the western Aleutians late Friday 10/15 should pass the Date Line 10/16 then expand in the Gulf of Alaska to the N to NNE of Hawaii 10/17-18. Since the latter portions are expected to be closer, energy from the more remote (320-330 degrees) should fill in about the same time as the building energy from the nearby source (350-010 degrees) around 10/19 PM. It is expected to peak above the October average 10/20. Hints of a follow-up N to NNE event for the weekend of 10/23.
The next SwellCaldWell forecast will be issued Friday, October 15.
September 2021 stats added to historic stats below 10/1/2021
---
Climate Fun 1.
Monthly Stats
North Shore Oahu (1968-present):
May: nsstat05
June: nsstat06
South Shore Oahu (1972-present):
May: ssstat05
June: ssstat06
*Picts surf forecaster validation duties Big Wednesday 8/18/21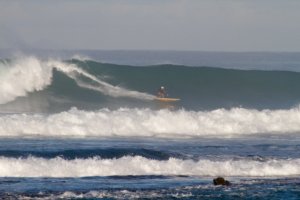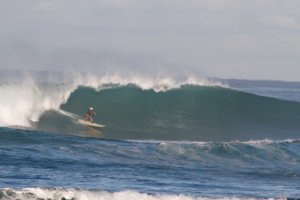 (photos Shredsniper.com, Mike Carroll)
Wind (1988-present, PC's best guess):
Seasonal Stats
North Shore Oahu, September to May:
nmstat09_05
South Shore so far this season (March to Sept)

:

smstat03_09
---
Climate Fun 2.
Climate Tidbit- How does N Shore fair under moderate La Nina

*yep, as of August 2021, NOAA suggesting another La Nina winter ahead for 2021-22 season.
LA NINA MODERATE (LM) — SEPTEMBER TO MAY — 1968/69 – 2019/20
Note:
1) Year denotes year of start of season Sep-May,
eg., 1968 refers to Sep 1968 – May 1969
2) Height in Hawaii scale, H1/10th, upper end of range, Goddard-Caldwell Database
3) Climate Signal (CS):
E:El Nino, L:La Nina, S:strong, M:moderate, W:weak,
N: Neutral, (+:leans El Nino, -:leans La Nina)
Count of Days Per Season of Surf by Size Category
Year CS    3-4   5-7     8-12   13-19   20+   8+ (size category, Hawaii scale)

1970 LM     84     101        39         5        4     48 (ie, 84 days in 1970-71 were 3-4 Hs, etc.)
1975 LM     96       77        47        11         1     59
1998 LM     89       74       52        16         6     74
1999 LM     72        79       47        16         1    64
2007 LM     74       75        51        17         3     71
2011 LM      88      58        39       13         3      55
2017 LM   104       54        46         7         3      56
Average  86.7   74.0    45.9   12.1     3.0   61.0     La Nina Moderate Sep-May
Average  86.2   71.5     51.7   16.5    4.5   72.6      All years                  Sep-May
So, yes, it shows  moderate La Nina years have less than average in larger wave size categories (though 1998-99 closer to normal and above average giant)– Ma Nature hates to be boxed in– keeps you guessing.
*Update June 4 to include Sep-May 2020/21 season surf observations:  How many days in each size category?

Year CS           3-4  5-7   8-12    13-19    20+    8+ (Hawaii scale)
2020/21 LM   104     53     39        14          2       55      this season Sep to May
Average           87     71     51        16          4       71       All years (Sep-May)
Yep, historic surf obs say  La Nina moderate  is below average, and 2020/21 (La Nina Moderate) fit the expected slacker count in category of days per season of high+ (8 Hs plus) than the average over all years (seasons 1968/69 through 2019/20).
Helpful links,
Educational outreach: Waves 101– Why Surf Varies Time/Place
Table Definitions
DATE

Represents daylight hours in zones of high refraction (biggest surf spots
for given incident swell direction, period and height). First row(s) in table
refers to observations from buoys (swell) and cams (breakers) made for the time when
the SwellCaldWell forecast was updated. Other rows
refer to forecast for spell (~30-60 min) within daylight when arrival of
maximum wave energy, or active envelopes, occur. This forecast tends
to bias high for safety (and easier to ride a bigger board if surf is smaller
than expected, than to ride a shorter board when bigger). Even under "steady"
swell, heights vary spell to spell through a day.

SWELL HGT

Deep water swell (H1/3) height (feet) corresponding to a nominal (~3 mile) location
offshore of Oahu seaward of the coastal shelf for the given incident swell
direction. Deep water swell height
from each unique wave-generating source is obtained by summing up all energy
for wave periods > 10 seconds, which removes the wind swell. H1/3 is the
average of the highest 1/3rd of all waves coming in for the
targeted high energy envelope spell from this defined source. Wind swell are
defined for wave periods <= 10 seconds.

SWELL DIR

Deep water swell direction (from) centered on 16 point compass bands.

SWELL PER

Deep water swell period (seconds).

SURF H1/3

Breaker H1/3 (defined above) height (feet, peak face) during most active envelopes. H1/3
sets arrive about every 3 minutes with large variance.

SURF H1/10

Average of highest 1/10th of all breakers (feet, peak face) during active envelopes;
H1/10 sets arrive about every 10 minutes with large variance.

PEAK FACE

Trough to crest height (feet) on shoreward side of breaker at moment and location along
wave front of maximum cresting,

Ocn H1/100


Cleanup or

Sneaker set

Waves arrive within a range of sizes. Surf zone enthusiasts emphasize the smaller percent
of larger waves when communicating a report in an X to Y occasional Z
format. The X to Y range is nominally
H1/3 to H1/10. The Z, or sneaker or
cleanup sets, are the H1/100, which is about 1.3 times the H1/10 (eg., H1/10=10' gives H1/100=13'). H1/100th
sets arrive on average every 90 minutes with large variance. Thus your typical
2 hour session is bound to see at least one cleanup set.

TREND

Breaker height (wind speed) tendency during daylight

WIND SPD

Wind speed (knots) for nominal coastal location on the windward side relative to
prevailing large scale wind (ie,
east side under trades or S or W side under konas),

WIND DIR

Wind direction (from) centered on 16 point compass bands. LV refers to light and variable.