PAT CALDWELL
Aloha Surfers!
All New Premium SNN sign ups get Pat's forecasts
Monday, Wednesday, and Friday.
Monday is FREE but now we offer Wednesday & Friday updates for Premium Members for just 5.00 a month (about a buck a week).
In addition to ALL Pat's updates, you'll also get the SNN 10-day forecasts plus our Multi Cam Views free from Cam Ads & hours of viewing.
We are stoked for your support of all local surf companies! Mahalo for helping us grow to serve you bigger and better.
Drop in Today!
Again, Mahalo! The SNN and Pat Caldwell Team
SwellCaldWell

Updated 3 PM Monday, December 5, 2022
DATE

SWELL

HGT

SWELL

DIR

SWELL

PER

SURF

H1/3

SURF

H1/10

TREND

PROB

WIND

SPD

WIND

DIR

TREND

1 PM

3

NNE

11

4

6

DOWN

4-8

SE

UP

12/05

3

NNW

10

3

5

DOWN

 

 

 

 

TUE

3

NNE

14

4

6

UP

MED

9-13

SE

UP

12/06

8

NNW

12

10

14

UP

LOW

 

 

 

WED

3

NNE

13

4

6

DOWN

LOW

19-23

E

UP

12/07

8

NNW

12

10

14

DOWN

LOW

 

 

 

 

8

E

7

4

6

UP

LOW

 

 

 

THU

3

NNW

10

4

6

DOWN

LOW

22-27

E

UP

12/08

2

NNW

16

3

5

UP

LOW

 

 

 

 

10

E

9

6

8

UP

LOW

 

 

 

FRI

3

NNW

15

4

6

DOWN

LOW

22-27

E

SAME

12/09

10

E

10

7

10

SAME

LOW

 

 

 

SAT

10

E

10

7

10

SAME

LOW

22-27

E

SAME

12/10

1

SSW

15

1

2

UP

LOW

 

 

 

Table Definitions given after Discussion
Summary
Country midweek NNW with E side building midweek and holding elevated into weekend.
Discussion.
Midday Monday 12/05 on northern shores has breakers from 310-030 degrees of 8-11s intervals below the seasonal average under gentle SE breezes. Heights are expected to ramp up above average by midday Tuesday from 320-360 degrees.
On this day, 12/05, in the historical H1/10 visual surf observation Goddard-Caldwell database (starting 9/1968) for the north shore of Oahu, the average is 7 Hs, (14' peak face, Oahu Surf Climatology) and the largest surf on this date was 20 Hs (sets 40' peak face top spots) in 2021 from NNW under 15 knot S wind.
Surf arriving 12/5 are the last hurrah stages a declining NNE to NE event and a WNW to NNW event (tail end of last week's WNW event). Another combo of NNE and NNW due on Tuesday.
The new NNE to NE event (030-050 degrees) is due late Monday. It was generated by a large area of low pressure off the NW USA 12/2-3. Seas were under 25 feet and the head of the fetch was over 1800 nm away—only small surf expected. It should build Tuesday and drop Wednesday.
The new NNW expected on Tuesday has both a remote and nearby source. The remote source was a fast-moving, severe-gale, low-pressure system that tracked east along the Aleutians and strengthened as it approached the Date Line late Saturday. The fetch was short-lived, less than a day over the 320-340 degree band in an area beyond 1500 nm away. Low, longer-period swell from this source should pick up Tuesday PM and drop Wednesday. The nearby source will overwhelm it.
Give the European model the ribbon for best job on forecasting the unfolding low-pressure pattern to the immediate NNW of Hawaii 12/5. Major flip-flopping in location NNW to NNE of Hawaii in the models by the GFS and NAVGEM models last week with both finally lining up with the Euro Sunday into Monday.
The new unfolding pattern has formed a surface low near 30N, 165W. Models show the low center jogging south into Tuesday morning then west away from away from Hawaii 12/7-9. As it was forming late Sunday, a long, wide fetch of near gales, with pockets of gales aimed at targets just west of Kauai. There was some direct aim at the main Hawaii island chain 12/4 PM into 12/5 in an area north of 40N, or 1200 nm away. This portion, plus energy from angular spreading, should raise surf quickly late morning Tuesday above average from 330-360 degrees. It should peak overnight Tuesday and steadily fall on Wednesday. It should fade on Thursday.
A gale low pressure pattern in the western to central Bering Sea set up a long, narrow fetch hugging the south-side of the Aleutians from Kamchatka to the Date Line 12/5-6, aiming highest at targets NE of Hawaii. This could give a short-lived, long-period bump from 315-330 degrees building Thursday and dropping Friday.
Midday Monday 12/05 east side has small, short-period bump from the trade wind belt (50-90 degrees), with dominant surf for NE to N exposures. The latter exposures should top the heights on Tuesday from a NEPAC low (described above).
Looks like wind-heads may win the lottery this week. As the surface low to the immediate WNW to NNW of Hawaii moves west 12/6-7, a strong surface high pressure cell is modelled to set up to the N to NE of the islands. Trades should pick up Wednesday to at least fresh, and into the strong bracket by Thursday. It should hold into the weekend. Breakers from wind swell out of 70-90 degrees should climb above average Wednesday and stay elevated into the weekend under rough chop.
Midday Monday 12/05 on southern shores has the seasonal near nil situation. More of the same is expected on Tuesday.
On this day, 12/05, in the historical H1/10 visual surf observation Goddard-Caldwell database (starting 1972) for the south shore of Oahu, the average is 1.5 Hs, (~3' peak face) and the largest surf on this date was 5 Hs (10' peak face) in 2007 from WSW under 20 knot SW winds—kona wind swell.
The building east trade wind swell this week is expected to top the heights for select exposures on the south shore. Otherwise, a pinch of long-period surf from 190-200 degrees is possible Saturday 12/10. The source was a narrow fetch of gales east of New Zealand 12/2-3.
Into the long range, let's see what Wooly Worm is up to. Someone is sawing some serious Z's in the back room—yep, it's Wooly, the weekend party warrior worm. Ah oh, that is not a good clue. Surf likely still sleepy 12/11-14 locally. Wooly's finally getting up, nice pajamas, I like those tumble weeds and cactus prints. Maybe that's a hint for more W-component swell (NW to NNW) locally within 12/15-20.
The next SwellCaldWell forecast will be issued Monday, December 12.
Climatology update (Nov 4, 2022) to include through October 2022:  (see links to data/stats in Climate Fun 1 below):
Summary (click below for details of each)

South shore, month of OCTOBER 2022: Above average in counts of days in the "3" and "4"  Hs heights– 2022 continues to be a banner south swell season.
North shore, month of OCTOBER 2022:  After sleepy SEP 2022, north side finally got rolling with above average counts of days in the HIGH category (within 8-12 Hs). And first 3 weeks with light winds, heaps of epic sessions.
Wind-heads: OCTOBER 2022:  Trades kicked in last week of Oct to bring number of days of fresh+ trades equal to the long term average (7 days).
---
Climate Fun 1.
Monthly Stats
North Shore Oahu (1968-present):
January: nsstat01
February: nsstat02
March: nsstat03
April: nsstat04
May: nsstat05
South Shore Oahu (1972-present):
January: ssstat01
February: ssstat02
March: ssstat03
April: ssstat04
May: ssstat05
*Picts surf forecaster validation duties Big Wednesday 8/18/21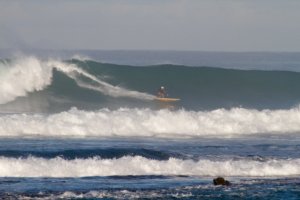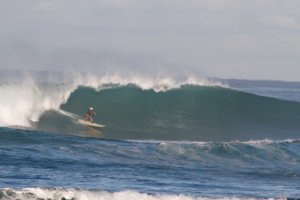 (photos Shredsniper.com, Mike Carroll)
Wind (1988-present, PC's best guess):
March: wwstat03
December: wwstat12
Seasonal Stats
North Shore Oahu, 1968-2022; (

September to June)

:  nmstat09_06
South Shore Oahu, 1972-2021 (March to November): smstat03_11
South Shore Oahu, 1972-2022;  (March to October)

: smstat03_10
---
Climate Fun 2.
Climate Tidbit- How does N Shore fair under moderate La Nina

*yep, as of August 2021, NOAA suggesting another La Nina winter ahead for 2021-22 season.
LA NINA MODERATE (LM) — SEPTEMBER TO MAY — 1968/69 – 2019/20
Note:
1) Year denotes year of start of season Sep-May,
eg., 1968 refers to Sep 1968 – May 1969
2) Height in Hawaii scale, H1/10th, upper end of range, Goddard-Caldwell Database
3) Climate Signal (CS):
E:El Nino, L:La Nina, S:strong, M:moderate, W:weak,
N: Neutral, (+:leans El Nino, -:leans La Nina)
Count of Days Per Season of Surf by Size Category
Year CS    3-4   5-7     8-12   13-19   20+   8+ (size category, Hawaii scale)

1970 LM     84     101        39         5        4     48 (ie, 84 days in 1970-71 were 3-4 Hs, etc.)
1975 LM     96       77        47        11         1     59
1998 LM     89       74       52        16         6     74
1999 LM     72        79       47        16         1    64
2007 LM     74       75        51        17         3     71
2011 LM      88      58        39       13         3      55
2017 LM   104       54        46         7         3      56
Average  86.7   74.0    45.9   12.1     3.0   61.0     La Nina Moderate Sep-May
Average  86.2   71.5     51.7   16.5    4.5   72.6      All years                  Sep-May
So, yes, it shows  moderate La Nina years have less than average in larger wave size categories (though 1998-99 closer to normal and above average giant)– Ma Nature hates to be boxed in– keeps you guessing.
*Update June 4 to include Sep-May 2020/21 season surf observations:  How many days in each size category?

Year CS           3-4  5-7   8-12    13-19    20+    8+ (Hawaii scale)
2020/21 LM   104     53     39        14          2       55      this season Sep to May
Average           87     71     51        16          4       71       All years (Sep-May)
Yep, historic surf obs say  La Nina moderate  is below average, and 2020/21 (La Nina Moderate) fit the expected slacker count in category of days per season of high+ (8 Hs plus) than the average over all years (seasons 1968/69 through 2019/20).
Helpful links,
Educational outreach: Waves 101– Why Surf Varies Time/Place
Table Definitions
DATE

Represents daylight hours in zones of high refraction (biggest surf spots
for given incident swell direction, period and height). First row(s) in table
refers to observations from buoys (swell) and cams (breakers) made for the time when
the SwellCaldWell forecast was updated. Other rows
refer to forecast for spell (~30-60 min) within daylight when arrival of
maximum wave energy, or active envelopes, occur. This forecast tends
to bias high for safety (and easier to ride a bigger board if surf is smaller
than expected, than to ride a shorter board when bigger). Even under "steady"
swell, heights vary spell to spell through a day.

SWELL HGT

Deep water swell (H1/3) height (feet) corresponding to a nominal (~3 mile) location
offshore of Oahu seaward of the coastal shelf for the given incident swell
direction. Deep water swell height
from each unique wave-generating source is obtained by summing up all energy
for wave periods > 10 seconds, which removes the wind swell. H1/3 is the
average of the highest 1/3rd of all waves coming in for the
targeted high energy envelope spell from this defined source. Wind swell are
defined for wave periods <= 10 seconds.

SWELL DIR

Deep water swell direction (from) centered on 16 point compass bands.

SWELL PER

Deep water swell period (seconds).

SURF H1/3

Breaker H1/3 (defined above) height (feet, peak face) during most active envelopes. H1/3
sets arrive about every 3 minutes with large variance.

SURF H1/10

Average of highest 1/10th of all breakers (feet, peak face) during active envelopes;
H1/10 sets arrive about every 10 minutes with large variance.

PEAK FACE

Trough to crest height (feet) on shoreward side of breaker at moment and location along
wave front of maximum cresting,

Ocn H1/100


Cleanup or

Sneaker set

Waves arrive within a range of sizes. Surf zone enthusiasts emphasize the smaller percent
of larger waves when communicating a report in an X to Y occasional Z
format. The X to Y range is nominally
H1/3 to H1/10. The Z, or sneaker or
cleanup sets, are the H1/100, which is about 1.3 times the H1/10 (eg., H1/10=10' gives H1/100=13'). H1/100th
sets arrive on average every 90 minutes with large variance. Thus your typical
2 hour session is bound to see at least one cleanup set.

TREND

Breaker height (wind speed) tendency during daylight

WIND SPD

Wind speed (knots) for nominal coastal location on the windward side relative to
prevailing large scale wind (ie,
east side under trades or S or W side under konas),

WIND DIR

Wind direction (from) centered on 16 point compass bands. LV refers to light and variable.