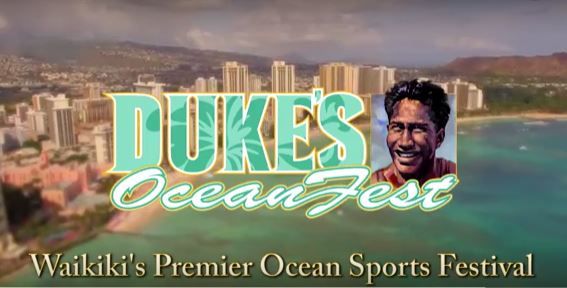 Aug. 19-27!
Duke's OceanFest is held each summer in Waikiki in honor of Hawaiian legend Duke Paoa Kahanamoku, who is fondly remembered as the greatest waterman who ever lived. Held at venue sites throughout Waikiki , OceanFest features a variety of ocean sports that were close to Duke's heart, including Surfing, Paddleboard Racing, Swimming, Volleyball, and more.

TAKE A LOOK AT ALL THE EVENTS HERE
MAHALO TO OUR SPONSORS!
Kona Brewing Company was started by father and son team Cameron Healy and Spoon Khalsa. The pair had a dream to create fresh, local island brews made with spirit, passion and quality. Their love of Hawaii, and a desire to protect the pristine environment here, brought them to the Big Island to fulfill their vision. Kona Brewing continues to be headquartered right where it began, in Kailua-Kona on Hawaii's Big Island.
---
Outrigger Hotels and Resorts, the Official Hotel Company of Duke's OceanFest, is a family-owned company with 67 years of hospitality experience in Hawaii and across the Asia-Pacific region.  Book your hotel stay for OceanFest!  Special event rates are offered for all OceanFest participants.
Website | Twitter
---
Duke's Waikiki, honoring Duke Kahanamoku. Serving breakfast, lunch & dinner. Live music nightly. The Aloha spirit lives on at Duke's.
---
Hawaii Tourism Authority is the lead state agency for tourism.  HTA is responsible for supporting programs that enhance and showcase Hawaii's people, place and culture in order to deliver an incomparable visitor experience.
---
The Honolulu Star-Advertiser provides the best breaking news coverage in Honolulu, Hawaii, with expanded photo coverage of Hawaii sports, entertainment, nightlife and insightful business news.  Keeping you connected with Hawaii no matter where you are, we are Hawaii's most "Liked" news and media company.
---
Matson is happy to encourage Hawaii's youth to start a lifelong love of the ocean and the healthy lifestyle surfing inspires. Matson began promoting surfing in Hawaii as early as 1912, and enjoyed a long relationship with Duke Kahanamoku and Waikiki's legendary beachboys during their heyday between the 1920s and 1940s.  Matson has been serving Hawaii continuously since 1882 and had an instrumental role in the development of tourism in the Islands with its famed "white ships" and Waikiki hotels.
---
Hula Grill Waikiki, invites you to relax in the warm ambiance of a plantation era beach house while savoring Hawaii regional seafood. Here, fresh fish and locally grown produce are combined to create amazing menu offerings that are as colorful as they are flavorful and are rivaled only by the spectacular ocean view from our beachfront locations.
---
First Hawaiian Bank has helped generations of customers for over 158 years with their financial needs. We are ready to assist you with full-service banking, be it personal, private or business banking. We're known as the bank that says "Yes" and our friendly staff offers outstanding service and smart solutions to provide you with a level of financial security that you can trust. Banking is convenient at our 62 branches in Hawaii, Guam, and Saipan, or via FHB Online and Mobile banking.
Website | Twitter | Facebook | Instagram |
---
Hawaiian Airlines carries an average 8 million customers a year and serves 20 domestic and international destinations in the Pacific region. In North America, it provides daily service to Hawaii from more cities than any other airline. While plenty has changed throughout the years, one thing hasn't: our commitment to service, safety, and the spirit of aloha.
---
Surf News Network, the Worlds Longest Running Surf Reporting Company, delivers innovative & impactful branding on multimedia platforms statewide. Producing premier, most accurate and timely surf site by informing, entertaining, engaging and impacting the first-tier of surf and ocean sports fans in Hawaii.
---
Hawaiian 105 KINE, the Hawaiian Music Station; playing the best mix of yesterday and today!
---
Tiki's Bar and Grill is proudly sponsoring this year's Surf Polo match at Duke's OceanFest.  Waikiki's premiere destination, locally owned and operated Tiki restaurant.  From four to four hundred, we can handle your special occasion. Our private Coconut Club on the 21st floor is a favorite for weddings and receptions, and our private dining room can seat over 80 people.
---
Yeah, we're all about making wine more fun but giving back is really what's at the heart and sole of Barefoot Wine & Bubbly. We've made some great friends by following our passions.  We've supported over 3,000 charities worldwide. Our passion is making the world a better place through wine and we love to get out there and get our toes wet.
---
AccesSurf empowers people with disabilities by providing adaptive surfing instruction and therapeutic educational programs on water recreation.  AccesSurf enriches lives by assisting families to access the beach in a barrier free environment. In the aloha spirit that Duke, AccesSurf will be the leader in recreation for people with disabilities through therapeutic instruction for the advancement of adaptive surfing, and ocean recreation throughout the state of Hawaii and worldwide for generations to come.
Website | Facebook | Twitter | Flickr | Youtube
---
In 1987, Red Bull not only launched a completely new product, it created a whole new product category — energy drinks. From day one, Red Bull has been giving wings to people and ideas, setting many milestones in sports and culture. Today Red Bull is available in more than 169 countries and around 60 billion cans of Red Bull have been consumed so far.
Website | Facebook | Twitter | Youtube
---
Kono's Restaurants have captured the heart of Hawaiian casual dining for 15 years. With its fun, surf-inspired atmosphere, the Kono's menu has cravingly delicious options that while served up fast, offer great nutrition value and make healthy, fast-food the new norm. Our menu features our signature Kalua Pork in dishes ranging from breakfast bombers, sandwiches, and lunch plates, to wraps and salads.
---
Enterprise Rent-a-Car, the Official Rental Car Company of Duke's OceanFest, has been proudly serving with Aloha in Hawaii for over 23 years. Pick Enterprise. We'll pick you up!
---
This Week Publications has been connecting businesses to Hawaii's visitors for 50 years. We pride ourselves on producing the industry's leading visitor magazines and our commitment to customer service. Call us to find out how we can expose your business to some of the 8 million visitors that come to islands each year.
---
Where Hawaii comes from the world's premier name in travel publishing. From magazines and books to maps and comprehensive digital content, Where gives travelers everything they need from a local perspective. Dynamic content created by local editors covers essential dining, shopping, attractions, entertainment options and more, all from an insider's point of view.