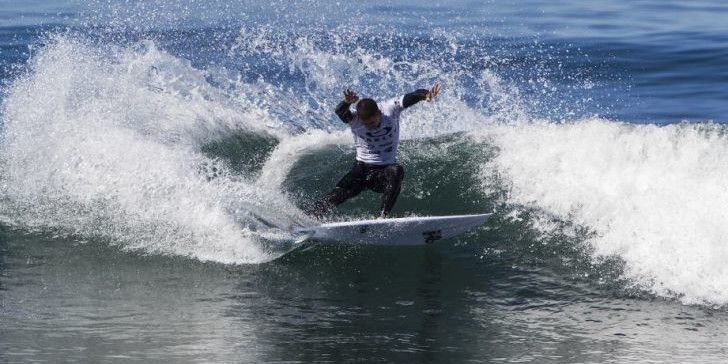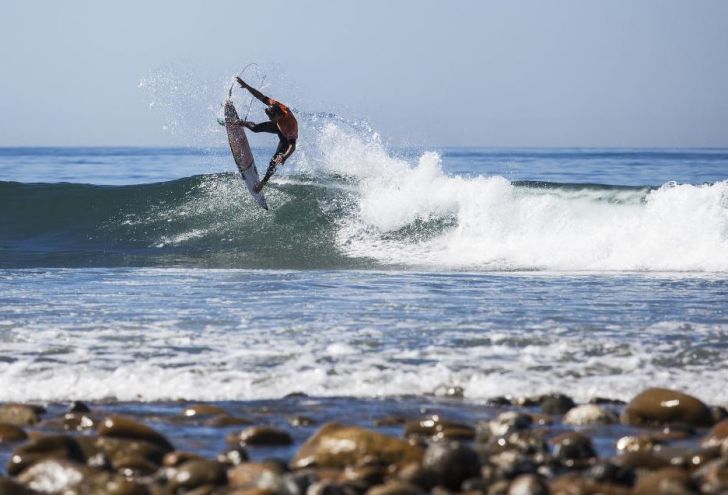 Thiago Camarao (BRA) claims victory at the Oakley Lowers Pro Trials and is into the Round of 96.
Image: WSL / Rowland
| | |
| --- | --- |
| Location:    | San Clemente, California, USA |
| Holding period: | April 28 – May 2, 2015 |
| Call: | Trials Completed, Round 1 8am Start Tomorrow |
| Conditions: | 1′ – 3′ combination swell |
LOWER TRESTLES, CA/USA (Tuesday, April 28, 2015) – The first World Surf League (WSL) QS10000 event of 2015, the Oakley Lowers Pro, commenced Tuesday morning with the 8-man Trials contesting the one-to-three foot (0.5 metre) surf on offer at Lower Trestles.
Of the eight surfers competing, two were awarded highly-coveted spots into the main field of 96 surfers with Thiago Camarao (BRA)  and Ezekiel Lau (HAW) emerging victorious amongst a hotly-contested field.
"It's so great to have Lowers back on the QS schedule," Camarao said. "It's such a performance wave and it doesn't need much swell to be super rippable. Very thankful to be into the main event.
"I was out with an injury last year so I need to battle for my spot in these QS10000 events this season," Lau said. "The goal is to build my seed and have enough opportunity to perform this year. I'm feeling healthy and focused and my boards feel great. I'm looking forward to tomorrow and a bit more swell.
Round 1 of the Oakley Lowers Pro will commence at 8am tomorrow morning and be webcast LIVE at OakleyLowersPro.co
OAKLEY PRO LOWERS TRIALS ROUND 1 RESULTS:
Heat 1: Thiago Camarao (BRA) 12.40, Cory Arrambide (USA) 11.86, Ian Crane (USA) 11.83, Pedro Henrique (BRA) 8.75
Heat 2: Ezekiel Lau (HAW) 14.17, Nic Hdez (USA) 13.73, Eric Geiselman (USA) 13.00, Joshua Moniz (HAW) 8.90
OAKLEY PRO LOWERS TRIALS FINAL RESULTS:
1. Thiago Camarao (BRA) 16.10
2. Ezekiel Lau (HAW) 15.33
3. Cory Arrambide (USA) 14.50
4. Nic Hdez (USA) 13.30
For more information, check out WorldSurfLeague.com