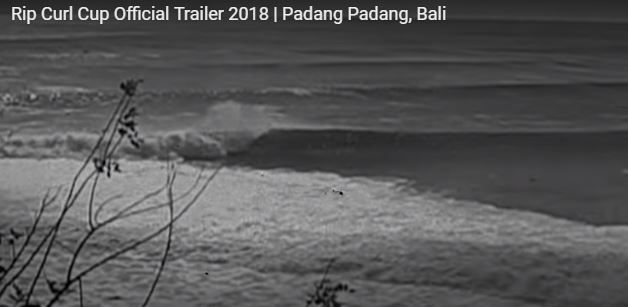 Thought Keramas was good? Entertained by Uluwatu?
Well, they ain't got nothing on surfing's premier renegade competition.
In July we return to the island of Bali when the Rip Curl Cup kicks off at the fabled lefthand barrels of Padang Padang.
Opening Ceremony on July 1st marks the start of the month-long holding window.
Keramas & Uluwatu delivered the goods as we'd expect from Bali. 
Now, WSL returns for the 3rd time to Bali's world-class venue for the Rip Curl Cup at Padang Padang. We have an entire month to get it as good as it gets July 1-31.Just 16 lucky dudes…among the world's top chosen tube riders (8 of Indonesia's best + 8 of the world's best barrel riders)  are ready to put on a show from the CT's Top 34.And what a show Padang Padang can bring.It's now less than two weeks before the start of the event holding period.

Rip Curl SEA Marketing Manager James Hendy is also an invite to compete in the Rip Curl Cup! He knows it isn't about tour points, big-name sponsorships, or followers on social media. The main goal is simple: To get a shot at 'the Cup' you  have to perform at the highest level on the best swells of the month on one of the planet's most hollow, perfect lefthanders.

"You have to have a proven track record in world-class tubes and waves of consequence, whether it be in boots and a 6mm wetsuit or in boardshorts at a mysto Indo reef," Hendy said. "That means fans get to see renegade tube masters like Mason Ho, Jack Robinson, Jay Davies and Damo Hobgood face off against the underground legends that own their local slab on the best day of the year."

Following are the 16 surfers invited to compete for the 2018 Rip Curl Cup:

International Surfers:
Jay Davies (AUS)
Jack Freestone (AUS)
Mason Ho (HAW)
Damien Hobgood (USA)
Gearoid McDaid (IRL)
Bruno Santos (BRA)
Jack Robinson (AUS)
Jacob Willcox (AUS)

Indonesian Surfers:
Bol Adi Putra
Mega Artana
Mustofa Jeksen
Alik Rudiarta
Mega Semadhi
Agus "Blacky" Setiawan
Garut Widiarta
Lee Wilson

MORE INFO HERE