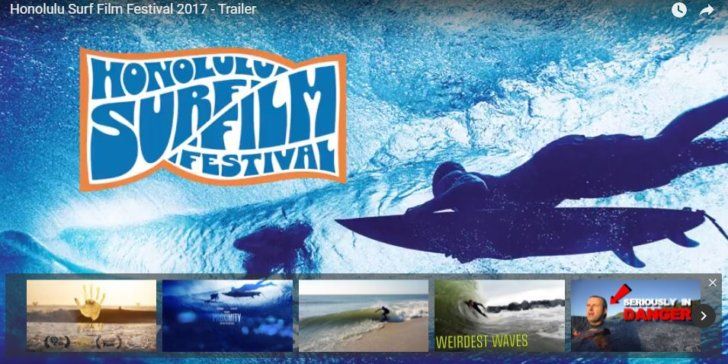 The 10th Annual Honolulu Surf Film Festival 'drops in' July 1st and rides through August 2nd! The month-long celebration of surf creativity & community is  filled with absolute stoke. And for those of you who have never been to the 280 seat Doris Duke Theater, you must give it a go! Whether you surf or can't even swim you'll love the venues boutique feel & intimacy. It's part of the Honolulu Museum of Art at 900 S Beretania St. The awesome Theater crew directed by Taylour Chang, screen independent, documentary, and international films. They host lectures, concerts and much more.
This July the Doris Duke and Honolulu Museum Ohana bring you The Honolulu Surf Film Festival…for the 10th time!
Congratulations & Happy Birthday!
The lineup is taking you into the past, current and future. It includes an in-depth documentary of today's most talented wave riders, creative thinker & doers, plus comedy and even psychedelic odysseys. Every Thursday eve the HSFF will honor the rich history of surf film with classics including John Severson's 'Pacific Vibrations'. You can even vote during festival during the screenings and win audience choice awards. These winners are to be announced on closing night before we see the 'totally awesome' Bud Brown movie simply called 'Going Surfin'. J
The entrance we use for the Festival is off Kinau St.  For the various parking and getting tickets online or in person call 532-8700 or log-on at honolulumuseum.org/events/films. GO HERE Mahalo, SNN Team
Media sponsors
HONOLULU Magazine
Surf News Network
Special thanks to Eric Walden and Anna Trent Moore.
Film tickets: $12 | $10 museum members
Opening reception: July 1, 6-7:30 pm: Join us as we kick off a month of surf films with live music by surf saxophonist Reggie Padilla and his jazz ensemble which comprises Dean Taba on bass, Allan Ward on drums, and Alden Tokuzato on guitar. Ticket includes dinner by EAT Honolulu. The menu features chicken with fennel and Maui lavender, roast pork with mustard herb sauce, roasted local vegetables, signature rice, and Waipoli Farms greens. Vegetarian option available upon request to mferrer@honolulumuseum.org. Beer, wine, and soft drinks available for purchase. Proximity screens at 7:30 pm followed by a post-screening discussion with director Taylor Steele, moderated by local surfer and journalist, Daniel Ikaika Ito. $30 | $25 museum members.
Closing reception: July 30, 6-7:30 pm: As is tradition, we close the festival with a classic film and on-stage discussion by Hawai'i surf legends. Ticket includes live music by Men in Grey Suits and pūpū by EAT Honolulu. Beer, wine, and soft drinks available for purchase. A short film on Bud Browne by Ira Opper will be shown before the presentation of the feature film Going Surfin', at 7:30 pm. $30 | $25 museum members.