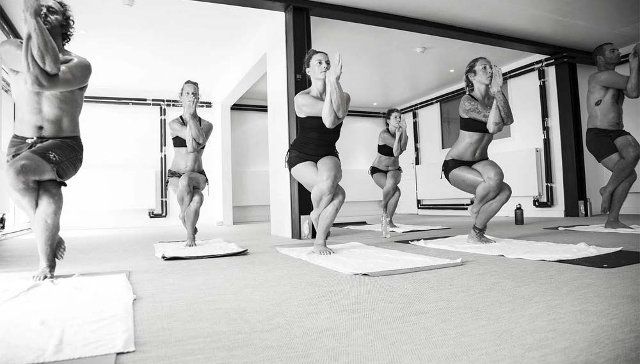 Surf News Network, May 2017 – South African shaper-surfer Kevin Olsen does a lot more than that. He does retreats, leads yoga classes. Living now in Southwest France, Olsen uses yoga to push his limits without damage in or out of the water.
My name is Kevin Olsen and after 28 years of surfing my body decided enough was enough. I'd put myself through massie periods of stress with no real recovery program and my body was feeling the pinch. Physically the sport of surfing is hard on the body – if you surf a lot you're going to feel the effect, positive and negative.
Why surf and Yoga?
Surfing works many of the same muscles as used in yoga. Meanwhile yoga trains the exact same muscles we use in surfing and I never imagined how a combination of the two disciplines would develop my life in an amazing turn of events that would assist me to uncover my true path. Before yoga came to my life, I used to have all this negative self talk after a bad surf session, when i lost at a surf competition or was just having a bad time in general so I took a break and embraced practices of yoga which helped me relax, see life from a different angle and "letting go" just became easy to do.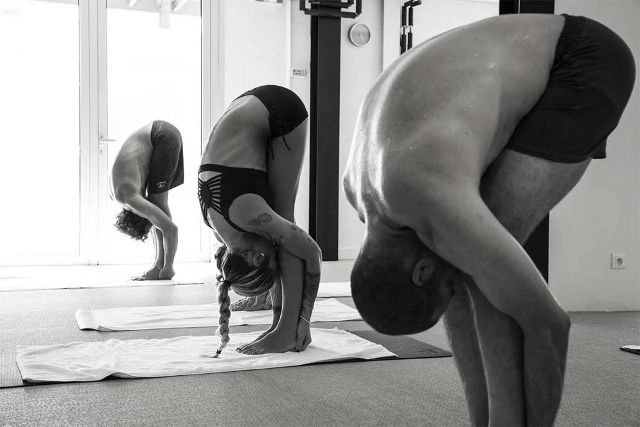 My story
I became aware of increasing pain along with steady and increasing lack of flexibility. As the years went on I struggled with my surfing and the pain became chronic and very difficult to deal with on a daily basis.
Something was up and my body was letting me know. More than two decades ago, I was involved in a near fatal car accident in South Africa. I was hit side on by a car travelling at over 60 km per hour. The impact broke my left femur, pelvic bone, and ruptured my bladder along with other internal injuries. Later, the damage would come back to play games with me both physically and emotionally.
For 20 years I visited various doctors and none could offer any real solution other than to stop surfing or take strong pain killers. The pain killers provided short term relief, but didn't resolve the underlying problem.
Fast forward to early 2015 and I was battling with bouts of chronic pain shooting out from my abdomen. Doctors linked the source of the pain to the internal injuries I suffered in the past. Turns out scar tissue from the old injury had trapped a nerve which was sending confused signals of pain. So I had an operation to remove the scar tissue and free the trapped nerve. Following the operation there was a long road to recovery which I took day by day.
I spent a lot of time in the gym, and then the revelation came. I started Bikram. Bikram Yoga and the road to recovery. Life is challenging and it was time to challenge myself. So I made some changes and I started doing Bikram yoga. Basically, Bikram yoga involves 26 poses in a 40 degree heated room for 90 minutes.
A good friend from Hossegor invited me to join him at his home studio to experience 'hot yoga' in a heated room of 40 degrees. My friend Gerard Ben Soussan is a dedicated yogi who practises every day and reaps the benefits by also putting in long hours in the surf. For his age (which isn't really that important) Ben will out surf most surfers and he glows with a passion for life. Of all the recent suggestions from doctors and friends it was Ben who first suggested to stretch more and start Bikram Yoga. Ben started this journey with me and I am forever grateful.
My first hot yoga class with Ben was torture and it's not unusual to feel nauseous and dizzy during your first session. It's hot , humid as hell and all-time sweaty. Some people just can't stand the temperature in the room and find it hard to do more than one class a week. The heat goes to your head and you'll find every excuse under the sun to avoid going back to the studio.
No pain no gain my friends, so welcome to Bikram's torture chamber. I learnt that transformation takes time. And time means you need patience. It was up to me to commit to a daily stretching routine with no excuses. To be courageous and focus on my ultimate goal, which was to feel good and stay healthy. I was determined to see it through.
There are always excuses for not exercising. We always think we're too sick, too fat, too skinny, too busy, too tired… It's very easy to find excuses. I found that by getting into a routine and pushing myself to get on the yoga mat regularly, those excuses faded away. Instead I looked forward to the next session and I found I enjoyed the challenge.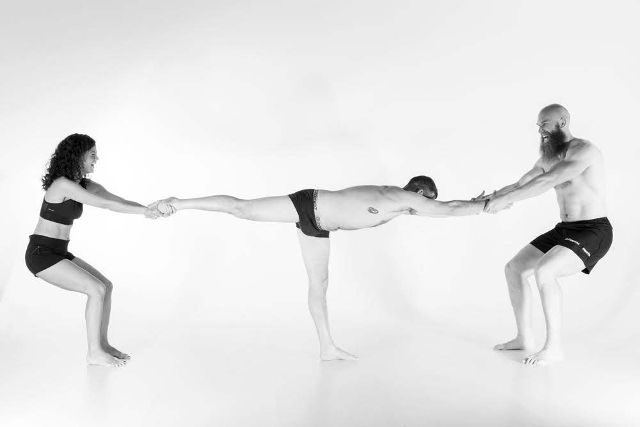 60 Day Bikram Yoga Challenge
The 60 day challenge was on. I was going to attempt a full 90 minute Bikram yoga session every day for the next 2 months. It was time to listen to my body and take a step forward towards getting fit and healthy again. I could never have imagined so much positive change in such a short period of time! So began the daily routine: 26 hatha yoga postures in a 40 degree heated room for 90 minutes. Standing Deep Breathing. Half Moon Pose. Awkward Pose. Eagle Pose. Standing Head to Knee. Standing Bow. Balancing Stick…
Setting yourself the goal to enter the Bikram 'torture chamber' is a big move, but if you we can survive one 90 minute class then you can do another. Very soon I could feel the benefit of the intense stretching, balancing and control. I'd hit the reset button and my body was being realigned in a much more positive way. After each session I felt relaxed and loose. The feeling was addictive and I found myself craving the sensation. Feeling this good meant any excuses not to do the challenge quickly disappeared.
There were other benefits too. Because I started feeling physically so much better, I was inspired to take more care over what I was eating and drinking as well. And I felt less stressed, more mentally balanced and more easily able to take on the challenges of the day.
I could never have imagined so much positive change in such a short period of time! It wasn't easy, but I completed the 60 day challenge. In fact I ended up completing 80 classes in 90 days and now I try to do at least 2 or 3 classes per week.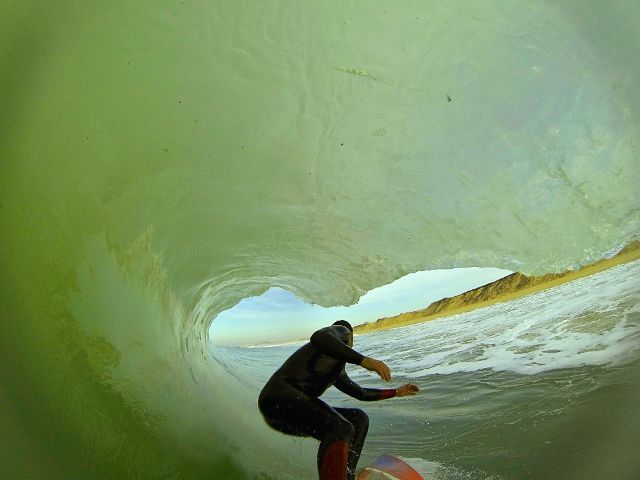 Benefits of Bikram Yoga for surfers
Yoga helps to develop your balance and improve your flexibility and I was immediately impressed with the positive effect of Bikram yoga, but I hadn't appreciated the full impact it would have on my daily life.
I wondered if other people had had similar experiences, so I asked a couple of my surfing friends how Bikram yoga had helped them and their surfing. I contacted Remi Derepas, Laurent Pujol and Gerrard Ben Soussan, three local surfers who are always performing in the surf and doing yoga classes.
This is what they said: How long have you been practicing Bikram yoga?
Remi Derepas
I started yoga 8 years ago in Indonesia. I was introduced to Bikram by a friend in Indo who explained to me that it was a really good way to refresh and optimise your body. Since Gabi opened the studio in Hossegor i've started Bikram along with my girlfriend Julia. It was a good way to dedicate some time to your body through effort. I really enjoy the difficulty of it we need loads of courage… No pain no gain!
Laurent Pujol
I started practising Bikram with Vincent Lartizien back around the year 1998. We were doing it at Francois Payot's house with just the audio back then. Felt really good and I got hooked on it.
Gerard Ben Soussan
I started practising yoga about 15 years ago , before that I started daily stretching and felt better specially my state of w7ell-being and like a connection with my body, soul and spirit. I started practising because at that time in my life I was feeling some anguish and anxious moments and friends shared with me that yoga can help.
How often do you surf and practise yoga?
Remi Derepas
I surf between 5 and 10 times a week and go to Bikram on certain periods of time (once a week for 2 months) and always during winter, because it keeps you warm. I do some classes with Ben sometimes – the 1 hour class, and I reckon you still benefit from the class, it's less than the normal 1 1/2 hour class and it's quick and easy.
Laurent Pujol
I like to go twice a week and the morning time is best for me. It's great way to start the day. Gerard Ben Soussan I try and surf and do yoga almost every day. When the surf is good I surf more and when the surf is bad I will do Bikram yoga more, because the yoga can be very demanding physically and it is pretty hard to do both on a regular basis. In the winter I do Bikram yoga class almost everyday.
Do you find yoga helps your surfing and if so, how?
Remi Derepas
For surfing, I feel like it helps me by staying loose. Stretching for sure has made a difference for me. It's a good opportunity to reset your mind and body from the daily grind of life. Also, I always remember I went surfing after my 1st class and I felt super loose, confident, like everything was happening in slow mo I could feel my body moving properly. Yoga bikram is definitely a good addition to surfing. You stay fit and ready for what's coming next. I enjoy doing it from time to time (since it's pretty hard and intense) and I love the mental and physical effort of it. It opens your mind on what your body needs. There's no lie in there – its just you against you.
Laurent Pujol
Yoga has helped me come back from injuries in the past and currently it's helping me find my flexibility after knee surgery earlier this year.
Gerard Ben Soussan
The yoga sessions helps in a way that it forces you to stretch almost every muscle you use in surfing. Yoga has helps me strengthen my legs, the core muscles which are useful for surfing. In general it keeps my body strong, supple and injury free. As I said before the physical benefits are incredible along with the emotional and spiritual awareness. It really reduces emotional pain and stress and makes you feel great so you can surf more.
For Kevin's Linkedin GO HERE