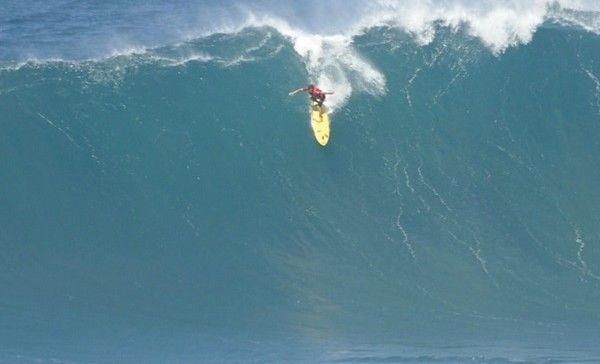 – ATHLETES AND FANS ON STANDBY FOR PE'AHI CHALLENGE
– TO BE WEBCAST LIVE AT WORLDSURFLEAGUE.COM
A Yellow Alert has been issued for the Pe'ahi Challenge with experts looking at this coming Sunday.
Image: WSL
Tuesday, December 1, 2015 –  The World Surf League Big Wave Tour (BWT) has placed the Pe'ahi Challenge in Maui, Hawaii on Yellow Alert with a projected 20-foot-plus swell (Local Scale) heading towards the region with the expected arrival on Sunday, December 6. Event organizers are closely monitoring a weather system that is travelling towards the region and the World Surf League (WSL) will issue a Green Alert 72 hours prior to commencement if the event is called on.
"We have a lot of activity in the Northern Pacific right now," Pete Mel, WSL Big Wave Commissioner, said. "Things are lining up very nicely for Pe'ahi on Sunday so we've placed it on Yellow Alert with hopes of Greenlighting on Thursday for a Sunday competition. We'll closely monitor conditions until then."
Pe'ahi, also referred to as "Jaws," breaks off the northern coastline of Maui with the ability to produce waves in excess of 60 feet. Although the break came to fame during the era of tow-in, or jet-ski-assisted, surfing, a dedicated crew of paddle-in surfers have been pushing the boundaries of what is physically possible at the venue in recent years. Should the Pe'ahi Challenge run, it will be the first paddle-in event ever held at the infamous venue.
A team of experts track swell systems all over the world waiting for those that will produce waves in the 30-foot-and-larger range for one of the seven world-class big wave venues that make up the WSL's Big Wave Tour..
Very long period energy will be on the rise rapidly through the afternoon/evening hours on Saturday with sets up to 25-35'+ faces (15-18' Hawaiian) by sundown. At this point we expect to see the swell peak in the pre dawn hours on Sunday (~2AM), with the strongest waves at Jaws at first light on Sunday in the 30-45'+ range on the face (20'+ Hawaiian), although gradually easing. The swell will ease further through the day, but should remain in the 25-35'+ range (15-18'+ Hawaiian) through mid afternoon. Surfline.
The 24-man field for the Pe'ahi Challenge will be comprised of the WSL BWT Top 12, led by reigning world champion Makua Rothman, as well as six WSL BWT wildcards and six local wildcards.
The Pe'ahi Challenge will be webcast LIVE at WorldSurfLeague.com