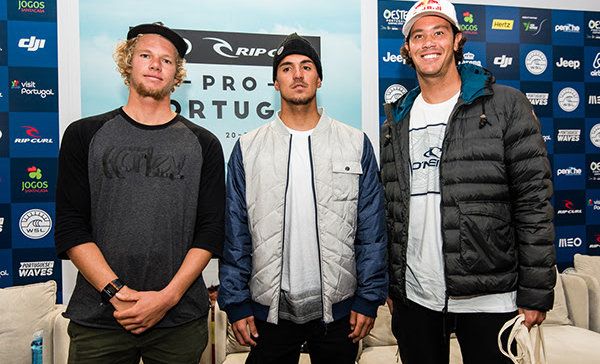 LOOKS GOOD FOR DAY ONE TO START APPROX 830-9PM TONIGHT IN HAWAII (11 HOURS BEHIND PORTUGAL)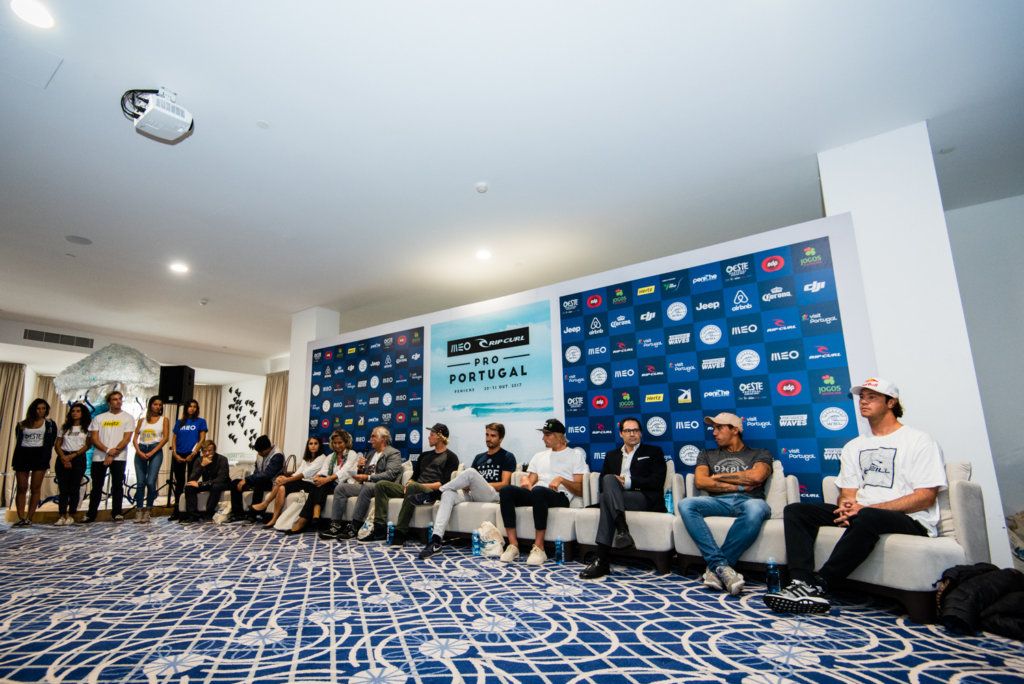 – JOHN JOHN FLORENCE LEADS WSL ELITE TO PENULTIMATE STOP ON CHAMPIONSHIP TOUR
– VASCO RIBEIRO AND MASON HO CONFIRMED AS WILDCARDS
– PROMISING FORECAST FOR WSL TOP 34
– MORE AT WORLDSURFLEAGUE.COM
WSL Title contenders John John Florence (HAW), Gabriel Medina (BRA) and Jordy Smith (ZAF) currently hold the top three places on the Jeep Leaderboard heading into the MEO Rip Curl Pro Portugal.
Credit: © WSL /  Pedro Mestre
Location:   
Supertubos, Peniche / Portugal
Event window:

October 20 – 31, 2017

Today's Call:   
Next call: 

7:45 AM

 

tomorrow

Conditions:

TBD
SUPERTUBOS, Peniche/Portugal (Thursday, October 19, 2016) – Following an exciting conclusion to the recent event in France, the world's best surfers have now arrived in Portugal for Stop No. 10 on the World Surf League (WSL) Championship Tour (CT), the MEO Rip Curl Pro Portugal. The event holds a competitive window starting Friday, October 20th, 2017 and running through October 31st, 2017.
Held at the world-class beach break of Supertubos, the MEO Rip Curl Pro Portugal has hosted the world's best surfers since 2009. With just two events remaining this season, the event will once again be a crucial stop in the hunt for this year's world surfing crown as well as the battle for requalification.
The title race is wide open with eight WSL Title contenders going into Portugal: John John Florence (HAW), Jordy Smith (ZAF), Gabriel Medina (BRA), Owen Wright (AUS), Matt Wilkinson (AUS), Julian Wilson (AUS), Filipe Toledo (BRA) and Adriano de Souza (BRA).
Defending event winner and reigning WSL Champion Florence is the only surfer that can clinch the 2017 World Title in Portugal and can only become champion in the following scenarios:
If Florence wins the event, Smith will need a 5th or better to stop him;
If Florence finishes 2nd, Smith will need a 9th or better to stop him and Medina, Wright and Wilkinson will need to win the event;
If Florence finishes 3rd or below, the World Title decision will go to Hawaii.
"This event is always a really exciting event coming at the end of the year," said Florence, who claimed his maiden WSL Title at this event in 2016. "Last year here is one of the best memories I have in my competitive career. I'm really excited to be here this year with the swell forecast so hopefully we get some big barrels."
Smith wore the yellow jersey until a disappointing Round 3 exit in France saw Florence overtake him on the Jeep Leaderboard and claim the jersey for himself. The South African has a strong record at the event, with a Semifinal finish last year and a runner-up finish in 2014.
 
"The way the points are at the moment, I think the WSL Title will come down to Hawaii," said Smith. "Like John (Florence) said throughout this year,  there will be some big waves and some big barrels so who knows, anything could happen."
Medina is fresh from a victory at Stop No. 9 on the CT in France and now sits in third place on the Jeep Leaderboard as a serious title contender. The 2014 WSL Champion is carrying a 25th place finish in his ranking points total so will need to improve on last year's Round 3 elimination in Portugal in order to keep his title hopes alive.
"It was very nice to win in France and I'm feeling really good and it's given me lots of confidence," Medina said. "It's like my second home here, so I'm happy to be back. The forecast is really good so I'm looking forward to the event."
 
Frederico Morais (PRT) leads the 2017 WSL Rookie of the Year race sitting two spots above his closest rival in 13th place on the Jeep Leaderboard. The local hero reached the Quarterfinals in 2015 as a wildcard and is sure to be a crowd favorite at the event.
 
"It's been a great year for me and a dream come true," Morais said. "This event really makes my dream become a reality. The wildcards that I've had here before gave me the drive to do what I do and be where I am today, so it's special to be back. I'm very proud to be here and have all the support that I do. Good luck to everyone in the event!"
 
Vasco Ribeiro (PRT) and Mason Ho (HAW) have been confirmed as event wildcards. Riberio, who made the Semifinals at the event in 2015, will match-up against Smith and Italo Ferreira (BRA) in Round 1 Heat 5 while Ho will take on Florence and Kanoa Igarashi (USA) in Heat 6.
 
"I'm so happy to have the wildcard this year," said Ribeiro. "Two years ago here was a great year for me at this event and the wildcards I've had really gave me a great experience. The forecast looks good so I'm really excited. This is a big opportunity and a big experience for me and I hope everything turns out okay. Good luck to everyone in the world title race."
Kelly Slater (USA) will not compete during the event due to his ongoing recovery. WSL Replacement surfer Nat Young (USA) will surf in his place.
Solid swell to kick off the opening days of the contest with the weekend offering the best combination of size and conditions at Supertubos. Smaller surf is due Monday ahead of long period WNW/NW swell that fills in on Tuesday (24th) and peaks Wednesday (25th) before easing over the second half of next week. More swell possible towards the back portion of the contest waiting period. Surfline
Event organizers will convene at 7:45 a.m. (local time) tomorrow to assess conditions and make the first call.
The events will be broadcast LIVE via WorldSurfLeague.com, the WSL app and on Facebook LIVE via the WSL's Facebook page.
MEO Rip Curl Pro Portugal Round 1 Match-Ups:
Heat 1: Julian Wilson (AUS), Caio Ibelli (BRA), Leonardo Fioravanti (ITA)
Heat 2: Matt Wilkinson (AUS), Bede Durbidge (AUS), Stu Kennedy (AUS)
Heat 3: Owen Wright (AUS), Conner Coffin (USA), Ethan Ewing (AUS)
Heat 4: Gabriel Medina (BRA), Wiggolly Dantas (BRA), Josh Kerr (AUS)
Heat 5: Jordy Smith (ZAF), Italo Ferreira (BRA), Vasco Ribeiro (PRT)
Heat 6: John John Florence (HAW), Kanoa Igarashi (USA), Mason Ho (HAW)
Heat 7: Adriano de Souza (BRA), Jeremy Flores (FRA), Jack Freestone (AUS)
Heat 8: Filipe Toledo (BRA), Michel Bourez (PYF), Jadson Andre (BRA)
Heat 9: Joel Parkinson (AUS), Joan Duru (FRA), Nat Young (USA)
Heat 10: Kolohe Andino (USA), Connor O'Leary (AUS), Miguel Pupo (BRA)
Heat 11: Sebastian Zietz (HAW), Adrian Buchan (AUS), Ezekiel Lau (HAW)
Heat 12: Mick Fanning (AUS), Frederico Morais (PRT), Ian Gouveia (BRA)