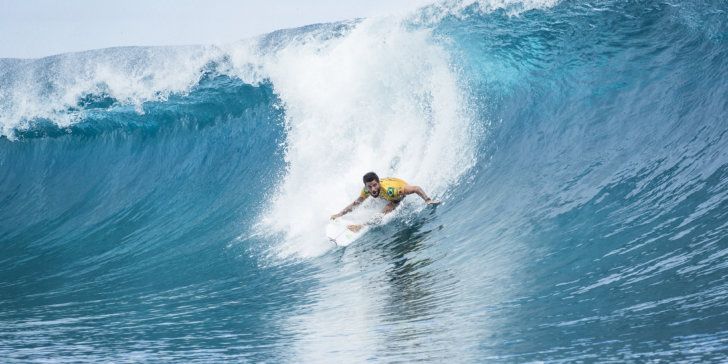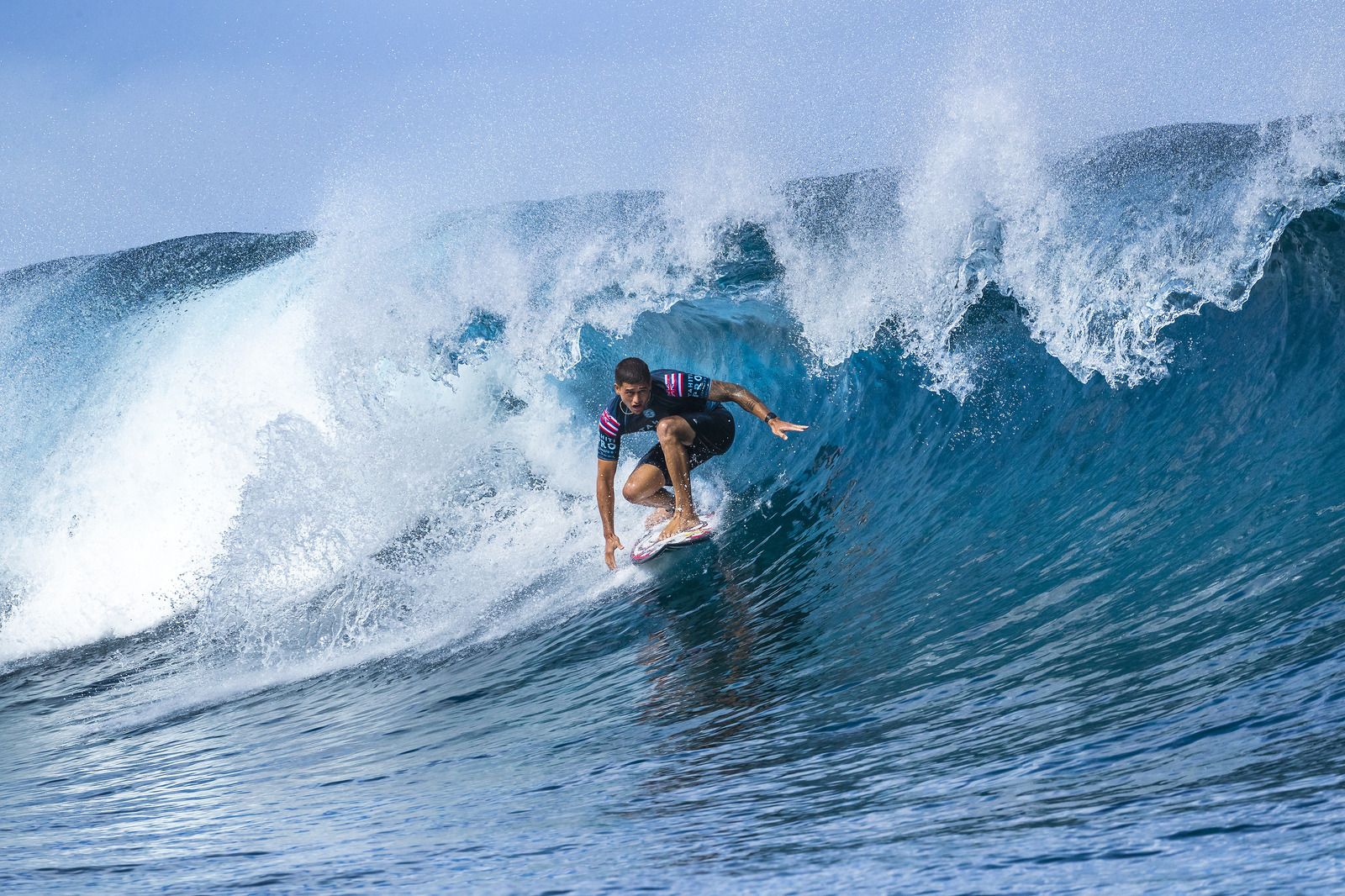 Zeke needles his way to a round 1 win. PHOTO: © WSL / Cestari 
–  BRAZILIANS TOLEDO, MEDINA AND FERREIRA POST ROUND 1 WINS
– DEFENDING EVENT WINNER JULIAN WILSON ELIMINATED IN ROUND 2 BY WILDCARD TIKANUI SMITH
Current World No. 1 Filipe Toledo (BRA) and No. 3 Gabriel Medina (BRA) are through to Round 3, while World No. 2 Julian Wilson (AUS) was eliminated early today from the Tahiti Pro Teahupo'o.
Credit: © WSL / Cestari
Location:   
   Teahupo'o, Tahiti 
Event window:
   August 10 – 

21, 2018

Today's call:
   Rounds 1 & 2 (H1-3) complete
Conditions:
   Four-to-six feet 
TEAHUPO'O, Tahiti (Sunday, August 12, 2018) – The Tahiti Pro Teahupo'o commenced today with the world's best surfers battling out through the opening round of competition in clean four-to-six foot (1.5 – 2 metre) waves at Teahupo'o.
Event No. 7 on the 2018 World Surf League (WSL) Championship Tour (CT), the Tahiti Pro at Teahupo'o, occupies a critical spot in this year's race for the WSL Title as well as the battle for 2019 requalification, and today's competition delivered high drama on both fronts.
Filipe Toledo (BRA), current WSL Jeep Leader, has notoriously struggled in Tahiti with pundits questioning if this year's event would derail the young Brazilian's world title campaign. Toledo traveled to Teahupo'o days in advance of the event to prepare for what may prove a vital result in this season's pursuit of the world surfing crown. The preparation began to pay off this morning with a Round 1 win over fellow countryman Yago Dora (BRA) and lethal local wildcard Tikanui Smith (PYF).
"Small waves today, but there are definitely some good barrels on offer when they come," Toledo said. "It's been helpful coming to Tahiti early to familiarize myself with the reef and surf the swells ahead of the event. Great to get through the first round and looking forward to more waves hopefully coming through."
Gabriel Medina (BRA), 2014 WSL Champion and last year's Tahiti Pro runner-up, has consistently posted solid results in 2018, currently ranked 3rd, but will look for a win in Tahiti to cement his title intentions through the back half of the season. Medina posted an emphatic Round 1 win this morning, threading several tubes and executing high-risk aerial maneuvers to advance directly to Round 3.
"It's a little slow, but there are really fun waves when they come through," Medina said. "Not all waves out there have a good-scoring barrel so I think performance surfing has to play a role today."
Joel Parkinson (AUS), 2012 WSL Champion, has announced his retirement from the WSL Championship Tour at the end of the season and this year's Tahiti Pro is poised to be the iconic Australian's last as a competitor. Following almost two decades of competing at Teahupo'o, Parkinson still proved deadly in besting defending event winner and current World No. 2 Julian Wilson (AUS) and local wildcard Mateia Hiquily (PYF) in Round 1 of competition.
PHOTO: © WSL / Cestari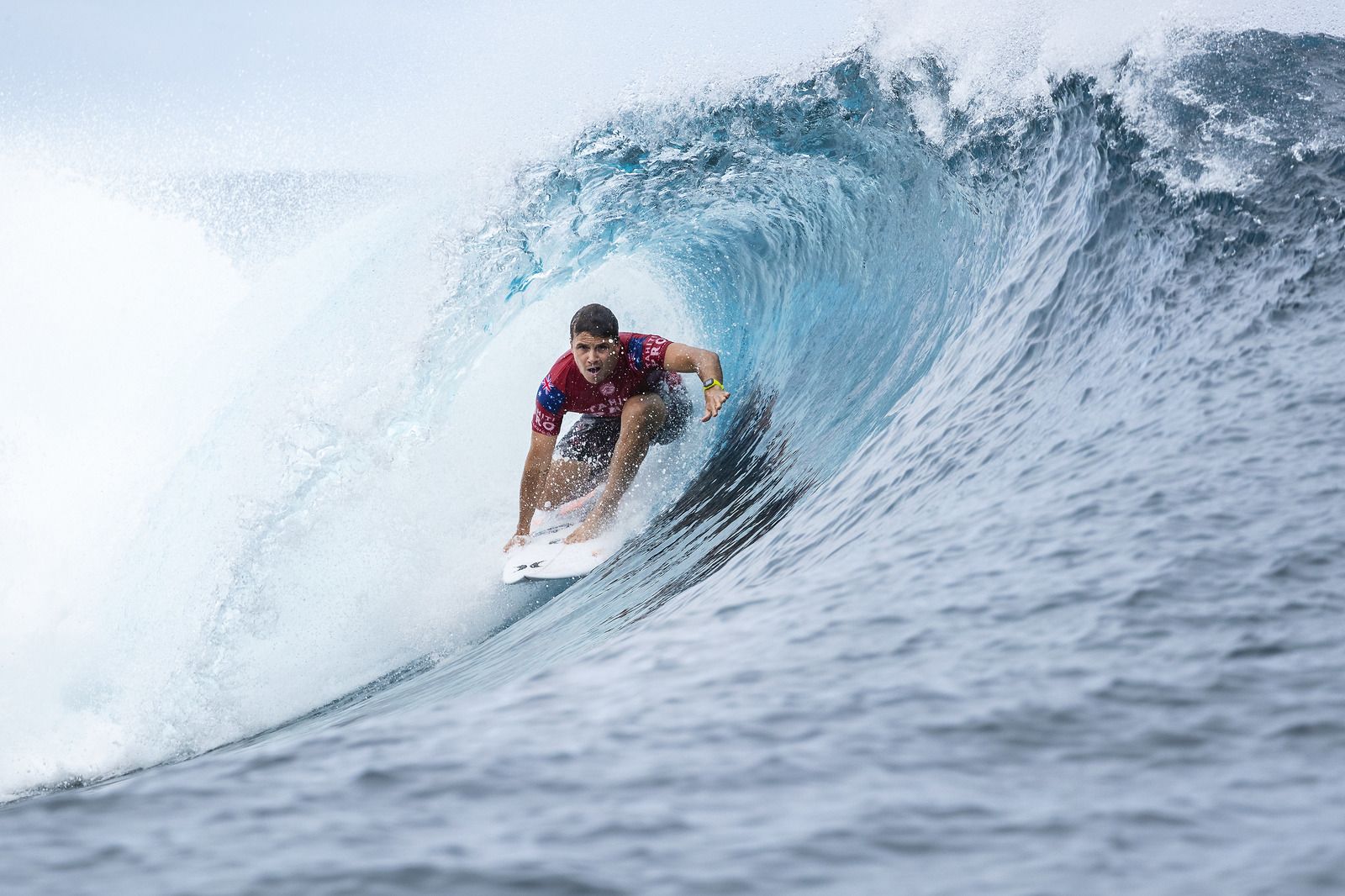 "Tahiti has been a second home for me for many years," Parkinson said. "Everyone has been so supportive of me since I announced it's my last season. Even Julian (Wilson) was giving me a hoot during one of my rides. Feel very fortunate to be competing here and looking forward to getting through a few more rounds."
Wilson's misfortunes were compounded this afternoon during a slow Round 2 battle against local wildcard Tikanui Smith (PYF). Unable to find a second scoring wave, Wilson was eliminated from Tahiti Pro competition in Round 2 and will look to rebound his title campaign at the next stop at the Surf Ranch Pro in Lemoore, CA.
Michel Bourez (PYF), sole Tahitian competing full-time on the elite WSL Championship Tour, took home a Round 1 win this morning, advancing past Keanu Asing (HAW) and Kanoa Igarashi (JPN).
"I love surfing at home even when it's small," Bourez said. "Not huge waves today, but Teahupo'o always delivers something fun to surf. Hoping for more swell through the end of the event."
When competition resumes, up first will be Mikey Wright (AUS) up against Miguel Pupo (BRA)in Heat 4 of Round 2.
The current shorter period SSW-South swell and overhead waves continue Monday with favorable conditions, then fading Tuesday into mid-week.
Just modest to potentially fun size SW swells on the radar for rest of event window; one for Thursday the 16th, another for Saturday PM the 18th through Sunday the 19th, and then possibly one to build in over Tuesday the 21st.  The prevailing, favorable ESE trade winds are looking to return for the 16th-21st-time frame.  Surfline
When competition resumes, Tahiti Pro Teahupo'o action will be broadcast LIVE on WorldSurfLeague.com and the WSL's Facebook page. Also, check local listings for coverage from the WSL's broadcast partners.
For highlights from Rounds 1 and 2 (H1-3), please visit WorldSurfLeague.com.
Tahiti Pro Round 1 Results:
Heat 1: Wade Carmichael (AUS) 12.23, Jeremy Flores (FRA) 10.00, Joan Duru (FRA) 8.20
Heat 2: Ezekiel Lau (HAW) 11.23, Ian Gouveia (BRA) 8.60, Jordy Smith (ZAF) 7.70
Heat 3: Italo Ferreira (BRA) 14.84, Sebastian Zietz (HAW) 12.17, Miguel Pupo (BRA) 9.63
Heat 4: Gabriel Medina (BRA) 15.16, Wiggolly Dantas (BRA) 9.20, Tomas Hermes (BRA) 2.56
Heat 5: Joel Parkinson (AUS) 11.63, Julian Wilson (AUS) 10.67, Mateia Hiquily (PYF) 8.94
Heat 6: Filipe Toledo (BRA) 15.50, Yago Dora (BRA) 7.83, Tikanui Smith (PYF) 2.50
Heat 7: Frederico Morais (PRT) 11.16, Willian Cardoso (BRA) 10.84, Michael February (ZAF) 10.80
Heat 8: Michel Bourez (PYF) 12.40, Keanu Asing (HAW) 9.50, Kanoa Igarashi (JPN) 7.56
Heat 9: Adriano de Souza (BRA) 12.96, Matt Wilkinson (AUS) 12.17, Mikey Wright (AUS) 11.17
Heat 10: Kolohe Andino (USA) 12.83, Patrick Gudauskas (USA) 9.84, Griffin Colapinto (USA) 8.83
Heat 11: Adrian Buchan (AUS) 12.66, Owen Wright (AUS) 11.47, Jesse Mendes (BRA) 11.00
Heat 12: Connor O'Leary (AUS) 12.67, Michael Rodrigues (BRA) 8.76, Conner Coffin (USA) 8.53
Tahiti Pro Round 2 Results:
Heat 1: Tikanui Smith (PYF) 7.67 def. Julian Wilson (AUS) 5.83
Heat 2: Jordy Smith (ZAF) 14.10 def. Mateia Hiquily (PYF) 6.67
Heat 3: Wiggolly Dantas (BRA) 13.00 def. Willian Cardoso (BRA) 12.94
Tahiti Pro Remaining Round 2 Matchups:
Heat 4: Mikey Wright (AUS) vs. Miguel Pupo (BRA)
Heat 5: Griffin Colapinto (USA) vs. Ian Gouveia (BRA)
Heat 6: Owen Wright (AUS) vs. Joan Duru (FRA)
Heat 7: Conner Coffin (USA) vs. Michael February (ZAF)
Heat 8: Michael Rodrigues (BRA) vs. Keanu Asing (HAW)
Heat 9: Kanoa Igarashi (USA) vs. Matt Wilkinson (AUS)
Heat 10: Jeremy Flores (FRA) vs. Patrick Gudauskas (USA)
Heat 11: Sebastian Zietz (HAW) vs. Jesse Mendes (BRA)
Heat 12: Tomas Hermes (BRA) vs. Yago Dora (BRA)