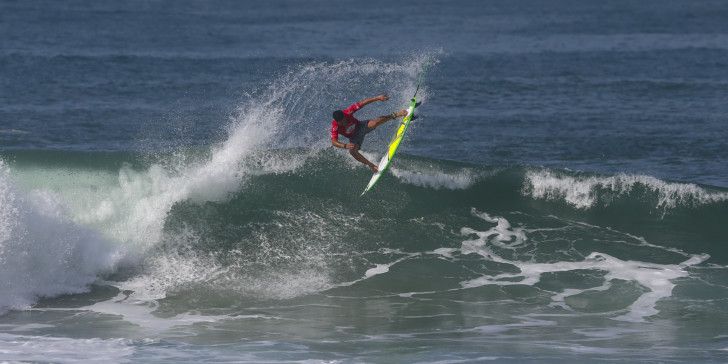 BRAZILIANS, WILDCARDS, REPLACEMENTS AND ROOKIES WREAK HAVOC ON OPENING DAY
– GRUMARI DELIVERS FOR MEN'S AND WOMEN'S ROUND 1 AT OI RIO PRO
Italo Ferreira (BRA) took to the air during Round 1 Heat 4 against Miguel Pupo (BRA) and Bino Lopes (BRA). Ferreira's progressive maneuvers paid off, as he won his heat and will advance straight to Round 3 of the Oi Rio Pro.
Image: WSL / Smorigo
| | |
| --- | --- |
| Location:    | Barra da Tijuca, Rio de Janeiro/Brazil |
| Event window: | May 10 – 21, 2016 |
| Today's call: | Men's & Women's Round 1 called ON |
| | |
| --- | --- |
| Conditions: | 4 – 6 foot (1.5 – 2 metre) |
BARRA DA TIJUCA, Rio de Janeiro/Brazil (Tuesday, May 10, 2016) – The Oi Rio Pro, the fourth stop on the 2016 Samsung Galaxy WSL Championship Tour, kicked off today with Round 1 of the men's and women's events in punchy four-to-six foot (1.5 – 2 metre) waves at Grumari Beach.
Host country to back-to-back WSL Champions Gabriel Medina (2014) and Adriano de Souza (2015) as well as 10 countrymen within the WSL elite Top 34, Brazil has firmly established itself as the new superpower in the surfing world. Additionally, in a year where results have signalled a tectonic shifting within the elite guard, the Oi Rio Pro will prove pivotal to the 2016 WSL Title race as well as the emergence of a new class of global elite.
Today's Round 1 further ensconced the unpredictable nature of the sport, and this season in particular, with the Brazilian establishment, wildcards, rookies and replacements dominating the opening day's affairs.
Filipe Toledo (BRA), the defending event Champion, is back in competition after suffering an injury on the opening stop of the 2016 Championship Tour. After a two-event absence Toledo came out the gates charging in his Round 1 heat to defeat 2016 WSL Rookie Kanoa Igarashi (USA) and injury replacement Dusty Payne (HAW). Toledo will advance directly to Round 3 and avoid the heated two-man match-ups of Round 2.
"It definitely feels so good to be back and to put a jersey on," said Toledo. "It was hard for me to be away for more than forty-five days. I didn't know if those days would be enough time to heal and feel one-hundred percent. I am still feeling something, but I am happy to be back in Rio to defend my Title."
Italo Ferreira (BRA), the 2015 WSL Rookie of the Year, set the bar high in his heat by landing a massive throw-tail reverse on his opening wave and earning the day's top single-wave score, an excellent 9 points. Ferreira continued to improve his score with a 7.50 against Miguel Pupo (BRA) and Bino Lopes (BRA) for a 16.50 two-wave heat total. Pupo threw down an 8.43, but could not find the second score he needed to challenge Ferreira. Pupo and Lopes will battle in Round 2 to stay alive in the competition.
"I have great support here in Brazil and I am so happy to be back," Ferreira said. "I am feeling really good. My board feels amazing. On my first wave I scored 9 points and that gave me a lot of confidence."
Matt Wilkinson (AUS), current Jeep Ratings Leader, was not able to hold the lead against Marco Fernandez (BRA) and Jadson Andre (BRA) in Round 1 Heat 5. Fernandez, who gained a wildcard entry into the event after winning the Local Trials, won the heat with a 13.43 two-wave combined score, while Andre secured the second-place position with an 11.57 heat total. Wilkinson, who sat with an 8.73 two-wave total, was not able to find the 8.83 required to challenge Fernandez. Wilkinson and Andre will be sent to Round 2, where they will battle to remain in the competition.
"This has been a good year for me," Fernandez said. "I started early and went to Australia January 1st then I have been surfing the Qualifying Series events, and now I am here on the World Tour. I am so happy. I was out here for the Trials yesterday where I knew I had to do my best, and it worked. Today I just won the first heat and it is a good day for me."
Adriano de Souza (BRA), reigning WSL Champion, fell short of taking the heat win against reigning WSL Junior Champion and injury replacement Lucas Silveira (BRA) in Heat 6. Silveira and De Souza started strong with 7-point rides, but it was Silveira who separated himself with an 8.67 to give him a 15.84 two-wave combined score. De Souza fought to close the 2.04 point gap, but could not find the score on his closing ride.Keanu Asing (BRA) trailed closely behind De Souza by only 0.06 points. Asing and De Souza will surf again in elimination Round 2.
"I tried to keep calm, but I was very nervous when I started the heat," Silveira said. "I got some good ones at the beginning, but these were not really the waves I wanted. I got two good scores and then I became more relaxed. I was waiting for the good one, and then one came where I got a high 8-point ride. I am pretty stoked."
Leonardo Fioravanti (ITA), replacement surfer in the Oi Rio Pro, fought through his heat against CT superstar Gabriel Medina (BRA) and injury replacement Stuart Kennedy (AUS) to advance directly to Round 3. Fioravanti held the lead for the majority of the heat, but was challenged in the last two minutes by Medina and Kennedy. The Australian locked in a 7.10 point ride to take the lead away from the Italian, but Fioravanti answered back to regain the top spot. Medina, needing a big score to take the lead, pulled off a clean aerial maneuver, but it was not enough to beat Fioravanti.
"It was hard to find the good waves, but luckily I got a good one right from the start," Fioravanti said. "Throughout the heat I was trying to back it up. I let Stuart go on a good one, which I thought was a bit of a mistake, but luckily I got back in the lead. These guys on Tour have pressure, whether it is win a World Title or stay on tour.  I am here to have fun, make heats and show I can surf well."
Courtney Conlogue (USA), defending event Champion and current Jeep Rankings Leader, earned an early lead in Round 1 Heat 3 against injury replacement Bronte Macaulay (AUS) and event wildcard Silvana Lima (BRA). Conlogue continued to strengthen her position with an excellent 8.83, the highest single-wave score of the Women's event. Conlogue's 14.76 two-wave heat left Macaulay to chasing an near-perfect 9.59 and Lima looking for two new scores. Macaulay and Lima were not able to combat Conlogue and will battle again in elimination Round 2.
"I did make a few mistakes out there, but it did not cost me in that heat," said Conlogue. "I am really happy to get through. There is definitely some emotion that came out after I caught that last wave under third priority. I was trying to time it to where my opponent couldn't take it. There are some tricky conditions, but I am trying to work all the banks and get in sync with the ocean. It paid off for sure and my emotion definitely showed."
Tyler Wright (AUS) blazed through her Round 1 heat against Coco Ho (HAW) andNikki Van Dijk (AUS). Wright showcased her powersurfing to lock in a solid 8-point ride and backed that up with a 7.00. Ho needed an 8.10 to take the lead, but fell short with a 7.00. Van Dijk was forced into a combination situation and could not find the scores to close the gap on Wright.
"To train for the beach break, I pretty much surfed waves at home and made my little brother watch me the whole time," Wright said. "It was fun and I absolutely loved it. I was looking for close-out sections, and one or two turn maneuvers. I had the best time at home, and we had so many family gatherings. My cousin got married and it was a beautiful time."
Stephanie Gilmore (AUS), six-time WSL Champion, won the last heat of Women's Round 1 against Alessa Quizon (HAW) and Johanne Defay (FRA). Gilmore secured a 15.93 two-wave total, the highest of Women's Round 1, putting the pressure on Quizon and Defay to close the gap. Defay, who earned a 9.17 two-wave combined score needed a 9.76 to combat Gilmore. Quizon was not able to get out of combination to challenge Gilmore.
"I have been on the beach since 5:30 this morning, so I have waited a long time to surf that heat," Gilmore said. "I was more or less wanting to get the job done so we could go home, but I actually had fun. There is a little bit more water on the bank and there's a fun right. It actually reminded me of a lot of Merewether and Newcastle, and I did pretty well in that event this year. I thought back to that, and I got some fun waves."
Carissa Moore (HAW), three-time World Champion, battled in Heat 5 against Sage Erickson (USA) and 2016 WSL Rookie Chelsea Tuach (BRB). Moore started with an early lead, a 9.50 two-wave combined score, but Erickson's 7.83 threatened Moore's control. Erickson was able to find a second solid score to put herself in the first-place position. Moore needed a 6.74 to take the win, and attempted to do so in the last two minutes of the heat, but her wave option was not able to stand-up enough to provide the required score. Erickson will move straight to Round 3, while Moore and Tuach will surf again in Round 2.
"I think anytime you can take down one of the top girls, you gain a lot of confidence," Erickson said. "In the last two minutes of my match-up against Carissa in Margaret River, she threw down an 8 and a 7, so she is more than capable of those excellent scores in very small amounts of time. Even though my backup was not my proudest score, I felt good on the 7.83."
Event organizers will convene tomorrow at 6:30am local time for a possible 7am start.
Highlights from the Oi Rio Pro will be webcast LIVE at  WorldSurfLeague.com.
Oi Rio Pro Men's Round 1 Results:
Heat 1: Filipe Toledo (BRA) 13.77, Kanoa Igarashi (USA) 11.60, Dusty Payne (HAW) 11.30
Heat 2: Leonardo Fioravanti (ITA) 14.30, Stuart Kennedy (AUS) 12.93, Gabriel Medina (BRA) 11.80
Heat 3: Davey Cathels (AUS) 12.00, Julian Wilson (AUS) 9.24, Deivid Silva (BRA) 7.43
Heat 4: Italo Ferreira (BRA) 16.50, Miguel Pupo (BRA) 10.86, Bino Lopes (BRA) 8.66
Heat 5: Marco Fernandez (BRA) 13.43, Jadson Andre (BRA) 11.57, Matt Wilkinson (AUS) 8.73
Heat 6: Lucas Silveira (BRA) 15.84, Adriano de Souza (BRA) 13.80, Keanu Asing (BRA) 13.74
Heat 7: Nat Young (USA) 15.04, Michel Bourez (PYF) 9.37, Alex Ribeiro (BRA) 5.83
Heat 8: Jordy Smith (ZAF) 12.37, Conner Coffin (USA) 10.83, Jack Freestone (AUS) 10.70
Heat 9: Adam Melling (AUS) 15.23, Jeremy Flores (FRA) 15.13, Josh Kerr (AUS) 15.04
Heat 10: Ryan Callinan (AUS) 15.53, Wiggolly Dantas (BRA) 13.44, Kolohe Andino (USA) 7.67
Heat 11: Alejo Muniz (BRA) 13.50, Adrian Buchan (AUS) 13.46, Sebastian Zietz (HAW) 12.77
Heat 12: John John Florence (HAW) 11.34, Caio Ibelli (BRA) 10.84, Matt Banting (AUS) 6.34
Oi Rio Pro Men's Round 2 Match-Ups:
Heat 1: Adriano de Souza (BRA) vs. Bino Lopes (BRA)
Heat 2: Matt Wilkinson (AUS) vs. Deivid Silva (BRA)
Heat 3: Julian Wilson (AUS) vs. Dusty Payne (HAW)
Heat 4: Gabriel Medina (BRA) vs. Alex Ribeiro (BRA)
Heat 5: Jeremy Flores (FRA) vs. Jack Freestone (AUS)
Heat 6: Kolohe Andino (USA) vs. Matt Banting (AUS)
Heat 7: Sebastian Zietz (HAW) vs. Keanu Asing (BRA)
Heat 8: Caio Ibelli (BRA) vs. Jadson Andre (BRA)
Heat 9: Adrian Buchan (AUS) vs. Miguel Pupo (BRA)
Heat 10: Wiggolly Dantas (BRA) vs. Stuart Kennedy (AUS)
Heat 11: Josh Kerr (AUS) vs. Kanoa Igarashi (USA)
Heat 12: Conner Coffin (USA) vs. Michel Bourez (PYF)
Oi Rio Women's Pro Round 1 Results:
Heat 1: Sally Fitzgibbons (AUS) 12.50, Laura Enever (AUS) 11.06, Bianca Buitendag (ZAF) 10.67
Heat 2: Keely Andrew (AUS)13.17, Tatiana Weston-Webb (HAW) 12.00, Malia Manuel (HAW) 7.07
Heat 3: Courtney Conlogue (USA) 14.76, Bronte Macaulay (AUS) 6.10, Silvana Lima (BRA) 5.50
Heat 4: Tyler Wright (AUS) 15.10, Coco Ho (HAW) 9.10, Nikki Van Dijk (AUS) 5.33
Heat 5: Sage Erickson (USA) 12.40, Carissa Moore (HAW) 9.50, Chelsea Tuach (BRB) 7.53
Heat 6: Stephanie Gilmore (AUS) 15.93, Alessa Quizon (HAW) 10.33, Johanne Defay (FRA) 9.14
Oi Rio Women's Pro Round 2 Match-Ups:
Heat 1: Malia Manuel (HAW) vs. Alessa Quizon (HAW)
Heat 2: Bianca Buitendag (ZAF) vs. Laura Enever (AUS)
Heat 3: Carissa Moore (HAW) vs. Silvana Lima (BRA)
Heat 4: Tatiana Weston-Webb (HAW) vs. Coco Ho (HAW)
Heat 5: Johanne Defay (FRA) vs. Chelsea Tuach (BRB)
Heat 6: Nikki Van Dijk (AUS) vs. Bronte Macaulay (AUS)