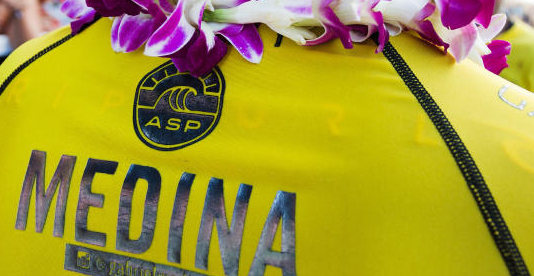 Guess who has the target on their back? It's going to be an amazing year. Will the new guard take over or will the 'old guard' givem something to think about?
WSL Men's World Championship Tour Class of 2015 – ASP
The 2014 Samsung Galaxy ASP World Championship Tour season came to a close with the historic crowning of the first Brazilian World Champion, Gabriel Medina, during the Billabong Pipe Masters.
The finale of the 2014 season also marks another historic beginning for the sport of surfing, as the Association of Surfing Professionals (ASP) will become the World Surf League (WSL) in 2015. The goal of the WSL is simple: To deliver the athleticism, adventure and competitive drama of the world's best surfers in the world's best waves around the globe.
The 2015 elite men's Championship Tour (CT) will be contested by the WSL Top 34, made up of the top 22 finishers on 2014 CT season, the top 10 finishers on the 2014 Qualifying Series (QS) and two WSL wildcards.
2014 Top 22 CT:
1. Gabriel Medina (BRA)
2. Mick Fanning (AUS)
3. John John Florence (HAW)
4. Kelly Slater (USA)
5. Michel Bourez (PYF)
6. Joel Parkinson (AUS)
7. Jordy Smith (ZAF)
8. Adriano de Souza (BRA)
9. Taj Burrow (AUS)
10. Josh Kerr (AUS)
11. Kolohe Andino (USA)
12. Owen Wright (AUS)
13. Nat Young (USA)
14. Julian Wilson (AUS)
15. Adrian Buchan (AUS)
16. Bede Durbidge (AUS)
17. Filipe Toledo (BRA)
18. Kai Otton (AUS)
19. Miguel Pupo (BRA)
20. Sebastian Zietz (HAW)
21. Freddy Patacchia Jr. (HAW)
22. Jadson Andre (BRA)
2014 Top 10 QS (minus double qualifiers from CT):
Matt Banting (AUS)
Wiggolly Dantas (BRA)
Adam Melling (AUS)
Italo Ferreira (BRA)
Matt Wilkinson (AUS)
Keanu Asing (HAW)
Dusty Payne (HAW)
Jeremy Flores (FRA)
Brett Simpson (USA)
Ricardo Christie (NZL)
WSL Wildcards:
C.J. Hobgood (USA)
Glenn Hall (IRL)
The 2015 elite women's Championship Tour (CT) will be contested by the WSL Top 17, comprised of the top 10 finishers on the 2014 CT, the top six finishers on the 2014 QS and the WSL wildcard.
Women 2014 Top 10 CT:
Stephanie Gilmore (AUS)
Tyler Wright (AUS)
Carissa Moore (HAW)
Sally Fitzgibbons (AUS)
Malia Manuel (HAW)
Lakey Peterson (AUS)
Bianca Buitendag (ZAF)
Johanne Defay (FRA)
Courtney Conlogue (USA)
Laura Enever (AUS)
2014 Top 6 QS (minus double qualifiers from CT):
Silvana Lima (BRA)
Coco Ho (HAW)
Sage Erickson (USA)
Nikki Van Dijk (AUS)
Tatiana Weston-Webb (HAW)
Alessa Quizon (HAW)
WSL Wildcard: Dimity Stoyle
For more information, check out aspworldtour.com