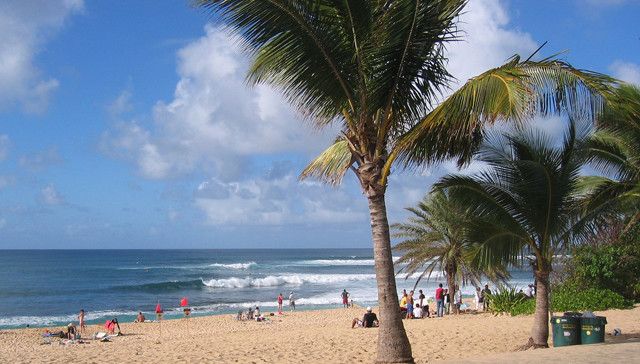 Sunset Beach © Ian Kennedy
Sunset Beach Pro Junior
World Surf League JP 1000
Sunset Beach, Oahu Hawaii
26 – 28 January 2015
Tahitian Keoni Yan dominates Day 1 of event
Surf News Network, 26 January, 2015 – North Shore – The Sunset Beach Pro Junior enjoyed great 8- to 12-foot surf on Oahu's North Shore today, with exceptional performances delivered by Tahiti's Keoni Yan, Brazil's Lucas Silveira, and Italy's Leonardo Fioravanti. For aspiring pro surfers aged 20 and under, this event is an opportunity to gain critical experience in what is known as the most challenging wave on Earth. For decades, Sunset Beach has been regarded as a venue where every surfer must ultimately prove himself.
The Sunset Beach Pro Junior is a World Surf League sanctioned event that carries a JP1000 rating. It is a three-day event that will wrap up this Wednesday.
Keoni Yan, 19, recently moved to Oahu from Taravao, Tahiti, to challenge himself and become a better surfer. His ultimate goal is to qualify for the WSL's elite Championship Tour that crown's surfing's world champion each year. He says this event attracts such great up-and-coming talent from around the world that it's the perfect contest to challenge yourself. His surfing today was the most committed and critical, registering the highest two-wave total heat score of the event so far – 17.83 points.
"Sunset is a hard place to surf even if you're a good surfer," said Yan. "You've got to learn how to read the wave very well. If you want to get good scores here, you have to hit the lip hard. I've been training here a lot to do that.
"I've improved a lot surfing here. I've also grown a lot in the past couple of years and got more powerful, so I feel I fit the wave a lot better now."
A handful of 13-year-olds comprised the youngest competitors in the draw, including Pupukea local Wyatt McHale. Given the age range of the teenagers entered in the competition, there is also a massive size and weight range. For the smaller, lighter, younger kids, today's surf was definitely adrenalin inducing.
"It was actually really fun," said McHale. "It's probably the easiest size to surf Sunset because it's more predictable. To be honest, I don't expect too much from this contest. I'm just looking for experience and to try my boards out."
Mahalo to Cholo's; Xcel; Pakaloa Bikinis; and HIC for their support of this event.
Surfers listed in order of 1st through 4th. 1st & 2nd advance.
Round 2:
H1: T Bisso (GLP) 8.93; T Wakita (HAW) 7.67; N Schweizer (USA) 7.5; J Burke (USA) 7.47
H2: R Laing AUS) 11.5; T Tudela (PER) 6.16; W Banks (HAW) 5.33; R Juboori (USA) 0.0
H3: C Gittner (USA) 10.83; H Johnson (HAW) 10.33; H Arai (JPN) 7.66; N Marshall (USA) 6.5
H4: F McGill (HAW) 11.66; L Ng (HAW) 7.43; K Lau (HAW) 7.0; K Hamase (JPN) 6.07
H5: N Mizuno (HAW) 11.23; C Young (HAW) 7.5; L Diaz (CNY) 6.67; D Silva (HAW) 3.83
H6: K Yan (HAW) 17.83; J Johnston (HAW) 12.83; E Gates (HAW) 9.83; C Houshmand (USA) 1.33
H7: L Silveira (BRA) 15.5; E Fox (HAW)13.0; JM Maffini (HAW) 11.54; J Benjoya (USA) 9.53
H8: L Bediamol (HAW) 13.1; W McHale (HAW) 7.4; M Tsuzuki (JPN) 4.7; B Couto (USA) 0.0
H9: A Pendleton (USA) 5.1; K Brown (USA) 4.66; R Rubens (USA) 2.84; T Boyer (FRA) 2.1
H10: S Bailey (AUS) 14.4; C Bluthard (HAW) 8.96; M Clarke (USA) 7.4; E Osborne (USA) 4.0
H11: K Daily (USA) 11.17; U Napeahi (HAW) 10.07; J Azuchi (JPN) 6.93; R Guest (HAW) 5.84
H12: P Schmidt (USA) 15.84; M Self (CAN) 7.4; K Oliveira (HAW) 5.97; K Willard (HAW) 5.3
H13: L Fioravanti (ITA) 14.07; S Cruz-Pacarro (HAW) 10.43; N Beschen (HAW) 3.5; C Norton (USA) 0.0
H14: K Apo (HAW) 9.5; N Collins (USA) 8.67; J Paxton (AUS) 7.1; C Alves (HAW) 5.07
H15: B Brand (HAW) 15.14; T Nakamura (JPN) 12.67; L McTigue (HAW) 8.83; M Passaquindici (USA) 7.9
H16: I Gentil (HAW) 12.67; Y Dora (BRZ) 12.67; J Szekely (USA) 11.1; J Mel (USA) 6.56