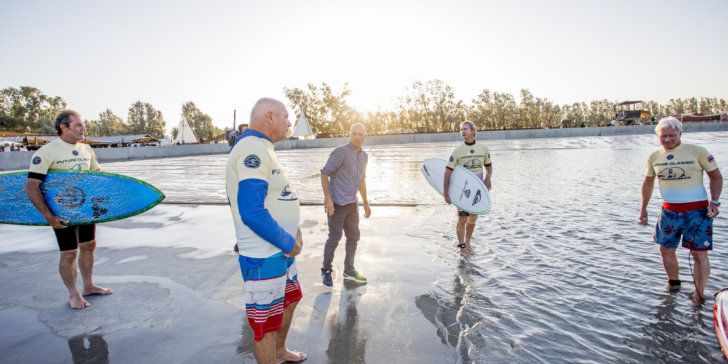 SEVEN INDIVIDUALS RECOGNIZED AS KEY FOUNDERS OF PROFESSIONAL SURFING
WSL FOUNDERS TO ATTEND AND PARTICIPATE IN MAY SPECIALTY EVENT
HERE ARE THE TEAMS

The Founders' Cup of Surfing will run from 

May 5 – 6, 2018

 at the Kelly Slater Surf Ranch in Lemoore, California.
Credit: © WSL /  Morris
LOS ANGELES, California/USA (Thursday, March 29, 2018) – The Founders' Cup of Surfing presented by Michelob ULTRA Pure Gold will run May 5 – 6, 2018, making history as the first public event at the world-famous Surf Ranch facility in Lemoore, California and the iconic organizing members of professional surfing, after which the Founders' Cup is named, are weighing in on the event.
Informally recognized during last season's test event at the Surf Ranch facility, the WSL is proud to celebrate the following seven individuals as key founders of the sport ahead of this May's event:
Fred Hemmings (HAW): 1968 World Champion, IPS Co-Founder
Randy Rarick (HAW): IPS Co-Founder, Triple Crown of Surfing Co-Founder
Peter Townend (AUS): 1976 World Champion, Founding Member of APSA
Shaun Tomson (ZAF): 1977 World Champion
Wayne Bartholomew (AUS): 1978 World Champion, Dream Tour Architect
Mark Richards (AUS): Four-Time World Champion (1979 – 1982)
Ian Cairns (AUS): Co-Founder APSA, Smirnoff and Duke Winner, ASP Architect
"Surfing is steeped in an impressive amount of history and heritage," said Sophie Goldschmidt, WSL CEO. "These seven individuals were instrumental to organizing professional surfing from its infancy through to where it is today and we're very excited to celebrate their ongoing vital relationships with the sport and culture of surfing."
The Surf Ranch facility, which was revealed online to the public in December 2015, boasts the best man-made wave in history – a 700-yard, high-performance, bi-directional wave featuring barrel sections and maneuver sections.
Primarily existing as a testing facility, the Lemoore site has spent the past two years dialing in the technology under the guidance of 11-time WSL Champion Kelly Slater and feedback from visiting WSL surfers. A private test event last September proved very successful, paving the way for the May Founders' Cup of Surfing and the Surf Ranch Championship Tour event in September.
"The Surf Ranch is the logical extension of planned surf competitions," Randy Rarick said. "From a logistical point of view, it allows the WSL to bring the surf to the fans. It is a dream wave that can now be enjoyed by all."
"I think the Kelly Slater Surf Ranch is groundbreaking, they've developed a magical perfect wave and while you can never replace the challenge of nature's surf, to me it's just another challenge as a surfer to catch some waves there and try to rip it," Peter Townend said. "It's another great surf spot/location and I surely haven't heard too many say they don't want the chance to surf it."
A first for the world's best surfers, the continental co-ed teams' event will see a cross-section of the world's best surfers battling it out for the public at the world's most high-performance man-made wave.
"Surfing for your country is really a cool experience and having a team to support is different and engaging for an athlete in an individual sport," Ian Cairns said. "It also strengthens the bond between the male and female team members…both the men and the women have to win to help the team win. That is such a cool thing and I'm really looking forward to seeing how the teams perform in May."
"I have always advocated a 'Davis Cup' style event and I applaud WSL for combining the worlds' best men and women in the one event," Wayne Bartholomew said. "The line-up of superstars is mindblowing!"
"Professional surfing has grown beyond my expectation," Fred Hemmings said. "I believe the next big step in the evolution of professional surfing will come about because of wave generation technology such as Kelly Slater's wave ranch."
In addition to interacting with Founders' Cup attendees for autograph sessions, photo opportunities and Story Sessions for the public, the Founders will be showcasing their timeless surfing ability in a special exhibition session during the event.
Presenting sponsor, Michelob ULTRA Pure Gold, is made with sustainably sourced organic grains and features ingredients free from artificial colors and flavoring. Michelob ULTRA Pure Gold was born from a commitment to innovate using ingredients and inspiration from nature.
Frequently Asked Questions
 Where is the event being held?
Kelly's Wave was kept secret during its development – but now we're happy to say that the Surf Ranch is located at 18556 Jackson Ave, Lemoore, CA 93245. Parking will be available nearby.
How do I get to Surf Ranch? What transportation options do you recommend?
Surf Ranch is a short 3-hour drive from Los Angeles or San Francisco, and a 45 minute drive from Fresno and the Fresno Airport. There are also small municipal airports in the nearby towns of Hanford and Visalia.
Is there a shuttle or bus to Lemoore?
Everyone's got to make their own way to Lemoore. If you're making the trip from LA, SF, or beyond – grab some friends and carpool! The planet'll love ya for it.
Taxis, Ubers, or Lyfts are available if you are coming from Fresno, but note taxi and ride services may not be readily available in the LeMoore area for your return trip.
Is there parking at Surf Ranch?
You bet. WSL will provide regular shuttles to Surf Ranch from the event parking lots throughout the event.
What lodging options are in the area?
There are great options from Airbnb in Hanford, Visalia, LeMoore and Fresno. In addition there are a number of affordable hotels in the area. There are also campsites and RV-friendly parking lots nearby.
Please note WSL is a member of AirBNB's affiliate program and may receive a commission on bookings made via this page/email/etc.
Is it general seating or assigned seating?
General Admission tickets get you in – where you go from there is up to you! There's plenty of space in the grandstands, which feature spectacular views of the wave and a clear line of sight to the jumbotrons. There are no assigned seats in the grandstands.
VIP tickets will grant access to designated VIP viewing areas; there is no assigned seating in the VIP areas.
What are the daily start and stop times of the event? When will the competition run?
We can't wait! Gates will open at 8am, the competition begins at approximately 9am and conclude at 6:30pm PT both Saturday May 5 and Sunday May 6. On Saturday May 5, there will be a special musical guest to the break between Rounds 1 and 2. Stay tuned (…get it?) –  we'll be announcing the artist soon!
Please note: times are subject to change. Questions about The Surf Ranch Experience? Contact founderscup@worldsurfleague.com.
What is the ticket refund policy?
Tickets purchased via Eventbrite may be fully refunded up to 30 days before the event. After that date, all ticket purchases are non-refundable.
Will the event be suitable for children and babies? Do my kids need tickets?
A discounted Grom ticket is required for children between three and ten years old. For children 11 and older, a full price ticket is required. Children under the age of 16 must attend with an adult and be supervised appropriately.
Can I upgrade my tickets?
You sure can! If you would like to upgrade your ticket(s), please email founderscup@worldsurfleague.com.
Are there any official activities after the event?  
Our focus is on an epic and historic day of competition and the best possible fan experience to go with it. There are no formal post-event activities.
What do you get with the VIP and The Surf Ranch Experience Tickets?
Please refer to the "Tickets" page to view the benefits associated with each ticket type. VIP tickets will grant access to designated VIP viewing areas; there is no assigned seating in the VIP areas.
What musical acts will be performing?
Stay tuned! We'll be making an announcement very soon. (Hint: It's gonna be goooood.)
Is there a discount available if I buy multiple tickets?
We're excited that you're planning to come with a crew – unfortunately there is no discount for purchases of multiple tickets.
Is the Ranch ADA compliant?
Everyone should be able to see amazing surfing in-person. The Ranch is ADA compliant and accessible/disabled seating is available. When ordering tickets, please indicate that you require accessible seating so we can accommodate your needs.
What do I need to bring to get into the event?
Please bring a passport or state-issued photo ID (e.g. driver's license) and your Eventbrite ticket (printed or virtual). We can't wait for you to see this!
Still have questions?
We'll send a full, comprehensive event guide to all ticket holders before the event. When you see that land in your inbox, get excited! It means you'll be at Surf Ranch watching history real, real soon. In the meantime, reach out at founderscup@worldsurfleague.com with any questions.