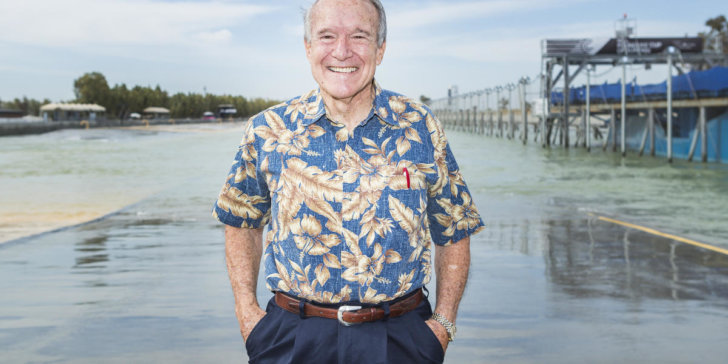 Front page: Fred Hemmings enjoying himself at the 2018 Founders Cup in Lemoore, CA.WSL / KELLY CESTARI
Surfing is a sporting, cultural and communal phenomenon that has captivated and inspired the world for generations.
Serving as a platform for creativity, exploration and progression, some of the most interesting and innovative people on the planet have gravitated towards surfing's unmatched arena of freedom – iconoclasts, heroes, icons, culture-shifters, freethinkers, designers, and artists.
As part of the WSL Heritage Series, we're proud to begin sharing these stories with help from Matt Warshaw at the Encyclopedia of Surfing.
Pioneer Fred Hemmings
Straight-talking square-jawed surfer-organizer-politician from Honolulu, Hawaii; winner of the 1968 World Surfing Championships; founder of the Pipeline Masters, as well as the International Professional Surfers world tour; Republican minority whip in Hawaii's House of Representatives in 1990.
Hemmings was born (1946) and raised in Honolulu, one of six children delivered to a New York-born civil servant father and a Portuguese-American mother. The family was poor, and Hemmings, along with three of his siblings, contracted polio, though none suffered permanent debilitation.
Hemmings began surfing in Waikiki at age eight; in 1961 and 1963 he won the juniors division of the Makaha International contest; in 1964 he took the Makaha men's title (while earning all-league honors as a center on the Punahou High School football team), then finished runner-up in 1965, and won again in 1966.
Hemmings's strengths as a surfer were power and consistency; he rode in a fairly narrow stance, drew elegant if somewhat predictable lines across the wave, and kept his maneuvers under control at all times, even while charging through the most critical sections. He appeared in The Endless Summer (1966), Golden Breed (1968), and other period surf movies.
Because Hemmings had nothing but disdain for anything associated with the late-'60s counterculture movement, it wasn't surprising that he had little enthusiasm for the concurrent shortboard revolution. The short surfboards, he said in a 1968 interview, "are absurd for Hawaiian surf. They don't work here." Later in the same interview Hemmings railed against "pot and hippieism."
In a result that surprised nearly everybody in the sport except Hemmings himself, he then went on to win the 1968 World Championships, held in Puerto Rico.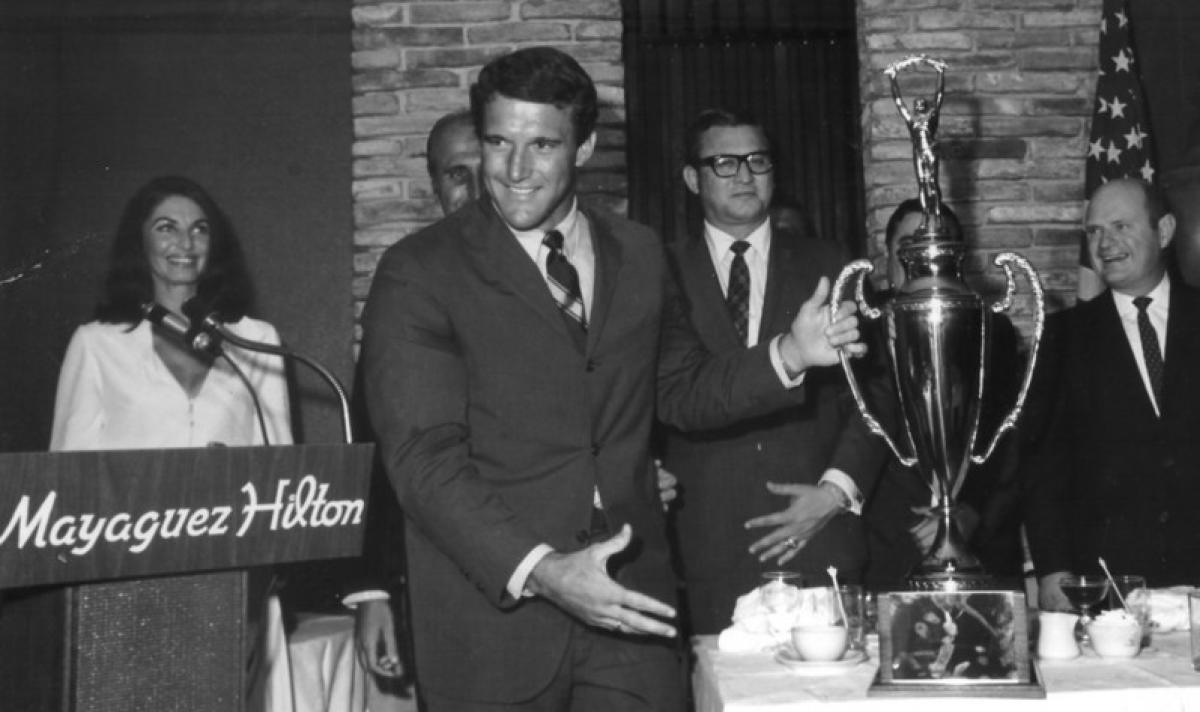 The World Championship trophy ceremony in Rincon, Puerto Rico (1968). Fred was the only surfer in a suit.WSL
He used a longer and thicker board than the other competitors, but during the finals, held in beautiful six-foot surf, he rode without error to defeat 1964 world champion Midget Farrelly and 1966 world champion Nat Young, among others. "They were rock and rollers," Hemmings said of Farrelly and Young, in a remark that illustrated the distance between himself and surfing's psychedelic orthodoxy, "while I tried to waltz with the waves."
Hemmings arrived at the world championships awards ceremony dressed in a blue blazer, tie, and leather loafers, looking, he recalls, "like an IBM salesman at a Cheech and Chong convention."
Hemmings retired from competition in 1969, and turned his attention to creating, promoting, and marketing professional surf contests. From 1970 to 1978 he did color commentary for ABC's Wide World of Sports and CBS's Sports Spectacular during their annual surf contest coverage in Hawaii.
Much more…CATCH THE WHOLE STORY HERE