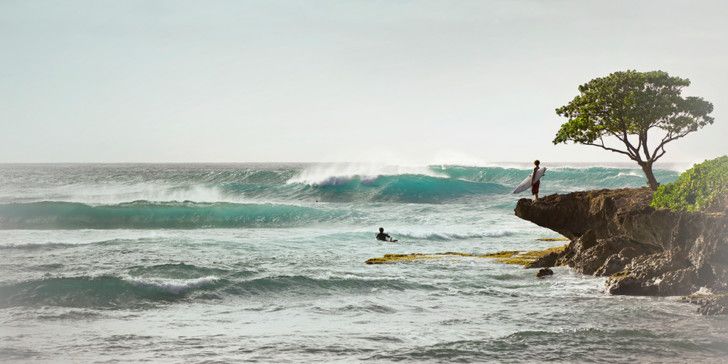 Good morning!
Logan Bediamol (Oahu). Image: WSL/Freesurf/Heff
The Turtle Bay Resort Pro Junior has been called ON today, Friday October 14, in 4-6ft. surf at The Point. Competition began at 8AM with men's trials heats.
"The conditions are pretty solid, 4-6ft. with some 8ft wash through sets, however the conditions are forecasted to decrease and settle down throughout the course of the day," said Marty Thomas, Contest Director. "There are some bigger sets coming in, but the medium waves are very nice for the contestants, they've been out all morning ripping it up and it should be a great day of competition."
This one-day WSL JQS1,000 event will crown an event winner, a men and women's Regional Hawaii Junior Champion and 6 qualifying slots into the World Junior Championship in Australia this January. The stakes are high.
Jackson Bunch (Maui). Image: WSL/Freesurf/Heff
Hoping to hold onto his No. 1 slot on the men's regional junior rankings, Maui's Cody Young will compete against Makana Pang (Oahu), Dylan Franzmann (Oahu) and Keoni Picollo (Oahu) while Kailua's Brisa Hennessy and junior women's current No.1 will compete against Keala Tomoda-Bannert (Kauai), Leila Riccobuano (Oahu) and the winner from the trials heat.
Please anticipate VNR by 3pm and a press release with images by EOD. A highlight edit will be available within 24-48 hours, so please check back to the event page for updates.
Athletes will be on-site at Turtle Bay Resort if you would like to schedule an interview, please reach out via email to coordinate or I can be reached at (808) 651-8248.
Please see below for images from yesterday's warm up session.
Mahalo for your support, and happy aloha Friday,
Lauren Rolland
WSL Hawaii
Media & Communications Manager
lrolland@worldsurfleague.com
hawaiicomms@worldsurfleague.com
CODY YOUNG AND BRISA HENNESSY CLOSE IN ON
QUALIFICATION AND REGIONAL TITLES
Qualification into Junior World Championships, as well as the regional Junior champions will be decided here. Image: WSL / Turtle Bay
| | |
| --- | --- |
| Location:    |     Turtle Bay Resort, North Shore, Oahu                                                  |
| Rating: |     Men and Women's JQS1,000 |
| Event Window: |     October 11 – 15 |
NORTH SHORE, Oahu/Hawaii (Thursday, September 29, 2016) – 
 The World Surf League (WSL) Hawaii Junior Qualifying Series (JQS) tour will come to a close this October with the
Turtle Bay Resort Pro Junior
, an inaugural event that carries the weight of World Junior Championship qualification and the Regional Junior Champion title for the top under 18 surfers. Currently leading the ranks, Maui's
Cody Young
(men's division) and Oahu's
Brisa Hennessy
(women's) are both confirmed to compete in the one-day event, which has a holding window of October 11 – 15.
The qualification implications are at an all-time high as only four boys and two girls will earn a slot into the WSL World Junior Championship in Australia to represent Hawaii.
Cody Young attacks a wave at this year's Pipe Pro Junior, earning a 3rd place finish. Image: WSL/Freesurf/Heff
 "This event is really important because all of us are competing for the top 4 and we're all so close," said Young, 17. "A lot can happen at this last event, but I'd love to take the win in both the event itself and the rankings. I really want to qualify for World Juniors so I can give myself a shot at a world title."
Leading the charge for the women, Kailua's Hennessy is 300 points ahead of fellow competitor Zoe McDougall (Sunset Beach, Oahu) and has had a very successful year with a win at the Sunset Pro Junior in January and multiple podium finishes. The 17-year-old competed in the 2015 World Junior Championship and is highly motivated to return.
"It was an incredible experience going to Portugal for the first time and competing against the best in the world," said Hennessy of last year's WSL World Junior Championship. "I learned so much and I ended up with an equal 9th place."
Brisa on her backhand at Monte Verde beach in Portugal. Image: WSL/Masurel
The surfer recently returned home from Azores, Portugal where she earned second place in the Azores Airlines Pro QS 1,500 and gold at the Vissla ISA World Junior Surfing Championship Girls Under 18 division. Now an ISA World Junior Champion, Hennessy hopes to keep up the winning streak and add another championship title to the list."I am really hoping to qualify again for the World Junior Championship this year and will do my best to make it farther!"
Despite the lead both Hennessy and Young have on fellow competitors, the Turtle Bay Resort Pro Junior could easily shake up the ratings and see fresh faces emerge.
"The performance level of junior surfing in Hawaii is at an all-time high," said Bert Ishimaru, WSL Hawaii Tour Manager. "For this season ending event we have a huge turn out of top local juniors and with the high performance waves at Turtle Bay, it's going to be a great show!"
Pool Bars has waves on offer year-round. Image: WSL/Turtle Bay
2016 marks the first WSL Junior QS event at the legendary Turtle Bay Resort and both WSL Hawaii and Turtle Bay look forward to a lasting partnership."The Resort has been a longtime supporter of the North Shore surf culture, having partnered with the Vans Triple Crown and WSL for over 15 years," said Adam Luchs, Turtle Bay Resort Event Manager. "The Seven Mile Miracle is such a consistently wave rich coastline and every year we are privileged to host the best surfers in the world on some of the best waves in the world. It is a real treat for the local community to be able to share waves and share stories with the pro's. Now with the addition of the Turtle Bay Resort Pro Junior, we have the opportunity to also highlight the best up and coming youth in the sport."
Situated on the northeast point of Oahu, Turtle Bay Resort is home to a right-breaking wave called Pool Bars, which acts as a swell magnet that produces waves for majority of the year.
"Being on the Northern most tip of the island, Pool Bars has waves 300+ days out of the year from both ground and wind swell, and can handle waves of all sizes, with multiple take-off zones from the main peak and all across the bay," continued Luchs. "Past wave models for a typical mid-October forecast has us excited for epic waves and a great contest for the Juniors."
With the North Shore now poised to pull in the northerly swells, contest organizers are hoping the Pacific delivers optimal conditions for the juniors and will be tracking the surf as the event holding period draws closer.