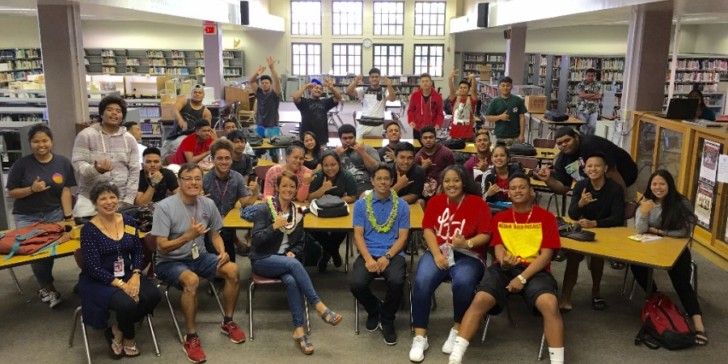 CONGRATS to WSL's Jodi Wilmott (third from left) and Bert Ishimaru (fourth from left) who join teachers and students at Farrington High for their first Business Academy activation day. Image: WSL
KALIHI, Oahu/Hawaii –(Tuesday, November 1, 2016) — 
World Surf League (WSL) Hawaii and Governor Wallace Rider Farrington High School are working together this 2016/17 school season to develop a one-of-a-kind curriculum for the 
Farrington Business Academy,
 Sports Industry Focus program, with the students' first project being put into motion Friday, November 4. The Sports Industry Focus students are planning, coordinating, and managing a school wide inspirational assembly that will feature 3x World Champion and recent winner of the Roxy Pro France Carissa Moore, and legendary surfer, shaper and Farrington High alumnus Ben Aipa.
Farrington High School Academies provide their students with career-related experiences through rigorous and relevant programs and business partnerships in the fields of Business, Creative Arts and Technology, Culinary Arts, Engineering, Health, Law & Justice, Sports and Teaching. WSL Hawaii has partnered with 50 Farrington students in the Sports Industry Focus to enrich their Academy experience and provide career insight into a global industry that is unique to the state of Hawaii: Surfing.
"This partnership has allowed our business management lessons and teaching to become much more relevant for our students," said Ronald Oyama, Vice Principal of Farrington High.  "The students are learning from our business management/leadership teachers, and then with the WSL experts and applying it to a real world sports related engagement. WSL's expertise and knowledge in supporting the best athletes and surfers in the world has amazed our students and opened up a whole new world to them."
Students are learning the range of aspects that WSL engages in, including event management, security, production, media and communications, construction and site logistics, and sales. The WSL team looks to demonstrate real-world employment training and ultimately career opportunities for youth in Hawaii – whether students apply it to the surf world or beyond in unrelated industries.
"WSL Hawaii provides our students with a close inside look at the world of surfing, the operations, logistics and business aspect that occurs behind the scenes in support of the top surfers in the world," continued Oyama. "Because of this, our students have a rare opportunity that very few have access to, and we have a chance to work with, learn from, and be mentored by such high quality people/professionals within the WSL and business/sports world."
The sport of surfing will be the backbone of the year-long course that provides hands-on learning experiences that WSL hopes can culminate with the students co-producing a new WSL Hawaii Pro Junior event in 2017. As one of the largest public schools in Hawaii, and a Title I campus, WSL Hawaii commits time, energy and resources to the Business Academy program to work with youth to become confident members of their community and offer unique skills to Hawaii's cultural commerce.
"The World Surf League invests more than $8M into professional surfing events in the State of Hawaii annually," said Jodi Wilmott, WSL Hawaii General Manager. "When you speak of professional surfing, most people only consider our high profile athletes and their endorsements and winnings, but the reality is, the lion's share of our investment is in hundreds of local jobs and vendor hires, accommodations and locally sourced equipment and talent. This represents a huge opportunity at home for our youth and we're so excited to share this to the Farrington Academy program."
As community partners, WSL Hawaii and the Farrington Academy of Business will help enrich students' school experience by working closely with the Sports Industry Focus program to successfully achieve their projects and demonstrate the viable opportunities within the sports industry, especially here in Hawaii.
The partnership demonstrates WSL Hawaii's commitment to the community as a cornerstone of the region, as well as the importance of sharing the global industry of surfing beyond the athletes and endemic groups for the betterment of Hawaii's youth.
Farrington High School's motto "Enter to Learn, Go Forth to Serve" is an important reminder to both students and the WSL Hawaii team as they work together to be stewards of the community.