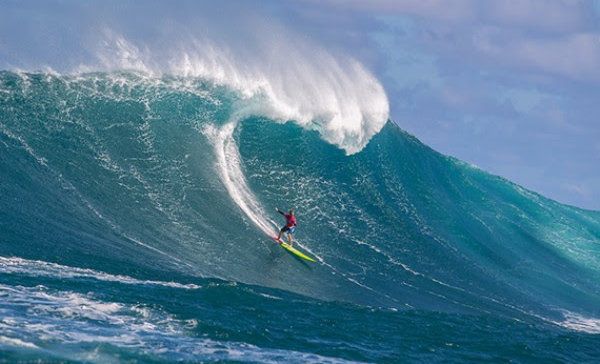 SURF IS UP TO 20-25′. WORLD'S BEST BIG WAVE SURFERS CHARGING MASSIVE HAWAII SWELL WHICH STILL HAS YET TO PEAK
2016 Pe'ahi Challenge winner Paige Alms (HAW) will battle to defend her event title at the famed Jaws big wave break in Maui, Hawaii.
Credit: © WSL / Hallman
Location:   
  PE'AHI, Haiku, Maui, Hawaii
BWT window:
  October 15, 2017 – 

February 28, 2018

Today's Call:   
  Possible 

Friday

 (10/27) and/or 

Saturday

 (10/28) start
Conditions:

  Projected 40 – 

45 foot

 surf (later Friday)
2017/18 BWT Men's Pe'ahi Challenge Round 1 Match-Ups:
Heat 1: Grant Baker (ZAF), Billy Kemper (HAW), Cristian Merello (CHL), Francisco Porcella (ITA), Koa Rothman (HAW), Mark Healey (HAW)
Heat 2: Greg Long (USA), Will Skudin (USA), Makuakai Rothman (HAW), Tom Lowe (GBR), Aaron Gold (HAW), Shane Dorian (HAW)
Heat 3: Pedro Calado (BRA), Nic Lamb (USA), Kai Lenny (HAW), Trevor Carlson (HAW), Ryan Hipwood (AUS), Ian Walsh (HAW)
Heat 4: Jamie Mitchell (AUS), Joao De Macedo (PRT), Nathan Florence (HAW), Shaun Walsh (HAW), Albee Layer (HAW)
2017/18 BWT Women's Pe'ahi Challenge Final Match-Up:
Final: Paige Alms (HAW) Justine Dupont (FRA), Andrea Moeller (BRA), Keala Kennelly (HAW), Felicity Palmateer (AUS), Bianca Valenti (USA)
2017/18 BWT Men's Pe'ahi Challenge:
Invitees: Grant Baker, Pedro Calado, Greg Long, Jamie Mitchell, Billy Kemper, Nic Lamb, Will Skudin, João De Macedo, Cristian Merello, Kai Lenny, Makuakai Rothman, Lucas Chianca, Francisco Porcella, Trevor Sven Carlson, Tom Lowe, Shane Dorian, Ian Walsh, Albee Layer, Mark Healey, Aaron Gold, Tyler Larronde, Nathan Florence, Koa Rothman, Ryan Hipwood
Alternates: Shaun Walsh, Danilo Couto, Torrey Meister, Peter Mel, Alex Botelho
2017/18 BWT Women's Pe'ahi Challenge:
Invitees: Paige Alms, Justine Dupont, Andrea Moeller, Keala Kennelly, Felicity Palmateer, Bianca Valenti
Alternates: Emily Erickson, Nicole Pacelli, Laura Enever
 WSL BWT PE'AHI CHALLENGE
2016 Men's Pe'ahi Challenge runner-up Greg Long (USA) will battle in Round 2 of the Pe'ahi Challenge when the competition gets underway.
Credit: © WSL / Cestari
Location:   
  PE'AHI, Haiku, Maui, Hawaii
BWT window:
  October 15, 2017 – 

February 28, 2018

Today's Call:   
  On standby – Next call at 

10:30 AM HST

Conditions:

  Projected 30 – 45 

foot

 surf
PE'AHI, Maui, Hawaii/USA (Friday, October 27, 2017) – The World Surf League (WSL) Big Wave Tour (BWT) Pe'ahi Challenge is on standby today with a possible 10:30 a.m. Hawaii Standard Time start.
"The Northern Hawaiian buoys are showing a building long period swell expected to arrive midday," said Mike Parsons, WSL BWT Commissioner. "Competitors will be in position at the iconic Maui break at 10:30 a.m. Hawaii Time and will be on standby to start as conditions warrant. We hope to hold all four men's Round 1 heats in an hour-long format today, should conditions maintain quality.
"All remaining men's and women's heats will take place on Saturday, October 28 at 7:00 a.m. HST. Our goal is to take advantage of the swell that is expected to be full power through the first half of the day. Based on this schedule, another four hours of competition should complete the Pe'ahi Challenge by the middle of the day."
The Pe'ahi Challenge will be broadcast LIVE via WorldSurfLeague.com, the WSL app and on Facebook LIVE via the WSL's Facebook page. Also check local listings for coverage on CBS Sports Network in the U.S., Fox Sports in Australia, ESPN in Brazil, Sky NZ in New Zealand, SFR Sports in France and Portugal, Sport TV in Portugal and the EDGEsport Network.
Due to safety and environmental concerns, there is no location available for on-site spectating for the Pe'ahi Challenge. Big wave surfing fans are invited to watch the event on the live webcast that will feature close-in angles, slow-motion replays, and analysis.  For those on Maui, there are viewing parties being held at Charley's Restaurant at 142 Hana Highway, Paia, HI 96779 (808-579-8085) and at Lulu's Lahaina Surf Club Bar and Grill at 1221 Honoapiilani Hwy #A1 Lahaina, HI 96761.
The 2017/2018 WSL Big Wave Tour is proudly supported by Michelob Ultra, the Official Beer of the Big Wave Tour in North America, and Quiksilver Airlift, the Official Inflation Vest of the 2017/2018 Big Wave Tour.
For more information, check out WorldSurfLeague.com.