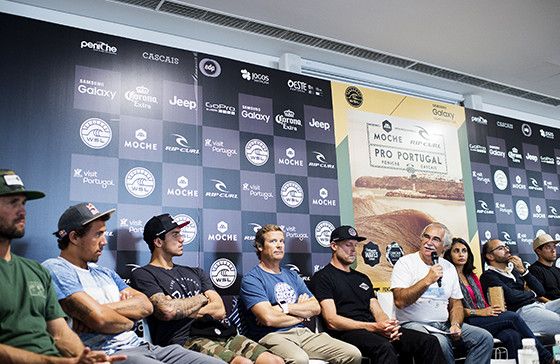 – FANNING LEADS WSL ELITE INTO FINAL EUROPEAN STOP OF THE YEAR
– ROUND 1 MATCH-UPS SET AS WSL TITLE RACE AND BATTLE FOR REQUALIFICATION CONTINUE
– MORE AT WORLDSURFLEAGUE.COM
Some of the World's Best Surfers greeted by the Mayor of Peniche at the press conference.
Image: WSL / Kirstin Scholtz
| | |
| --- | --- |
| Location:    | Peniche/Cascais, Portugal |
| Event window: | October 20 -31 , 2015 |
| Today's call: | First Call tomorrow 8AM |
| Conditions: | TBD |
SUPERTUBOS, Peniche/Portugal (Monday, October 19, 2015) – The world's best surfers have arrived in Peniche, Portugal for stop No. 10 on the 2015 Samsung Galaxy World Surf League (WSL) Men's Championship Tour (CT), the Moche Rip Curl Pro Portugal, held from October 20 – 31, 2015 at Supertubos.
Current Jeep Leaderboard frontrunner and defending event champion Mick Fanning (AUS), leads the WSL Top 34 into the second-to-last event on this year's CT. Another solid result collected in France last week means Fanning has a mathematical chance of clinching the World Title in Peniche with a win, depending on Adriano de Souza's result in Portugal.
"It's always great to come back to Portugal, the town and the country always put on a great event for us," Fanning said. "Supertubos can be heaven or hell. When it's good it's an amazing wave. And then sometimes it gets extremely tricky. You can get lost easily out there. That's the beauty of it, and part of our sport."
Adriano de Souza (BRA), current WSL No. 2, missed his opportunity to overtake Fanning in the previous event in France and will need to power through the rounds in Peniche in an effort to keep the title race alive until the final stop in Hawaii. The talented Brazilian has an excellent track record in Portugal, having won the 2011 edition over 11-time WSL Champion Kelly Slater (USA) in pumping surf.
"Basically, I keep my head up, because I need to work pretty hard to catch Mick (Fanning)," De Souza commented. "He's sitting on a comfortable seat at this stage. The rest of the guys need to work really hard to get there, and I'm one of those guys. So the only choice I have is to work hard, and put my head down."
Owen Wright (AUS) comes to Portugal in a perfect position to spoil the party, currently ranked at No. 3 on the Jeep Leaderboard and well-known to excel in pumping barrels like those Supertubos can provide. Wright was forced to withdraw from the 2009 Semifinals in Peniche after suffering a perforated eardrum in the Quarters but the Australian powerhouse is keen to put on a strong performance this year at the extremely demanding break.
This event is usually pretty good for a few barrels and I know all the boys are excited to surf Supertubes at its best," Wright confirmed. "Hopefully it turns on and we can see some big airs too. I'm sure Gabriel (Medina) is frothing to do some airs. I have some great memories here, always good waves, great people and epic food and I'm looking to make some even better memories this year!"
Tour veteran C.J Hobgood (USA), in his very last season amongst the World's top surfers in 2015, comes back to Peniche after a dramatic foot injury cut his Portuguese campaign short last year. One of the best barrel-riders on tour, the 2001 WSL Champion, who has claimed his best result of the season in the throaty pits of Tahiti earlier this season, will try to find his rhythm in Supertubos.
"When I think of Portugal I always think of this world-class wave here and the people," Hobgood stated. "The first time we came here it was like a rock concert. I don't think us surfers have ever experienced that many people all in one place, it was quite overwhelming. People here love surfing, it makes our job easier. The first professional event I won was the Buondi Pro a long time ago, so why not win my last event here!"
Gabriel Medina (BRA) has reached superstar status in Brazil and subsequently in Portugal  when he won the World Title last year; he was welcomed to Peniche by a flock of cameras and microphones at the official press launch today. After a disappointing start to his 2015 campaign, Medina turned his season around midway through the year and has been in fantastic form ever since, culminating with a win last week in France. The reigning WSL Champion will pose a threat to the current Jeep Leaderboard frontrunners when Supertubos starts pumping the barrels and aerial launch sections he adores.
Amongst the familiar faces of the WSL Top 34, a trio of Portuguese talent will complete the field: former CT competitor Tiago Pires (PRT), reigning WSL Junior Champion Vasco Ribeiro (PRT) and power surfer Frederico Morais (PRT).
Event organizers will convene tomorrow morning at 8 a.m. to assess conditions for a possible start.
Up first when the event commences will be an all-Brazilian match-up of Filipe Toledo (BRA), Jadson Andre (BRA) and Tomas Hermes (BRA) in Heat 1 of the opening Round at the Moche Rip Curl Pro Portugal.
Small surf is expected the first several days of the contest waiting period. A storm system that moves quickly into the North Atlantic will set up a modest pulse of WNW swell for Friday that eases over the weekend. The next area of low pressure over the Labrador Sea on Thursday/Friday sets up a potential reinforcing shot of WNW swell Sunday and into early next week. We are watching the potential for another shot of swell for next Tue/Wed but there is greater than normal uncertainty with this due to differences between the reliable computer model guidance.
The Moche Rip Curl Pro Portugal will run from October 20 – 31, 2015 and be LIVE via webcast on WorldSurfLeague.com and on the WSL mobile app.
Fans around the world can also follow the broadcast LIVE on Fox Sports in Australia, MCS Extreme in France, EDGE Sports in China, South Korea, Malaysia and other territories and on Globo TV in Brazil.
Moche Rip Curl Pro Portugal Round 1 Match-Ups:
Heat 1: Filipe Toledo (BRA), Jadson Andre (BRA), Tomas Hermes (BRA)
Heat 2: Gabriel Medina (BRA), Miguel Pupo (BRA), Mason Ho (HAW)
Heat 3: Julian Wilson (AUS), Keanu Asing (HAW), Caio Ibelli (BRA)
Heat 4: Owen Wright (AUS), Michel Bourez (PYF), Vasco Ribeiro (PRT)
Heat 5: Adriano de Souza (BRA), Kolohe Andino (USA), Frederico Morais (PRT)
Heat 6: Mick Fanning (AUS), Sebastian Zietz (HAW), Tiago Pires (PRT)
Heat 7: Kelly Slater (USA), Adrian Buchan (AUS), Aritz Aranburu (ESP)
Heat 8: Italo Ferreira (BRA), Joel Parkinson (AUS), Brett Simpson (USA)
Heat 9: Jeremy Flores (FRA), Matt Wilkinson (AUS), Ricardo Christie (NZL)
Heat 10: Nat Young (USA), Kai Otton (AUS), Glenn Hall (IRL)
Heat 11: Bede Durbidge (AUS), John John Florence (HAW), C.J. Hobgood (USA)
Heat 12: Josh Kerr (AUS), Wiggolly Dantas (BRA), Adam Melling (AUS)