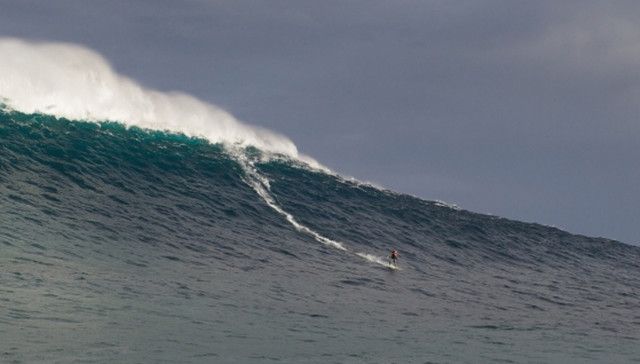 Women's Championship event to roll at either Jaws or Todos Santos
Pic: Justin Dupont © Bastien Bonnarme/Billabong
Surf News Network, 21 April, 2016 – Female surfers have been fighting an uphill battle for decades seeking equality in the male-dominated sport of surfing.  Recent years have seen progress, but there's still a long way to go.  Women in big wave surfing have an even longer path to pave.
Up until this year, there had yet to be any contest specifically for women or even that would allow women into the event to compete against the men. The World Surf League (WSL) has just announced that at long last, they have added a women's event to the 2016-17 season, and surfers like big wave charger Paige Alms, recently documented in "The Wave I Ride" out on demand on April 29th, could not be happier.
"I am so excited to hear the news of the first real big wave women's event being planned for next season," said Alms. "I am ecstatic that the WSL is backing us and that Jaws and Todos are both options for the event!  The prize purse is just a bonus!"
"Over my years of surfing I've seen many women charge big waves, but the level in which this has been achieved these last few years is unprecedented," said Peter Mel, WSL BWT Commissioner. "We are happy to give women the platform to compete and witness their contribution to the sport of big wave surfing."
"The inclusion of a Women's Championship was always a part of the master plan for the sport of Big Wave Surfing," said Gary Linden, Founder and Vice President of the BWT. "Now that this first step has come to fruition, future growth seems only natural."
Alms, easily considered in the top echelon of female big wave surfers in the world has been pioneering the sport for women for several years.  Her efforts came to a pinnacle in the 2015 season when she became the first woman to get barreled at Peahi (aka Jaws), her home break in Maui.
Riding that wave, considered one of the biggest and most intimidating waves in the world, earned her accolades and attention the world over.  It also earned her a WSL Big Wave Award and an ESPY nomination.  She's been nominated for a 2016 WSL Big Wave Award, which will be announced at the awards ceremony this weekend.
All of this success hasn't been easy and she's fought an uphill battle to follow her passion. The inequality in surfing in general, and big wave surfing more specifically, is vast between men and women: everything from sponsorships to prize money to the sexualization of female surfers.