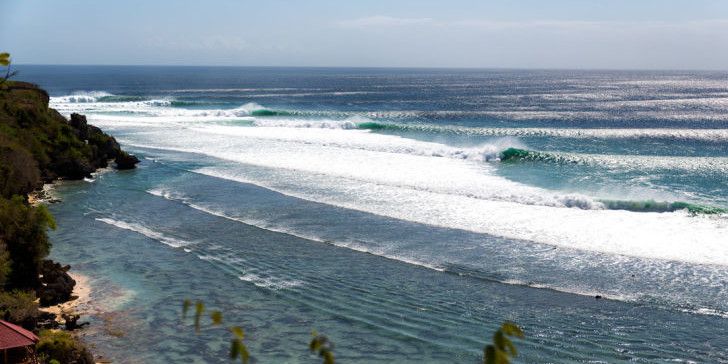 Uluwatu pumping out perfect waves © Murphy
Quiksilver Uluwatu Challeng
presented by Coca Cola and the Australian Embassy
WSL QS1000 Men's Event
Uluwatu, Bali
13 – 16 August 2015
WSL QS1000 event scheduled for August at Uluwatu
Surf News Network, 2 July, 2015. Uluwatu, Bali – One of the world's most iconic surfing locations is set to join the World Surf League Qualifying Series calendar in 2015.  The Quiksilver Uluwatu Challenge will run from 13-16 August.  The event will also be co-sanctioned by the Asian Surfing Championship (ASC), helping to maximize exposure and opportunities for local surfers.
This year's Uluwatu Challenge will hold a QS1000 rating and will put Indonesia on the global surf event calendar, providing a platform for talents from Indonesia, Australia and other countries around the region to compete for world tour qualifying points. Co-sponsored by the Australian Embassy Jakarta and Coca-Cola Amatil Indonesia, the Uluwatu Challenge promotes active, healthy living and a clean environment, particularly raising awareness about the importance of keeping Bali's beaches clean and safe.
Quiksilver has been running the Uluwatu Challenge for 3 years and is thrilled to be sanctioning the event with the WSL for the first time this year. A number of Quiksilver and Roxy Team Riders, including 4 x world champion Mark Richards and 2 x World Champions Tom Carroll and 2 x World Longboard Champion Kelia Moniz, will be at the event to promote the "Stay clean and active" message and to surf in expression sessions.
"Together with Coca-Cola Amatil Indonesia, Quiksilver has now been cleaning Bali's beaches for 8 years and each year we hold a surfing event as part of the Big Bali Eco Weekend to celebrate this fact.  With Indonesia having some of the world's best waves, Quiksilver believes there is a need to develop the Indonesian surfing event calendar and closely align it with the WSL to provide a framework for Indonesia's best surfers to maximize their potential," said Paul Hutson, General Manager of Quiksilver South Pacific.
"As an inaugural sponsor of the event since 2013, Coca-Cola Amatil Indonesia is proud to support the Uluwatu Challenge which will enable Indonesian talents to learn and compete at national and international levels," said Bruce Waterfield, Business Service Director of Coca-Cola Amatil Indonesia. "It is a fitting platform for us to promote active healthy living while also encouraging everybody to keep the beautiful island of Bali clean by participating in our Bali Beach Clean Up program."
Through Bali Beach Clean Up program (BBCU), CCAI and Quiksilver clean up 9,7 km of shoreline everyday throughout Bali's 5 iconic beaches: Kuta beach, Legian beach, Seminyak beach, Jimbaran beach, and Kedonganan beach.  Since 2007 BBCU has collected more than 26 million kilograms of rubbish to minimize the impact of waste on the beautiful beaches of Bali, strengthen the tourism industry which will contribute to the welfare of the local people, and support the Bali Government's program of creating a 'Clean and Green' Bali.
The Australian Embassy is pleased to support an event that encourages local surfers to become involved in competitive surfing in Indonesia.  Australians have a warm and enduring relationship with Bali and make up a quarter of all tourists to the Island. These numbers increased by 16 per cent over the last year.
The event is now open for entries via WorldSurfLeague.com and is expected to attract at least a field of 96 competitors ranging from local Uluwatu Boardriders, an exciting mix of experienced and up-and-coming Indonesian surfers as well as surfers from all over the Asia Pacific region who are wanting a chance to earn WSL QS points or the opportunity to surf one of the world's best surf breaks with only a couple of other surfers in the line-up.