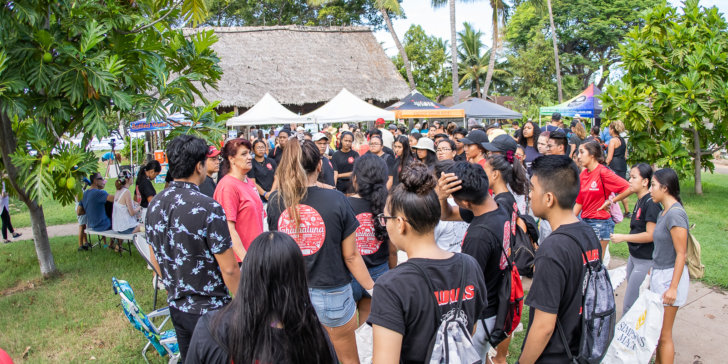 Yes, Volunteers Collect trash from neighborhoods and shorelines on Maui County as part of the World's Largest Single-Day Clean Up! 
Frontpage Photo:  Ashley Olson from Lahainaluna High School prepares the student leadership for the cleanup
Volunteers Joined Hundreds of Thousands Worldwide during Ocean Conservancy's 34th International Coastal Cleanup
September 21, 2019 – Maui, Hawaii – The 15th Annual Lahaina Town Clean-Up was held on Saturday, September 21, 2019. An estimated 500 volunteers including school groups, non-profits, civic clubs, local businesses, residents and visitors joined one-million volunteers in over 120 countries today. Our volunteers spent the day cleaning up over 12 square miles including Lahaina streets, harbors and beaches from Puamana to Honokowai, including both boat harbors and Lahainaluna Road.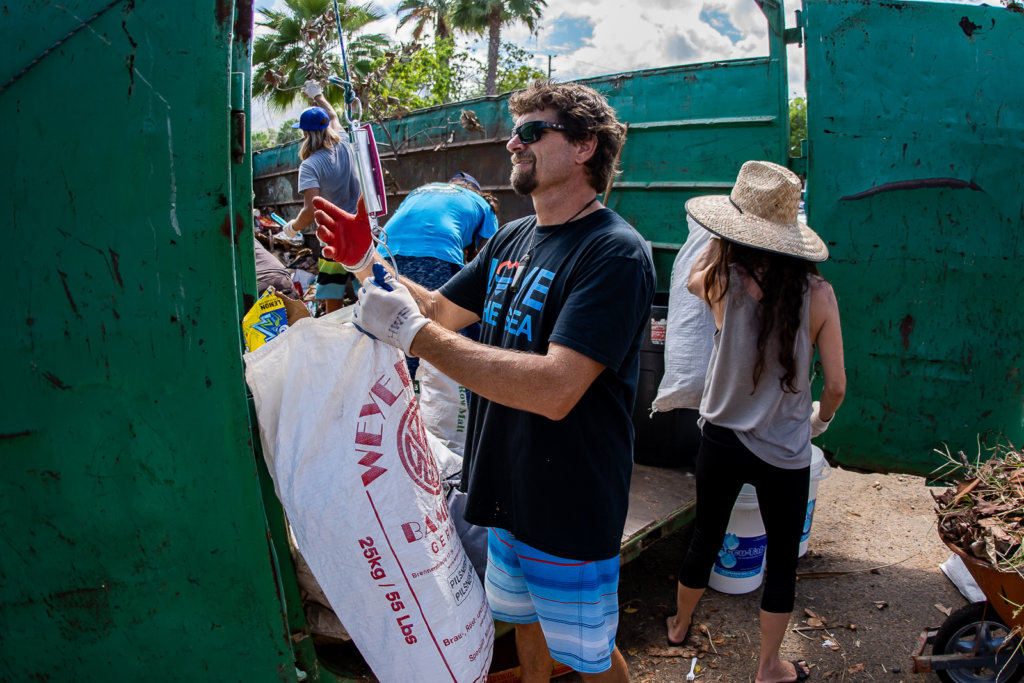 Photo: Executive Director of Love the Sea Campbell Farrell weighs and tallies waste statics with Hawaii Wildlife Fund for the International Coastal Clean-Up
Lahaina participated in the Ocean Conservancy's 34th International Coastal Cleanup (ICC), the world's largest single-day volunteer effort to remove trash from local waterways, beaches, lakes, and rivers. Since the first ICC, more than 15 million volunteers have removed nearly 315 million pounds of trash from beaches and waterways worldwide.
"When you join a cleanup, you are advancing one of the most immediate and impactful solutions to keeping plastics out of the ocean," said Tambara Garrick, the organizer from the LahainaTown Action Committee; "Which is why we are so grateful to all the amazing volunteers who came out today. Awareness has really grown around the issue of ocean plastic and it's great to see people taking action." The Lahaina Town Clean Up is more than a shoreline clean up- we focus on the entire town to prevent waste from making its way to our shoreline.
In addition to the cleanup, volunteers from the Surfrider Foundation, sponsored by new local retail business "Hi I Like
You" tested 30 Westside beaches for enterococcus or E. Coli bacteria. Results from the testing will be shared by the Surfrider Foundation Maui Chapter who notes that the EP's quality criteria recommendations for protecting human health in all coastal and non-coastal recreational waters is 130 c.f.u. enterococcus per 100 ml of water for a single sample.
A group from Lahaina restaurant/bar The Dirty Monkey stenciled over 30 storm drain inlets in Lahaina with the awareness message of "No Dumping – Drains to Ocean." The stenciling project was in partnership with the County of Maui to help people be mindful of how their actions on land can affect stream and ocean health.
Volunteers from Surfrider and the Lahaina Yacht Club covered Mala Ramp, while the Pacific Whale Foundation and Maui Sustainable Solutions cleaned the Lahaina Harbor. A group of student volunteers walked down Lahainaluna Rd as other groups from Lahainaluna HS, Lahaina Intermediate, Maui Prep, and Sacred Hearts schools covered the neighborhood streets of Lahaina.
808 Mopeds, led by business owner Joe White, brought a group from Honokowai covering the highways while volunteers from Whalers Village led by Hula Grill and TS Restaurants, Lululemon and Whalers Village Shops covered the Ka'anapali areas.
To further future efforts TS Restaurants and Whalers Village are supporting a specialized "Hard to Reach Beach Clean Up" this fall on the Island of Lanai with local nonprofits Love the Sea, Hawaii Wildlife Fund, Surfrider, and a group of professional waterman to support clean shorelines in Maui County.
Matt Lane, Membership and Events Coordinator for event organizer LahainaTown Action Committee said, "We are excited to work with local businesses to support our local coalitions' efforts to keep our shorelines clean. We want to work on training groups on personal preventive initiatives to stop waste at its source in our daily consumption. TS
Restaurants are a great example of participation in the Ocean Friendly Restaurant program through the Surfrider Foundation."
Every year, millions of tons of trash—including an estimated 8 million metric tons of plastic waste—flow into the ocean, entangling wildlife, polluting beaches, and costing coastal municipalities hundreds of millions of taxpayer dollars. Last year, all ten of the top-ten most-collected items were made of plastic, including cigarette butts (which contain plastic filters), food wrappers, straws and stirrers, and – for the first time -plastic forks, knives, and spoons, which are among the deadliest types of marine debris to ocean animals. Plastics – which never fully biodegrade but break up into smaller and smaller pieces called microplastics – are of particular concern.
The Board President for the LahainaTown Action Committee, Sne Patel said, "We are so grateful for both the monetary and in‐kind donations from our community that allowed us to create an event that not only had a big impact but was also a lot of fun."
A big mahalo to major sponsor 505 Shopping Center and to all the businesses and organizations that made this event possible – PacificO's Restaurant, Maui Surf Clinics, Goofy Foot Surf School, TS Restaurants, Hawaii News Now, Hula Grill, Whalers Village, Lululemon, Betty's Beach Cafe, Ace Hardware, Down the Hatch, Mala, Jucker Longboards, Tropic Water,
Volcom, The County of Maui, Maui Surfrider Foundation, Love the Sea, Hawaii Wildlife Fund, Maui Waveriders,
Outrageous Surf School, Hui O Wa'a Kaulua, Breakwall Shave Ice, Maui Cultural and Surf Adventures, Kohola Brewery,
808 Mopeds, Island Eye Productions, Rip Curl, Angus McKelvey, HI I Like You, Lahaina Surf Shack, Red Gecko Sunscreen, UFO Parasail, Shark Pit Designs, Pacific Whale Foundation, and the many others who supported this cleanup.
###
Media Contact Matt Lane Matt@visitlahaina.com  808.357.0920
Hi Res Photographs Photo Credit Cassandra Hastu
Additional Cleanup event photos by Cassandra Hatsu: http://bit.ly/15thLahainaCleanup