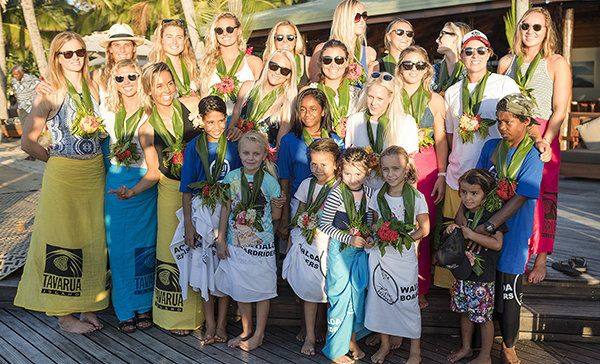 – COMPETITION CALLED OFF FOR THE DAY. LIKELY TUESDAY-WEDNESDAY START AT CLOUDBREAK.
-FIJI: 22 HOURS AHEAD. MONDAY  9AM SHOWTIME FOR HAWAII.
-WRIGHT AND GILMORE ARE TIED AT THE TOP HEADING INTO STOP NO. 5
– WILDCARD HAMILTON JOINS WSL TOP 17 AT RESTAURANTS AND CLOUDBREAK
The world's best surfers have arrived in the South Pacific for the Outerknown Fiji Women's Pro.
Credit: © WSL / Cestari
TAVARUA/NAMOTU, Fiji (Sunday, May 28, 2017) –  The Outerknown Fiji Women's Pro is one of the highlights of the season and the world's best surfers have arrived at the idyllic setting of Tavarua and Namotu in the remote South Pacific. The world-class reef passes of Cloudbreak and Restaurants will play host to Stop No. 5 on the 2017 World Surf League (WSL) Championship Tour (CT) from May 28 – June 2 and will run on the best days of surf during that window.
Competition has been called off for the day with only small surf on offer and event organizers will reconvene at 7 a.m. local time tomorrow to assess conditions and make the next call.
"Small surf as forecast today so no competition," said WSL Deputy Commissioner, Jessi Miley-Dyer. "We're tracking a system that should provide us with a little bump over the next few days so we'll be back tomorrow to make another assessment".
Reigning WSL Champion Tyler Wright (AUS) and 6X WSL Champion Stephanie Gilmore (AUS) are tied at the top of the Jeep Leaderboard with 29,700 points each and will share the Jeep Leader Jersey at the Outerknown Fiji Women's Pro. Each has a CT win under their belt this year but neither has claimed victory in Fiji. Of the pair, Gilmore has come the closest with a runner-up finish in 2014 while Wright is yet to make it past Round 4.
Wright is set to match-up with Tatiana Weston-Webb (HAW) and wildcard Bethany Hamilton (HAW) in Round 1 while Gilmore will face Coco Ho (HAW) and Bianca Buitendag (ZAF).
"It's great to be back in Fiji," Wright said. "It's one of the most beautiful places on the planet and we're very fortunate to be welcomed here to compete. Steph (Gilmore) and I have tied up the front of the rankings at the moment, but it's a long season and anything can happen."
"We've been in Fiji for about a week warming up and we've had really fun surf," Gilmore said. "Looks like the opening days of the window are small, but hopefully we get a jump in swell after that. It's a blessing to be back in Fiji and I'm looking forward to a great event."
Defending event winner Johanne Defay (FRA), who finished fifth in the world in 2016, currently sits in fourth place on the Jeep Rankings after a runner-up finishes in Rio. Defay claimed her second career CT victory in Fiji last season when she upset three-time WSL Champion Carissa Moore (HAW) in the Final and the Reunion Island surfer will be one to watch this year. A strong result for the Frenchwomen could see her close the gap on the leading pack of Wright, Gilmore and Sally Fitzgibbons (AUS). Defay opens her campaign in Round 1 where she'll face Sage Erickson (USA) and Bronte Macaulay (AUS).
"Winning here last year was one of the highlights of my career and I'm so excited to be back," Defay said. "I love surfing reef passes and Fiji is home to some of the best waves on the planet. We'll see what Mother Nature delivers."
After an incredible performance at the event last year Hamilton make it all the way to the Semifinals by blazing through the draw and causing a string of upsets along the way, including taking down both Wright and Gilmore. Hamilton poses a considerable threat to the top seeds this year as a wildcard and will face the reigning WSL Champion and Tatiana Weston-Webb (HAW) in Heat 3 of Round 1 when the competition gets underway.
"Fiji is one of my favorite places on the planet so to be able to receive a wildcard to return and compete here is really a dream," Hamilton said. "I'd like to thank the WSL for the opportunity to surf amongst the world's best surfers this week."
Tiny/flat surf Sunday into Monday. A small SW swell is on track for Tue-Wed that appears to be the best swell in the waiting period. Fading and smaller surf looks likely for Thur-Fri. Surfline.
Outerknown Fiji Women's Pro Round 1 Match-Ups:
Heat 1: Courtney Conlogue (USA), Lakey Peterson (USA), Silvana Lima (BRA)
Heat 2: Johanne Defay (FRA), Sage Erickson (USA), Bronte Macaulay (AUS)
Heat 3: Tyler Wright (AUS), Tatiana Weston-Webb (HAW), Bethany Hamilton (HAW)
Heat 4: Stephanie Gilmore (AUS), Coco Ho (HAW), Bianca Buitendag (ZAF)
Heat 5: Sally Fitzgibbons (AUS), Keely Andrew (AUS), Pauline Ado (FRA)
Heat 6: Nikki Van Dijk (AUS), Carissa Moore (HAW), Laura Enever (AUS)
---
About the World Surf League
The World Surf League (WSL), formerly the Association of Surfing Professionals (ASP), is dedicated to celebrating the world's best surfing on the world's best waves through a variety of best-in-class audience platforms. The League, headquartered in Santa Monica, is a truly global sport with regional offices in Australasia, Africa, North America, South America, Hawaii, Japan and Europe.The WSL has been championing the world's best surfing since 1976, running in excess of 180 global events across the Men's and Women's Championship Tours, the Big Wave Tour, Qualifying Series, Junior and Longboard Championships, as well as the WSL Big Wave Awards. The League possesses a deep appreciation for the sport's rich heritage while promoting progression, innovation and performance at the highest levels, and in doing so crowns the undisputed world champions in Men's, Women's across all divisions within the tour.Showcasing the world's best surfing on its digital platform at WorldSurfLeague.com as well as the free WSL app, the WSL has a passionate global fan base with millions tuning in to see world-class athletes like Mick Fanning, Tyler Wright, John John Florence, Stephanie Gilmore, Gabriel Medina, Carissa Moore, Grant Baker, Kelly Slater, Paige Alms, Adriano de Souza and more battle on the most unpredictable and dynamic field of play of any sport in the world.For more information, please visit WorldSurfLeague.com