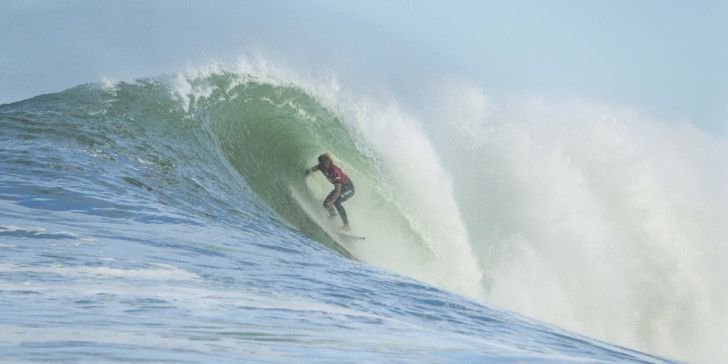 Surf's pumping 4-6′ plus but tough to find the good ones. A bit of a crap shoot first heats.

– FLORENCE, MEDINA, WILKINSON, SMITH AND SLATER EYE 2016 WSL TITLE AT QUIKSILVER PRO
– WSL WOMEN'S TITLE ON THE LINE FOR TYLER WRIGHT AS COURTNEY CONLOGUE LOOKS TO BLOCK


Event organizers will convene at 8 a.m. local time (8pm Monday nite in Hawaii) to assess conditions and make the first call.
John John Florence (HAW), former event winner and current World No. 1 on the Jeep Leaderboard, will battle to extend his lead over the world's best surfers at the Quiksilver Pro France. Florence will face 2016 WSL Rookie Conner Coffin (USA) and event wildcard Joan Duru (FRA) in Round 1 Heat 6 when competition gets underway.
Image: © WSL /  Poullenot
| | |
| --- | --- |
| Location:    | Landes, Nouvelle-Aquitaine, France |
| Event window: | October 4 – 15, 2016 |
| Today's call: | Upcoming |
HOSSEGOR, France (Monday, October 3, 2016) – The world's best surfers have arrived in the Southwest of France for the next stop on the 2016 Samsung Galaxy World Surf League (WSL) Championship Tour (CT), the Quiksilver and Roxy Pro France, which holds a competitive window of October 4 – 15, 2016.John John Florence (HAW) sits atop the men's Jeep Leaderboard and a good result in France will see him extend his lead heading into the final two events of the season. Florence will face Conner Coffin (USA) and event wildcard Joan Duru (FRA) in Round 1.
"This is a super exciting time, there are just three events left and they'll be so much fun," said Florence. "It's such an amazing place here and my ultimate goal is to win here in France. I just want to do the best I can. On the world title side of things, I'm trying not to think about it too much because I don't want to put pressure on myself. I'm just having fun and, whatever happens, it's been an amazing year."
Gabriel Medina (BRA) is just 4,200 points behind Florence and another victory for the two-time defending event winner would give him the chance to leapfrog Florence on the leaderboard. Medina will take on Dusty Payne (HAW) and 2016 WSL Rookie Ryan Callinan (AUS) in Round 1 Heat 5.
"I love France so much and I love these kind of waves," Medina said. "It's so fun here — you can go right, go left, get barreled and do airs. There are a lot of opportunities so it's exciting. The year is about to finish so I'm looking for a good result. I'm just surfing heat-by-heat, no pressure and trying to enjoy myself."
Jeremy Flores (FRA) will face Australians Adrian Buchan (AUS) and Stuart Kennedy (AUS) in Round 1 Heat 7. With requalification on the line, Flores will battle for his first Round 4 berth of the 2016 season and to improve his ranking on the Jeep Leaderboard.
"It's always good to be here, this is like my home," Flores said. "It's the best time of year — the waves are sick! I have great support from everyone in France and that definitely motivates me."
On the women's side, Tyler Wright (AUS) comes into the event as Jeep Rankings Leader and defending event champion. With four Championship Tour wins under her belt this season, a win in France will see Wright claim her maiden WSL Title. Wright can only win in the following scenarios:
– If Wright wins the event
– If Wright finishes 2nd and Courtney Conlogue (USA) finishes no higher than 3rd
– If Wright finishes 3rd and Conlogue finishes no higher than 2nd
– If Wright finishes 5th and Conlogue finishes no higher than 3rd
– If Wright finishes 9th and Conlogue finishes no higher than 5th
– If Wright finishes 13th and Conlogue finishes no higher than 13th
Wright will surf against Bianca Buitendag (ZAF) and 2016 WSL Rookie Chelsea Tuach (BRB) in Round 1 Heat 3 of the Roxy Pro France.
Courtney Conlogue (USA) currently sits at World No. 2, trailing only 5,250 points behind Wright. Conlogue, who has consistently challenged Wright throughout the season, has another opportunity to block the Australian's World Title win in France. Conlogue comes into this event after an incredible victory at the Cascais Women's Pro and will battle to prolong the World Title race to Maui. Conlogue will be against Nikki Van Dijk (AUS) and event wildcard Bronte Macaulay (AUS) in Round 1.
"France is like a dream if you like beachbreaks," said Conlogue. "There are so many variables here, but once you find an amazing bank it can be perfection and you'll have one of your dream surfs. I love finding barrels and if I can see an exit I'll try and get inside. I'm really looking forward to this event and hopefully we get some swell. We're going into the last two events and I'm just looking to have fun. I have nothing to lose right now and everything to gain, and I'm having a blast."
Stephanie Gilmore (AUS), six-time WSL Women's Champion, will return to competition after an absence from the Cascais Women's Pro due to illness. Despite her withdrawal from Portugal, the Australian currently sits sixth on the Jeep Leaderboard after a stunning runner-up finish at the Swatch Women's Pro. Gilmore has three previous CT event wins in France and will compete for another strong finish in the second to last event of the season. The final heat of Round 4 will see Gilmore up against Malia Manuel (HAW) and Coco Ho (HAW).
"The Southwest of France is one of the most beautiful areas in the world," said Gilmore. "They've got beautiful waves, beautiful beaches and it's a wonderful place to be. I'm feeling good and everything's all better now. I'm ready to put on show here in France. The world title race this year is insane. To see Courtney [Conlogue] step up in in Portugal was insane. To have all of that pressure and then win — that proved to me that Courtney has what it takes to be World Champion and fight it out all the way to the end. Tyler [Wright] is still really strong and I'm sure she'll come back here in France. It's really exciting that we could see the title go down here in France!"
Taj Burrow (AUS) surfed his last Championship Tour event during June's Fiji Pro. His position on the 2016 WSL Top 34 has been taken by Adam Melling (AUS). Owen Wright (AUS) and Bede Durbidge (AUS) remain out with injury and have been replaced by Stuart Kennedy (AUS) and Sebastian Zietz (HAW). Mick Fanning (AUS), three-time WSL Champion, continues his personal year in 2016 and has elected not to surf France this season. He has been replaced by Dusty Payne (HAW).
Leonardo Fioravanti (ITA) and Joan Duru (FRA) have been named the two wildcards into Quiksilver Pro. Bronte Macaulay (AUS) is the event wildcard for the Roxy Pro.
The Quiksilver and Roxy Pro France will be webcast LIVE on WorldSurfLeague.com as well as the WSL app.
The event is also being carried by the WSL's LIVE broadcast partners Fox Sports Australia, CBS Sports in the United States, ESPN Brasil, Globosat in Brazil, Edgesport, Sky NZ, Sport TV in Portugal, Canal + Deportes in Spain, Channel Nine, MCS France, Starhub in Singapore, and Oceanic Time Warner Cable 250 & 1250 in Hawaii.
Quiksilver Pro France Round 1 Match-Ups:
Heat 1: Joel Parkinson (AUS), Nat Young (USA), Matt Banting (AUS)
Heat 2: Kelly Slater (USA), Kanoa Igarashi (USA), Keanu Asing (HAW)
Heat 3: Jordy Smith (ZAF), Jadson Andre (BRA), Kai Otton (AUS)
Heat 4: Matt Wilkinson (AUS), Miguel Pupo (BRA), Leonardo Fioravanti (ITA)
Heat 5: Gabriel Medina (BRA), Dusty Payne (HAW), Ryan Callinan (AUS)
Heat 6: John John Florence (HAW), Conner Coffin (USA), Joan Duru (FRA)
Heat 7: Adrian Buchan (AUS), Stuart Kennedy (AUS), Jeremy Flores (FRA)
Heat 8: Italo Ferreira (BRA), Wiggolly Dantas (BRA), Alex Ribeiro (BRA)
Heat 9: Julian Wilson (AUS), Caio Ibelli (BRA), Alejo Muniz (BRA)
Heat 10: Kolohe Andino (USA), Sebastian Zietz (HAW), Jack Freestone (AUS)
Heat 11: Filipe Toledo (BRA), Josh Kerr (AUS), Davey Cathels (AUS)
Heat 12: Adriano de Souza (BRA), Michel Bourez (PYF), Adam Melling (AUS)
Roxy Pro France Round 1 Match-Ups:
Heat 1: Johanne Defay (FRA), Sally Fitzgibbons (AUS), Keely Andrew (AUS)
Heat 2: Tatiana Weston-Webb (HAW), Sage Erickson (AUS), Lakey Peterson (AUS)
Heat 3: Tyler Wright (AUS), Bianca Buitendag (ZAF), Chelsea Tuach (BRB)
Heat 4: Courtney Conlogue (USA), Nikki Van Dijk (AUS), Bronte Macaulay (AUS)
Heat 5: Carissa Moore (HAW), Laura Enever (AUS), Alessa Quizon (HAW)
Heat 6: Stephanie Gilmore (AUS), Malia Manuel (HAW), Coco Ho (HAW)