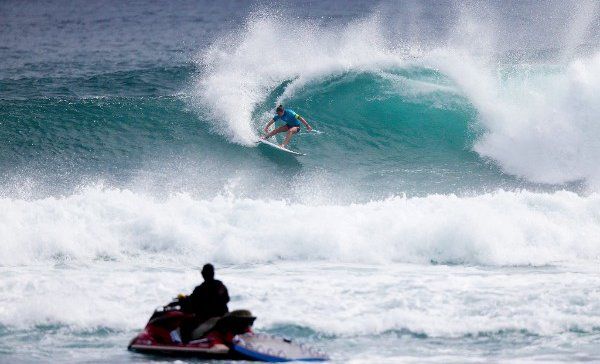 -PLENTY BIG SSW SWELL ON TAP DAY ONE! AS WRIGHT AND GILMORE LEAD WSL ELITE INTO WESTERN AUSTRALIA
– QS RANKINGS LEADER MENDES NAMED WILDCARD INTO EVENT
2016 WSL Champion Tyler Wright (AUS) will look to claim back-to-back event titles at the upcoming Drug Aware Margaret River Pro.
Credit: © WSL / Cestari
MARGARET RIVER (18 hours ahead of Hawaii), Western Australia/AUS (Sunday, March 26, 2017)   The world's best surfers are spanning the Australian continent for the second stop on the World Surf League (WSL) Championship Tour (CT), the Drug Aware Margaret River Pro, which holds a competitive window of March 29 – April 9, 2017- is likely to kick off in Hawaii as early as 130pm Tuesday the 28th.
The innovative, inspiring and aggressive performances at the opening event of the 2017 CT season set the tone for an incredible year ahead. With seven out of nine WSL Champions earning Quarterfinal results or better on the Gold Coast, the tour is stacked with fierce competitors all gunning for the win. Western Australia will offer an exciting field of play for the world elite, with options at Main Break, The Box and North Point.
Owen Wright (AUS) will come into this event ranked first on the Jeep Leaderboard after his electrifying performance at the Quiksilver Pro Gold Coast. Wright, who sat out the entire 2016 season due to a career-threatening, traumatic brain injury, will look to best his 9th place finish at this event. Wright will face rookies Connor O'Leary (AUS) and Ian Gouveia (BRA) in Round 1 Heat 7.
Reigning WSL Champion John John Florence (HAW) will fight to reclaim the lead over the Top 34 coming into Western Australia. Florence will be up against rookie Frederico Morais (PRT) and the winner of the trials in Round 1.
2016 event winner Sebastian Zietz (HAW) will look to defend his event title this year. After a 13th place finish on the Gold Coast, Zietz will try to improve his points ranking with a back-to-back win in WA. Zietz, Filipe Toledo (BRA), and 2017 CT Rookie Ethan Ewing (AUS) will be in the last heat of Round 12.
2017 CT Rookie Leonardo Fioravanti (ITA), currently ranked 25th on the Jeep Leaderboard, will face three-time WSL Champion Mick Fanning (AUS) and 11-time WSL Champion Kelly Slater (USA) in Heat 1. Fioravanti made a name for himself at last year's event after taking down Slater and 2015 WSL Champion Adriano de Souza (BRA). Now, as a full-time CT competitor, Fioravanti will look to shake up the rankings and surpass his previous Quarterfinal berth.
Six-time WSL Champion Stephanie Gilmore (AUS) will battle to best her previous Semifinal finishes at Margaret River and maintain her lead atop the rankings. The Australian Champion will sport the coveted Jeep Leader Jersey after her sixth win at the Roxy Pro Gold Coast. Round 1 Heat 4 will witness Gilmore match-up against Nikki Van Dijk (USA) and injury replacement Bianca Buitendag (ZAF). 
Tyler Wright (AUS), 2016 WSL Champion and defending event winner, carried her intensity and power into the first event of the season to earn a fifth place ranking on the Jeep Leaderboard. Wright will attempt to repeat last year's victory, but will first need to advance out of Round 1.
Carissa Moore (HAW), three-time WSL Champion and two-time event winner, will be up against World No. 2 Lakey Peterson (USA) and Pauline Ado (FRA) in Round 1. Peterson, who sat out for a majority of the 2016 season due to an ankle injury, returned to the CT with an incredible runner-up finish at Snapper Rocks.
Jesse Mendes (BRA), the highest ranked surfer on the WSL Qualifying Series, has been awarded the wildcard into the main event. Mendes will surf against 2014 WSL Champion Gabriel Medina (BRA) and Wiggolly Dantas (BRA) in Heat 5.
Italo Ferreira (BRA) has withdrawn from the Drug Aware Margaret River Pro after an ankle injury he suffered at Duranbah a few days after his  fifth place finish at the Quiksilver Pro Gold Coast. Ferreira's position has been filled by Nat Young (USA).
On the women's side, Laura Enever (AUS) will not be competing at this event due to a knee injury. Enever will be replaced by Bianca Buitendag (ZAF). 
The remaining men's and women's wildcard will be decided by a trials event on Tuesday, March 28th.
A strong SSW swell looks likely for the opening day of the waiting period, March 29th, easing /fading the 30th-31st. A much smaller, but still potentially overhead, SSW swell is possible for the 1st-2nd with more mid to large swell possible during the second week of the waiting period.  Surfline
For more information, check out WorldSurfLeague.com
Drug Aware Margaret River Pro Men's Round 1 Match-Ups:
Heat 1: Kelly Slater (USA), Mick Fanning (AUS), Leonardo Fioravanti (ITA)
Heat 2: Kolohe Andino (USA), Stuart Kennedy (AUS), Ezekiel Lau (HAW)
Heat 3: Matt Wilkinson (AUS), Miguel Pupo (BRA), Jack Freestone (AUS)
Heat 4: Jordy Smith (ZAF), Kanoa Igarashi (USA), Nat Young (USA)
Heat 5: Gabriel Medina (BRA), Wiggolly Dantas (BRA), Jesse Mendes (BRA)
Heat 6: John John Florence (HAW), Frederico Morais (PRT), TBD
Heat 7: Owen Wright (AUS), Connor O'Leary (AUS),  Ian Gouveia (BRA)
Heat 8: Joel Parkinson (AUS), Caio Ibelli (BRA), Jadson Andre (BRA)
Heat 9: Adriano de Souza (BRA), Adrian Buchan (AUS), Jeremy Flores (FRA)
Heat 10: Michel Bourez (PYF), Conner Coffin (USA), Joan Duru (FRA)
Heat 11: Julian WIlson (AUS), Josh Kerr (AUS), Bede Durbidge (AUS)
Heat 12: Filipe Toledo (BRA), Sebastian Zietz (HAW), Ethan Ewing (AUS)
Drug Aware Margaret River Pro Women's Round 1 Match-Ups:
Heat 1: Johanne Defay (FRA), Malia Manuel (HAW), Bronte Macaulay (AUS)
Heat 2: Courtney Conlogue (USA), Sage Erickson (USA), Coco Ho (HAW)
Heat 3: Tyler Wright (AUS),  Keely Andrew (AUS), TBD
Heat 4: Stephanie Gilmore (AUS), Nikki Van DIjk (USA), Bianca Buitendag (ZAF)
Heat 5: Carissa Moore (HAW), Lakey Peterson (USA), Pauline Ado (FRA)
Heat 6: Sally Fitzgibbons (AUS), Tatiana Weston-Webb (HAW), Silvana Lima (BRA)