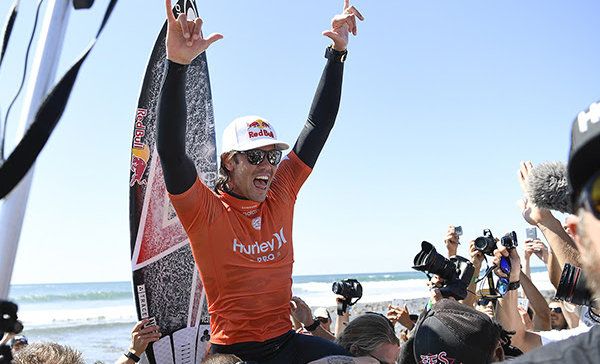 AND THE DEFENDING EVENT WINNER IS JORDY SMITH AS HE LEADS THE FIELD AS WORLD NO. 1 
HIROTO OHHARA AND EVAN GEISELMAN WIN TRIALS TO CLAIM EVENT WILDCARDS 
 Defending event winner Jordy Smith (ZAF) willl wear the Jeep Leader Jersey at the upcoming Hurley Pro at Trestles.
Credit: © WSL / Kirstin
Location:   
   Lower Trestles, San Clemente, California
Event window:
   

September 6 – 17, 2017

Today's call:
Conditions:         Upcoming
SAN CLEMENTE, California/USA (Wednesday, August 30, 2017) – The world's best surfers are just one week away from competing at Lower Trestles, located in San Clemente, California, for the Hurley Pro at Trestles.
 The Hurley Pro at Trestles, Stop No. 8 of 11 on the World Surf League (WSL) Championship Tour (CT) is a crucial mid-way point in the hunt for the world surfing crown. The 2017 Men's WSL Title race is extremely tight at the top with less than 5,000 points separating the Top 5 on the Jeep Leaderboard and seven different event winners for the opening seven events of the season.
Jordy Smith (ZAF) comes into this event as both World No. 1 (for the first time since 2011) and the defending event winner. The South African has earned great results this season, but only 950 points separate him from defending WSL Champion John John Florence (HAW). Smith, a two-time event winner, will need to lock in another victory in his adopted home of San Clemente in order to distance himself from his fellow 2017 World Title contenders.
Current World No. 2 Florence earned a throw away result at Trestles last year and will look to showcase his innovative surfing at Lowers next week. Coming off two back-to-back Quarterfinal eliminations at J-Bay and Tahiti, Florence is preparing to do battle and break through to the Semifinals for the first time since the Australian leg earlier this season.
Hiroto Ohhara (JPN) claimed his place in the Hurley Pro after the winning the trials event and will face Florence and Italo Ferreira (BRA) in Round 1. This will be the second appearance at Lower Trestles for Ohhara who was defeated by Josh Kerr (AUS) in Round 2 back in 2015. Currently at 10th place on the Qualifying Series rankings, Ohhara is keen to improve on his previous 25th place finish.
"I'm really looking forward to competing in the event, especially surfing against John John [Florence]," said Ohhara. "I lost in Round 2 back in 2015 when I competed in the CT for the first time but I'm looking for a better result this year. I didn't do anything special for the contest at Trestles but will practice a lot and be well prepared for the event. I saw the Hurley Pro at the beach for the first time when I was 15 but I couldn't even imagine I would be able to compete there at some stage in the future. When I first competed at the event two years ago, I felt it was on a different level compared to the QS. It was good experience, though. Two years have passed since then and I'm pretty confident that my surfing level is getting better so that I'd like to get a better result this time."
Evan Geiselman (USA) also earned his place in the main event for the second time following success at the trials event. Geiselman also competed in the event back in 2012 where he was eliminated by Florence in Round 2. Fresh from a third-place finish at the recent Vans Pro in Virginia Beach, USA, the Floridian will take on Smith and Ian Gouveia (BRA) in the opening round of competition.
"I've been looking forward to the opportunity to surf Lowers since the trials win," said Geiselman. "It's awesome to be in the event with the goal being to get on the CT one day, so to be in Lowers is a good feeling. Having no pressure helps, but I want to make heats. Lowers is a place I've competed at since I was a kid and feel good out there. It will be fun surfing against those guys and I'm really looking forward to it."
The first few days of the waiting period look slow at this time with a small mix of southerly swells. The second half of the waiting period looks a bit more promising with potential for fun size S swells.   Surfline.
The Hurley Pro runs in conjunction with the Swatch Pro and both will be broadcast LIVE via WorldSurfLeague.com, the WSL app and on Facebook LIVE via the WSL's Facebook page.  Also check the local listings for coverage on CBS Sports Network in the U.S., Fox Sports in Australia, ESPN in Brazil, Sky NZ in New Zealand, SFR Sports in France and Portugal, Sport TV in Portugal and the EDGEsport Network.
For more information, check out WorldSurfLeague.com
Hurley Pro Round 1 Match-Ups:
Heat 1: Adriano de Souza (BRA), Wiggolly Dantas (BRA), Miguel Pupo (BRA)
Heat 2: Julian Wilson (AUS), Caio Ibelli (BRA), Jadson Andre (BRA)
Heat 3: Owen Wright (AUS), Jeremy Flores (FRA), Josh Kerr (AUS)
Heat 4: Matt Wilkinson (AUS), Bede Durbidge (AUS), Ethan Ewing (AUS)
Heat 5: John John Florence (HAW), Italo Ferreira (BRA), Hiroto Ohhara (JPN)
Heat 6: Jordy Smith (ZAF), Ian Gouveia (BRA), Evan Geiselman (USA)
Heat 7: Gabriel Medina (BRA), Adrian Buchan (AUS), Nat Young (USA)
Heat 8: Joel Parkinson (AUS), Conner Coffin (USA), Stu Kennedy (AUS)
Heat 9: Filipe Toledo (BRA), Joan Duru (FRA), Leonardo Fioravanti (ITA)
Heat 10: Connor O'Leary (AUS), Sebastian Zietz (HAW), Kanoa Igarashi (USA)
Heat 11: Kolohe Andino (USA), Frederico Morais (PRT), Jack Freestone (AUS)
Heat 12: Mick Fanning (AUS), Michel Bourez (PYF), Ezekiel Lau (HAW)