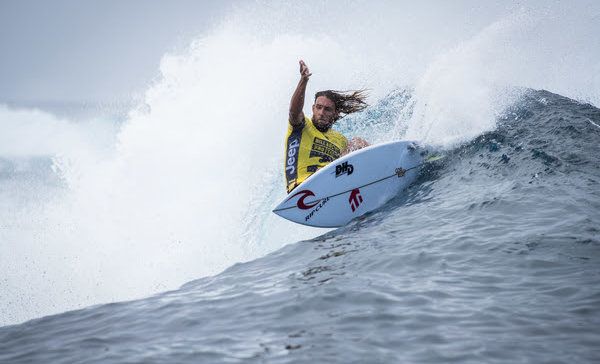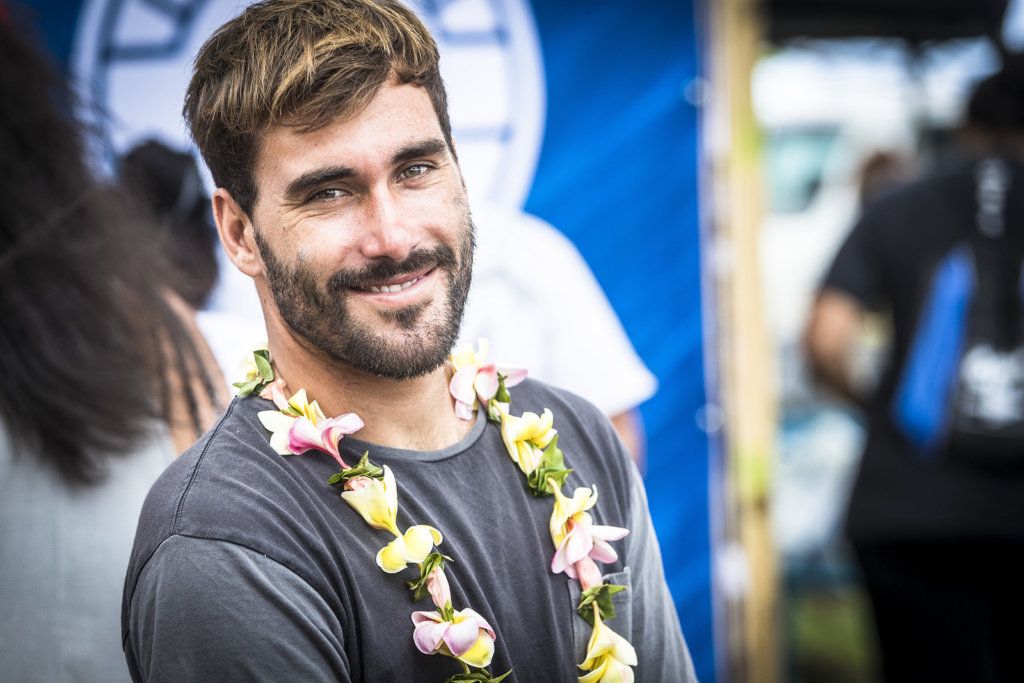 Aritz Aranburu (ESP) (pictured) secured himself a place in  the Billabong Pro Tahiti by winning the trials event at Teahupo'o, Tahiti, French Polynesia, today Thursday August 10, 2017.  PHOTO: © WSL / Poullenot SOCIAL : @wsl @damien_poullenot
 POSSIBLY DOUBLE OVER HEAD SSW BARRELS FOR SATURDAY MORNING

MATT WILKINSON LEADS WSL TOP 34 FOLLOWED BY JOHN JOHN FLORENCE AND JORDY SMITH BY A MICRO MARGIN

DEFENDING EVENT WINNER KELLY SLATER OUT WITH BROKEN FOOT

Current World No. 1 Matt Wilkinson (AUS) will look for a strong finish at the Billabong Pro Tahiti, but will first need to defeat Wiggolly Dantas (BRA) and event wildcard Taumata Puhetini (PYF)  in Round 1 Heat 6.
Credit: © WSL / Poullenot
Billabong Pro Tahiti Round 1 Match-Ups:
Heat 1: Joel Parkinson (AUS), Jeremy Flores (FRA), Jadson Andre (BRA)
Heat 2: Adriano de Souza (BRA), Bede Durbidge (AUS), Nat Young (USA)
Heat 3: Owen Wright (AUS), Italo Ferreira (BRA), Josh Kerr (AUS)
Heat 4: Jordy Smith (ZAF), Joan Duru (FRA), Ethan Ewing (AUS)
Heat 5: John John Florence (HAW), Ezekiel Lau (HAW), Aritz Aranburu (ESP)
Heat 6: Matt Wilkinson (AUS), Wiggolly Dantas (BRA), Taumata Puhetini (PYF)
Heat 7: Filipe Toledo (BRA), Adrian Buchan (AUS), Miguel Pupo (BRA)
Heat 8: Julian Wilson (AUS), Conner Coffin (USA), Kanoa Igarashi (USA)
Heat 9: Gabriel Medina (BRA), Caio Ibelli (BRA), Stu Kennedy (AUS)
Heat 10: Connor O'Leary (AUS), Sebastian Zietz (HAW), Leonardo Fioravanti (ITA)
Heat 11: Mick Fanning (AUS), Kolohe Andino (USA), Jack Freestone (AUS)
Heat 12: Frederico Morais (PRT), Michel Bourez (PYF), Ian Gouveia (BRA)
TEAHUPO'O, Tahiti (Thursday, August 10, 2017) – The world's best surfers are readying themselves to tackle one of the most dangerous waves on the planet, the infamous Teahupo'o, for Stop No. 6 of 11 on the 2017 World Surf League (WSL) Championship Tour (CT), the Billabong Pro Tahiti, from August 11 – 20, 2017.
The hotly contested race for the 2017 WSL Title will recommence in Tahiti, with the top three surfers on the Jeep Leaderboard separated by just 600 points. At the same time the battle for requalification rages on with lower-ranked surfers looking to turn their respective seasons around through the back half of the year.
Matt Wilkinson (AUS) once again comes into this event wearing the Jeep Leader Jersey after a Quarterfinal finishes in Jeffreys Bay, South Africa. The Australian's best result in Tahiti is a Quarterfinal berth back in 2011 but recent years have seen him claim a string of 13th-place finishes.
"It's one of my favorite stops on tour," Wilkinson said. "I've been here for a few days now to get settled and I'm looking forward to the event. Lefthand reef passes in paradise, no complaints."
Wilkinson is closely followed by reigning WSL Champion John John Florence (HAW) and Jordy Smith (ZAF). Florence, a serious threat in Tahiti, made it to the Final last year where he faced eventual winner 11X WSL Champion Kelly Slater (USA) while Smith has never made it past Round 5.
"It's a good race this year and if you look at the Top 5 on the rankings at the moment," said Florence. "None of us have won in Tahiti so we're all hungry to a win there. Hopefully, we get some good waves this event."
2015 WSL Champion Adriano de Souza (BRA) is the highest ranked Brazilian and currently, sits in fifth place on the Jeep Leaderboard. De Souza has had a string of early-round exits in Tahiti over the past six years and will need a strong result to keep himself in world title contention.
"It's been a good year so far," De Souza said. "We've had great waves for many of the events and the surfing has been at a new level. I keep trying to improve my own surfing at different spots. Tahiti is beautiful and I'm looking forward to the event."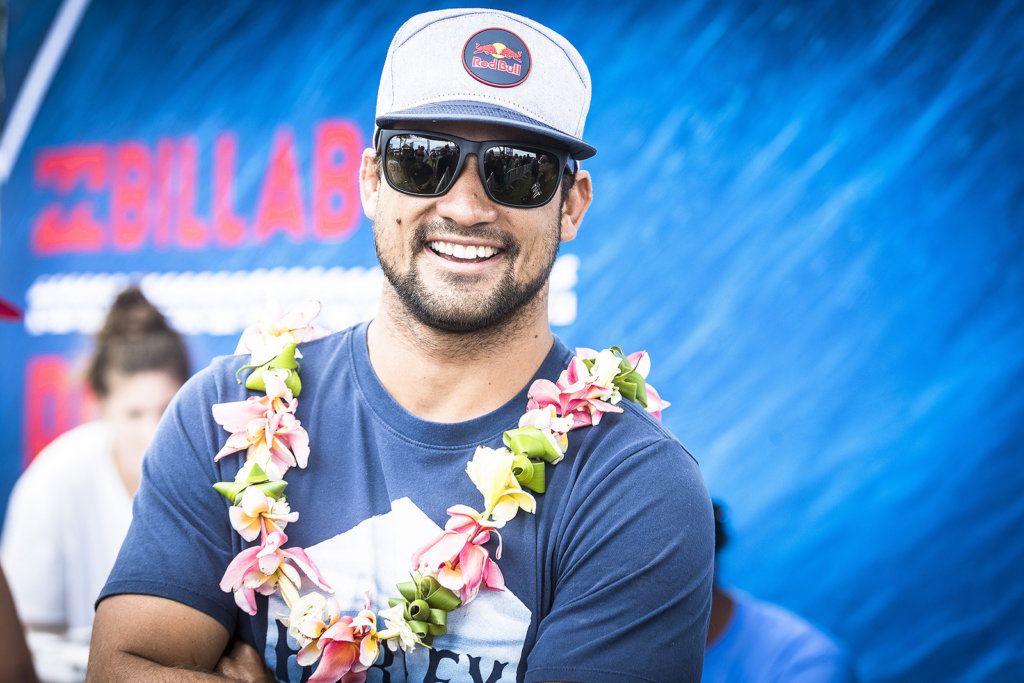 Michel Bourez of Tahiti (pictured) is the local favourite at the Billabong Pro Tahiti and enjoys the opening ceremony in his home town at Teahupo'o, Tahiti, French Polynesia, today Thursday August 10, 2017.  PHOTO: © WSL / Poullenot SOCIAL : @wsl @damien_poullenot.
Former CT surfer Aritz Aranburu (ESP) has won the trials to earn his place in the main event. Aranburu will face Florence and Ezekiel Lau (HAW) in Round 1.
Taumata Puhetini (PYF) claimed a Semifinal berth in the trials, finishing as the highest placed Tahitian, and also secures a wildcard into the Billabong Pro Tahiti. 2017 marks Puhetini's fourth appearance in the event and he will face No. 1 on the Jeep Leaderboard Wilkinson and Wiggolly Dantas (BRA) in the opening round of competition.
Defending event winner Kelly Slater (USA) claimed his fifth Teahupo'o victory last season but has been forced to withdraw from the contest this year following a freesurfing injury in South Africa last month. Slater will be replaced by Nat Young (USA).
New, longer period SSW swell will be filling in over Friday while old shorter period SSW energy fades. This new swell was pushed out by a fairly strong storm that recently slid across the deep Southwest Pacific. Wind speeds within the fetch aimed at Tahiti reached 35-45kts+, even a small patch in there up to 50kts, but the storm was rather far away and its track wasn't ideal. As a result, we're expecting about 4 feet+ of SSW swell (205-190°) at 15-16 seconds to peak late Friday night and hold through Saturday. Teahupo'o will see overhead sets with occasional waves up to a few feet overhead, and even pushing near or at the double overhead mark (possibly before dark on Friday as well). Surfline
The event will be broadcast LIVE via WorldSurfLeague.com, the WSL app and on Facebook LIVE via the WSL's Facebook page. OC250!
For more information, check out WorldSurfLeague.com
Filipe Toledo of Brazil (pictured), current No.7 on the Jeep Leaderboard after winning the previous Championship Tour event in J-Bay, South Africa, enjoys a dance at the opening ceremony for the Billabong Pro Tahiti at Teahupo'o, Tahiti, French Polynesia, today Thursday August 10, 2017.  PHOTO: © WSL / Poullenot SOCIAL : @wsl @damien_poullenot