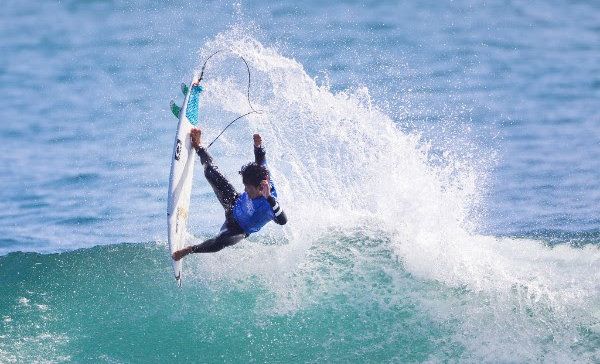 WILDCARDS GEISELMAN & OHHARA ELIMINATE WORLD TITLE CONTENDERS WILKINSON & WRIGHT
– TOP SEEDS SMITH, FLORENCE & WILSON OFF TO STRONG START AT LOWERS
– ROOKIE EWING DISPATCHES WSL CHAMPION PARKINSON IN ROUND 2
 Event wildcard Hiroto Ohhara (JPN) upset the competition today with his win over current World No. 4 Owen Wright (AUS) in Round 2 of the Hurley Pro at Trestles.
Credit: © WSL / Morris
Location:   
   Lower Trestles, San Clemente, California
Event window:
   September 6 – 

17, 2017

Today's call:

| | |
| --- | --- |
|    Men's Rounds 1 + 2 (H1-4) complete | |
Conditions:         2 – 3+ foot  
SAN CLEMENTE, California/USA (Monday, September 11, 2017) – The Hurley Pro at Trestles, Stop No. 8 of the World Surf League (WSL) Championship Tour (CT), kicked off today with Round 1 and the first four heats of Round 2 in three-to-four foot (1 – 1.2 metre) waves at Lower Trestles.
With the Top 5 surfers on the Jeep Leaderboard separated by less than 5,000 points, the Hurley Pro at Trestles is critical to the 2017 World Title race. The Men's CT is currently lead by defending event winner Jordy Smith (ZAF) and followed closely by John John Florence (HAW) in second. Both surfers are off to a strong start at Lower Trestles with wins in their Round 1 heats, but today's competition also saw huge shake-ups as World No. 3 Matt Wilkinson (AUS) and World No. 4 Owen Wright (AUS) were eliminated by the event wildcards in Round 2.
Smith showed his world-class form at the famed cobblestone break of Lowers with big turns and powerful maneuvers. Smith's opening ride showed what he is capable of as he earned a near-perfect 9.50 (out of a possible 10). Even though the South African was not able to find a suitable backup, 2017 CT Rookie Ian Gouveia (BRA) and event wildcard Evan Geiselman (USA) could not find the 13.28 (out of a possible 20) heat total needed to overtake Smith.
"I was stoked to get that first wave because there were a lot of things going on in that heat with the paddle battle to get things started," Smith said. "You can't over surf the wave out there. I was happy to get that 9-pointer to start. I just had to control that heat, and if a good wave came at the end, I was going to go and try to better my score. It's important to me to just maintain calm out here I think. It's just another day at Lowers. I know exactly what I'm riding and how it's going to be, and you can just give your best in that thirty minutes."
Italo Ferreira (BRA) nearly provided a massive upset over current World No. 2 and reigning WSL Champion Florence in Round 1 Heat 5, but Florence's final wave earned him a vital win. After Ferreira blasted numerous backhand attacks to earn an 8.50, Florence responded with his own near-perfect 9.07 on a huge layback maneuver to start his wave before opening up on his signature power-carve. But, the heat was not done yet as Ferreira fought back once more with a 6.80 to raise the requirement for Florence to a 6.83, which he narrowly missed – earning a 6.33. Florence had one last opportunity to strike and blasted a 7.00 to take the lead, which required a 7.58 that Ferreira was unable to attain on his final wave with a 7.40.
"Italo [Ferreira] has one of those wildcard factors about him — you don't know what he's going to do," Florence said. "You see him pumping down the line on a left going real fast and you get a little nervous. I'm just stoked I got two waves in that heat since it was a good battle. This year is really exciting with everyone at the top needing to perform and makes every heat that much more exciting because there's a lot to lose, as well as a lot to win. I just want to surf through it and have fun."
World No. 3 Wilkinson and No. 4 Wright will not join the other Top 5 surfers in the event after suffering shock Round 2 eliminations today. Earlier this morning, Wilkinson and Wright lost in Round 1 to CT veterans Bede Durbidge (AUS) and Jeremy Flores (AUS), respectively. The Australians were then relegated to Round 2, where they were eliminated by event wildcards Geiselman and Hiroto Ohhara (JPN). The eliminations of the top seeds will surely open the door for the 2017 WSL Title race as they exit in Equal 25th place.
"I know I have to surf my best if I'm going to even compete against these guys," Geiselman said. "I think Wilko [Matt Wilkinson] surfed as good as you could've and got that 7-point ride. I'm just happy to have a good heat. I want to be here on the CT one day so I'm going to have to surf against these guys anyway and there are not really nerves there. I put higher expectations on myself than who I'm surfing against, but it's fun. This is a huge opportunity. We have the business end of the QS coming up with three QS 10,000s left. This is a confidence boost and hopefully I can carry this forward."
"That left was really suiting those airs for Evan [Geiselman], but I had my plan, which was to get some good rights," Wilkinson said. "They were pretty tough to surf, so I didn't really get too much going. My last one I thought may have put me back in the heat, but the judges didn't seem to like it too much. Hopefully, I can get on a little roll heading into this next leg and get some momentum from France and Portugal, then into Pipe. To lose that one so early in the contest is tough, but now you've got to go to France and try to not lose."
Durbidge started the Round 1 heat against Wilkinson and Ethan Ewing (AUS) with a commanding 7.83 and 5.60 to capture and hold an early lead. Competing in his 12th Trestles event,  Durbidge utilized his experience to take the win. The Australian also expressed his motivation to perform well with this being his final Trestles event as a full-time CT competitor.
"It's great to be back here at Lowers with such a good history for me," said Durbridge. "I just love the place and the whole community. Out of all the events on tour, it's probably where I've had most of my success. Even though it's early on in the event, I'm feeling good, healthy, and I'm having fun. I'm just really enjoying my last Lowers event. It's crazy that it's my last and that's why I want to surf so well and when you're doing well you're having a lot fun so that's my goal is to make as many heats as possible and just enjoy myself."
WSL Champions Gabriel Medina (BRA) and Adriano de Souza (BRA) are well in the 2017 World Title conversation as they sit just behind the Top 5 in 6th and 7th place on the Jeep Leaderboard. Both Brazilians are looking in great form at Lowers, with big Round 1 victories to kick off their Hurley Pro campaigns.
2014 WSL Champion Medina brought his explosive backhand to Lowers and cracked an excellent 8.00 by taking to the air, adding to his 5.67, for an early lead over Nat Young (USA)and Adrian Buchan (AUS). Both Young and Buchan tried to fight back with their own dangerous backside attacks, but couldn't find their rhythm against Medina until the final minute where Young had a chance and fell short of the requirement — earning a 6.80 needing a 7.25.
"I feel like I made some mistakes and Nat [Young] almost got me on those last two waves, but it's always great to win the first heat and skip that next round," Medina said. "I change a little bit when the heat is on because we're competing and I want to surf really well, get high scores, and go for those airs. That's how you beat someone is by going hard and that's what I try to every time, and that's why I always look so serious out there."
Fellow WSL Champion Joel Parkinson (AUS) was less than fortunate against an in-form Conner Coffin (USA) who had the current World No. 8 in a combination situation, meaning he needed two new scores to match Coffin's heat total, with a 14.67 heat total and Stuart Kennedy (AUS) needing an excellent 8.00. This marks the Santa Barbara, California, native's second Round 1 heat win of 2017 and looks to capitalize on the opportunity ahead of him.
Parkinson went on to battle first-year Ewing in Round 2 Heat 3. A slow heat forced both surfers to chase mid-range scores. Ewing was able to open the exchange with a 6.33, putting early pressure on the CT veteran. Parkinson was left chasing the 5.87 requirement until the end of the heat and was not able to close the 1.96 gap. World No. 8 Parkinson will exit with his first 25th place finish of 2017, while Ewing earns his second heat win of his rookie year.
Current Jeep Rankings Leaderboard No. 5 Julian Wilson (AUS) found his form early on and continued improving each wave, ultimately accruing a solid 13.27 over Brazilians Jadson Andre (BRA) and Caio Ibelli (BRA). The Australian heads straight into Round 3 as Andre and Ibelli will have to survive elimination Round 2 when the competition resumes.
Current World No. 9 Filipe Toledo (BRA) will join the Brazilian Champions in Round 3 after putting on an incredible show at Lowers to win his Round 1 match-up. Toledo posted the highest two-wave total, a 17.60, with a with a near-perfect 9.43 and excellent 8.17. Rookies Leonardo Fioravanti (ITA) and Joan Duru (FRA) will compete again in elimination Round 2 for a chance to stay in the competition.
"That was a tough one with smaller waves in the heat, but I knew it had potential after surfing here so much and knowing it," Toledo said. "I knew I had to go big with the airs if I wanted to get the score and also variety on the turns. It feels good to be here. It feels like home and I always love surfing this wave in events. I'm in my own bed with my family and get home cooking over there, and just having my wife and little one with all my friends as well. It's pretty special. It's motivation to do better and get a big result here."
Sebastian Zietz (HAW) threw himself into high-gear and took down 2017 Rookie of the Year contender Connor O'Leary (AUS) and Californian Kanoa Igarashi (USA) with brilliant surfing to earn a near-perfect 9.50. Zietz's powerful wrapping carves sent spray flying out the back with each maneuver all the way to the inside. The Kauaian talent is looking for a spark this year to surpass his best result of an equal 13th and showed he's hungry for one today.
Frederico Morais (PRT) was the only rookie to find success in Round 1 today after defeating Jack Freestone (AUS) and hometown hero Kolohe Andino (USA). The CT freshman posted a near-perfect 9.47 to punch his ticket directly through to Round 3.
"That was a fun heat and I knew it was going to be a hard one against Kolohe [Andino] and Jack [Freestone] — especially Kolohe just being here at his homebreak," Morais said. "I started off really good and the rest of the heat I couldn't find a backup until I found that 5-point ride. Then it became all about managing time and trying to improve upon that. I'm frothing to be here at Trestles. I'll just keep doing my surfing and if I have to switch it up a bit I'll do that."
Event organizers will reconvene at 7:30 a.m. PST to reassess the conditions and make the next call for a potential 8:00 a.m. start.
Modest, new S swell will build in through Monday and continue Tuesday. A larger S swell will build through the day on Wednesday, peak Thursday and fade Friday and should offer the largest surf of the waiting period late Wednesday and Thursday. Conditions look generally favorable Mon-Thur  in the mornings, but may turn problematic by Friday as S wind develops. Surfline.

The Hurley Pro and Swatch Pro at Trestles will be broadcast LIVE via WorldSurfLeague.com, the WSL app and on Facebook LIVE via the WSL's Facebook page.
For more information, check out WorldSurfLeague.com.
Hurley Pro Round 1 Results:
Heat 1: Adriano de Souza (BRA) 14.50, Miguel Pupo (BRA) 9.67, Wiggolly Dantas (BRA) 6.90
Heat 2: Julian Wilson (AUS) 13.27, Caio Ibelli (BRA) 10.90, Jadson Andre (BRA) 10.84
Heat 3: Jeremy Flores (FRA) 14.40, Owen Wright (AUS) 12.63, Josh Kerr (AUS) 11.17
Heat 4: Bede Durbidge (AUS 13.43, Matt Wilkinson (AUS) 10.20, Ethan Ewing (AUS) 6.33
Heat 5: John John Florence (HAW) 16.07, Italo Ferreira (BRA) 15.90, Hiroto Ohhara (JPN) 12.40
Heat 6: Jordy Smith (ZAF) 13.23, Ian Gouveia (BRA) 10.70, Evan Geiselman (USA) 9.76
Heat 7: Gabriel Medina (BRA) 13.67, Nat Young (USA) 13.03, Adrian Buchan (AUS) 9.30
Heat 8: Conner Coffin (USA) 14.67, Stu Kennedy (AUS) 6.67, Joel Parkinson (AUS) 4.66
Heat 9: Filipe Toledo (BRA) 17.60, Leonardo Fioravanti (ITA) 15.86, Joan Duru (FRA) 14.07
Heat 10: Sebastian Zietz (HAW) 16.83, Connor O'Leary (AUS) 9.26, Kanoa Igarashi (USA) 7.90
Heat 11: Frederico Morais (PRT) 14.90, Jack Freestone (AUS) 12.34, Kolohe Andino (USA) 8.13
Heat 12: Mick Fanning (AUS) 14.10, Ezekiel Lau (HAW) 13.43, Michel Bourez (PYF) 13.00
Hurley Pro Round 2 (Heats 1 – 4) Results:
Heat 1: Evan Geiselman (USA) 15.50 def. Matt Wilkinson (AUS) 12.96
Heat 2: Hiroto Ohhara (JPN) 15.73 def. Owen Wright (AUS) 15.43
Heat 3: Ethan Ewing (AUS) 11.03 def. Joel Parkinson (AUS) 9.07
Heat 4: Josh Kerr (AUS) 16.50 def. Connor O'Leary (AUS) 13.00
Hurley Pro Remaining Round 2 (Heats 5 – 12) Match-Ups:
Heat 5: Kolohe Andino (USA) vs. Jadson Andre (BRA)
Heat 6: Michel Bourez (PYF) vs. Miguel Pupo (BRA)
Heat 7: Joan Duru (FRA) vs. Nat Young (USA)
Heat 8: Adrian Buchan (AUS) vs. Stuart Kennedy (AUS)
Heat 9: Wiggolly Dantas (BRA) vs. Leonardo Fioravanti (ITA)
Heat 10: Caio Ibelli (BRA) vs. Kanoa Igarashi (USA)
Heat 11: Italo Ferreira (BRA) vs. Jack Freestone (AUS)
Heat 12: Ian Gouveia (BRA) vs. Ezekiel Lau (HAW)
Swatch Pro Round 2 Match-Ups:
Heat 1: Carissa Moore (HAW) vs. Malia Manuel (HAW)
Heat 2: Tatiana Weston-Webb (HAW) vs. Pauline Ado (FRA)
Heat 3: Tyler Wright (AUS) vs. Macy Callaghan (AUS)
Heat 4: Stephanie Gilmore (AUS) vs. Bronte Macaulay (AUS)
Heat 5: Nikki Van Dijk (AUS) vs. Laura Enever (AUS)
Heat 6: Lakey Peterson (USA) vs. Coco Ho (HAW)