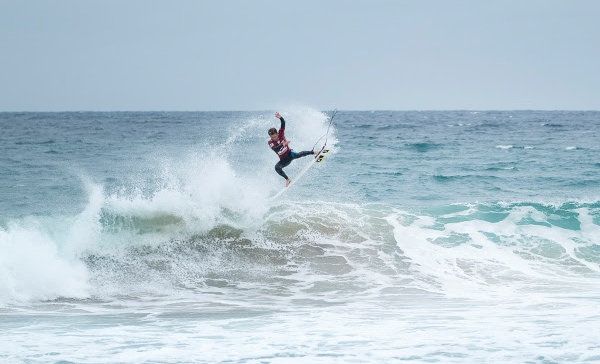 GOOD LUCK TO KEANU, ZEKE, JOSH & SETH, TORRIE, KOA…
– FEBRUARY CARRIES SOUTH-AFRICAN HOPES INTO RD3
– FIRST UPSETS GRACE OPENING DAY OF COMPETITION
Caption: Jesse Mendes (BRA) takes flight on Day 1.


Credit:
 © WSL / Cestari
Location:   
Willard Beach, Ballito, KwaZulu-Natal / South-Africa
Event window:

July 3-9, 2017

Today's call:
Rd1, Rd2 H1-4 Completed. Next Call 

7:45 a.m

 

Tuesday
| | |
| --- | --- |
| Conditions | Two-to-three foot waves, slightly wind-affected |
WILLARD BEACH, Ballito, KwaZulu-Natal / South-Africa (Monday, July 3, 2017) — The first major World Surf League (WSL) Qualifying Series (QS) event of the year, the QS10,000 Ballito Pro pres. by Billabong, ran through the Round 1 and first four heats of Round 2 in choppy one metre waves at Willard Beach on Monday.
With 112 of the world's best surfers chasing a share of the US $260,000 (approx. R3.3 million) and the biggest ranking points haul available on the QS, the action was fast and furious as the short-period swell provided plenty of waves.
"For that heat my strategy was to get two average scores really quick in order just to start the heat. But there were so many waves coming and I didn't know which one to take so I couldn't find those waves in the beginning," said 2014 Ballito Champion Alejo Muniz (BRA), who finished runner-up in the last heat of the day to advance to the last 48.
"It was really stressful and I was needing a very small score, just a 4, so when there was 5 minutes left I told myself to just wait for a wave with two turns, and I'm happy that I got it!"
Jeremy Flores (FRA) has been coming to South Africa for many years and despite contemplating withdrawing from the event due to a recent leg injury, he won the final heat of the day.
"The conditions are pretty hard so I think it's anyone's game and the one who catches the best wave is going to make the difference," said Flores. "I've injured my leg so I wasn't even sure if I was going to surf my heat But I told myself it's only 30 minutes so I toughened up for two waves and I got through, so I'm stoked. It's good to be back in Ballito, I feel good here, the food is good and the people are amazing and the waves are fun, so why not."
Current runaway QS rankings leader Jesse Mendes (BRA) stayed busy throughout his Round 2 heat, riding 13 waves in the 30 minute encounter. The 23-year-old from Guaruja led throughout but only posted his best two rides, an 8.0 for a pair of vertical backhand bashes and an 8.50 for a high-flying 360 aerial rotation, in the last five minutes.
Michael February (ZAF), made the partisan local crowd happy when he secured a come-from-behind victory in the opening heat of Round 2. The lanky Capetonian, currently ranked No. 20 on the QS and with plenty of momentum after a string of victories in smaller QS1,000 rated events earlier this year, shrugged off an impressive 9 point ride by Krystian Kymerson(BRA) and steadily built a heat winning total.
"It's never easy when you hear that one of your opponents has scored a 9 in the first couple of minutes of a heat, but I stuck with my plan to wait for two good waves, and it paid off in the end," said February, whose patience was rewarded with rides of 7.0 and 6.83.
"It's been great doing well in the smaller events, but I really need to do well in the bigger ones like the Ballito Pro, so the pressure is still on. I'm happy with this win and I'm looking forward to the rest of the event."
Mikey Wright (AUS) earned the day's highest single ride score, a 9.23 for three huge hits on a right, but with just a 5.50 for his backup ride he finished second behind fellow Australian Jacob Willcox, who racked up rides of 6.67 and 8.17. Both will be in Round 2.
Ballito local Richie Kidd justified the wildcard he was awarded for winning the SSA Ballito Trials pres. by Billabong last Thursday when he grabbed second place in the opening heat of the day and progressed to Round 2. There he narrowly missed out on a fairytale berth in the last 48 when he was overtaken for second spot by Hiroto Ohhara (JPN) with just minutes remaining..
Jeffreys Bay based Matthew McGillivray and Dylan Lightfoot were the other two South Africans in action on the opening day. Both finished third in their respective heats to be eliminated in equal 97thplace overall, pocketing 200 points and US $500.
Top seed and current world No. 3, Jordy Smith (ZAF), will be coming up in Heat 12 of Round 2 when the competition gets underway.
Organisers will meet at 7.30 am local time on Tuesday to make the call on when to recommence the event. Full results, news, photos and more can be found at www.worldsurfleague.com and on the free WSL App.
The Ballito Pro pres. by Billabong is proudly supported by the KwaDukuza Municipality, Billabong, 5FM, Capitec Bank, Casio, North Coast Courier, Monster Energy, Zigzag Surfing Magazine, World Surf League (WSL) and Surfing South Africa (SSA).
REMAINING BALLITO PRO PRES. BY BILLABONG ROUND 2 MATCHUPS:
Heat 5: Joan Duru (FRA), Maxime Huscenot (FRA), Marco Giorgi (URY), Leandro Usuna (ARG)
Heat 6: Keanu Asing (HAW), Davey Cathels (AUS), David Do Carmo (BRA), David Van Zyl (ZAF)
Heat 7: Tanner Gudauskas (USA), Griffin Colapinto (USA), Carlos Munoz (CRI), O'Neill Massin (PYF)
Heat 8: Ezekiel Lau (HAW), Beyrick De Vries (ZAF), Joshua Moniz (HAW), Nomme Mignot (FRA)
Heat 9: Miguel Pupo (BRA), Brett Simpson (USA), Marco Fernandez (BRA), Noe Mar McGonagle (CRI)
Heat 10: Jadson Andre (BRA), Ian Crane (USA), Diego Mignot (FRA), Vicente Romero (ESP)
Heat 11: Ryan Callinan (AUS), Evan Geiselman (USA), Adam Melling (AUS), Michael Dunphy (USA)
Heat 12: Jordy Smith (ZAF), Ramzi Boukhiam (MAR), Koa Smith (HAW), Hiroto Arai (JPN)
Heat 13: Connor O'Leary (AUS), Dion Atkinson (AUS), Mihimana Braye (PYF), Jacob Willcox (AUS)
Heat 14: Yago Dora (BRA), Tomas Hermes (BRA), Tom Whitaker (AUS), Kiron Jabour (HAW)
Heat 15: Josh Kerr (AUS), Torrey Meister (HAW), Billy Stairmand (NZL), Mikey Wright (AUS)
Heat 16: Leonardo Fioravanti (ITA), Michael Rodrigues (BRA), Aritz Aranburu (ESP), Thiago Camarao (BRA)
Heat 17:  Jack Freestone (AUS), Hizunome Bettero (BRA), Lucas Silveira (BRA), Parker Coffin (USA)
Heat 18:  Bino Lopes (BRA), Patrick Gudauskas (USA), Wade Carmichael (AUS), Reef Heazlewood (AUS)
Heat 19:  Nat Young (USA), Mitchel Coleborn (AUS), Samuel Pupo (BRA), Billy Kemper (HAW)
Heat 20:  Ian Gouveia (BRA), Ricardo Christie (NZL), Vasco Ribeiro (PRT), Yadin Nicol (AUS)
Heat 21:  Stuart Kennedy (AUS), Alex Ribeiro (BRA), Nathan Yeomans (USA), Kilian Garland (USA)
Heat 22:  Ethan Ewing (AUS), Victor Bernardo (BRA), Dimitri Ouvre (FRA), Pedro Henrique (PRT)
Heat 23:  Soli Bailey (AUS), Cooper Chapman (AUS), Seth Moniz (HAW), Heitor Alves (BRA)
Heat 24:  Kanoa Igarashi (USA), Santiago Muniz (ARG), Willian Cardoso (BRA), Flavio Nakagima (BRA)
BALLITO PRO PRES. BY BILLABONG ROUND 2 RESULTS:
Heat 1: Michael February (ZAF) 13.83, Krystian Kymerson (BRA) 12.83, Frederico Morais (PRT) 12.24, Jorgann Couzinet (FRA) 9.87
Heat 2: Charly Martin (GLP) 11.93, Marc Lacomare (FRA) 10.34, Deivid Silva (BRA) 8.67, Jack Robinson (AUS) 7.84
Heat 3: Jesse Mendes (BRA) 16.50, Hiroto Ohhara (JPN) 12.20, Richard Kidd (ZAF) 10.90, Robson Santos (BRA) 8.57
Heat 4: Jeremy Flores (FRA) 11.93, Alejo Muniz (BRA) 10.40, Gony Zubizarreta (ESP) 9.10, Luel Felipe (BRA) 5.53
BALLITO PRO PRES. BY BILLABONG ROUND 1 RESULTS:
Heat 1: Jorgann Couzinet (FRA) 13.24, Richard Kidd (ZAF) 12.80, Kaito Kino (HAW) 8.44, Reo Inaba (JPN) 7.97
Heat 2: Luel Felipe (BRA) 11.10, Leandro Usuna (ARG) 8.97, Timothee Bisso (GLP) 8.40, Eli Olson (HAW) 7.27
Heat 3: Nomme Mignot (FRA) 12.33, Noe Mar McGonagle (CRI) 10.10, Matthew McGillivray (ZAF) 9.94, Shane Holmes (AUS) 8.40
Heat 4: Vicente Romero (ESP) 13.50, Hiroto Arai (JPN) 11.10, Jonathan Gonzalez (CNY) 10.67, Nelson Cloarec (FRA) 8.40
Heat 5: Jacob Willcox (AUS) 14.84, Mikey Wright (AUS) 14.73, Finn McGill (HAW) 11.30, Oney Anwar (IDN) 9.44
Heat 6: Thiago Camarao (BRA) 15.33, Parker Coffin (USA) 12.60, Dylan Lightfoot (ZAF) 12.13, Shun Murakami (JPN) 5.60
Heat 7: Yadin Nicol (AUS) 13.90,  Kilian Garland (USA) 11.94, Rafael Teixeira (BRA) 11.67, Kalani Ball (AUS) 10.07
Heat 8: Pedro Henrique (PRT) 11.53, Flavio Nakagima (BRA) 10.83,  Cody Young (HAW) 10.06, Mason Ho (HAW) 9.93