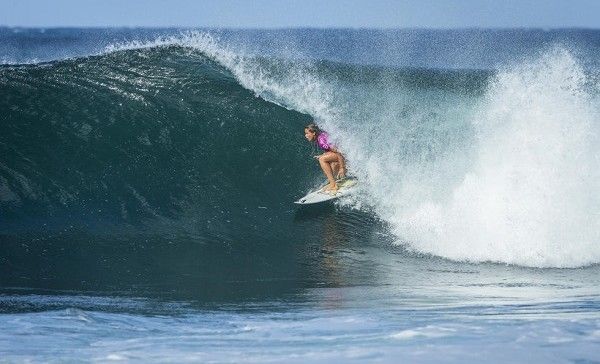 HONOLUA BAY TURNS ON FOR WSL TOP 17
– WSL TITLE FIGHT HEATS UP WITH MOORE TO QUARTERS AND CONLOGUE TO R4
– MORE AT WORLDSURFLEAGUE.COM
Front page: Conlogue pitted at Honolua Bay en route to Round 4. She'll need to survive the next heat against Hawaiian Coco Ho if she's to stay in contention for the 2015 WSL Title with Carissa Moore. Image: WSL
| | |
| --- | --- |
| Location:    | Honolua Bay, Maui/Hawaii  |
| Event window: | November 21 – December 4, 2015 |
| Today's call: | Women's Rounds 1 – 3 Completed |
| Conditions: | Three-to-Four foot (1- 1.5 metre) |
HONOLUA BAY, Maui/Hawaii (Sunday, November 29, 2015) – A marathon opening day at the final stop of the World Surf League (WSL) Samsung Galaxy Women's Championship Tour (CT), the Target Maui Pro, completed the first three rounds of action in pristine, three-to-four foot (1-1.5 metre) Honolua Bay conditions.
The World Title race between Jeep Leaderboard Rankings World No.1 Carissa Moore (HAW)and No.2 Courtney Conlogue (USA) heated up as both competitors posted massive Round 1 heat totals to earn a direct pass to Round 3. Moore put up an impressive 16.73 (out of a possible 20) and Conlogue fired right back in the following heat with a 16.50.
Moore followed up her Round 1 with an equally impressive Round 3 performance after a slow start, not getting her first wave until the halfway mark. But, posting a 14.93 heat total and keeping her head in the right place throughout the day, the two-time World Champion is ready for more.
"I think I'm just going to keep the focus on me," I watched all the other heats but I'm just staying in my bubble as much as I can and with a more relaxed mind your body is able to follow so I'm just trying to keep things nice and happy in my head. I'm so stoked to make it through after sitting for 15 minutes and just having negative thoughts but I had to work those thoughts, realizing waves are going to come and I'll just have to make the most of them."
Though Moore has a direct route to the Quarterfinals, Conlogue will have to do battle in Round 4 against Coco Ho (HAW) when competition resumes. As the day progressed, conditions slowed and Nikki Van Dijk (AUS) found a gem for a 9.00 before the ocean went quiet until the final horn sounded – leaving Conlogue in a must-win situation to keep pace with Moore.
"It was so great having the bay to myself with just two other women and have a really fun [first] heat," Conlogue said. "Going into the next round I definitely have to step up my game but just with those conditions being slow I didn't get a real second opportunity. I'm still in the game and can't wait for the next swell to come and get back in the water."
Not having any pressure of a World Title or requalification with her Qualifying Series (QS) results backing her up, Alessa Quizon (HAW) had a phenomenal day after a slow start that put her into Round 2. With the additional heats, including back-to-back Round 2 and 3 appearances, Quizon posted the day's highest single-wave score, 9.20 (out of a possible 10) and heat total of 17.73.
"It was really tiring at the beginning with my Round 2 having so many waves that were really fun," Quizon said. "I just kept momentum from that heat and just fortunate to get those waves under my belt. I wasn't sure what I was going to get on that 9.20, it was just so nice and felt really good to stomp the landing on it. Getting the win in Chile definitely took the weight off my shoulders so there was nothing to worry about coming here and just want to enjoy home."
2014 Target Maui Pro runner-up, Tyler Wright (AUS), posted her own massive numbers – blasting an 8.93 and 8.27 in Round 2 with signature power surfing, but will have to redeem herself after a lackluster Round 3 performance. Wright was doubting her appearance here in Maui after losing her uncle just over a week ago, but got to see her take down a win at the Roxy Pro France, and knew she had to make the trip here.
"I feel like the power of this wave matches the power of me – it's just a powerful wave and that's the way I like to surf," Wright said. "I've had such an emotional past few weeks and I was so stoked he got to see that and show him that I really do care – this is what I truly love to do and I'm so happy he got to see that. It's been hard to process and even this morning I was so dazed in the water, trying to fight it but there's nothing wrong with being sad – especially when it's not the bad kind of sad."
Winning the last heat of the day, Sally Fitzgibbons (AUS) was without her helmet that she had to wear since her horrific fall in Fiji and ripped her way into the Quarterfinals with a 16.60. Making some big changes, Fitzgibbons is already focused on her World Title run next year and is using this event to tune up any way she can.
"It was such a wild injury and my peripherals were out with helmet so it's really nice to be down to this little ear plug," Fitzgibbons said. "I think it was time to have a really hard look at my surfing and performance looking back thinking I want to make some major changes before next year. I want to surf bigger and better is the main goal. Just want my equipment perfect and body perfect – really want to unleash that extra power I've been working on and I think it's going to help give me a little added momentum heading into next year."
Competition was put on hold following the end of Round 3 as the waves began slowing and will resume with Heat 1, Round 4 once re-commencing. Event organizers will reconvene at 7:00AM tomorrow morning and assess conditions for a possible finals day call.
The world's best surfing will also be broadcast LIVE on Fox Sports in Australia, MCS Extreme in France, EDGE Sports in China, South Korea, Malaysia and other territories and on Globo TV in Brazil.
UPCOMING TARGET MAUI PRO ROUND 4 MATCH-UPS:
Heat 1: Lakey Peterson (USA), Tatiana Weston-Webb (HAW)
Heat 2: Malia Manuel (HAW), Tyler Wright (AUS)
Heat 3: Courtney Conlogue (USA), Coco Ho (HAW)
Heat 4: Bianca Buitendag (ZAF), Johanne Defay (FRA)
TARGET MAUI PRO ROUND 3 RESULTS:
Heat 1: Alessa Quizon (HAW) 15.37, Lakey Peterson (USA) 8.83, Tyler Wright (AUS) 6.83
Heat 2: Carissa Moore (HAW) 14.93, Malia Manuel (HAW) 11.83, Tatiana Weston-Webb (HAW) 7.30
Heat 3: Nikki Van Dijk (AUS) 14.10, Courtney Conlogue (USA) 13.44, Johanne Defay (FRA) 10.34
Heat 4: Sally Fitzgibbons (AUS) 16.60, Bianca Buitendag (ZAF) 11.67, Coco Ho (HAW) 11.50
TARGET MAUI PRO ROUND 2 RESULTS:
Heat 1: Coco Ho (HAW) 14.37, Dimity Stoyle (AUS) 11.57
Heat 2: Nikki Van Dijk (AUS) 13.94, Sage Erickson (USA) 11.96
Heat 3: Lakey Peterson (USA) 15.23, Dax McGill (HAW) 13.70
Heat 4: Tyler Wright (AUS) 17.20, Keely Andrew (AUS) 8.50
Heat 5: Bianca Buitendag (ZAF) 14.64, Laura Enever (AUS) 6.53
Heat 6: Alessa Quizon (HAW) 17.73, Silvana Lima (BRA) 15.27
TARGET MAUI PRO ROUND 1 RESULTS:
Heat 1: Tatiana Weston-Webb (HAW) 15.07, Tyler Wright (AUS) 9.50, Dimity Stoyle (6.67)
Heat 2: Malia Manuel (HAW) 13.96, Lakey Peterson (USA) 13.16, Sage Erickson (USA) 13.10
Heat 3: Carissa Moore (HAW) 16.73, Silvana Lima (BRA) 10.20, Dax McGill (HAW) 7.00
Heat 4: Courtney Conlogue (USA) 16.50, Keely Andrew (AUS) 12.57, Coco Ho (HAW) 12.57
Heat 5: Sally Fitzgibbons (AUS) 13.44, Nikki Van Dijk (AUS) 11.97, Laura Enever (AUS) 7.76
Heat 6: Johanne Defay (FRA) 16.60, Alessa Quizon (HAW) 14.50, Bianca Buitendag (ZAF) 2.20