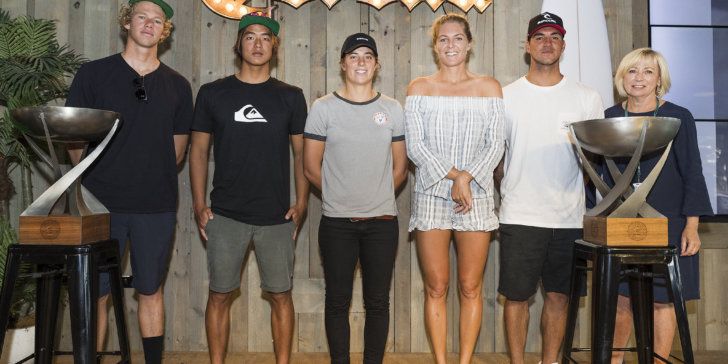 QUIKSILVER & ROXY PRO GOLD COAST STARTS AS EARLY AS 7am SUNDAY, MARCH 11 (20 hours ahead of Hawaii=Saturday 11am). With some contestable overhead waves for day one, it's looking good to go. SNN.
From left to right – John John Florence (HAW), Kanoa Igarashi (JPN), Tyler Wright (AUS), Stephanie Gilmore (AUS), Gabriel Medina (BRA), Gail O'Neill, Councillor for Area 14 (Coolangatta Area)
 © WSL /  Cestari
COOLANGATTA, Queensland/AUS (Thursday, March 8, 2018) – The world's best surfers have landed in Australia and are ready for the World Surf League (WSL) Championship Tour (CT) season openers, the Quiksilver and Roxy Pro Gold Coast.
The Gold Coast of Australia has been a bedrock of professional surfing for more than 40 years and has produced more World Champions than any other place on the planet. The first stop on the 2018 CT will launch the highly-anticipated World Title race at the famed break of Snapper Rocks.
Reigning WSL Champions John John Florence (HAW) and Tyler Wright (AUS) come ready to do battle on the Gold Coast. Both competitors have put in serious training in the offseason and are ready to kick off their WSL Title campaigns at Stop No. 1 of the 2018 WSL Tour.
Florence has not lost a Round 1 heat since the 2016 Peniche Pro Portugal — meaning that he has surfed 12 straight events without an opening-round loss. The 25-year-old expressed his desire go for a third-straight Title this season. If his intentions are not clear enough by his comments post-season, perhaps his three-day mission to the Gold Coast to test boards — during the Volcom Pipe Pro window — is telling enough.
"My main goal coming into this year is to win another World Title," Florence said. "I also want to make sure I really enjoy every part of the season and continue to learn more about myself and my surfing. I want my surfing to keep getting better and it definitely can. I haven't won here on the Gold Coast, which adds to my hunger. I have been warming up here recently and have a good understanding of the wave, so now we just have to wait for competition to kick off and I can't wait for that."
It is no secret that Wright is hunting down a third-consecutive World Title this season. The 23-year-old Australian has been open about her physical and mental training, and her pursuit to continue to learn and improve through this training. Last year Wright suffered a horrific knee injury, tearing 70 percent of her MCL in her right knee at the third-to-last CT stop of 2017. Wright showed incredible grit and determination to surf through the pain, and went on to win her second World Title. Now that Wright has had proper time to recover, the world is eager to see what she will be capable of in 2018.
"The first event of the year is always exciting," Wright said. "There are definitely nerves, but they're good nerves. A lot of us have either done Newcastle or Manly, so we're ready to go here at the Roxy Pro Gold Coast and most of those nerves have settled. The forecast is looking good, so we [might] get some good waves, maybe even a few behind the rock at Snapper. I'm pumped to see how everything unfolds and see how everyone is looking after the offseason."
In 2014, Gabriel Medina (BRA) was the first Brazilian competitor to win the Quiksilver Pro Gold Coast, and he then went on to win his first World Title later that year. The tenacious goofyfooter then struggled to find consistent success in the years following. After an exceptional finish to his 2017 season, taking the Title race down to the wire, Medina is a favorite for the 2018 World Championship and knows all too well that the best kickstart is a victory at Snapper Rocks
"I'm feeling really good about this year," said Medina. "I felt like I was surfing really well last year and picked up momentum through the end of the season. I've had a good offseason and am ready for Snapper to start. The World Title is always the goal."
Stephanie Gilmore (AUS), six-time WSL Champion, is capable of anything when she puts her mind to it. Gilmore is one of the most decorated surfers in history and ranks first in nearly every category amongst the other women on the CT since 2008: heat win percentage, CT event wins, heat wins, excellent heat scores and the list goes on, encompassing 10 years of dominance over the world's best female surfers. With a win to end 2017 at the Maui Women's Pro, Gilmore will hope to carry that momentum into the new year.
"To be able to spend the first event at home, just 300 meters from my house is fantastic," said Gilmore. "I put a lot of my success on Tour down to the fact that I have this event at home and the longer I'm on Tour, the more I appreciate how lucky I am. The start of every season feels a little different. I'm in a different headspace each time I go into the first event. This year, particularly with Mick, retiring, it feels different, but this is what happens, and I've always had a good perspective on where I am in life and right now I just love being on Tour. I've just decided to enjoy it — obviously, you miss things at home and your friends, but right now I feel like I could do the Tour for a long time."
Owen Wright (AUS) comes into Snapper Rocks as the defending event winner after one of the most inspiring comebacks in sporting history. Wright suffered a near career-ending head injury in 2015 at Pipeline. Many thought that Wright would never surf again. Instead, he shocked the world with his momentous comeback win at Snapper, his first CT event back. Last season, Wright continued as a major World Title contender and finished as World No. 6.
Kanoa Igarashi (JPN) announced this year that he will represent Japan on the 2018 WSL CT. The 20-year-old hopes to surf for Japan in the Tokyo 2020 Olympic Games. Igarashi is the first competitor to formally represent Japan on the elite Tour. Igarashi is a dual citizen of Japan and the US. In 2016, Igarashi joined the CT as its youngest member (then 17) and has proven to be a leader in the next generation of progressive surfers.
"Coming into my first Championship Tour event representing Japan is really exciting," Igarashi said. "I feel like I've made a lot of changes this season just to keep it fresh and different. Being the first Japanese representative on the WSL Championship Tour is a real honor and I want to make sure I represent well and be a good role model. I have an amazing affinity with the Gold Coast and its waves, from traveling here as a kid to my first international contest at Snapper Rocks. It is always great to come back. I'm excited for everything to get underway and see how it unfolds."
2017 World Title contender Courtney Conlogue (USA) has had to withdraw from the Roxy Pro Gold Coast after sustaining a foot injury while warming up at Snapper Rocks. Conlogue will be replaced by former World Junior Champion Macy Callaghan (AUS) who was one heat away from qualification last year.
Saturday the 10th March Snapper Rocks will play host to the Quiksilver and Roxy Pro Trials, plus the Juraki Indigenous Challenge. The trials will see a combination of Quiksilver and Roxy athletes take on Queensland state champions and WSL regional and international Qualifying Series competitors the likes of Mitch Parkinson, Leonardo Fioravanti, Ethan Ewing, Piper Harrison, Kobie Enright, Vahine Fierro and many more.
The Juraki Indigenous see WSL Championship Tour surfers pair up with some local Indigenous kids for two teams heats with winner-takes-all bragging rights.
Quiksilver Pro Gold Coast Round 1 Matchups:
Heat 1: Owen Wright (AUS), Caio Ibelli (BRA), Ezekiel Lau (HAW)
Heat 2: Matt Wilkinson (AUS), Michel Bourez (PYF), Michael Rodrigues (BRA)
Heat 3: Jordy Smith (ZAF), Conner Coffin (USA), Patrick Gudauskas (USA)
Heat 4: Julian Wilson (AUS), Joan Duru (FRA), Ian Gouveia (BRA)
Heat 5: Gabriel Medina (BRA), Italo Ferreira (BRA), TBD
Heat 6: John John Florence (HAW), Griffin Colapinto (USA), TBD
Heat 7: Kolohe Andino (USA), Kanoa Igarashi (JPN), Keanu Asing (HAW)
Heat 8: Adriano de Souza (BRA), Adrian Buchan (AUS), Willian Cardosa (BRA)
Heat 9: Joel Parkinson (AUS), Jeremy Flores (FRA), Yago Dora (BRA)
Heat 10: Filipe Toledo (BRA), Frederico Morais (PRT), Tomas Hermes (BRA)
Heat 11: Sebastian Zietz (HAW), Connor O'Leary (AUS), Wade Carmichael (AUS)
Heat 12: Mick Fanning (AUS), Kelly Slater (USA), Jesse Mendes (BRA)
Roxy Pro Gold Coast Round 1 Matchups:
Heat 1: Lakey Peterson (USA), Johanne Defay (FRA), Caroline Marks (USA)
Heat 2: Carissa Moore (HAW), Tatiana Weston-Webb (HAW), Keely Andrew (AUS)
Heat 3: Tyler Wright (AUS), Malia Manuel (HAW), TBD
Heat 4: Stephanie Gilmore (AUS), Bronte Macaulay (AUS), Macy Callaghan (AUS)
Heat 5: Sally Fitzgibbons (AUS), Silvana Lima (BRA), Paige Hareb (NZL)
Heat 6: Nikki Van Dijk (AUS), Sage Erickson (USA), Coco Ho (HAW)
For more information, check out WorldSurfLeague.com.