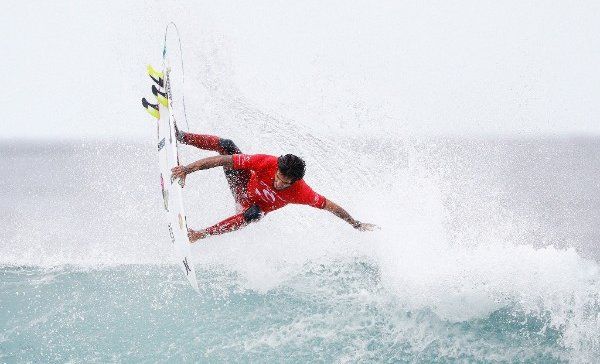 – TOLEDO SCORES EVENT'S FIRST PERFECT 10 AT WINKIPOP
– WSL CHAMPIONS FANNING, PARKINSON RELEGATED TO ELIMINATION ROUND 2
– WSL JEEP FRONTRUNNERS GILMORE, FITZGIBBONS SURVIVE ROUND 4 ELIMINATIONS
– LOCAL FAVORITE VAN DIJK ELIMINATED BY CONLOGUE
2017 World Title contender Filipe Toledo (BRA) scored a Perfect 10 and an outstanding 9.70 in his Round 1 match-up at the Rip Curl Pro Bells Beach. Credit: © WSL / Barripp
BELLS BEACH, Victoria/AUS (Saturday, April 15, 2017) – The Rip Curl Pro Bells Beach, the third stop on the World Surf League (WSL) Championship Tour (CT), witnessed heated action today as the event completed men's Round 1 and women's Round 4.
Men's Round 1 kicked off with the first five heats at Bells Beach in 3-to-4 foot (1-1.5 metre) conditions. Event officials then decided to move to Winkipop due to the incoming tide providing more contestable conditions down the beach. Winkipop, a quick, hollow wave produced by a stretch of reef just east of Bells proper, served up some incredible conditions for the remaining Round 1 heats in addition to women's elimination Round 4.
Reigning WSL Champion John John Florence (HAW) blazed through his Round 1 heat against Jeremy Flores (FRA) and former CT competitor Glyndyn Ringrose (AUS). Florence put on a show at Winkipop with a stunning 8.17 (out of a possible 10) and near-perfect 9.03. Flores found his rhythm too late in the heat and was not able to post the required scores. In his first CT event since 2001, trials winner Ringrose kept busy with eight attempts, but it was not enough to avoid elimination Round 2.
"It is really fun over here so we were excited to get out there," said Florence. "I think I got a little over excited when I needed a 5.13 and I did that air. It probably wasn't the smartest thing, but it sure was fun. It worked out and I would not change anything. Sometimes you just feel it and go for it. I am stoked to make it through to the next round."
Kelly Slater (USA), 11-time WSL Champion and four-time event winner, wasted no time to get points on the board as he fired-off an excellent 8.50 on his opening ride in Heat 8. Slater stuck to his powerful rail-surfing to earn a 6.10 backup score to secure the win over Josh Kerr (AUS) and 2017 CT Rookie Ian Gouveia (BRA). Slater will skip to Round 3 where he will fight to improve his 11th place ranking on the Jeep Leaderboard.
"That was a good way to open up," Slater said. "Ian [Gouveia] was trying to go on the deep peak and Josh [Kerr] was playing it wide in case a big set came, so I was right there in the middle. I had a little line up there and knew I was in the right spot. I had a couple other chances, but I was trying to get something with second and third priority and get a backup score. Tactically, I made a couple of mistakes — I fell on my best wave — and still got the win, so in that there are a lot of positives."
2017 World Title contender Filipe Toledo (BRA) dominated the day with the highest score of the event thus far, a near-perfect 19.70 (out of a possible 20). Toledo took to the air to exhibit his innovative and technical maneuvers, earning the opportunity to skip straight to Round 3. Conner Coffin (USA) and Bede Durbidge (AUS) were not able to escape the combination and will surf again in Round 2.
"I actually did not know that my last wave was a 10 because I was so far down the point," said Toledo. "I was just walking by and I heard it was a 10, so I am stoked. I am happy to make it through and happy to be surfing the most perfect waves. I was not thinking the score would be so high because it was a small wave, but I did everything I could on it."
Defending event winner Matt Wilkinson (AUS) looked in-step with last year's performance at Bells Beach with a big win over three-time WSL Champion Mick Fanning (AUS) and Jadson Andre (BRA) in the opening heat of Round 1. Wilkinson got an early start with a 6.90 and a 5.83 backup score. Fanning posted two solid 6-point rides, but fell just 0.33 points short of the win.
"Defending an event title is really tough," Wilkinson said. "Especially when you come up against Mick Fanning in Round 1. I've been working my whole career to improve my seed so I don't come up against guys like Mick early and now after his year off, he's down in the bottom seeds and I have to deal with him again. I'm stoked to get that win. It was a really long wait for the sets, but when they come they're really fun. That's what you have to expect a Bells. You just have to manage your patience out there."
Current World No. 2 Owen Wright (AUS) displayed nerves of steel in his Round 1 match-up with 2017 CT Rookie Ezekiel Lau (HAW) and Miguel Pupo (BRA). Wright trailed Pupo until the final two minutes when he swung on a set wave to earn the score he was after, winning the heat with a two wave total of 14.67. Lau and Pupo will get another chance in Round 2, while Wright's well-timed surfing sees him move directly into Round 3.
"That was a pretty slow heat as the tide was dropping out," Wright said. "I think the lack of waves and cold air helped me as I just kept busy and made the most of my opportunities. I was actually on a new board that I have never surfed out there and it felt really nice. It's great to be down here and to see all of the fans on the beach. I love it here at Bells."
2014 WSL Champion Gabriel Medina (BRA) bounced back from his disappointing 25th finish at Margaret River by posting an impressive 15.04 heat combination. Stuart Kennedy (AUS) put on a great performance with his trademark forehand swoops, but it wasn't enough as Medina took control of the heat. CT Rookie Leonardo Fioravanti (ITA) struggled to find his groove and will face off in Round 2.
"I'm really happy to make that heat," Medina said. "It was really cold and quite slow so it wasn't easy. I know I could have gone a bit harder on some of my turns, but it was constantly in the back of my mind that if I fell, I might miss another opportunity. I just surfed to get the scores I needed and that was it. I came straight here after I lost in Margaret River. It's definitely been good for my preparation. I've been surfing here a lot in all conditions and I feel really confident."
2015 WSL Champion Adriano de Souza (BRA) will join compatriot Medina in Round 3 after winning his matchup against 2017 CT Rookie Joan Duru (FRA) and Caio Ibelli (BRA). The 2013 event winner will have the opportunity to skip Round 2 in an attempt to best last year's 13th place result.
Nat Young (USA) upset the competition with his Round 1 win over 2017 World Title contender Jordy Smith (ZAF) and Kanoa Igarashi (USA). Young, who gained entry into the event as the injury replacement, will move through to Round 3 for the second time this season.
Along with Fanning, 2012 WSL Champion Joel Parkinson (AUS) will have to do battle in elimination Round 2 in order to stay in the competition. Parkinson will face event wildcard Samuel Pupo (BRA) in Heat 2, while Fanning will be up against 2017 CT Rookie Ethan Ewing (AUS) in Heat 8 when competition resumes.
2017 World Title contenders Michel Bourez (PYF), Kolohe Andino (USA) and Julian Wilson (AUS) dominated their Round 1 heats and will also advance through to Round 3.
After the completion of men's Round 1, the event ran through women's elimination Round 4 at Winkipop to determine the final four spots in the Quarterfinals of the Rip Curl Women's Pro Bells Beach.
In a dramatic finish to the day, six-time WSL Champion Stephanie Gilmore (AUS) faced off against former event winner Silvana Lima (BRA) in a close Round 4 match-up. Lima turned up the heat with two solid 6-point rides to put pressure on Gilmore. Gilmore fired back with an excellent 8.49, but still needed a backup score. With time winding down, Gilmore waited until the dying seconds of the heat to lock in the winning score, a 4.77. Gilmore's composure under pressure continues to be her strength as she takes another buzzer-beater win in Australia. Lima will exit with a 9th place result, her best finish of the season thus far.
"My tactics recently have been terrible and seriously stressful," Gilmore said. "If i keep waiting until the last five minutes to get my scores, I will lose all of my hair and fingernails by the end of the season. It was so overcast and glassy out there, and you couldn't really tell what waves were going to be good – it was really stressing me out. Silvana [Lima] and I have had some really good battles out here over the years so it was always going to be tough. I was waiting for a good wave the whole heat and it never came. I just need to catch more waves and build momentum. It's looking like the forecast is improving over the next week so I'll get a chance to show everyone that I can surf a heat properly."
Current World No. 1 Sally Fitzgibbons (AUS) was able to bounce back into the Quarterfinals after being relegated to Round 4 on Wednesday, when she suffered a foot injury. The opening exchange saw Tatiana Weston-Webb (HAW) gain control with a 7.67, but it was Fitzgibbons' excellent 8.93 that turned the heat. Weston-Webb was not able to post the required 7.27 to challenge the Australian and will head to Rio with her third consecutive 9th result.
"It was really nice to give myself a shot," said Fitzgibbons. "It is credit to all the doctors and the crew here from WSL. They all helped out. I just tried to eliminate it from my mind and it felt nice to get on some groomed walls. I went into it thinking that if I could play the game really well, then whatever I lose in that sharp, high-performance, I could make up in strategy. It was a good battle and it was just about locking it down. I think that was the longest wave I've ever caught at Winki. It is a great feeling to win. Hopefully my foot gets a little better and I can put on a good show in the next round."
Defending event winner Courtney Conlogue (USA) will continue through to the Quarterfinals after taking out local favorite Nikki Van Dijk (AUS) in the opening heat of Round 4. After a slow start, the pressure was on for the competitors to take advantage of the set waves rolling in toward the end of the heat. Conlogue posted two excellent 8-point rides over Van Dijk's two 6-point waves. Van Dijk will be eliminated in Equal 9th place.
"That heat had a bit of a funky start so it all played out in the dying minutes," Conlogue said. "I had to surf a ten minute heat at the end so my back was right up against the wall. At the end I had to make the most of my opportunities and not take anything for granted. Nikki [Van Dijk] is from Victoria and surfs here a lot, so I knew anything could happen. I'm naturally pretty fiery so it wasn't too difficult to get going late in the heat after sitting around for awhile. I am just so stoked to make that heat and find myself in the Quarterfinals."
"I do not really want to be getting knocked out at all before the Quarters," Van Dijk said. "That is not a result for me. I didn't get to show my ability surfing-wise. The heat was super slow, but I did watch a few waves that Courtney [Conlogue] got at the end there, which were sick. It was very well-deserved because it was a super hard heat. She definitely got the better of me. It sucks to lose here at Bells because I know these waves so well."
Coco Ho (HAW) will also advance to the next round after dispatching Sage Erickson (USA) in Heat 2. The win marks Ho's first Quarterfinal berth of the 2017 season, after back-to-back eliminations in Round 4. Erickson will walk away with a 9th place result, a personal best at this event after having never made it out of Round 2. Erickson will look to make a big comeback in Rio to improve her ranking on the Jeep Leaderboard after her Quarterfinal berth in Margaret River (her first since the Roxy Pro France 2016) and result here in Victoria.
"I definitely have a newfound love for Winkipop this trip," Ho said. "I've been here for ten days after leaving Margaret River early. I've been surfing here a lot. Today is difficult to see the waves because it is all one color. Even my last wave, I wasn't sure but I was really lucky that I got to finish it off. All my friends and family have been watching, so thank you for all the support."
Event organizers will reconvene tomorrow at 6:45 a.m. local time to reassess the conditions and make the next call.
New SW swell will build in through Sunday before easing Monday as generally light wind prevails.  A solid swell is likely for mid next week, peaking Wednesday and fading Thursday, although wind does not look as favorable as what we'll see the next couple days. We'll also keep an eye on a possible swell for the end of the waiting period. Surfline.
For more information, check out WorldSurfLeague.com.
Rip Curl Pro Bells Beach Round 1 Results:
Heat 1: Matt Wilkinson (AUS) 12.73, Mick Fanning (AUS) 12.40, Jadson Andre (BRA) 11.70
Heat 2: Owen Wright (AUS) 14.67, Miguel Pupo (BRA) 13.33, Ezekiel Lau (HAW) 9.77
Heat 3: Gabriel Medina (BRA) 15.04, Stuart Kennedy (AUS) 12.03, Leonardo Fioravanti (ITA) 6.17
Heat 4: Nat Young (USA) 16.66, Kanoa Igarashi (USA) 14.43, Jordy Smith (ZAF) 13.86
Heat 5: Kolohe Andino (USA) 17.17, Jack Freestone (AUS) 11.50, Samuel Pupo (BRA) 6.20
Heat 6: John John Florence (HAW) 17.20, Jeremy Flores (FRA) 13.87, Glyndyn Ringrose (AUS) 11.24
Heat 7: Adriano de Souza (BRA) 16.20,  Joan Duru (FRA) 14.17, Caio Ibelli (BRA) 10.60
Heat 8: Kelly Slater (USA) 14.60, Josh Kerr (AUS) 12.30, Ian Gouveia (BRA) 10.00
Heat 9: Michel Bourez (PYF) 15.20, Ethan Ewing (AUS) 14.86, Connor O'Leary (AUS) 9.64
Heat 10: Adrian Buchan (AUS) 14.74, Joel Parkinson (AUS) 12.70, Frederico Morais (PRT) 11.53
Heat 11: Filipe Toledo (BRA) 19.70, Conner Coffin (USA) 14.40, Bede Durbidge (AUS) 13.84
Heat 12: Julian Wilson (AUS) 16.56, Wiggolly Dantas (BRA) 14.10, Sebastian Zietz (HAW) 11.94
Rip Curl Pro Bells Beach Round 2 Match-Ups:
Heat 1: Jordy Smith (ZAF) vs. Glyndyn Ringrose (AUS)
Heat 2: Joel Parkinson (AUS) vs. Samuel Pupo (BRA)
Heat 3: Sebastian Zietz (HAW) vs. Leonardo Fioravanti (ITA)
Heat 4: Conner Coffin (USA) vs. Ezekiel Lau (HAW)
Heat 5: Connor O'Leary (AUS) vs. Jadson Andre (BRA)
Heat 6: Josh Kerr (AUS) vs. Joan Duru (FRA)
Heat 7: Caio Ibelli (BRA) vs. Ian Gouveia (BRA)
Heat 8: Mick Fanning (AUS) vs. Ethan Ewing (AUS)
Heat 9: Miguel Pupo (BRA) vs. Frederico Morais (PRT)
Heat 10: Stuart Kennedy (AUS) vs. Bede Durbidge (AUS)
Heat 11: Kanoa Igarashi (USA) vs. Wiggolly Dantas (BRA)
Heat 12: Jack Freestone (AUS) vs. Jeremy Flores (FRA)
Rip Curl Women's Pro Round 4 Match-Ups:
Heat 1: Courtney Conlogue (USA) 16.70 def. Nikki Van Dijk (AUS) 13.50
Heat 2:  Coco Ho (HAW) 15.77 def. Sage Erickson (USA) 15.46
Heat 3: Sally Fitzgibbons (AUS) 14.93 def. Tatiana Weston-Webb (HAW) 13.37
Heat 4: Stephanie Gilmore (AUS) 13.17 def. Silvana Lima (BRA) 12.57
Rip Curl Women's Pro Quarterfinal Match-Ups:
QF 1: Carissa Moore (HAW) vs. Courtney Conlogue (USA)
QF 2: Tyler Wright (AUS) vs.  Coco Ho (HAW)
QF 3: Lakey Peterson (USA) vs. Sally Fitzgibbons (AUS)
QF 4: Johanne Defay (FRA) vs. Stephanie Gilmore (AUS)