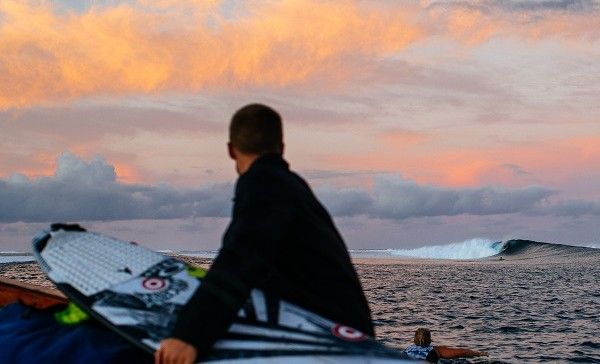 TAVARUA, Fiji (Saturday, June 3, 2016) – The Fiji Pro, Stop No. 5 of 11 on the 2016 Samsung Galaxy WSL Championship Tour, is set to start tomorrow with the world's best surfers doing battle in the world-class reef breaks of Cloudbreak and Restaurants.
Surf is expected to be just overhead day one of holding period on a swell of 3′ 16 sec. They're 22 hours ahead. So watch the morning show kick off 930am today Saturday. OC250 too!
Following one of the most dynamic seasonal starts in the history of professional surfing, the WSL Top 34 will trade the high-performance waves of Australia and Brazil for the world-renowned perfection of the Fijian Islands in the coming weeks.
Matt Wilkinson (AUS), winner of the opening two events of the season and the current WSL Jeep Frontrunner, leads the world's best surfers to Cloudbreak this week. Wilkinson will take on Josh Kerr (AUS) and Keanu Asing (HAW) in the opening round of competition.
Following a brief absence from the world stage, three-time WSL Champion Mick Fanning (AUS) and 11-time WSL Champion Kelly Slater (USA) will return to the competitive arena at this week's Fiji Pro. Slater has had one of the worst starts to his storied professional career in 2016, having only advanced through one heat so far this season. All eyes will be on the iconic American when he hits the water against compatriot Kolohe Andino (USA) and wildcardSebastian Zietz (HAW) in Round 1.
Tevita Gukilau (FJI), winner of the Fiji Trials, have been allocated the second wildcard into the event.
Owen Wright (AUS), winner of last year's Fiji Pro, and Bede Durbidge (AUS) remain out with injury and have been replaced by Adam Melling (AUS) and Stuart Kennedy (AUS).
Joel Parkinson (AUS), 2012 WSL Champion, suffered a knee injury yesterday morning while warming up at Cloudbreak. He has been replaced by Dusty Payne (HAW).
When competition commences, up first will be John John Florence (HAW), Davey Cathels (AUS) and Alejo Muniz (BRA) in the opening heat of Round 1.
The event is also being carried by the WSL's LIVE broadcast partners Fox Sports Australia, CBS Sports in the United States, ESPN Brasil, Globosat, Edgesport, Sky NZ, Sport TV, Canal + Deportes, Channel Nine, MCS, Starhub, and Oceanic Time Warner Cable 250 & 1250 in Hawaii.
Fiji Pro Round 1 Match-Ups:
Heat 1: John John Florence (HAW), Davey Cathels (AUS), Alejo Muniz (BRA)
Heat 2: Filipe Toledo (BRA), Jack Freestone (AUS), Ryan Callinan (AUS)
Heat 3: Gabriel Medina (BRA), Stuart Kennedy (AUS), Jadson Andre (BRA)
Heat 4: Matt Wilkinson (AUS), Josh Kerr (AUS), Keanu Asing (HAW)
Heat 5: Italo Ferreira (BRA), Miguel Pupo (BRA), Alex Ribeiro (BRA)
Heat 6: Adriano de Souza (BRA), Kanoa Igarashi (USA), Tevita Gukilau (FJI)
Heat 7: Julian Wilson (AUS), Conner Coffin (USA), Matt Banting (AUS)
Heat 8: Mick Fanning (AUS), Wiggolly Dantas (BRA), Kai Otton (AUS)
Heat 9: Nat Young (USA), Jeremy Flores (BRA), Dusty Payne (HAW)
Heat 10: Jordy Smith (ZAF), Adrian Buchan (AUS), Taj Burrow (AUS)
Heat 11: Caio Ibelli (BRA), Michel Bourez (PYF), Adam Melling (AUS)
Heat 12: Sebastian Zietz (HAW), Kolohe Andino (USA), Kelly Slater (USA)
For more information, check out WorldSurfLeague.com