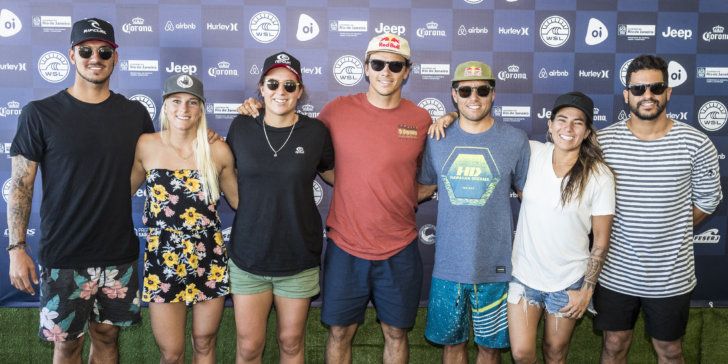 RIO IS 7 HOURS AHEAD- COMPETITION WINDOW OPENS TOMORROW, MAY 11, ~8AM RIO TIME OR ~1AM HI TIME
WSL Oi Rio Pro Press Conference (L to R): Gabriel Medina (BRA), Tatiana Weston-Webb (BRA), Tyler Wright (AUS), Julian Wilson (AUS), Adriano de Souza (BRA), Silvana Lima (BRA), Italo Ferreira (BRA).
Credit: © WSL /  Poullenot
SAQUAREMA, Rio de Janeiro/Brazil (Thursday, May 10, 2018) – The Oi Rio Pro, Stop No. 4 on the World Surf League (WSL) Championship Tour (CT), begins tomorrow with a competitive window from May 11 through May 20, 2018.
The Oi Rio Pro is known for drawing massive crowds to Itaúna Beach in Saquarema, one of the southern region's premier beach breaks, and the athletes are eager to perform for the Brazilian fans.
After the cancellation of the Margaret River Pro, Italo Ferreira (BRA) and Julian Wilson (AUS)remain the Jeep Frontrunners heading into the Oi Rio Pro. Both athletes are out to best each other, and their fellow competitors, to keep their World No. 1 position when the event commences.
Ferreira will undoubtedly be one to watch at his home event. The young 24-year-old tasted victory for the first time at Bells Beach and is hungry for a repeat win in front of his family and friends.
"The yellow Jeep Leader Jersey is special," said Ferreira. "Last year I was injured and I missed this event, so I am happy to be back. I am feeling the Brazilian people's support and everyone in Saquarema, so I am excited to wear the jersey and do my best. I am hoping to represent Brazil well and live in the moment."
Wilson injured his shoulder earlier this year but managed to claim the top spot on the Jeep Leaderboard with his early win on the Gold Coast. The 29-year-old will be up against 2018 CT Rookie Jesse Mendes (BRA) and event wildcard Alejo Muniz (BRA).
"My shoulder is feeling much better, and I am surfing regularly again, which is great," said Wilson. "I had a good bit of time at home. Being able to surf most days was a pretty nice feeling. I've had that time back on my board to feel excited. The yellow Jeep Leader Jersey is an exciting thing to wear. It has been a few events now and it is a target, but it is an opportunity to have more excitement and energy behind you."
Defending event winner Adriano de Souza (BRA) will showcase his best surfing for all the Brazilian fans when he comes up against 2018 CT Rookies Griffin Colapinto (USA) andMichael February (ZAF) in Round 1.
"I hope that Brazilian surfers continue to go so well," said De Souza. "I hope Saquarema will show its best. It is perfect to see the crowd coming and supporting us. It is a pleasure to surf for them. They want to see a good show and they want to see good surfing. Athletes have a responsibility to deliver the best performance and the fans want to see that performance."
Gabriel Medina (BRA), 2014 WSL Champion, is happy to be back home, surrounded by friends and family. Medina will utilize the support from his team and his massive Brazilian fanbase, to surpass last year's 9th place Oi Rio Pro result and earn his first event win in Brazil.
"It is exciting to have a contest here at home," said Medina. "We have all the crowd supporting us. Saquarema can get really good if the swell comes right. I am just excited to be here. It feels good to be home. We have been traveling a lot, so it is nice to eat some rice and beans. Just hope we can get some good waves. I feel one-hundred percent and I am just focused on my performance. I have all my friends and family here watching me. I cannot wait to go to the water."
Tatiana Weston-Webb (BRA), 22, recently announced her decision to represent Brazil on the elite CT. The Oi Rio Pro will be Weston-Webb's first event sporting the Brazilian flag on her jersey, and she wants to make the Brazilians proud when she battles Johanne Defay (FRA) and Keely Andrew (AUS) in Round 1.
"I am super excited to represent Brazil now," said Weston-Webb. "I feel like I have a great opportunity, and I hope all the Brazilians are really proud. I hope I just represent them really well. The first time I came to Brazil was crazy because of how many people knew my name. The fans here are the best. It is amazing to see how people are so interested in surfing, and they are here to support you. It is pretty awesome. I am excited to wear my Brazilian flag on my jersey for the first time. I think it will be an amazing feeling."
Tyler Wright (AUS), two-time WSL Champion, is ready to adapt to the trying conditions at Saquarema for her third-straight Oi Rio Pro victory after dominating this event for the past two years. The crowd will cheer on the reigning World Champion to see if she can bounce back into the World Title race at one of her most successful events.
"I am really excited to be back here in Brazil," said Wright. "You have to really adapt to the waves here at Saquarema because the conditions can change so quickly. I think that is part of the reason that makes surfing here so tricky, yet rewarding at the same time."
Stephanie Gilmore (AUS), six-time WSL Champion and current World No. 1, will be up against Malia Manuel (HAW) and Trials Winner Taí­s Almeida (BRA) in her Round 1 heat. Compared to her success at other events, the 30-year-old has yet to win a CT in Brazil. After her incredible performance at the Founders' Cup of Surfing with Team Australia, Gilmore looks relaxed and ready to advance her World Title campaign.
"You just feel a little bit like a rock star here in Brazil," said Gilmore. "It is really special. You see it in all of the Brazilian surfers here, too, how it lifts them up and makes them better. I am excited to be back in Saquarema and to compete. Wearing the Jeep Leader Jersey makes everything more exciting and adds that pressure, so I am excited to surf."
Caio Ibelli (BRA) and Kelly Slater (USA) are out of the event due to ongoing injuries. Ibelli broke his foot last month at Main Break while training for the Margaret River Pro, while Slater has been on an extremely long road to recovery after an injury he sustained at last year's Corona Open J-Bay. Brazilians Miguel Pupo and Wiggolly Dantas will be their replacements.
Australian Joel Parkinson has also withdrawn from the event due to personal reasons. He will be replaced by Mikey Wright (AUS), who is currently ranked No. 2 on the Qualifying Series (QS).
The pre-selected Wildcard for the men's Oi Rio Pro will be QS rankings leader Alejo Muniz (BRA).
On the women's side, Courtney Conlogue (USA) has withdrawn from the Oi Rio Women's Pro due to an injury she received on the Gold Coast prior to the start of the season. She will be replaced by French surfer Pauline Ado. The wildcard spot will also be allocated to the Trails winner, Taí­s Almeida (BRA).
The Oi Rio Pro will be broadcast LIVE on the WSL's Facebook page, WorldSurfLeague.com, and the WSL app. Also, check local listings for coverage from the WSL's broadcast partners.
Fading, but fun size and clean, S swell leftovers are expected Friday morning. The surf will ease through the day and be down to minor leftovers on Saturday. Sunday likely starts slow but should come up a bit in the afternoon as short period SSW swell builds. Fun size, short period S swell likely continues on Monday morning, with a good chance for larger, mid-period SSW to S swell Monday afternoon and Tuesday. Another fairly solid SSW swell is possible for the end of next week. Surfline
Oi Rio Women's Pro Round 1 Matchups:
Heat 1: Sally Fitzgibbons (AUS), Nikki Van Dijk (AUS), Coco Ho (HAW)
Heat 2: Tyler Wright (AUS), Caroline Marks (USA), Bronte Macaulay (AUS)
Heat 3: Stephanie Gilmore (AUS), Malia Manuel (HAW), Taí­s Almeida (BRA)
Heat 4: Lakey Peterson (USA), Sage Erickson (USA), Pauline Ado (FRA)
Heat 5: Carissa Moore (HAW), Silvana Lima (BRA), Paige Hareb (NZL)
Heat 6: Tatiana Weston-Webb (BRA), Johanne Defay (FRA), Keely Andrew (AUS)
Oi Rio Men's Pro Round 1 Matchups:
Heat 1: Filipe Toledo (BRA), Kanoa Igarashi (JPN), Ian Gouveia (BRA)
Heat 2: Jordy Smith (ZAF), Tomas Hermes (BRA), Miguel Pupo (BRA)
Heat 3: Owen Wright (AUS), Wade Carmichael (AUS), Wiggolly Dantas (BRA)
Heat 4: John John Florence (HAW), Joan Duru (FRA), Mikey Wright (AUS)
Heat 5: Gabriel Medina (BRA), Jesse Mendes (BRA), Alejo Muniz (BRA)
Heat 6: Julian Wilson (AUS), Patrick Gudauskas (USA), Deivid Silva (BRA)
Heat 7: Italo Ferreira (BRA), Connor O'Leary (AUS), Keanu Asing (HAW)
Heat 8: Adriano de Souza (BRA), Griffin Colapinto (USA), Michael February (ZAF)
Heat 9: Michel Bourez (PYF), Conner Coffin (USA), Yago Dora (BRA)
Heat 10: Adrian Buchan (AUS), Sebastian Zietz (HAW), Ezekiel Lau (HAW)
Heat 11: Matt Wilkinson (AUS), Jeremy Flores (FRA), Willian Cardoso (BRA)
Heat 12: Kolohe Andino (USA), Frederico Morais (PRT), Michael Rodrigues (BRA)
For more information, please visit WorldSurfLeague.com.