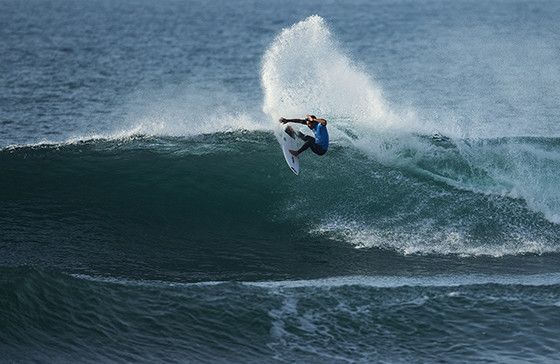 Jeremy Flores (FRA) got off to a strong start after defeating Wiggolly Dantas (BRA) and Taj Burrow (AUS) in the opening heat of Round 1. Image: WSL / Kelly Cestari
| | |
| --- | --- |
| Location:    | Bells Beach, Victoria, Australia |
| Holding period: | April 1 – 12, 2015 |
| Call: | Opening 7 heats of Men's Round 1 |
| Conditions: | Three foot surf |
Surf News Network. BELLS BEACH, Victoria/Australia (Wednesday, April 1, 2015)  (Tuesday for Hawaii)– The second stop on the 2015 Samsung Galaxy World Surf League (WSL) Championship Tour (CT), the Rip Curl Pro Bells Beach, got underway today and ran through the opening seven heats of Men's Round 1 in three foot surf. Top seeds Kelly Slater (USA) and Gabriel Medina (BRA) won through Round 1 while Mick Fanning (AUS) suffered a shock defeat at the hands of wildcard Mason Ho (HAW).
11-time World Champion Kelly Slater (USA) stormed through his Round 1 heat today. The four-time Rip Curl Pro Bells Beach winner took on Sebastian Zietz (HAW) and rookie Ricardo Christie (NZL). Slater dominated the match-up, using his experience to claim two 8-point rides, the highest heat total of the day and a place in Round 3.
"I watched a couple of heats before to try and judge which waves were the best ones," said Slater. "I didn't catch my wave until 10 minutes but it was a pretty good wave and then I was in sync for the good ones. The tradition here at Bells, winning the trophy and the history here all make it so special. You put everything on the line to try and win here."
Reigning WSL Champion Gabriel Medina (BRA) came out on top over two exciting up-and-coming Australians — 2014 CT Rookie Matt Banting plus trials winner Joe Van Dijk, who is the 16-year-old brother of Women's CT campaigner Nikki Van Dijk. Medina's class and composure was the difference as all surfers showed flashes of brilliance, but it was Medina who locked in two good scores to take the win.
"Today isn't typical Bells, we're surfing up at Rincon which can be hard to surf so I'm stoked to win that heat," Medina said. "I've got a good board for this wave and I'm feeling good, that's about all you can do. It's really hard to win this event, especially against all the regular-footers. All I can do is my best, hopefully I finish with a good result."
Wildcard Mason Ho (HAW) secured a win over defending event winner Mick Fanning (AUS) and Freddy Patacchia Jr. (HAW) in their Round 1 match-up today. Ho landed a clean, frontside aerial rotation to take out the defending the three-time World Champion in a close heat. The wildcard will move directly to Round 3 while Fanning and Patacchia will have to surf again in elimination Round 2.
"I definitely went into the heat aiming to win," said Ho. "It seemed like anyone could have won that heat but I got lucky. I'm bummed I didn't get a really good back up score but it's been challenging out there today. It's challenging out there, it was slow and not breaking in the same place as this morning."
Frenchman Jeremy Flores (FRA) put together a strong heat against Taj Burrow (AUS) and Brazilian rookie Wiggolly Dantas (BRA). After a disappointing season last year Flores posted two solid scores in a back-and-forth battle with the Brazilian. Flores surfed well throughout the match-up to claim his first heat win of the year while Burrow, last year's event runner up, and Dantas will surf again in Round 2.
"It was tough out there today and Rincon is a totally different wave to The Bowl," said Flores. "I guess I got the better waves in that heat and I surfed them. It feels really good to get a win.
John John Florence (HAW) sailed through his Round 1 heat against rookie Italo Ferreira (BRA) and tour veteran C.J. Hobgood (USA). Florence posted a solid score early in the heat and backed it up with a stylish frontside air reverse at the halfway mark to leave his opponents trailing.
"Every year I look forward to coming here and I'd love to win this event some day," Florence said. "That Bell, the trophy, is insane. It's probably one of the best trophies on tour. It's an amazing wave too, unpredictable and powerful."
Other winners today include South Africa's Jordy Smith (ZAF) and American Brett Simpson (USA) who both earned their place in Round 3.
The Rip Curl Pro Bells Beach is webcast LIVE at WorldSurfLeague.com.
The world's best surfing is also broadcast LIVE on Fox Sports in Australia, MCS Extreme in France, EDGE Sports in China, South Korea, Malaysia and other territories and the WSL's new partner in Brazil, Globo TV.
Rip Curl Pro Bells Beach Round 1 Results:
Heat 1: Jeremy Flores (FRA) 15.33, Wiggolly Dantas (BRA) 11.73, Taj Burrow (AUS) 10.63
Heat 2: Brett Simpson (USA) 15.00, Adriano de Souza (BRA) 14.33, Kai Otton (AUS) 6.00
Heat 3: Kelly Slater (USA) 16.67, Sebastian Zietz (HAW) 9.06, Ricardo Christie (NZL) 7.73
Heat 4: John John Florence (HAW) 15.33, Italo Ferreira (BRA) 11.47, C.J. Hobgood (USA) 10.17
Heat 5: Mason Ho (HAW) 13.13, Mick Fanning (AUS) 13.10, Freddy Patacchia Jr. (HAW) 13.00
Heat 6: Gabriel Medina (BRA) 12.76, Matt Banting (AUS) 11.83, Joe Van Dijk (AUS) 8.23
Heat 7: Jordy Smith (ZAF) 14.33, Keanu Asing (HAW) 13.44, Adrian Buchan (AUS) 12.20
Upcoming Rip Curl Pro Bells Beach Round 1 Match-ups:
Heat 8: Michel Bourez (PYF), Nat Young (USA), Dusty Payne (HAW)
Heat 9: Joel Parkinson (AUS), Miguel Pupo (BRA), Glenn Hall (IRL)
Heat 10: Josh Kerr (AUS), Bede Durbidge (AUS), Adam Melling (AUS)
Heat 11: Filipe Toledo (BRA), Owen Wright (AUS), Jadson Andre (BRA)
Heat 12: Julian Wilson (AUS), Kolohe Andino (USA), Matt Wilkinson (AUS)
Rip Curl Women's Pro Bells Beach Round 1 Match-ups:
Heat 1: Malia Manuel (HAW), Bianca Buitendag (ZAF), Laura Enever (AUS)
Heat 2: Sally Fitzgibbons (AUS), Silvana Lima (BRA), Nikki Van Dijk (AUS)
Heat 3: Carissa Moore (HAW), Dimity Stoyle (AUS), Pauline Ado (FRA)
Heat 4: Stephanie Gilmore (AUS), Tatiana Weston-Webb (HAW), Alessa Quizon (HAW)
Heat 5: Tyler Wright (AUS), Johanne Defay (FRA), Sage Erickson (USA)
Heat 6: Lakey Peterson (USA), Courtney Conlogue (USA), Coco Ho (HAW)