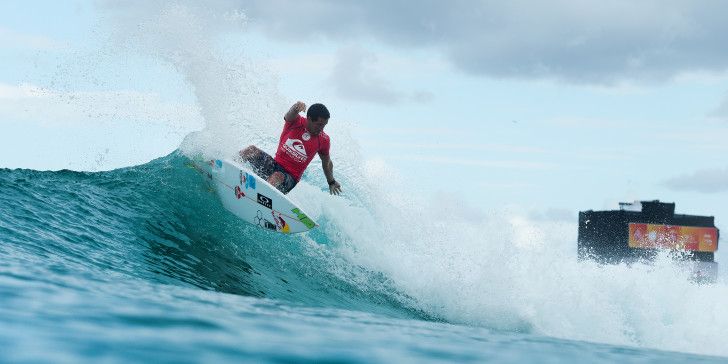 Reining World Champion Adriano De Souza will be looking to get his 2016 competitive season off to a flying start at Snapper Rocks this Thursday when the Quiksilver Pro Gold Coast Kicks off. Image: WSL / Cestrari
Will it be Brazil keeping it's reign? Will the US or Australia grab it back? Will the 20 somethings finally put away the legendary 35+ crew? Will Stephanie take Carissa's Title away? Will be see a new women's WC?
Snapper is 20 hours ahead of Hawaii…so if they start at 8am Thursday the 10th…go backward 24 hours (Wed 9th)  and forward 4 hours for a Noon Hawaii Standard Time  kick off. OC250, WSL on line or App. Or go from SNN.
COOLANGATTA, Queensland/AUS (Tuesday, March 8, 2016) – The world's best surfers have landed in Australia and are ready to kick off the 2016 Samsung Galaxy WSL Championship Tour (CT) with the Quiksilver and Roxy Pro Gold Coast scheduled from March 10-21, 2016.
The athletes were welcomed last night at the annual Gold Coast gala, where the Top 2015 performers received accolades and awards for standout performances. Last year's Quiksilver Pro Gold Coast Champion, Filipe Toledo (BRA), took home the Breakthrough Performer award. Toledo, current No. 4 on the Jeep Leaderboard, will face Jadson Andre (BRA) and Stuart Kennedy (AUS).
Last year's Roxy Pro Gold Coast winner and defending World Champion, Carissa Moore (HAW), took home multiple awards at the event, including the Wave of the Year and Heat of the Year. The three-time World Champ will face the hungry and resilient rookie, Chelsea Tuach (BRB) in Round 1.
The Quiksilver and Roxy Pro will commence with a Juraki Indigenous All Star Heat at Snapper Rocks on March 9, 2016 at 8am QLD. Joe Haddon won the first Juraki Surf Culture event in 2015.
"My experiences with indigenous and local communities and families around the world have been really rewarding and the Juraki community have some really great young surfers," Joel Parkinson, 2012 WSL Champion, said. "The opportunity to have them mix in with the world's best surfers is huge and I'm really excited for tomorrow."
Quiksilver and Roxy Trials will begin at approximately 9am on March 9, 2016 and will consist of 16 local and international Men and 14 Women, all vying for the final spots in the main event's.
Quiksilver have announced Mikey Wright (AUS) as their Wildcard for the event.
There will be a press session held from 10am – 11am at the Quiksilver Boardriders Club, 72-80 Marine Parade, Coolangatta, Gold Coast, where a selection of athletes including Stephanie Gilmore, Carissa Moore, Courtney Conologue, Mick Fanning, Kanoa Igarashi and reigning World Champion Adriano De Souza who will all be available for interview. Media can apply for accreditation for the press session and the Quiksilver and Roxy Pro Gold Coast event via the Press Room on WorldSurfLeague.com.
2016 World Surf League Championship Tour Australian Events:
Quiksilver and Roxy Pro Gold Coast: March 10-21, 2016
Rip Curl Pro Bells Beach: March 24-April 5,2016
Drug Aware Margaret River Pro: April 8-19, 2016
For more information, log onto WorldSurfLeague.com
Quiksilver Pro Gold Coast Round 1 Match-Ups:
Heat 1: Italo Ferreira (BRA), Keanu Asing (HAW), Ryan Callinan (AUS)
Heat 2: Julian Wilson (AUS), Michel Bourez (PYF), Adam Melling (AUS)
Heat 3: Filipe Toledo (BRA), Jadson Andre (BRA), Stuart Kennedy (AUS)
Heat 4: Gabriel Medina (BRA), Caio Ibelli (BRA), Sebastian Zietz (HAW)
Heat 5: Mick Fanning (AUS), Matt Banting (AUS), TBD
Heat 6: Adriano de Souza (BRA), Kolohe Andino (USA), TBD
Heat 7: Jeremy Flores (FRA), Adrian Buchan (AUS), Davey Cathels (AUS)
Heat 8: Kelly Slater (USA), Matt Wilkinson (AUS), Conner Coffin (USA)
Heat 9: Nat Young (USA), Kai Otton (AUS), Alex Ribeiro (BRA)
Heat 10: Josh Kerr (AUS), Taj Burrow (AUS), Kanoa Igarashi (USA)
Heat 11: Jordy Smith (ZAF), Wiggolly Dantas (BRA), Miguel Pupo (BRA)
Heat 12: Joel Parkinson (AUS), John John Florence (HAW), Jack Freestone (AUS)
Roxy Pro Gold Coast Round 1 Match-Ups:
Heat 1: Tyler Wright (AUS), Johanne Defay (FRA), Alessa Quizon (HAW)
Heat 2: Bianca Buitendag (ZAF), Nikki Van Dijk (AUS), Coco Ho (HAW)
Heat 3: Carissa Moore (HAW), Chelsea Tuach (BRB), TBD
Heat 4: Courtney Conlogue (USA), Sage Erickson (USA), Bronte Macaulay (AUS)
Heat 5: Sally Fitzgibbons (AUS), Malia Manuel (HAW), Laura Enever (AUS)
Heat 6: Stephanie Gilmore (AUS), Tatiana Weston-Webb (HAW), Keely Andrew (AUS)