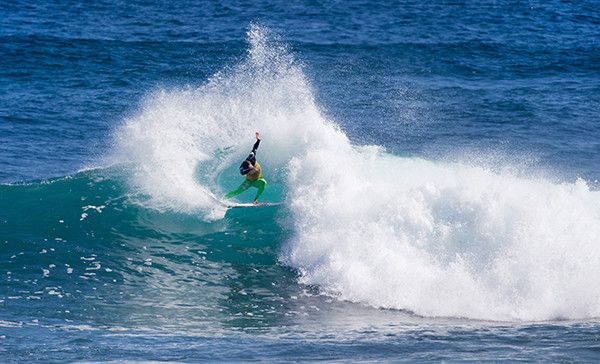 Photo: Defending event winner Michel Bourez (PYF) stormed to victory at last year's Drug Aware Margaret River Pro, claiming his first ever CT event win. Image: WSL / Kelly Cestari
MARGARET RIVER, Western Australia (Saturday, April 11, 2015) – Following an exciting event at Bells Beach the third stop on the Samsung Galaxy World Surf League (WSL) Championship Tour (CT), the Drug Aware Margaret River Pro, gets underway in less than a week. The world's best surfers are heading to Western Australia to close out the opening leg of this year's elite tour.
Western Australia has existed as an annual pilgrimage site for competitive and free surfers for decades now and the region's world-class waves combined with its unparalleled beauty make it a tour favorite. A long-time staple on the Qualifying Series (QS), 2014 was first time since 1990 that Margaret River has been a CT stop for both the men and women. The women's event regained CT status in 2013 having last featured in 1996, while last year saw the men's event upgraded to become part of the CT after over twenty years on the QS. 2015 marks 30 years of the world's best at Margaret River, beginning its history on the men's CT as the Swan Margaret River Thriller in 1985 where March Occhilupo (AUS) took out the inaugural event.Defending WSL Champion Gabriel Medina (BRA) is current world no. 9 following a fifth place at Bells Beach and is looking to better his Quarterfinal finish at last year's Drug Aware Margaret River Pro to put him in contention for the 2015 world title. Medina will face Freddy Patacchia Jr. (HAW) and wildcard Alejo Muinz (BRA) in Round 1.
"Margaret River is such a good wave and I think it's better than Bells Beach so I'm looking for a good result over there," said Medina. "There's only been two events so far and after a good result in Bells I hope that continues and I can fight for the title at the end of the year."Defending event winner Carissa Moore (HAW) is heading into the contest wearing the Jeep leader jersey after a strong start to 2015 with back-to-back wins on the Gold Coast and at Bells Beach. Moore matches up against Coco Ho (HAW) and the trials winner in the opening round of competition.
"I really love Margaret River and I'm so excited to get back over there," Moore said. "It's such a beautiful part of the world and has great vibes, plus my boyfriend is coming over so I can't wait to get there. The forecast looks crazy, like it's going to be pretty big so that will be a new challenge too. I've never surfed the Box so if we are called on over there I'll be a little scared but I'll give it my best shot."Current no. 2 on the QS and former CT surfer Alejo Muniz (BRA) has been selected as the wildcard for the event. In a bid to requalify for the elite tour in 2016 the Brazilian has secured a win and a 9th-place finish on the QS so far this year and has been rewarded with a place in the 2015 Drug Aware Margaret River Pro as the highest ranked QS surfer that isn't currently on the CT.
The trials event, which takes place on Tuesday, April 14, will determine which two athletes will join WSL Top 34 and Top 17 to complete the field for the Drug Aware Margaret River Pro. Competing for the remaining spot in the men's draw are nine local surfers from WA who will battle it out at Margaret River's Main Break. Eight regional female athletes will also contest for the final place to compete against the world's best female surfers at Margaret River.
| | |
| --- | --- |
| Men's Trialists: Shaun Howe Jake Paterson     Josh Burke Luke Campbell     Jay Davies     Jerome Forrest     Shaun Manners Kael Walsh     Jack Robinson | Women's Trialists: Bronte Macaulay Laura Macaulay Mikaela Greene Claire Bevilacqua Bailee Hastie Emi Campbell Felicity Palmateer |
Long range charts indicate that we'll see a pair of intense storms develop in the Southern Indian Ocean this weekend and into early next week. If these storms behave as forecast we would see a run of significant WSW to SW swell during the first few days of the event waiting period around April 15th-17th and possibly beyond. At this point, local wind also looks generally favorable around that time. Surfline.The Drug Aware Margaret River Pro will be held from April 15 – 26, 2015. Watch the unparalleled adventure, competitive drama and athleticism of professional surfing live at WorldSurfLeague.com.
The world's best surfing will also be broadcast LIVE on Fox Sports in Australia, MCS Extreme in France, EDGE Sports in China, South Korea Malaysia and other territories and the WSL's new partner in Brazil, Globo TV.
Drug Aware Margaret River Pro Men's Round 1 Match-ups:
Heat 1: John John Florence (HAW), Wiggolly Dantas (BRA), Dusty Payne (HAW)
Heat 2: Jordy Smith (ZAF), Jadson Andre (BRA), Brett Simpson (USA)
Heat 3: Kelly Slater (USA), Kai Otton (AUS), Ricardo Christie (NZL)
Heat 4: Adriano de Souza (BRA), Sebastian Zietz (HAW), C.J. Hobgood (USA)
Heat 5: Gabriel Medina (BRA), Freddy Patacchia Jr. (HAW), Alejo Muinz (BRA)
Heat 6: Mick Fanning (AUS), Matt Wilkinson (AUS), TBD
Heat 7: Josh Kerr (AUS), Adrian Buchan (AUS), Keanue Asing (HAW)
Heat 8: Filipe Toledo (BRA), Miguel Pupo (BRA), Glenn Hall (IRL)
Heat 9: Taj Burrow (AUS), Bede Durbidge (AUS), Jeremy Flores (FRA)
Heat 10: Joel Parkinson (AUS), Kolohe Andino (USA), Adam Melling (AUS)
Heat 11: Michel Bourez (PYF), Nat Young (USA), Italo Ferreira (BRA)
Heat 12: Owen Wright (AUS), Julian Wilson (AUS), Matt Banting (AUS)
Drug Aware Margaret River Pro Women's Round 1 Match-ups:
Heat 1: Lakey Peterson (USA), Johanne Defay (FRA), Nikki Van Dijk (AUS)
Heat 2: Sally Fitzgibbons (AUS), Tatiana Weston-Webb (HAW), Alessa Quizon (HAW)
Heat 3: Carissa Moore (HAW), Coco Ho (HAW), TBD
Heat 4: Stephanie Gilmore (AUS), Bianca Buitendag (ZAF), Sage Erickson (USA)
Heat 5: Tyler Wright (AUS), Silvana Lima (BRA), Laura Enever (AUS)
Heat 6: Courtney Conlogue (USA), Malia Manuel (HAW), Dimity Stoyle (AUS)
About the World Surf League The World Surf League (WSL) organizes the annual tour of professional surf competitions and broadcasts each event live at WorldSurfLeague.com where you can experience the athleticism, drama and adventure of competitive surfing — anywhere and anytime it's on. The WSL sanctions and operates the following tours: the Junior Tour, Longboard Tour, the Qualifying Series (QS), the Big Wave Tour and the crown jewel of the sport, the WSL Championship Tour (CT) which determines the sport's undisputed world champions. The organization is headquartered in Santa Monica, California with Commercial Offices in New York. The offices are supported by regional centers in Africa, Asia, Australasia, Europe, Hawaii, North America and South America.