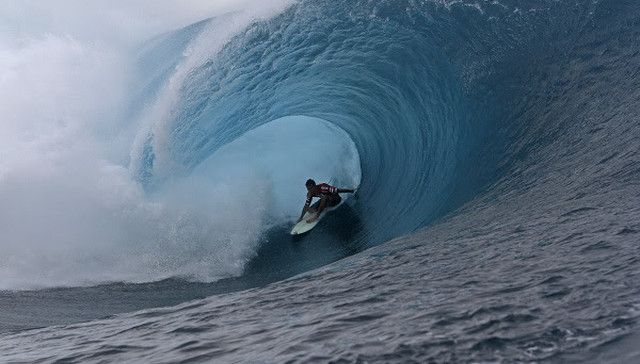 Jeremy Flores © WSL / Robertson
Billabong Pro Tahiti
WSL World Tour Men's event
Teahupo'o, Tahiti, French Polynesia
19 – 30 August, 2016
Defending event winner Jeremy Flores looks to rebound from difficult 2016
 Surf News Network Hawaii, 18 August, 2016 – Though the forecast doesn't look great especially in the first days of the holding period. The world's best surfers are readying themselves to tackle one of the most dangerous waves on the planet in the infamous Teahupo'o for Stop No. 6 of 11 on the 2016 Samsung Galaxy WSL Championship Tour, the Billabong Pro Tahiti, from August 19 – 30, 2016.
We see small  surf from the SSW Fri- Sunday and a better shot filling Monday. Hopefully  3-5′ SSW into Tuesday the 23rd. And a possible grand finale on the last 2 days of the holding period. It could get 10′ but it's a long way out.
In a season defined by its unpredictability, a new class of heroes is rapidly emerging in 2016 as the standard bearers of the best surfing on the planet. Matt Wilkinson (AUS), following back-to-back wins to open the season, has maintained his position atop the WSL Jeep Leaderboard, but is being closely pursued by John John Florence (HAW) and Gabriel Medina (BRA).
While the race for the 2016 WSL Title continues to crystallize, the battle for requalification rages on with lower-ranked surfers looking to turn their respective seasons around through the back half of the year.
Jeremy Flores (FRA), defending event winner, has long had a special relationship with Tahiti and its razor-sharp reef passes. Having previously won the Andy Irons Performance Award (2011) at Teahupo'o, Flores was a well-established threat at the venue before his emphatic victory in 2015.
"I always loved this place," Flores said. "I have been coming here for many many years. I have lots of friends and family from here. This is a special place for me. It reminds me of my island back in Reunion. It feels like home and that's why I love it. The energy of this place is like no others and, of course, the waves…best waves in the world are here in Tahiti."
"Winning here was a dream come true," Flores continued. "I always wanted to win Pipe and Teahupo'o. I got to win Pipe few years ago then Tahiti was definitely the one that I felt like I could win. Eventually, when I retire, I will be happy no matter what now that I won my two favorite events in the world."
Despite his success at the elite level in recent years, 2016 has not been as kind to the Frenchman. Currently ranked 31st on the WSL Championship Tour rankings, Flores will look to recapture the magic in Tahiti to turn his season around.
"I honestly don't know what is happening this season," Flores admitted. "I have had so many close calls. It's hard to keep confidence when you lose often by so little. I feel like I have been surfing better this year. I think I showed some good surfing at the start of the year, but it wasn't enough. Hopefully the year turns around soon, but if not, it's all good. I'm just trying to have fun surfing without thinking of what's around surfing."
Flores will face Julian Wilson (AUS) and Nat Young (USA) in Round 1 of competition.
Taj Burrow (AUS) surfed his last Championship Tour event during June's Fiji Pro. His position on the 2016 WSL Top 34 has been taken by Adam Melling (AUS).
Owen Wright (AUS) and Bede Durbidge (AUS) remain out with injury and have been replaced by Stuart Kennedy (AUS) and Sebastian Zietz (HAW).
Mick Fanning (AUS), three-time WSL Champion and winner of the previous event in Jeffreys Bay, continues his personal year in 2016 and has elected not to surf Tahiti this season. He has been replaced by Dusty Payne (HAW).
The final two positions in the Billabong Pro Tahiti will be decided via a 32-man Trials to be held on August 14 and 15, 2016.
The Billabong Pro Tahiti has a competitive window from August 19 – 30, 2016 and will be webcast LIVE on WorldSurfLeague.com as well as the WSL app.
The event is also being carried by the WSL's LIVE broadcast partners Fox Sports Australia, CBS Sports in the United States, ESPN Brasil, Globosat, Edgesport, Sky NZ, Sport TV, Canal + Deportes, Channel Nine, MCS, Starhub, and Oceanic Time Warner Cable 250 & 1250 in Hawaii.
BILLABONG PRO TAHITI ROUND 1 MATCH-UPS:
Heat 1: Jordy Smith (ZAF), Dusty Payne (HAW), Ryan Callinan (AUS)
Heat 2: Italo Ferreira (BRA), Kanoa Igarashi (USA), Keanu Asing (HAW)
Heat 3: Adriano de Souza (BRA), Miguel Pupo (BRA), Kai Otton (AUS)
Heat 4: Gabriel Medina (BRA), Conner Coffin (USA), Alex Ribeiro (BRA)
Heat 5: John John Florence (HAW), Davey Cathels (AUS), TBD
Heat 6: Matt Wilkinson (AUS), Stuart Kennedy (AUS), TBD
Heat 7: Michel Bourez (PYF), Kelly Slater (USA), Matt Banting (AUS)
Heat 8: Julian Wilson (AUS), Nat Young (USA), Jeremy Flores (FRA)
Heat 9: Sebastian Zietz (HAW), Josh Kerr (AUS), Jadson Andre (BRA)
Heat 10: Adrian Buchan (AUS), Joel Parkinson (AUS), Alejo Muniz (BRA)
Heat 11: Caio Ibelli (BRA), Kolohe Andino (USA), Jack Freestone (AUS)
Heat 12: Filipe Toledo (BRA), Wiggolly Dantas (BRA), Adam Melling (AUS)