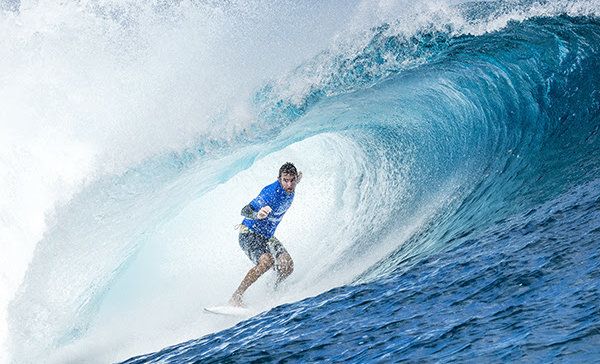 …OF THE BILLABONG PRO TAHITI
– ROOKIES IAN GOUVEIA, CONNOR O'LEARY AND JOAN DURU CLAIM ROUND 1 WINS

– ETHAN EWING UPSETS FILIPE TOLEDO IN ROUND 2 
 Rookie Joan Duru (FRA) claims his first Round 1 win of the season.
Credit: © WSL / Cestari
Location:   
   Teahupo'o, Tahiti 
Event window:
   August 11 – 

20, 2017

Today's call:

| | |
| --- | --- |
|    Round 1 and Round 2 Heats 1 – 4 complete | |
Conditions:        3 – 5′
Billabong Pro Tahiti Round 1 Results:
Heat 1: Joel Parkinson (AUS) 10.00, Jadson Andre (BRA) 8.30, Jeremy Flores (FRA) 7.50
Heat 2: Adriano de Souza (BRA) 8.77, Nat Young (USA) 6.27, Bede Durbidge (AUS) 3.63
Heat 3: Italo Ferreira (BRA) 12.50, Owen Wright (AUS) 9.40, Josh Kerr (AUS) 7.57
Heat 4: Joan Duru (FRA) 12.26, Jordy Smith (ZAF) 7.83, Ethan Ewing (AUS) 7.17
Heat 5: John John Florence (HAW) 14.90, Ezekiel Lau (HAW) 10.93, Aritz Aranburu (ESP) 9.37
Heat 6: Matt Wilkinson (AUS) 7.33, Taumata Puhetini (PYF) 7.13, Wiggolly Dantas (BRA) 7.10
Heat 7: Adrian Buchan (AUS) 14.33, Filipe Toledo (BRA) 8.33, Miguel Pupo (BRA) 5.27
Heat 8: Julian Wilson (AUS) 12.77, Conner Coffin (USA) 12.40, Kanoa Igarashi (USA) 10.03
Heat 9: Gabriel Medina (BRA) 14.06, Stu Kennedy (AUS) 8.60, Caio Ibelli (BRA) 6.50
Heat 10: Connor O'Leary (AUS) 13.10, Leonardo Fioravanti (ITA) 11.94, Sebastian Zietz (HAW) 10.64
Heat 11: Kolohe Andino (USA) 13.57, Mick Fanning (AUS) 13.43, Jack Freestone (AUS) 11.67
Heat 12: Ian Gouveia (BRA) 15.00, Michel Bourez (PYF) 10.67, Frederico Morais (PRT) 9.56
Billabong Pro Tahiti Round 2 Results:
Heat 1: Jordy Smith (ZAF) 11.83 def. Taumata Puhetini (PYF) 9.60
Heat 2: Owen Wright (AUS) 14.50 def. Aritz Aranburu (ESP) 12.10
Heat 3: Ethan Ewing (AUS) 10.06 def. Filipe Toledo (BRA) 6.56
Heat 4: Mick Fanning (AUS) 13.00 def. Josh Kerr (AUS) 8.16
Tricky indeed, but Teahupo'o & Pros always delivers… at least brief moments of brilliance. Watch for a bit more swell through the coming weekend and work week. SNN.
TEAHUPO'O, Tahiti (Friday, August 11, 2017) – Stop No. 7 of 11 on the 2017 World Surf League (WSL) Championship Tour (CT), the Billabong Pro Tahiti, got underway today and recommenced this season's hotly contested race for the 2017 WSL Title. The day opened with Round 1 where 36 surfers battled for a direct advance to the third round and was followed by heats 1 – 4 of Round 2, which served up the first of the early eliminations in 3-to-5 foot (0.9 – 1.5 metre) surf at Teahupo'o.
In the tricky conditions it was the rookies who impressed and Ian Gouveia (BRA) led the 2017 WSL rookie class by posting the highest heat total of the day, a 15.00, to sail through his Round 1 heat against Michel Bourez (PYF) and Frederico Morais (PRT).
"I was super excited to come to Teahupo'o and compete here," said Gouveia. "It's a wave where I need to get more experience but it's so great to be here and to make it through."
Fellow rookie Connor O'Leary (AUS) dug deep and secured victory over Sebastian Zietz (HAW) and Leonardo Fioravanti (ITA) with a 13.10 heat total. O'Leary is the highest ranked rookie on the Jeep Leaderboard, currently sitting at 10th place thanks to a runner up finish in Fiji, and today is only his second Round 1 win of the season. Zietz and Fioravanti will surf again in elimination Round 2 when competition resumes.
"It's so good to be back here," said O'Leary. "It's a big advantage to have Luke Egan in my corner because he has such a broad knowledge. This is my second Round 1 heat win and it's massive to get through. Round 2 is tough so it's great to stay out of that."
Also representing the rookies, Joan Duru (FRA) put on an impressive performance to net his first Round 1 win of the season over current No. 3 on the Jeep Leaderboard Jordy Smith (ZAF)and fellow rookie Ethan Ewing (AUS). Duru advances directly to Round 3 while Smith and Ewing went on to surf again in Round 2.
"It feels really good to get that win," Duru said. "It's tough to go to Round 2 so I'm happy. I'm glad to make it because it was a really hard heat it really hard conditions. I have been here a few times before so that helped me today."
Reigning WSL Champion and 2016 event finalist John John Florence (HAW) claimed a Round 1 win with a 14.90 heat total, over opponents Ezekiel Lau (HAW) and trials winner Aritz Aranburu (ESP) in Round 1 Heat 5. Just two waves from Florence were enough to claim victory and secure his place in Round 3.
Reigning World Champion John John Florence of Hawaii, current No.2 on the Jeep Leaderboard advanced directly to Round Three of the Billabong Pro Tahiti after winning Heat 5 of Round One at Teahupo'o, Tahiti, French Polynesia, today Friday August 11, 2017.  PHOTO: © WSL / Cestari SOCIAL : @wsl @kc80.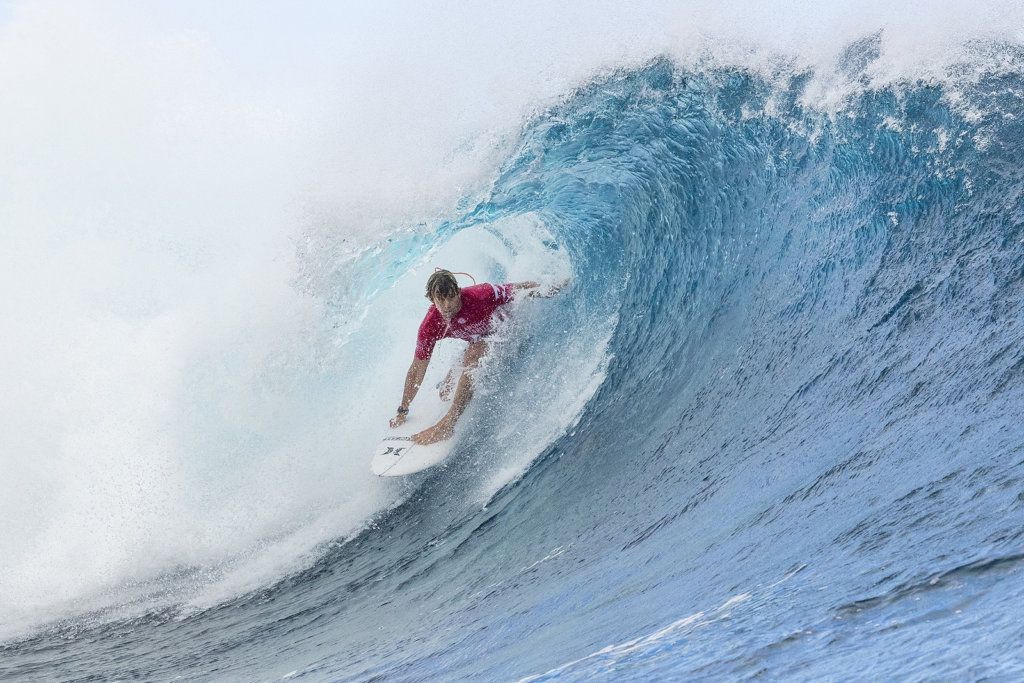 "I love coming to Tahiti and I'm always excited to be here," said Florence. "The forecast doesn't look great this year so it's definitely tricky but it's still fun. Everyone is a threat so I'm trying to focus on myself and my own surfing and I'm going to let everyone else do their thing. Kelly [Slater] seems to have my number out here but he's not here this year so maybe I'll do better."
2013 event winner Adrian Buchan (AUS) found a rare barrel for the highest score of the day, an 8.83, to claim a Round 1 win over Brazilians Filipe Toledo (BRA) and Miguel Pupo (BRA) and will advance directly to Round 3.
"Coming back here year after year gives you confidence to be in the right spot," Buchan said. "I've been coming to Tahiti for over a decade and I've never brought my family so it's really nice to be here all together this year. I'm feeling happy and relaxed and it was exciting to put the jersey back on today. I just love competing and my competitive fire has never dulled for me, I'm still just as driven as I ever was and there are still things I want to achieve in my career."
2014 WSL Champion and event winner Gabriel Medina (BRA) powered through his Round 1 heat against Caio Ibelli (BRA) and Stu Kennedy (AUS). A confident win will see Medina skip elimination Round 2 and advance directly to Round 3.
"I just love Teahupo'o, it's such a fun wave," Medina said. "We're in paradise and that makes me comfortable. I've had some good results here in the past, especially when I won here and the waves were on fire. This year it's going to be tricky but I'm confident. Everyone is capable of winning here, especially in these conditions, but I feel ready."
WSL Champions Joel Parkinson (AUS) and Adriano de Souza (BRA) also secured Round 1 wins to earn their place in Round 3 along with current World No. 1 Matt Wilkinson (AUS).
Following the conclusion of Round 1 competition ran through the opening 4 heats of elimination Round 2.
Wildcard Taumata Puhetini (PYF) challenged World No. 3 Smith in the opening heat of Round 2, holding the top spot for the majority of the 30-minute bout. With only five minutes remaining the South African found a 6.13 to take the lead, avoid early elimination and keep his world title hopes alive.
"It was stressful but I think I made the most of those opportunities," said Smith. "It's hard to really identify what the judges are looking for so you really have to pick what you what to do and focus on that. You have to be really patient out here. I'm pretty competitive in all things I do but I try and stay as positive as possible and appreciate the journey."
No. 4 on the Jeep Leaderboard Owen Wright (AUS) delivered an exciting performance in his Round 2 heat against trials winner and former CT surfer Aranburu. The pair traded barrels and big scores, with Aranburu getting the better of the exchange with an excellent 8.60. However it was Wright that had the backup score, took the win and his place in Round 3.
"I find myself trying to be really aware of what's going on," said Wright. "Aritz [Aranburu] is so good in the barrel so I knew he was going to be dangerous. He got the highest score of the heat so I'm really happy it went my way. At the start of the year I was just focused on health but now being in the title race is where I want to be."
Rookie Ewing earned his first ever Round 1 win on the Championship Tour after he defeated top seed Toledo. A drama-filled, low-scoring affair between the pair saw Ewing get the advantage and end his run of 25th place finished. Toledo sat scoreless through the opening half of bout and a 6.56 heat total sees the World No. 7 eliminated from the competition.
"It's definitely been hard and my confidence hasn't been been very high so far this year," said Ewing. "It hasn't been going my way this year so I'm happy to get that one. This year I've learnt to shake off my losses. I've been really hard on myself so I'm focusing on looking forward to the next event so I'm just really happy to make it through."
3X WSL Champion and 2012 event winner Mick Fanning (AUS) escaped early elimination by defeating compatriot Josh Kerr (AUS) in the final heat of the day.
"It's always hard going up against a friend but that's the way it goes. It all came down to the first wave and if I didn't get it we would have been neck and neck. You always try and capture the 'mana' when you're here and we'll see over the next few days who's getting that energy. We'll really miss Kelly [Slater] here this year so I hope he's healing up well."
Event organizers will reconvene tomorrow morning at 7 a.m. to assess conditions and make the next call.
The new SSW swell (205-190°) that has been building in today will top out for Saturday with about 4-5 feet at 15-16 seconds. That will be good for overhead to well overhead sets at Teahupo'o all day. A new and rather intense area of low pressure recently developed within 1800 miles SSE of Tahiti, packing a fetch with wind speeds up to 35-50kts. As a result, a good size shot of reinforcing South shifting SSE swell (180-170° shifting 170-160°) will move in for Sun/Mon. We're expecting about 6'+ of swell at 13-15 seconds to peak early Sunday. Although this is not the best angle for Teahupo'o, it certainly looks strong enough to maintain overhead to double overhead sets. Early Sunday morning looking strongest overall during this entire run with occasional waves even bigger than double overhead. This energy will gradually taper off next week. Surfline.
The event will be broadcast LIVE via SPECTRUM(OC)250
WorldSurfLeague.com, the WSL app and on Facebook LIVE via the WSL's Facebook page….
For more information, check out WorldSurfLeague.com
Upcoming Billabong Pro Tahiti Round 2 Match-Ups:
Heat 5: Frederico Morais (PRT) vs. Nat Young (USA)
Heat 6: Michel Bourez (PYF) vs. Jadson Andre (BRA)
Heat 7: Sebastian Zietz (HAW) vs. Miguel Pupo (BRA)
Heat 8: Caio Ibelli (BRA) vs. Kanoa Igarashi (USA)
Heat 9: Conner Coffin (USA) vs. Stu Kennedy (AUS)
Heat 10: Jeremy Flores (FRA) vs. Leonardo Fioravanti (ITA)
Heat 11: Bede Durbidge (AUS) vs. Jack Freestone (AUS)
Heat 12: Ezekiel Lau (HAW) vs. Wiggolly Dantas (BRA)