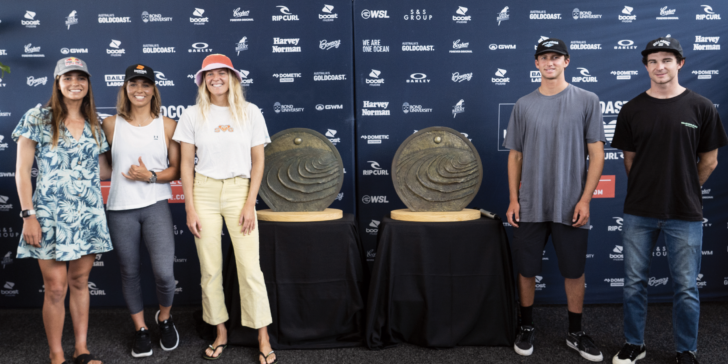 Gilmore, Fitzgibbons and Slater to Headline Opening Event of 2022 Challenger Series

Over 150 Competitors Arrive on Gold Coast including over 20 Championship Tour Competitors

Gold Coast Event to Launch 2022 Challenger Series Season
Front page: Competitors ahead of the 2022 Boost Mobile Gold Coast Pro Challenger Series event [L-R] Teresa Bonvalot (PRT), Sally Fitzgibbons (AUS), Stephanie Gilmore (AUS), Crosby Colapinto (USA) and Liam O'Brien (AUS). Credit: © WSL / Shield 
COOLANGATTA, QLD / Australia (Friday, May 6, 2022) – The Boost Mobile Gold Coast Pro presented by Rip Curl, stop one of the 2022 World surf League Challenger Series (CS), is set to commence tomorrow at the perfect right-hand point break of Snapper Rocks on the southern end of Queensland's Gold Coast. The event has attracted over 150 best up and coming competitors from around the world as well as over 20 Championship Tour competitors who look for the opportunity to surf one of the best waves in the world with only four people out.
The Challenger Series is the battleground where surfers compete to qualify for the elite Championship Tour (CT), surfing's most prestigious competition tier. Following the 2022 CS season, the Top 10 men and Top 6 women on the Challenger Series rankings will qualify for the 2023 Championship Tour season. Out of the eight Challenger Series competitions, only the top five results will count toward their end-of-year rankings.
Slater, Gilmore and Fitzgibbons Headline Star-Studded Field on the Gold Coast 
The Boost Mobile Gold Coast Pro presented by Rip Curl has attracted a number of Championship Tour competitors including 11-time World Champion Kelly Slater (USA) and 7-time World Champion Stephanie Gilmore (AUS) who both have a strong affinity for the waves at Snapper Rocks. For Gilmore, this event is an opportunity to reconnect with her local break after a long period of time on the road while for Slater, it might be the last time he pulls on a  contest jersey on the Gold Coast.
"It's been nearly three years since I've been to the Gold Coast due to Covid so I really am looking forward to surfing here again," Slater said. "Surfing Snapper during a heat is ideal with just a few of us in the water and the waves look set to be pumping so it should be great fun – No pressure and super waves. I love it here on the Gold Coast so it's great to be back." 
"I'm so excited to be competing back here at Snapper this week," Gilmore said. "It's a Challenger Series event which is the stepping stone to the big leagues so the field is full of so much talent which will make it a tough competition. It should be an incredible week of surfing, the swell is on the way, the winds look great and the bank is amazing at the moment so it's going to be an incredible week. Like Kelly (Slater) said, getting Snapper with only a couple of people out is such a treat so doing this event is a no-brainer." 
Following the CT's Mid-season Cut, the Challenger Series will feature competitors hoping to return to the elite CT in 2023. Two names no one expected to see full below the Cut were Aussie veterans Sally Fitzgibbons (AUS) and Owen Wright (AUS). The pair come into the event with plenty of experience at this location with Wright taking a famous win here in 2017. Fitzgibbons has bounced back from the disappointment of falling off the CT and is looking forward to the Challenger Series and the quality waves of Snapper Rocks. 
"I'm very motivated for this event and the entire Challenger Series," said Fitzgibbons. "I try and always find positives in every situation and the past week has thrown a big challenge at me and I'm determined to really tackle that and get myself back fighting for a World Title and surfing excellent waves at Snapper Rocks is an ideal place to get going."
Anticipation Grows for International Championship Tour Hopefuls at Snapper Rocks  
CLICK HERE FOR MEN'S ROUND of 96 MATCHUPS
CLICK HERE FOR WOMEN'S ROUND of 64 MATCHUPS
With so much opportunity on the line, some of surfing's biggest future stars have headed to the Gold Coast to get their Championship Tour qualification campaigns underway at Stop 1 of the CS. Not only will the event launch the Challenger Series season, it will give competitors the opportunity to surf one of the best waves in the world, with only three other people out, something Californian Crosby Colapinto (USA) and Portugal's Teresa Bonvalot are over the moon about.
"This is an amazing event for me, the location is fantastic and to be surfing against many of the best surfers in the world is right where I want to be " said Colapinto. "I want to join my brother on the CT and this is the playing field to make that happen so I'll give it my best."
"I'm excited about this entire series and the Gold Coast is the best place to begin with such incredible waves" said Portugal's Bonvalot. "I'm ready to take on the best and confident I can qualify but it really is such a high quality field that I'll need to produce my best."
Sierra Kerr and Alister Reginato Win Local Trials, Gain Entry to Challenger Series Event 
Surfing prodigy Sierra Kerr and Sunshine Coaster Alister Reginato have won the local Trials today at Snapper Rocks and will now compete in the main event against some of surfing's biggest names. Before taking victory, the pair had to overcome an all Queensland field of 32 competitors in super fun, two-to-three foot surf. Reginato will come up against Current World No. 3 Jack Robinson (AUS) who is fresh off a win at the Margaret River Pro whilst Kerr will take on Current World No. 1 Brisa Hennessy (CRI) in her opening heat. The duo will join local wildcards Kobie Enright and Oscar Berry in the main event.
"I'm so looking forward to coming up against surfers like Jack Robinson," said Reginato. "I need to push myself and take it up to these guys and no matter what I learn from the experience. With the waves firing it's such a great opportunity and I say bring it on."
"Snapper is firing at the moment and for this event it's going to be incredible and I really just want to have fun and compete the best I can with just a few of us in the water" said Kerr. " The more heats I can get through the better, Molly Picklum is a close friend and I'd love to surf with her in a heat but really I don't mind who I'm against, I'm just excited to keep surfing the waves here and enjoy the experience."