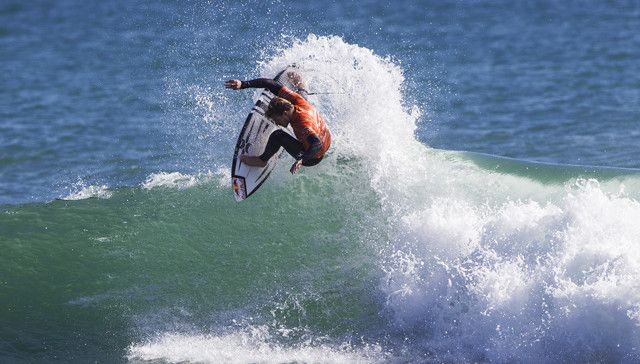 And Thursday has Day 2  already into the Rnd of 48
PIC: Kolohe Andino © WSL/Rowland

 Oakley Lowers Pro
WSL QS10000 Men's Event
Lower Trestles, California
28 April – 2 May 2015
Several World Tour competitors enter the fray at Lowers
Surf News Network, Wednesday 29 April, 2015. Lower Trestles, the jewel of Southern California surf venues, delivered clean two-to-three foot (1 metre) waves today as 17 heats of the Oakley Lowers Pro Round 1 were completed amidst scintillating performances and passionate competition.
The first World Surf League (WSL) QS10000 event of the season, the Oakley Lowers Pro serves as the battlefield between the elite Championship Tour (CT) surfers looking to retain their positions at surfing's highest level and a hungry force of up-and-coming talent hoping to break in.
Filipe Toledo (BRA), current No. 2 on the elite CT rankings, continued this season's electric form this morning, dominating the opening heat of the event with the day's high single scoring wave of a 9.87 out of a possible 10 for a blistering series of forehand assaults on the Lowers righthander.
"The wave is a skatepark," Toledo said. "It has good speed and good sections that you can just hammer away at. It's pretty much the funnest wave on the planet for performance surfing."

Filipe Toledo © WSL
Following a win at the opening CT event of the season, the Quiksilver Pro Gold Coast, Toledo consolidated with a Quarterfinals berth at Bells Beach before an early exit at Margaret River. The Oakley Lowers Pro marks the first Qualifying Series (QS) event of Toledo's season and the young Brazilian's incendiary performances mark him as an event favorite.
"I'm living my dream," Toledo continued. "I'm having a really good year. I have great support in my family and sponsors and really good boards. Excited to see what else this week has for us at Lowers before heading down to Rio."
Adrian Buchan (AUS),  a 10-year veteran of the elite WSL CT, has had a rough start to the start of the 2015 elite season currently ranked 29th. However, the world-class goofy-footer put his polished forehand and backhand to work today, smashing the Lowers left and righthanders to collect an impressive heat total of a 17.80 out of a possible 20.
"It's exciting to be back at Lowers and have the opportunity to surf," Buchan said. "I had a bunch of close heats throughout the Oz leg that didn't go my way and I wanted to come to Trestles and reset and give myself a chance to surf to the level that I know I'm capable of."

Dusty Payne © WSL/Rowland
Conner Coffin (USA), celebrated stylemaster from Santa Barbara, has been knocking at the door of qualifying for the elite level of competition in recent seasons and if his impressive Round 1 performance of a 17.90 this morning is any indication, the young natural-footer will be joining the world's best in the near future.
"It feels great to put a strong heat together," Coffin said. "I feel like I've been surfing well the past couple of years, I have great boards and awesome support, but everyone in these competitions is super talented and very hungry. I feel comfortable at Lowers and Kolohe Andino (USA), local icon and CT competitor, capped off the day's action with a fantastic display of local knowledge and high-performance surfing, netting an excellent 9.00 out of a possible 10 on his opening ride and controlling the heat pace from the outset.
"Any chance to surf Lowers in a contest with just a few guys feels special," Andino said. "I've been competing here my whole life and I want to bring home a win to San Clemente."

Stuey Kennedy © WSL
OAKLEY PRO LOWERS ROUND 1 RESULTS:
Heat 1: Filipe Toledo (BRA) 16.97, Tiago Pires (PRT) 13.90, Dion Atkinson (AUS) 10.44, Soli Bailey (AUS) 9.86
Heat 2: Stu Kennedy (AUS) 15.90, Brett Simpson (USA) 14.43, Mateia Hiquily (PYF) 12.73, Dillon Perillo (USA) 10.84
Heat 3: Charles Martin (GLP) 16.23, Lucas Silveira (BRA) 12.10, Matt Wilkinson (AUS) 11.40, Luke Davis (USA) 11.10
Heat 4: Brent Dorrington (AUS) 16.20, Jadson Andre (BRA) 14.00, Deivid Silva (BRA) 13.33, Cahill Bell-Warren (AUS) 5.17
Heat 5: Heitor Alves (BRA) 15.77, Marlon Lipke (PRT) 15.10, Sebastian Zietz (HAW) 14.40, Beyrick de Vries (ZAF) 13.84
Heat 6: Conner Coffin (USA) 17.90, Joan Duru (FRA) 15.73, Matt Banting (AUS) 15.50, Evan Geiselman (USA) 13.80
Heat 7: Dusty Payne (HAW) 17.43, Krystian Kymerson (BRA) 13.43, Tomas Hermes (BRA) 12.63, Chris Ward (USA) 11.17
Heat 8: Mitchel Coleborn (AUS) 13.27, Tanner Hendrickson (HAW) 10.00, Tomas Fernandes (BRA) 9.80, Maxime Huscenot (REU) 9.37
Heat 9: Yadin Nicol (AUS) 14.50, Davey Cathels (AUS) 14.50, Bino Lopes (BRA) 13.80, Glenn Hall (IRL) 13.23
Heat 10: Granger Larsen (HAW) 16.67, Fredrick Patacchia (HAW) 15.20, Billy Stairmand (NZL) 13.97, Aritz Aranburu (ESP) 13.30
Heat 11: Alejo Muniz (BRA) 15.64, Jesse Mendes (BRA) 14.87, Tom Whitaker (AUS) 13.47, Ian Walsh (HAW) 11.73
Heat 12: Vasco Ribeiro (PRT) 12.93, Ezekiel Lau (HAW) 12.03, Hizunome Bettero (BRA) 11.40, Caio Ibelli (BRA) 8.67
Heat 13: Thiago Camarao (BRA) 14.06, Patrick Gudauskas (USA) 13.83, Thomas Woods (AUS) 13.63, Torrey Meister (HAW) 13.10
Heat 14: Jack Freestone (AUS) 14.33, Tanner Gudauskas (USA) 13.90, Nic Von Rupp (PRT) 13.74, Jonathan Gonzalez (CNY) 11.20
Heat 15: Wiggolly Dantas (BRA) 15.37, Nathan Hedge (AUS) 14.54, Noe Mar McGonagle (CRI) 14.13, Jose Ferreira (PRT) 12.40
Heat 16: Adrian Buchan (AUS) 17.80, Tim Reyes (USA) 14.23, Nathan Yeomans (USA) 13.70, Santiago Muniz (ARG) 11.23
Heat 17: Kolohe Andino (USA) 17.50, Michael Rodrigues (BRA) 16.00, Mason Ho (HAW) 10.00, Takumi Yasui (JPN) 4.63
OAKLEY PRO LOWERS REMAINING ROUND 1 MATCH-UPS:
Heat 18: Adam Melling (AUS), Carlos Munoz (CRI), David do Carmo (BRA), Marco Fernandez (BRA)
Heat 19: Keanu Asing (HAW), Garrett Parkes (AUS), Wade Carmichael (AUS), Marc Lacomare (FRA)
Heat 20: Miguel Pupo (BRA), Frederico Morais (PRT), Connor O'Leary (AUS), Sunny Garcia (HAW)
Heat 21: Jeremy Flores (FRA), Ian Gouveia (BRA), Alex Ribeiro (BRA), Kanoa Igarashi (USA)
Heat 22: Italo Ferreira (BRA), Willian Cardoso (BRA), Gony Zubzarreta (ESP), Perth Standlick (AUS)
Heat 23: Ricardo Christie (NZL), Michael Dunphy (USA), Ramzi Boukhiam (MAR), Jean da Silva (BRA)
Heat 24: Kelly Slater (USA), Ryan Callinan (AUS), Mitch Crews (AUS), Jack Robinson (AUS)