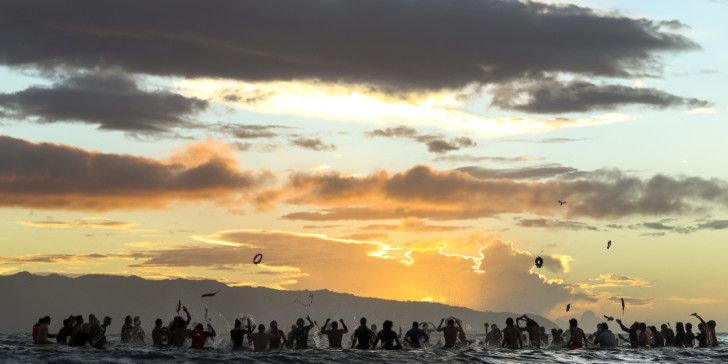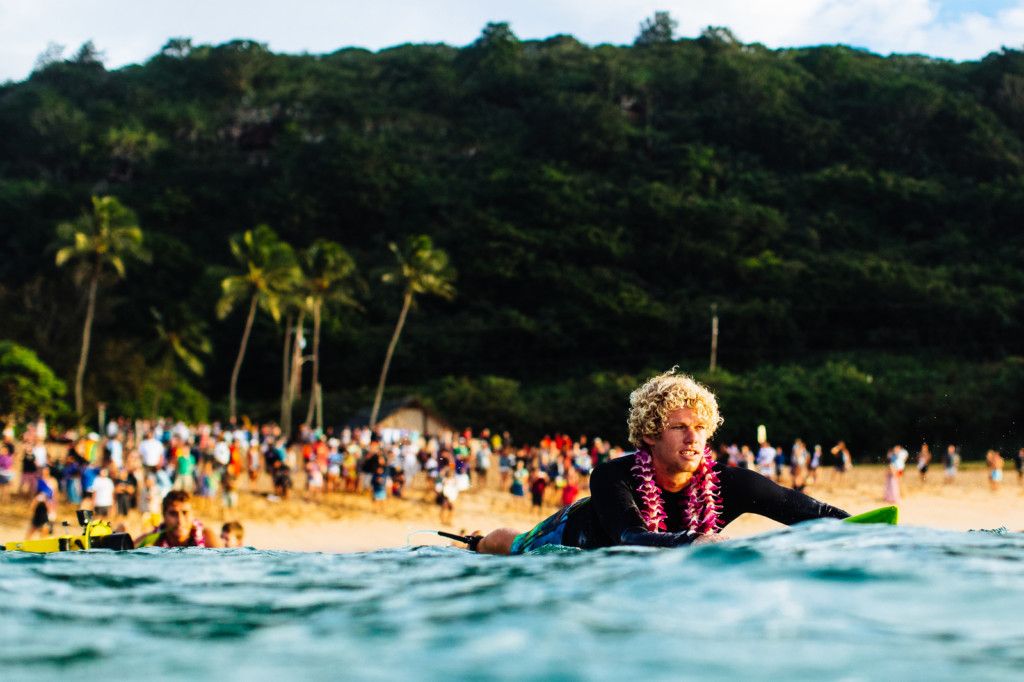 Images: © WSL /  Cestari
The Quiksilver in Memory of Eddie Aikau Big Wave Invitational opening ceremony witnessed the world's best big wave surfers gather to honor Eddie Aikau in the event's 32nd anniversary.
Image: © WSL /  Cestari
NORTH SHORE, Hawaii (Thursday, December 1, 2016) – Today, the Quiksilver in Memory of Eddie Aikau Big Wave Invitational officially kicked off the 2016/17 holding period with a culturally rich ceremony to honor Hawaiian waterman, Waimea Bay lifeguard and Big Wave pioneer Eddie Aikau. The Aikau family and a significant number of the world's greatest big wave surfers gathered to show their respect for Eddie in the event's 32nd anniversary.
The official Invitee and Alternate introductions were made by legendary watermen Mark Cunningham and featured powerful speeches by Clyde Aikau and World Surf League (WSL) Big Wave Tour Commissioner Peter Mel.
The Hawaiian blessing and prayers silenced the crowd while honoring and connecting all present to past and living Hawaiian culture. It set the tone for the highly revered annual event that commenced its 32nd season as athletes stood side-by-side with their boards in a colorful circle of camaraderie.
Following the traditional surfers' circle and blessings on land, the invited athletes paddled out at Waimea and gave their leis to the sea as an offering – a "Ho'okupu" in the spirit of Eddie Aikau. Surfers again joined in the water as onlookers watched from the beach and the sun set behind Ka'ena Point.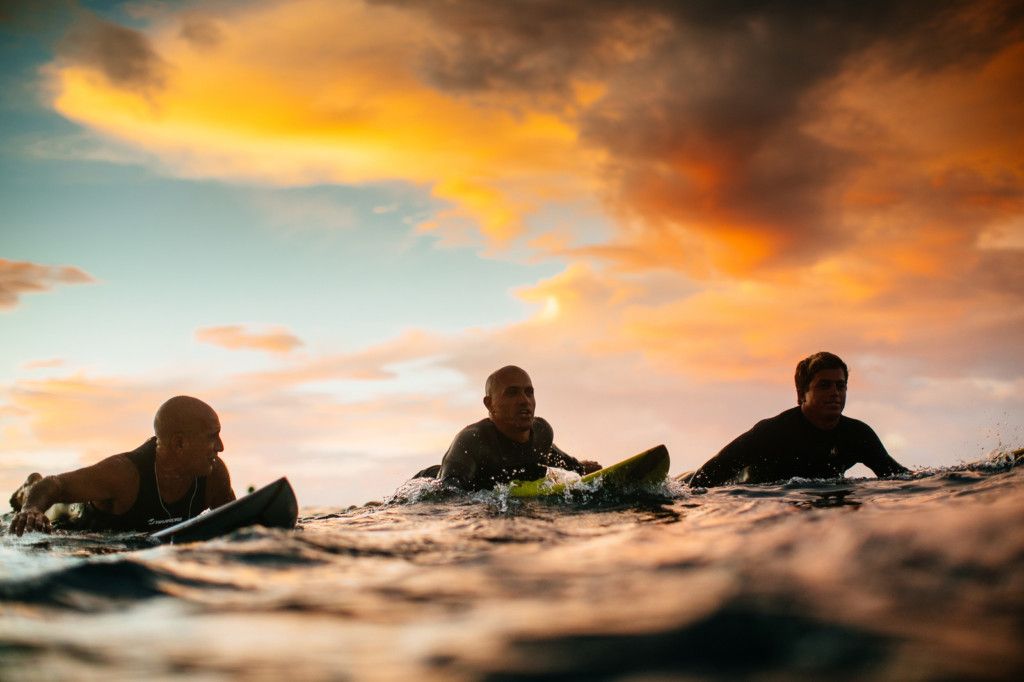 A WSL specialty event, the Quiksilver in Memory of Eddie Aikau, is a one-day, big wave competition at Oahu's Waimea Bay that runs only when wave heights reach 40 feet and over. What started 32 years ago to pay tribute to Aikau, has grown to become an almost mythic event. It is an event so rare that it has only run nine times since its conception in 1984.
"I am super honored to be back here this season," said John John Florence, current WSL World Champion. "2016 was the biggest year of my life and it started at The Eddie. Thank you to the Aikaus and Quiksilver and the WSL for welcoming us back this year."
The Eddie will be contested by 28 invitees, including last year's event winner and newly crowned WSL Champion, Florence, as well as surfing legends Ross Clarke-Jones, Tom Carroll and Michael Ho. The invitees also include decorated big wave chargers Greg Long, Billy Kemper and Shane Dorian.
"This event is very much about family and community," said 2009 Eddie winner and 2015/16 Big Wave Tour Champion, Greg Long. "It's a real blessing to be welcomed into the Aikau Ohana. It's always a special time of year for us."
"I have grown up with the story of Eddie and respecting those who surf in this event," CT competitor and Eddie invitee Jeremy Flores. "Being invited is one of the highlights of my career. A true honor."
The contest format has two rounds, each with a maximum wave count of eight waves. Each surfer's best four waves count toward the final score, with a maximum individual wave score of 100 points based on size, risk and how well the wave was surfed.
More about the 2016-2017 Quiksilver in Memory of Eddie Aikau Big Wave Invitationalcan be found on quiksilver.com/eddie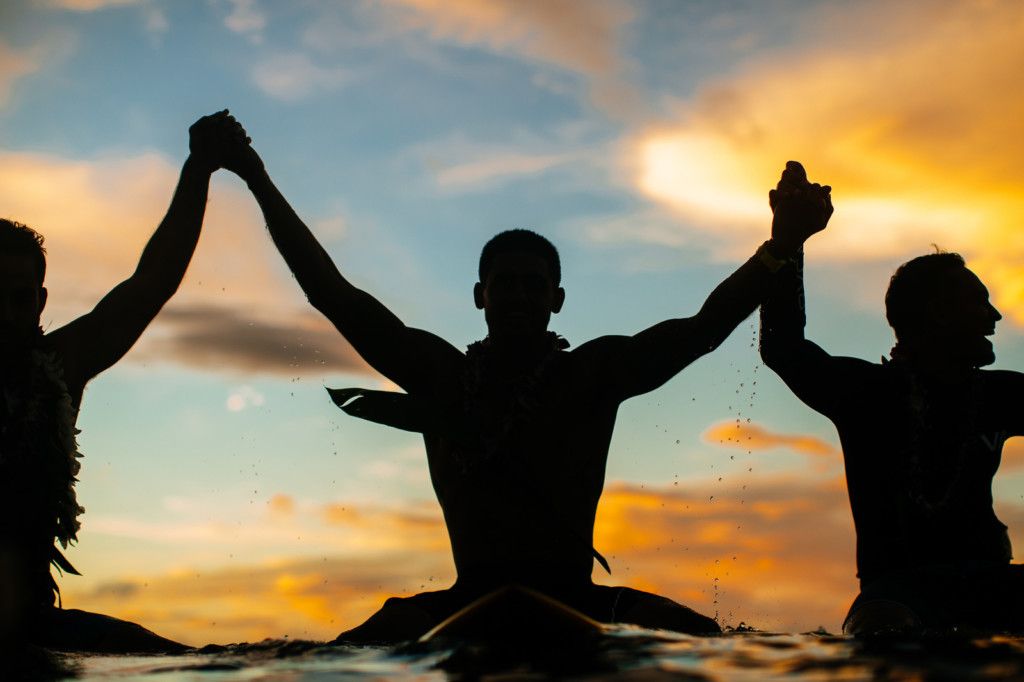 The invitation list this year is as follows: (listed first name alphabetical order)
Aaron Gold
Bruce Irons
Billy Kemper
Dave Wassel
Ezekiel Lau
Garrett McNamara
Grant Baker
Greg Long
Ian Walsh
Jamie Mitchell
Jamie O'Brien
Jeremy Flores
John John Florence
Kala Alexander
Kelly Slater
Koa Rothman
Kohl Christensen
Landon McNamara
Makuakai Rothman
Mark Healey
Mason Ho
Michael Ho
Reef McIntosh
Ross Clarke-Jones
Shane Dorian
Sunny Garcia
Takayuki Wakita
Tom Carroll
The alternate invitation list is used to replace injured or unavailable surfers from the invitation list. Alternate invitations will be offered in the order set out below:
Luke Shepardson
Kai Lenny
Nathan Fletcher
Noah Johnson
Nathan Florence
Ramon Navarro
Kealii Mamala
Pedro Calado
Jamie Sterling
Nic Lamb
Keala Kennelly
Danilo Couto
Mark Mathews
Kalani Chapman
Ben Wilkinson
Gabriel Villaran
Damien Hobgood
Kahea Hart
Ryan Hipwood
Carlos Burle
Taio Shipman
Danny Fuller
Anthony Tashnick
Rusty Long
Event past winners:
1985/1986 : Denton Miyamura (Haw)
1986/1987 : Clyde Aikau (Haw)
1989/1990 : Keone Downing (Haw)
1998/1999 : Noah Johnson (Haw)
2000/2001 : Ross Clarke-Jones (Aus)
2004/2005 : Bruce Irons (Haw)
2001/2002 : Kelly Slater (USA)
2009/2010 : Greg Long (USA)
2015/2016 : John John Florence (Haw)