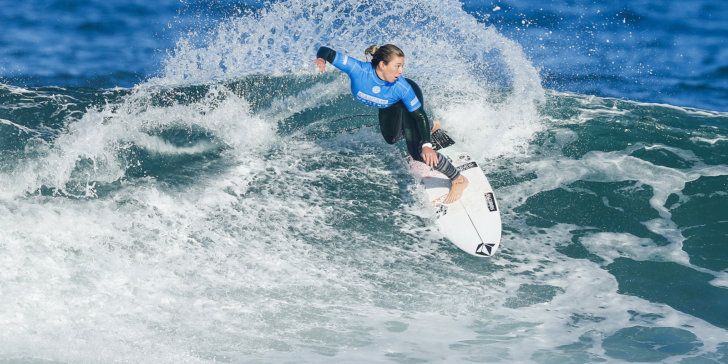 WORLD TITLE CONTENDERS SALLY FITZGIBBONS AND COURTNEY CONLOGUE EARN ROUND 1 WINS
– TATIANA WESTON-WEBB RELEGATES WSL CHAMPION TYLER WRIGHT TO ROUND 2
– WATCH LIVE AT WORLDSURFLEAGUE.COM
Front page image: Coco Ho of Hawaii (pictured) will surf Round Two of the 2017 Cascais Women's Pro after placing second in Heat 3 of Round One at Cascais, Portugal today Wednesday 27 August 2017.  PHOTO: © WSL / Poulleno
Location:   
Cascais, Portugal
Event window:
September 26 – 

October 5, 2017

Today's call:
Women's Round 1, Men's Rd2 H13-24 Completed.
| | |
| --- | --- |
| Conditions | Three-to-five foot |
PRAIA DE CARCAVELOS, Cascais/Portugal (Wednesday, September 27, 2017) – The Cascais Women's Pro, Stop No. 8 on the World Surf League Championship Tour, got underway at the back-up venue of Guincho in clean three-to-five foot surf.
Lakey Peterson (USA) opened the day's competition with a win over Pauline Ado (FRA) and current No. 5 on the Jeep Leaderboard Sage Erickson (USA). Peterson trailed Ado for the opening half of the heat but closed the gap with two solid maneuvers and a mid-range score, quickly followed by two turns for a 6.43 and the win.
"I haven't been in the first heat all year and it's actually nice," Peterson said. "My plan was to put myself on a lot of waves and give myself as much opportunity as possible. It's not a wave where you want to sit and wait. I was a little shaky so I'm looking forward to the next round and surfing a little bit stronger. To get another good result I need to be confident and consistent so hopefully I'll win this thing!"
Three-time WSL Champion Carissa Moore (HAW) claimed her Round 1 win with a progressive above-the-lip maneuver, sending opponents Stephanie Gilmore (AUS) and Malia Manuel(HAW) to elimination Round 2.
"There's lots of waves so you might as well push it as hard as you can," said Moore. "It's been a while since I've had a Round 1 win so I'm stoked. It's been a really challenging period but I'm really happy with the place I'm at now."
Jeep Leaderboard frontrunner Sally Fitzgibbons (AUS) secured victory in the opening Round over Coco Ho (HAW) and wildcard Teresa Bonvalot (PRT). Fitzgibbons remained scoreless for the opening eight minutes of the heat but opened her account with a 6.50 to take the lead and skip elimination Round 2.
"Guincho is just a full mixed bag and every day you get something different," Fitzgibbons said. "It's great to have the leader jersey and be in this position at this point in the season. There's plenty more surfing to be done but it's so good to feel comfortable. You have to grab onto the lead at some point if you want to hold on to it for the rest of the year. I'm definitely going to try and hang on tight until the end of the year."
Current No. 2 on the Jeep Leaderboard Courtney Conlogue (USA) looked on form in her Round 1 heat against Keely Andrew (AUS) and replacement surfer Bianca Buitendag (ZAF). The two-time defending event winner posted the equal highest single-wave score of the day, a 7.67, to build a 13.17 heat total and earn her place in Round 3.
"This wave is really tricky and it keeps you on your toes," said Conlogue. "I'm always learning out here and I think that's why I love this spot so much. Confidence really plays into things out there because you really have to back yourself and not hesitate. The tides here in Europe are so drastic so you really have to keep your eyes on the surf. I'm really happy to be through to Round 3."
Tatiana Weston-Webb (HAW) stole a narrow victory over Bronte Macaulay (AUS) and Tyler Wright (AUS) in Heat 5 with a 7.00 on her final score. The reigning WSL Champion lost out by less than a point and will have to surf again in elimination Round 2 alongside Macaulay.
"I love this place and Guincho is break that's just really unpredictable," said Weston-Webb. "There were some really fun waves today – I don't think I got the best ones of the heat but I knew I could get a score. I had lots of fun and believed in myself so I'm stoked. Round 1 is an opportunity to show our repertoire and go all out so I like to push my limited in the non-elimination rounds."
Silvana Lima (BRA), fresh from victory at the Swatch Women's Pro, dominated Round 1 Heat 6 to claim a convincing win over Johanne Defay (FRA) and Nikki Van Dijk (AUS) and sail through to Round 3.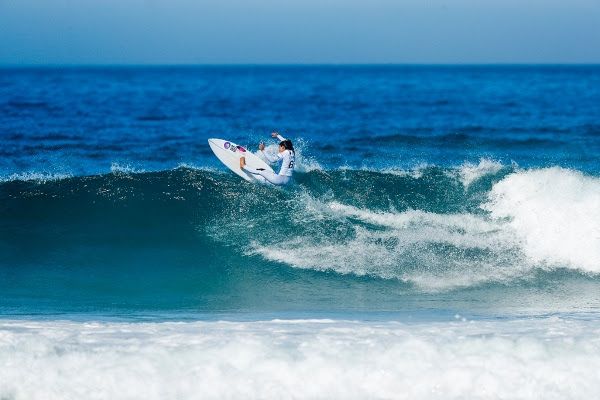 Recent winner in Trestles, Silvana Lima (BRA) opened her Cascais campaign with the day's best action.
Credit: © WSL / Masurel
"I'm feeling really confident after Trestles," Lima said. "The waves here are really fun and really suit me so I'm very happy. I'm stoked to make it through and I'm just going to take it heat by heat from here. I'd love another win though!"
Following Women's Round 1 competition ran through the remaining 12 heats of Men's Round 2.
Championship Tour surfers Frederico Morais (PRT) and Leonardo Fioravanti (ITA) succeeded where their fellow rookie Ian Gouveia (BRA) failed, advancing into Round Three to keep their Portuguese campaign alive. While Morais' future amongst the Top 34 looks pretty bright, currently sitting 11th, Fioravanti will likely need a strong back up season on the Qualifying Series to hope for a second year amongst the world's best.
"I think I can still re-qualify through both tours," Fioravanti reflected. "I'll need big results for sure, but I'll think about all that after this event, depending on how I go here. I love a challenge so this end of the season will be exciting, and in the worst case where I don't make the cut, I'm excited about some big trips next year as well, so we'll see what happens. I've had a hard first half of the season, being as competitive as I am, it was hard to lose so much, but now I'm starting to enjoy myself more. I know I have a lot more years ahead of me so it's not that big of a deal if I didn't re-qualify right away."
Another rookie in need of a massive change of rhythm is Australia's Ethan Ewing, who is yet to crack the third round on the Championship Tour this season. The World Junior Champion has had a hard time adjusting to the elite stage and was unable to repeat his dominance on the qualifying series like last year.
"It was pretty tricky out there, really hard to find and choose the right ones," Ewing said. "But I have a good board under my feet and I'm feeling confident right now. That inside section triples up and is hard to negotiate but I can fix a few little things hopefully I can keep going in this event."
Qualifying Series leader Jesse Mendes (BRA) had no problem whatsoever to keep his incredible 2017 run going, taking yet another win with a solid heat total. The defending champion in Cascais, whose result last season was nearly enough to propel him on the CT, surfed completely free of qualification thoughts and looked deadly in the Portugal lineup.
The day wrapped up with a big performance from Brazil's rising talent Mateus Herdy who took control of the last Round Two matchup against ex and current CT surfers Ryan Callinan (AUS) and Sebastian Zietz (HAW) as well as Marco Giorgi (URY).
Competitors and event officials will reconvene at 7:45 a.m Thursday for a potential start of either the men or women's events.
Mid-period NW swell builds through Wednesday afternoon and holds Thursday, with the most size at Guincho, which will be in the head high/overhead range on sets (Carcavelos small). Favorable morning wind is likely both days. Another NW swell may build in late Friday and peak Saturday and looks a couple notches larger than the Wed/Thur swell at this point, although strong N/NW wind is also possible. An even larger WNW/NW swell is possible toward the end of the waiting period, around October 3rd.Surfline.
The EDP Billabong Pro Cascais 2017 runs in conjunction with the Cascais Women's Pro, stop No. 8 on the WSL Women's Championship Tour and both events are broadcast LIVE via WorldSurfLeague.com, the WSL app and on Facebook LIVE via the WSL's Facebook page.  Also check the local listings for coverage on CBS Sports Network in the U.S., Fox Sports in Australia, ESPN in Brazil, Sky NZ in New Zealand, SFR Sports in France and Portugal, Sport TV in Portugal and the EDGEsport Network.
For more information, check out WorldSurfLeague.com.
The EDP Billabong Pro Cascais 2017 is supported by the Câmara Municipal de Cascais (Cascais City Council), Edp, Billabong, Tourism Portugal (Portuguese Waves), , Jogos Santa Casa, MEO&Moche, Hertz, MEO Beach Cam and CP (Comboios de Portugal/Trains of Portugal) among others.
CASCAIS WOMEN'S PRO ROUND 1 RESULTS:
Heat 1: Lakey Peterson (USA) 12.50, Pauline Ado (FRA) 11.70, Sage Erickson (USA) 10.14
Heat 2: Carissa Moore (HAW) 13.20, Stephanie Gilmore (AUS) 12.13, Malia Manuel (HAW) 10.30
Heat 3: Sally Fitzgibbons (AUS) 11.67, Coco Ho (HAW) 10.66, Teresa Bonvalot (PRT) 8.64
Heat 4: Courtney Conlogue (USA) 13.17, Keely Andrew (AUS) 11.10, Bianca Buitendag (ZAF) 9.77
Heat 5: Tatiana Weston-Webb (HAW) 13.17, Bronte Macaulay (AUS) 12.37, Tyler Wright (AUS) 12.26
Heat 6: Silvana Lima (BRA) 14.00, Johanne Defay (FRA) 12.30, Nikki Van Dijk (AUS) 11.30
CASCAIS WOMEN'S PRO ROUND 2 MATCH-UPS:
Heat 1: Nikki Van Dijk (AUS) vs. Pauline Ado (FRA)
Heat 2: Johanne Defay (FRA) vs. Malia Manuel (HAW)
Heat 3: Tyler Wright (AUS) vs. Teresa Bonvalot (PRT)
Heat 4: Stephanie Gilmore (AUS) vs. Bianca Buitendag (ZAF)
Heat 5: Sage Erickson (USA) vs. Bronte Macaulay (AUS)
Heat 6: Keely Andrew (AUS) vs. Coco Ho (HAW)
UPCOMING EDP BILLABONG PRO CASCAIS ROUND 3 MATCHUPS:
Heat 1: Jeremy Flores (FRA), Cam Richards (USA), Alex Ribeiro (BRA), Michael Dunphy (USA)
Heat 2: Kanoa Igarashi (USA), Stuart Kennedy (AUS), Patrick Gudauskas (USA), Joshua Moniz (HAW)
Heat 3: Davey Cathels (AUS), Deivid Silva (BRA), Parker Coffin (USA), Joan Duru (FRA)
Heat 4: Noe Mar McGonagle (CRI), Wade Carmichael (AUS), Ricardo Christie (NZL), Italo Ferreira (BRA)
Heat 5: Jadson Andre (BRA), Mikey Wright (AUS), Jorgann Couzinet (FRA), Connor O'Leary (AUS)
Heat 6: Thiago Camarao (BRA), Keanu Asing (HAW), Mihimana Braye (PYF), Kalani Ball (AUS)
Heat 7: Frederico Morais (PRT), Willian Cardoso (BRA), Victor Bernardo (BRA), Carlos Munoz (CRI)
Heat 8: Tanner Hendrickson (HAW), Leonardo Fioravanti (ITA), Tomas Hermes (BRA),Adam Melling (AUS)
Heat 9: Maxime Huscenot (FRA), Ethan Ewing (AUS), Hiroto Ohhara (JPN), Marc Lacomare (FRA)
Heat 10: Jackson Baker (AUS), Jesse Mendes (BRA), Nat Young (USA), Caio Ibelli (BRA)
Heat 11: Alejo Muniz (BRA), Miguel Pupo (BRA), Michael February (ZAF), Ryan Callinan (AUS)
Heat 12: Mateus Herdy (BRA), Griffin Colapinto (USA), Cooper Chapman (AUS), Ezekiel Lau (HAW)
REMAINING EDP BILLABONG PRO CASCAIS ROUND 2 MATCHUPS:
Heat 13: Frederico Morais (PRT) 16.00, Adam Melling (AUS) 12.93, Tomas Fernandes (PRT) 11.73, Gony Zubizarreta (ESP) 8.17
Heat 14: Willian Cardoso (BRA) 13.90, Tomas Hermes (BRA) 11.53, Marco Fernandez (BRA) 10.24, Lucas Silveira (BRA) 10.10
Heat 15: Leonardo Fioravanti (ITA) 12.83, Victor Bernardo (BRA) 11.23, David Do Carmo (BRA) 7.97, Flavio Nakagima (BRA) 7.37
Heat 16: Tanner Hendrickson (HAW) 15.23, Carlos Munoz (CRI) 13.53, Ian Gouveia (BRA) 12.13, Rafael Teixeira (BRA) 11.23
Heat 17: Maxime Huscenot (FRA) 13.96, Caio Ibelli (BRA) 12.24, Tanner Gudauskas (USA) 11.80, Bino Lopes (BRA) 10.63
Heat 18: Ethan Ewing (AUS) 14.07, Nat Young (USA) 13.10, Beyrick De Vries (ZAF) 11.50, Jonathan Gonzalez (CNY) 10.10
Heat 19: Jesse Mendes (BRA) 14.60, Hiroto Ohhara (JPN) 11.67, Mitch Crews (AUS) 9.73, Dusty Payne (HAW) 9.54
Heat 20: Jackson Baker (AUS) 14.87, Marc Lacomare (FRA) 14.06, David Van Zyl (ZAF) 12.86, Soli Bailey (AUS) 12.03
Heat 21: Alejo Muniz (BRA) 13.00, Ezekiel Lau (HAW) 12.90, Mitchel Coleborn (AUS) 12.00, Jack Robinson (AUS) 10.94
Heat 22: Miguel Pupo (BRA) 13.90, Cooper Chapman (AUS) 12.50, Robson Santos (BRA) 9.37, Oney Anwar (IDN) 6.90
Heat 23: Griffin Colapinto (USA) 13.67, Michael February (ZAF) 13.47, Luel Felipe (BRA) 12.00, Timothee Bisso (GLP) 5.96
Heat 24: Mateus Herdy (BRA) 16.16, Ryan Callinan (AUS) 14.03, Marco Giorgi (URY) 12.67, Sebastian Zietz (HAW) 8.40