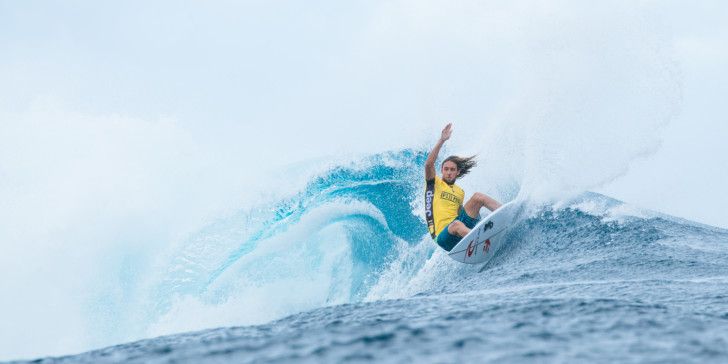 – WSL JEEP FRONTRUNNER WILKINSON ADVANCES THROUGH TO ROUND 3
– PAYNE, FANNING AND MEDINA EXCEL IN CHALLENGING CONDITIONS
– TOP 10 SURFERS IBELLI, ZIETZ AND ANDINO ELIMINATED FROM COMPETITION
Matt Wilkinson (AUS), current Jeep Ratings' Leader, dispatched 2016 WSL Rookie Alex Ribeiro in Round 2. Wilkinson will face Alejo Muniz (BRA) in the final heat of Round 3 when competition resumes.
Image: WSL / Sloane
| | |
| --- | --- |
| Location:    | Tavarua, Fiji |
| Event window: | June 5 – 17, 2016 |
| Today's call: | Men's Round 2 complete |
| | |
| --- | --- |
| Conditions: | 4 – 6 foot (1 – 2 metre) |
TAVARUA, Fiji (Monday, June 6, 2016) –  The Fiji Pro, stop No. 5 of 11 on the 2016 Samsung Galaxy WSL Championship Tour, witnessed heated head-to-head match-ups as the world's best surfers fought through elimination Round 2 in four-to-six foot (1 – 2 metre) waves at Cloudbreak.
Matt Wilkinson (AUS), current Jeep Ratings' Leader, eliminated 2016 WSL RookieAlex Ribeiro (BRA) in a close Round 2 match-up. Ribeiro was quick to get points on the board and maintained the lead for a majority of the heat. With ten minutes left on the clock, Wilkinson answered with two back-to-back 6-point rides to take control away from the rookie. As the clock wound down Ribeiro made one last attempt but was not able to secure the 7.43 required to advance. Wilkinson will face Alejo Muniz (BRA) in Round 3 when competition resumes.
"It was a super slow heat," Wilkinson said. "I went out and thought that it was time for a set, but there was not anything for about fifteen minutes. Alex started with a few mid-range scores, which should not be too scary out there, but I was starting to think that it was never going to break. I started to get worried and went on a few silly waves. The waves then turned on and I think we were out of rhythm because of the slow start, but I put two average scores up and made it through."
CT veteran Taj Burrow (AUS) will continue his hunt for a big result in Fiji as he dispatched 2016 WSL Rookie Caio Ibelli (BRA) in Heat 7. Although Burrow got a jump-start on Ibelli with a solid 7.27 on his opening exchange, Ibelli continued to chip away with 6-point rides. A set out the back gave Burrow an opportunity to take the lead with only ten minutes left in the heat. Burrow unleashed a critical two-turn combination to earn an excellent 8.03. Ibelli gave one last attempt at the buzzer, but was not able to get to his feet in time. The rookie's 13.03 heat score fell short of the veteran's 15.30 and the Brazilian goes home in 25th place.
"I am feeling pretty good, but I have to admit that I was super nervous," said Burrow. "Going out at this event is a fairytale ending for me regardless of the result, but I was really scared to get last. My nerves are getting to me a bit because I feel extra eyes on me to see how it unfolds. It is a dream result regardless of the actual contest result because I am on my favorite island with my extended family and friends. I could not be happier. It is a great way to go out no matter how the finish is."
Injury replacement and former CT competitor Dusty Payne (HAW) locked in the highest single-wave score of the day, an excellent 9.33, in his Round 2 match-up against Nat Young (USA). A 16.50 heat total earned the win for Payne and sent Young home in equal 25th place, his worst result of 2016 so far.
"I'm stoked I'm actually putting heats together," Payne said. "I think it's because I'm not on tour and there's no pressure. I'm just having fun and enjoying it a lot more than I was when I was on tour full time – I'd get too nervous and couldn't surf. I want to let my surfing do the talking. To surf sick waves like Cloudbreak is pretty special."
Mick Fanning (AUS), three-time WSL Champion, will advance to Round 3 after winning his heat against compatriot Kai Otton (AUS). Fanning showcased his strong backhand with an excellent 8.17 score on his opening wave but trailed Otton for a majority of the heat in need of a second score. Fanning landed a critical snap in the pocket to earn a solid 7.93 to secure a 16.10 heat score and the advantage. Otton, who was in need of an excellent-range score, fought back with multiple attempts and delivered a 7.50. It was not enough to fend off Fanning, and Otton is eliminated from the competition.
"It is hard surfing against one of your good friends," Fanning said. "Kai and I have been staying in the same room together and that is our third heat in a row here that we've had together. You want to go out there and respect each other and let the surfing do the talking, which is how it went in the end. It is hard to lose a mate. It is definitely a different feeling taking time off. At the moment I am feeling pretty light and carefree when it comes to putting on the jersey. As time goes on I'll find out what is next. I still have some more trips to do and places to go, and hopefully I will come up with a decision soon."
2016 rookie, Kanoa Igarashi (USA) eliminated current No. 4 on the Jeep LeaderboardSebastian Zietz (HAW) following their Round 2 clash. Igarashi kept busy throughout the heat, posting 11 scores, to earn a 13.17 heat total and the win. Today's result, equal 25th place, is the worst of the year for Zietz.
"I came to Fiji early during a good swell and I think that helped me out a bunch," Igarashi said. "I got to learn the reef and surf some of the best waves of my life. I think that experience is definitely helping me out here now. Seabass [Sebastian Zietz] is a good friend of mine and we both have Tommy Whitaker as a coach. That was one of the first heats I've ever had with Seabass and he is one of my favorite surfers, so I am stoked to win that one."
"It finally felt like I did a good turn after feeling like I was struggling throughout the heat," Zietz said. "But that last wave went flat, so there was nothing I could really do on that. I showed up a day before the contest started, so I felt like I did not get to get my feet in the wax in this competition. Kanoa is a great surfer and it has been cool getting to know him. My focus now is on J-Bay. I want to get there early and get the feet in the wax. I will hopefully have a good result there."
The final match-up of Round 2 saw Conner Coffin (USA) and Davey Cathels (AUS)battle for an opportunity to stay in the competition. Both rookies went wave for wave, but it was the Californian who closed the heat out with a 13.17 heat score over Cathels' 10.16.
Igarashi and Coffin are the last 2016 WSL Rookies left in the draw after surviving their Round 2 heats against Zietz and Cathels, respectively. The rookies will continue their hunt for a big result in Fiji.
2015 event runner-up Julian Wilson (AUS) was narrowly eliminated by Alejo Muniz (BRA) in Round 2 of the event. The pair traded mid-range scores, but Muniz pulled out a solid 7.67 to edge out Wilson by 2.83 points. Wilson will walk away with a 25th place finish, his third of the 2016 season.
"Julian is an amazing surfer and one of my favorites," said Muniz. "Julian is a good friend of mine and he made the final last year. I knew it was going to be a hard heat, so I just tried to focus on myself and try to do my best. A month ago I was really happy to be in the water and now my focus is different as I want to make heats."
Italo Ferreira (BRA), current No. 2 on the Jeep Leaderboard, eliminated local favoriteTevita Gukilau (FJI) in the opening heat of Round 2. Ferreira dropped the first score in the heat with a 4.50 and captured a 6.17 under Gukilau's priority. Gukilau, who gained entry into the event by winning the Trails, was not able to find the waves to defeat Ferreira.
"This heat was so hard," Ferreira said. "I got the first set of the heat, but I fell in the tube. This morning was so good, but now it is a bit slower and more challenging. Last year was a good result here and this year I hope to be better. I am just enjoying getting good waves and good barrels."
Gabriel Medina (BRA), 2014 event winner, blazed through Heat 3 with one of the day's top scores, a strong 15.94, against rookie Ryan Callinan (AUS). Medina pulled off a variety of impressive maneuvers to capture the win against the Australian.
"That was a tough heat against Ryan," said Medina. "Ryan has been surfing really well and I knew it would be challenging one. Luckily I got that 8.17 and I am stoked to make it through. Hopefully I can get more waves in Round 3."
When competition resumes, up first will be Medina against Matt Banting (AUS) in the opening heat of Round 3.
Event organizers will reconvene tomorrow at 6:30am local time for a possible 7am start.(9am HI Time)
Fiji Pro Round 2 Results:
Heat 1: Italo Ferreira (BRA) 10.67 def. Tevita Gukilau (FJI) 3.50
Heat 2: Matt Wilkinson (AUS) 13.10 def. Alex Ribeiro (BRA)11.10
Heat 3: Gabriel Medina (BRA) 15.94 def. Ryan Callinan (AUS) 14.10
Heat 4: Alejo Muniz (BRA) 14.00 def. Julian Wilson (AUS) 11.17
Heat 5: Mick Fanning (AUS) 16.10 def. Kai Otton (AUS) 14.40
Heat 6: Dusty Payne (HAW) 16.50 def. Nat Young (USA) 14.67
Heat 7: Taj Burrow (AUS) 15.30 def. Caio Ibelli (BRA) 13.03
Heat 8: Kanoa Igarashi (USA) 13.17 def. Sebastian Zietz (HAW) 10.53
Heat 9: Josh Kerr (AUS) 15.00 def. Kolohe Andino (USA) 14.74
Heat 10: Michel Bourez (PYF) 11.50 def. Stuart Kennedy (AUS) 8.83
Heat 11: Adrian Buchan (AUS) 14.84 def. Jack Freestone (AUS) 13.16
Heat 12: Conner Coffin (USA) 13.17 def. Davey Cathels (AUS) 10.16
Fiji Pro Round 3 Match-Ups:
Heat 1: Gabriel Medina (BRA) vs. Matt Banting (AUS)
Heat 2: Michel Bourez (PYF) vs. Kanoa Igarashi (USA)
Heat 3: Filipe Toledo (BRA) vs. Dusty Payne (HAW)
Heat 4: Jordy Smith (ZAF) vs. Kelly Slater (USA)
Heat 5: Wiggolly Dantas (BRA) vs. Conner Coffin (USA)
Heat 6: Adriano de Souza (BRA) vs. Keanu Asing (HAW)
Heat 7: Italo Ferreira (BRA) vs. Jadson Andre (BRA)
Heat 8: Jeremy Flores (FRA) vs. Josh Kerr (AUS)
Heat 9: Mick Fanning (AUS) vs. Adam Melling (AUS)
Heat 10: John John Florence (HAW) vs. Taj Burrow (AUS)
Heat 11: Adrian Buchan (AUS) vs. Miguel Pupo (BRA)
Heat 12: Matt Wilkinson (AUS) vs. Alejo Muniz (BRA)
WorldSurfLeague.com