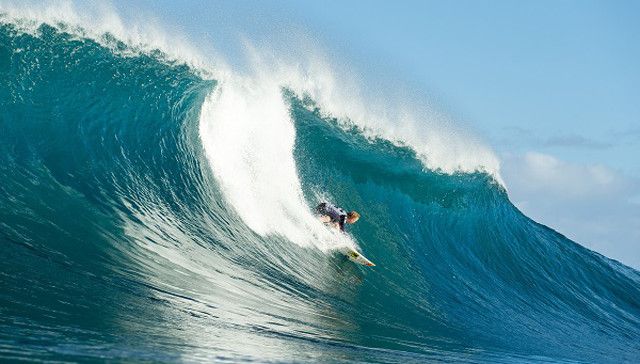 16 sec NW with Surf' 8-12′ on the inside and 15′ on the 2nd reefs. Marginal but exciting gems in the rough. Dont miss a moment. SNN.
We wont see surf like this today. Non CT surfer Jamie O'Brien who will surf in the event © WSL/Cestari
World Surf League Championship Tour event
Pipeline, North Shore Oahu Hawaii
8 – 20 December 2015
Significant swell is here.
Surf News Network, 9 December, 2015 – Pipeline – With extra large surf at the world-famous Banzai Pipeline this morning, event organizers have called the Pipe Invitational off for the day.
The $100,000 Pipe Invitational will see 32 specialists compete for two wildcards into the final event of the 2015 Samsung Galaxy World Surf League (WSL) Championship Tour season, the Billabong Pipe Masters in Honor of Andy Irons, once competition commences.
Whoever advances through today's Pipe Invitational will have a special role to play in the main event as they will draw one of six remaining WSL Title contenders in the opening rounds of competition.
Three-time WSL Champion and current Jeep Rankings Leader Mick Fanning (AUS), Filipe Toledo (BRA), Adriano de Souza (BRA), reigning WSL Champion Gabriel Medina (BRA), Owen Wright (AUS) and defending Pipe Master Julian Wilson (AUS) are all in the running for the 2015 WSL Title and will be showcased LIVE this morning in a special press conference on the WSL Dawn Patrol show.
Event organizers will reconvene tomorrow morning to reassess conditions.
When competition commences, up first will be 2016 WSL CT rookie Jack Freestone (AUS), 2000 WSL Champion Sunny Garcia (HAW), Griffin Colapinto (USA) and Nathan Fletcher (USA) in the opening heat of the Pipe Invitational.
The Pipe Invitational and Billabong Pipe Masters will be webcast LIVE on WorldSurfLeague.com and on the WSL app.
The world's best surfing will also be broadcast LIVE on Fox Sports in Australia, MCS Extreme in France, EDGE Sports in China, South Korea, Malaysia and other territories and on Globo TV in Brazil.
A new/strong WNW swell will build over Tuesday (mainly over the PM) into Wednesday – strongest Tuesday night/early Wednesday with Pipe becoming maxed out by Wednesday morning. Moderate East-ENE Trades for Tuesday, becoming quite breezy through Wed/Thurs, then decreasing some over Friday and into the weekend while veering ESE. Surf eases some for Thursday, but still solid with Pipe handling it better. Fading surf over Fri/Sat. Possible new bumps of NW swells for Sunday the 13th and then around the 15th-17th. Surfline.
Pipe Invitational Round 1 Match-Ups:
Heat 1: Jack Freestone (AUS), Sunny Garcia (HAW), Griffin Colapinto (USA), Nathan Fletcher (USA)
Heat 2: Mason Ho (HAW), Dane Reynolds (USA), Gavin Gillette (HAW), Makai McNamara (HAW)
Heat 3: Ian Walsh (HAW), Joel Centeio (HAW), Kaimana Jaquias (HAW), Mikey Bruneau (HAW)
Heat 4: Jack Robinson (AUS), Kalani David (HAW), Hank Gaskell (HAW), Isaiah Moniz (HAW)
Heat 5: Ezekiel Lau (HAW), Seth Moniz (HAW), Alex Smith (HAW), Nathan Florence (HAW)
Heat 6: Josh Moniz (HAW), Kiron Jabour (HAW), Jamie O'Brien (HAW), Myles Padaca (HAW)
Heat 7: Granger Larsen (HAW), Kaito Kino (HAW), Kekoa Cazimero (HAW), Evan Valiere (HAW)
Heat 8: Tanner Hendrickson (HAW), Billy Kemper (HAW), Olamana Eleogram (HAW), Luke Shepardson (HAW)
Billabong Pipe Masters Round 1 Match-Ups:
Heat 1: Italo Ferreira (BRA), Adrian Buchan (AUS), Glenn Hall (IRL)
Heat 2: Owen Wright (AUS), Jadson Andre (BRA), Dusty Payne (HAW)
Heat 3: Gabriel Medina (BRA), Keanu Asing (HAW), TBD
Heat 4: Adriano de Souza (BRA), Michel Bourez (PYF), TBD
Heat 5: Filipe Toledo (BRA), Kolohe Andino (USA), TBD
Heat 6: Mick Fanning (AUS), Sebastian Zietz (HAW), TBD
Heat 7: Julian Wilson (AUS), Kai Otton (AUS), Ricardo Christie (NZL)
Heat 8: Jeremy Flores (FRA), Matt Wilkinson (AUS), Jordy Smith (ZAF)
Heat 9: Kelly Slater (USA), Taj Burrow (AUS), C.J. Hobgood (USA)
Heat 10: Nat Young (USA), John John Florence (HAW), Brett Simpson (USA)
Heat 11: Bede Durbidge (AUS), Wiggolly Dantas (BRA), Adam Melling (AUS)
Heat 12: Josh Kerr (AUS), Joel Parkinson (AUS), Miguel Pupo (BRA)