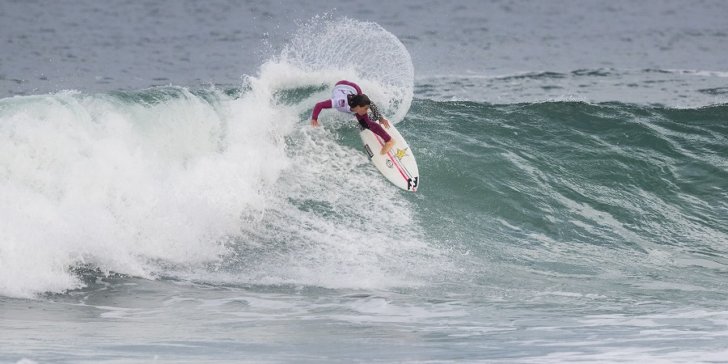 WOMEN'S WORLD TITLE RACE NOW HEADS TO BEACHWAVER MAUI PRO
HAWAII WOMEN HOLD DOWN HALF OF THE REMAINING HEATS
QUIKSILVER PRO FIELD NARROWED TO 12 COMPETITORS
 Courtney Conlogue (USA) threw a wrench in the World Title race today with a win over 6x WSL Champion Stephanie Gilmore (AUS) in Round 3 of the Roxy Pro France. Credit: © WSL / Poullenot
| | |
| --- | --- |
| Location:    |    Seignosse/Hossegor/Capbreton, Landes, Nouvelle-Aquitaine, France |
| Event window: |    October 3 – 14, 2018 |
| Today's Call: |    Women's & Men's Round 3 complete |
| Conditions: |    4 – 6 foot |
PLAGE DES CULS NUS – Hossegor, Landes, Nouvelle-Aquitaine, France (Thursday, October 11, 2018) – The Roxy Pro and Quiksilver Pro France, Stop No. 9 on the World Surf League (WSL) Championship Tour (CT), witnessed a day full of upsets and drama during women's Round 3 and men's Round 3.
World No. 1 Stephanie Gilmore (AUS) and World No. 2 Lakey Peterson (USA) were both eliminated in Equal 9th place today, which will now push the World Title race to the Maui Beachwaver Pro, the last stop on the women's CT.
Gilmore was dispatched by California's Courtney Conlogue (USA), who will now advance into the Quarters alongside Malia Manuel (HAW). Gilmore's third-place finish behind Conlogue and Manuel in Round 3 Heat 2 terminated all hopes of a seventh World Title coronation in France.
"In these conditions, I feel like it's good to work with the currents and play it to your favor," Conlogue said. "It gives you an option to see the wave happening, cause trying to come in when you're too far out is a lot trickier with the rips. I knew Steph had a lot on the line but I have my own battle with myself so I was just focusing on my process to execute my plan."
Gilmore scored the heat's best wave, an excellent 8.27 (out of a possible 10), in the last few minutes with a long ride and a combination of great backhand gauges, but couldn't get back in the lineup fast enough to get another ride. Despite the loss, Gilmore's seventh World Title is still within close striking distance.
"I think at the beginning I just missed a couple of opportunities when I had priority," Gilmore said. "Then I was starting to stress and just kept making mistakes. I got that one in the end and it was a good score but the problem was my other scores. It was just tough to swallow. It's the worst feeling ever when you train so hard. Lakey (Peterson) and I both had a shocker "
Hawaii's Coco Ho took good notice of the previous heat drama and added her own touch by eliminating the current World No. 2 Lakey Peterson (USA). Ho went to town on the long lefts for a healthy 13.34 total (out of a possible 20), while goofyfoot Bronte Macaulay (AUS) was the first surfer to shine on her forehand, finding her own gems to advance into the Quarters for the third time this season.
"At the beginning of the year I figured this round would be pretty doable, but it's gotten me until this back half," Ho said. "I messed up and Lakey (Peterson) got that 6 under my priority, but then I got my 7 under theirs and my last 6 under Lakey's, so it was about who was in the sweet spot. If I could sit on this left for the rest of the event it could maybe be a Keanu story. It's really fun, but we'll see what the forecast is like for tomorrow, everything could change again."
Following Gilmore's early exit, Peterson had an opportunity to make up ground in the World Title race but couldn't quite match her opponents' form in Round 3. This 9th place exit in France is a second throwaway in the Californian's season and will seriously complicate things for her in the last remaining event in Hawaii.
"That was definitely a chance for me to get into a really good position heading into Hawaii and I kind of felt like the chips would fall into place right now," Peterson said. "Honestly I'm just disappointed in my surfing, I haven't been able to surf a lot these last few days I've been a little bit sick and I think I let a couple things get in my head. It's cool that I'm still in the race and that it's going to Hawaii. I'm going to go home and rest up, it's been a little hectic recently and I need a little breather."
The World Title scenarios are as follows:
– Gilmore will win the World Title with a 3rd or better at the Beachwaver Maui Pro.
– If Gilmore finishes 5th or worse, Peterson must win the event to force a surf-off* for the World Title.
*In the event of a tie for any World Title at the end of the Surfing Season, the tied Surfer will have a "surf-off" during the final Event, which will have the format determined by the Commissioner's Office.
Three-time WSL Champion Carissa Moore (HAW) put on a clinic right away, facing French representatives from Reunion Island and Tahiti, Johanne Defay (FRA) and Vahine Fierro (PYF).
Moore radiated confidence as she attacked the clean walls on her backhand, mixing carves and snaps from the outside to the shorey, even adding a little fun with a backside 360. The Hawaiian built an impressive 16.04 scoreboard, the highest of the entire event so far. Defay placed second and advanced into the Quarters while Roxy wildcard Fierro placed equal 9th.
"The conditions were fun this morning down the beach where the men were surfing yesterday," Moore said. "The past couple of years, I just loved the atmosphere here, I love the food and the people. I love the ever-changing conditions, I think it's a really good challenge and I think it takes the pressure off of overthinking things. I just feel really present when I'm at this event."
In the last heat of women's Round 3, World No. 3 Tatiana Weston-Webb (BRA) capitalized on the frontrunners' early exits and made sure to advance into the Quarters after back-to-back, disappointing 9th place results at the Vans US Open and the Surf Ranch Pro.
"At the beginning of my heat, my coach and I had a strategy and it went completely opposite," Weston-Webb said. "So I just tried to reboot and reset. You always have to be ready to fight and adjust no matter where you are in the heat. Watching these last few days, especially the men, it's been a lot of tiny turnarounds at the very end so for me it was about paying attention to how to control a heat. This round is definitely more intense so everyone stepped up their game."
Replacement wildcard Macy Callaghan (AUS) managed to squeeze into the second advancing position and eliminated perennial threat Sally Fitzgibbons (AUS) by 0.13 to make her first Quarterfinal appearance this season.
The Quiksilver Pro France remaining five heats of Round 3 followed as the tide dropped and before a strong south wind came to mess up the lineup in the afternoon.
Rookie Michael Rodrigues (BRA) took the debate to the air right away, scoring his best rides on two similar full forehand rotations as the peak shifted down the beach to short and punchy rights now. The Brasilian escaped a tense battle with Ezekiel Lau (HAW) and advanced out of Round 3 for only the third time this season.
"I love being here on the WSL tour with the best surfers in the world on the best waves," Rodrigues said. "Right now I feel exactly like I want to feel. I'm confident to go into the next heat. I think it was the right call to stop yesterday with the wind that came up and we have much better conditions this morning."
Mikey Wright (AUS) and Sebastian Zietz (HAW) defeated Joel Parkinson (AUS) and Griffin Colapinto (USA), respectively, on their way to Round 4, but the real drama came in the last seconds of an all-Californian matchup between Patrick Gudauskas (USA) and Kolohe Andino (USA). Andino was dominating the heat, sitting on a good 13.10 heat total, while Gudauskas needed a high 8 to turn the heat. Beach announcers counted down the end of the heat as Gudauskas started on a wave for a last-ditch effort. Andino, with priority, decided to start on the same wave, but did so after the buzzer, receiving an interference and losing the heat.
"I just had a terrible heat, probably one of the worst in a long time," Gudauskas said. "At the end, I needed a big score and I tried to get some distance from Kolohe to maybe try an air or something. I stood up on that wave and he stood up apparently after the horn. It's a terrible way to win a heat and I wasn't trying to do that but I've had a lot of terrible calls against me this year so I'll take it where I can get it."
In the last heat of the day, World No. 3 Julian Wilson (AUS) defeated the last remaining Frenchman in this event, local surfer Joan Duru (FRA).
The Quiksilver and Roxy Pro France will be broadcast LIVE on WorldSurfLeague.com and the WSL's Facebook page. Also, check local listings for coverage from the WSL's broadcast partners.
Local fans will be able to follow the event LIVE on a big screen on the Central square in Hossegor and enjoy movie screenings and music acts in various places during the event's waiting period.
Roxy Pro France Round 3 Results:
Heat 1: Carissa Moore (HAW) 16.04, Johanne Defay (FRA) 13.54, Vahine Fierro (PYF) 9.40
Heat 2: Courtney Conlogue (USA) 13.60, Malia Manuel (HAW) 12.60, Stephanie Gilmore (AUS) 12.54
Heat 3: Coco Ho (HAW) 13.34, Bronte Macaulay (AUS) 13.03, Lakey Peterson (USA) 12.37
Heat 4: Tatiana Weston-Webb (BRA) 14.34, Macy Callaghan (AUS) 13.30, Sally Fitzgibbons (AUS) 13.17
Roxy Pro France Quarterfinal Matchups:
QF 1: Carissa Moore (HAW) vs. Malia Manuel (HAW)
QF 2: Courtney Conlogue (USA) vs. Johanne Defay (FRA)
QF 3: Coco Ho (HAW) vs. Macy Callaghan (AUS)
QF 4: Tatiana Weston-Webb (BRA) vs. Bronte Macaulay (AUS)
Quiksilver Pro France Remaining Round 3 (H8-12) Results:
Heat 8: Michael Rodrigues (BRA) 13.53 def. Ezekiel Lau (HAW) 11.16
Heat 9: Mikey Wright (AUS) 11.53 def. Joel Parkinson (AUS) 10.90
Heat 10: Patrick Gudauskas (USA) 8.06 def. Kolohe Andino (USA) 6.77
Heat 11: Sebastian Zietz (HAW) 12.70 def. Griffin Colapinto (USA) 12.33
Heat 12: Julian Wilson (AUS) 13.53 def. Joan Duru (FRA) 10.36
Quiksilver Pro France Round 4 Matchups:
Heat 1: Matt Wilkinson (AUS), Conner Coffin (USA), Jordy Smith (ZAF)
Heat 2: Willian Cardoso (BRA), Adriano De Souza (BRA), Ryan Callinan (AUS)
Heat 3: Gabriel Medina (BRA), Michael Rodrigues (BRA), Mikey Wright (AUS)
Heat 4: Patrick Gudauskas (USA), Sebastian Zietz (HAW), Julian Wilson (AUS)