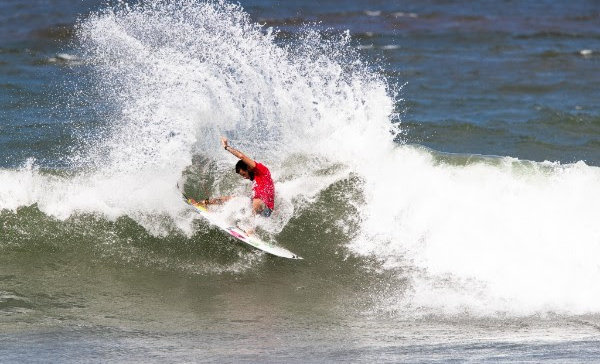 – STAGE SET FOR SATURDAY FINAL, WINNER TO TAKE VANS TRIPLE CROWN LEAD
Filipe Toledo (BRA) went against one of the toughest heats of the day, competitor and condition-wise. 
Credit:
 © WSL / Heff
Event / Rating:      Hawaiian Pro, Men's QS 10,000
Window:                 November 12 – 24
Today's Call:          Round 3 Heats 1- 8, Completed
Conditions:            4-6ft. NW swell, light offshore windsHaleiwa, Oahu/HAWAII — (Thursday, November 15, 2018) –
 The Hawaiian Pro has set the stage for another dramatic day of surfing in double overhead waves tomorrow at Haleiwa Ali'i Beach, with contest organizers eyeing a Saturday showdown for the final day of competition. Top international seeds hit the water today in Round 3 and although it was called off after Heat 8 due to declining surf and onshore winds, World Title Contender and Hawaiian Pro defending event winner 
Filipe Toledo (BRA)
 closed the day with an exciting performance against North Shore teens 
Baron Mamiya
(HAW)
, 18, and 
Wyatt McHale (HAW)
, 17, along with 
Santiago Muniz (ARG)
.The Hawaiian Pro is the opening event of the 36th Annual 
Vans Triple Crown of Surfing
 (VTCS) and second-to-last Qualifying Series (QS) competition on the World Surf League (WSL) circuit. The top-rated QS 10,000 attracts some of the best athletes from around the globe, including Championship Tour (CT) surfer Toledo, who is one event away from potentially securing his first World Title. Today, the Brazilian fought his way through the challenging surf at Haleiwa for second place advancement behind Mamiya.WSL Hawaii/Tahiti Nui Regional Junior Champion, Mamiya put on a clinic in Heat 8 with radical surfing and strategy. His best wave, an excellent 8.23, was for two frontside power turns with a snappy fin release as a closing statement. Ahead of this ride, he scouted an aerial opportunity under priority and split the peak with Toledo, who opted for the right.

Barron Mamiya. Credit: © WSL / Heff
"I saw him going right on that wave then I had 3rd or 4th priority and I was like, 'You know what, the wind is going, I've been doing a bunch of airs lately and I think I got them down,'" Mamiya said post-heat. "So I just kind of went for it. I almost fell, it was rolling up the windows when I landed it, and then I got my back-up."
Mamiya landed a backside tail-high reverse to the applause of beach fans and improved his scoreline. His second-best wave, a 7.73 earlier in the heat, was for a big frontside turn to an inside snap. Meanwhile, Toledo matched Mamiya's power with his own fast style and earned a 7.43 for a variety of frontside maneuvers on the right.
Earlier in the morning, Seth Moniz (HAW) took the heat win over Miguel Pupo (BRA), both who are vying for (and well within reach of) a place on the 2019 CT. Ranked within the Top 5 on the QS, Moniz made his heat count with an excellent 8.00 ride to open his campaign, then backed this up with a 5.93 after boosting a lofty frontside air. The regular-footer has stayed busy this year competing on the QS and earned his best result – a runner-up finish – at the Ichinomiya Chiba Open Men's QS 6,000.

Seth Moniz. Credit: © WSL / Heff
"It's tough, I've been traveling all year doing these QS's and I've been doing pretty well," said Moniz. "To come home with my family and my friends watching, it's a little nerve wracking, but once I get in the water all of that goes out the door. That's what I kind of figured out this year, just to be comfortable in the water in my heats and surf how I do in the freesurfs."
Following Heat 8, WSL Hawaii/Tahiti Nui Tour Manager and contest director, Marty Thomas, called the event off for the day.
"We had some good, contestable conditions this morning that we didn't want to walk away from," said Thomas. "But the last two heats have been a bit slow, the onshore winds have come up and we're expecting it to decrease over the course of the afternoon. There is a new swell forecasted, it's already showing on the far buoys for later tonight. It should be 6-8ft. tomorrow and we can finish the Round of 64, do the Round of 32 and have Quarters, Semi's and the Final hopefully on Saturday. We'll cherry pick the best time on Saturday."

The Hawaiian Pro event site at Haleiwa Ali'i Beach Park. Credit: © WSL / Heff
Each event of the 2018 Vans Triple Crown of Surfing will run on the four best days of surf within the event's holding window. LIVE streaming is available on WorldSurfLeague.com, VansTripleCrownOfSurfing.com, Facebook.com/wsllive and the WSL and Facebook apps (Facebook login required for mobile viewing). Or tune into Spectrum SURF Channel, which will televise the action LIVE and in replay on digital channels 20 and 1020HD, across the state of Hawaii.
Hawaiian Pro Results
Athletes listed in 1st through 4th
Round 3 (1st and 2nd advance, 3rd = 33rd place, 4th = 49th place)
H1: Ethan Ewing (AUS), Kanoa Igarashi (JPN), Jack Freestone (AUS), Liam O'Brien (AUS)
H2: Mateus Herdy (BRA), Jesse Mendes (BRA), Frederico Morais (PRT), Ramzi Boukhiam
H3: Finn McGill (HAW), Bino Lopes (BRA), Griffin Colapinto (USA), Ian Gouveia (BRA)
H4: Mason Ho (HAW), Michel Bourez (PYF), Lucas Silveira (BRA), Jorgann Couzinet (FRA)
H5: Peterson Crisanto (BRA), Willian Cardoso (BRA), Benji Brand (HAW), Jacob Willcox (AUS)
H6: Seth Moniz (HAW), Miguel Pupo (BRA), Adrian Buchan (AUS), Caio Ibelli (BRA)
H7: Ricardo Christie (NZL), Connor O'Leary (AUS), Tomas Hermes (BRA), Adin Masencamp (ZAF)
H8: Barron Mamiya (HAW), Filipe Toledo (BRA), Santiago Muniz (ARG), Wyatt McHale (HAW)
About Vans
Vans®, a VF Corporation (NYSE: VFC) brand, is the original action sports footwear, apparel and accessories brand. Vans® authentic collections are sold in 84 countries through a network of subsidiaries, distributors and international offices. Vans® has over 2,000 retail locations globally including owned, concession and partnership doors. The Vans® brand promotes creative self-expression in youth culture across action sports, art, music and street culture and delivers progressive platforms such as the Vans Park Series, Vans Triple Crown of Surfing®, Vans Pool Party, Vans Custom Culture, and Vans' cultural hub and international music venue, House of Vans.
The rights to the images attached or accessed by link within this email are granted by the Association of Surfing Professionals LLC ("World Surf League") for editorial use only. No commercial rights are granted to the Images in any way. The Images are provided on an "as is" basis and no warranty is provided for use of a particular purpose. Rights to individuals within the Images are not provided. The copyright is owned by World Surf League. Sale or license of the Images is prohibited. ALL RIGHTS RESERVED.The rights to the audio/visual content attached or accessed by link within this email ("Footage") are granted by the Association of Surfing Professionals LLC ("World Surf League") to you (the email recipient) and any entity you forward the same to pursuant to the terms and conditions below ("Footage License"): By opening or accessing the Footage, you accept the terms of this Footage License. The rights to the Footage (or any part of it) are royalty-free and granted for editorial use or news service use only and this Footage License will expire one (1) week from the date the event subject to this Footage License concludes. No rights for commercial use or modification of the Footage are granted in any way, including any association made with a commercial brand or message. Where the Footage is used in any way online, a link to www.worldsurfleague.com must exist where the Footage is visible. The Footage is provided, and must be used on an "as is" basis and no warranty is provided for its use by you. Rights to individuals or brands (except WSL) within the Footage are not granted. World Surf League owns all rights, including copyright to the Footage. ALL RIGHTS NOT SPECIFICALLY PROVIDED ABOVE ARE RESERVED BY WORLD SURF LEAGUE.
---
About the WSL
The World Surf League (WSL) is dedicated to celebrating the world's best surfing on the world's best waves through a variety of best-in-class audience platforms. The organization, headquartered in Santa Monica, is a global sport with regional offices in Australasia, Africa, North America, South America, Hawaii, Japan and Europe.The WSL has been championing the world's best surfing since 1976, annually running more than 180 global events across the Men's and Women's Championship Tours, the Big Wave Tour, Qualifying Series, Junior and Longboard Championships, as well as the WSL Big Wave Awards. The League possesses a deep appreciation for the sport's rich heritage while promoting progression, innovation and performance at the highest levels, and in doing so crowns the undisputed Men's and Women's World Champions across all tours.Showcasing the world's best surfing on its digital platform at WorldSurfLeague.com, the WSL has a passionate global fan base with millions tuning in to see world-class athletes like Kelly Slater, Stephanie Gilmore, Tyler Wright, John Florence, Lakey Peterson, Paige Alms, Kai Lenny, Taylor Jensen, Honolua Blomfield, Carissa Moore, Gabriel Medina, Courtney Conlogue and more battle on the most dynamic field of play of any global sport.For more information, please visit WorldSurfLeague.com