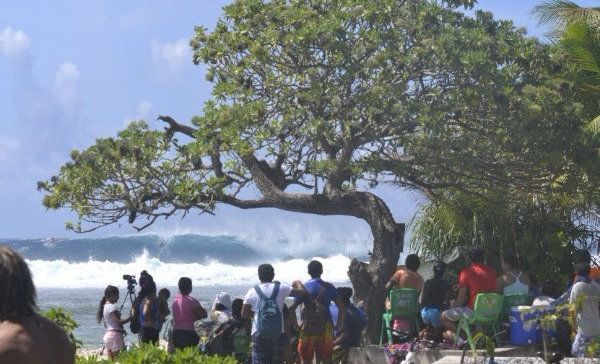 IT BEGINS WITH AIR TAHITI RANGIROA PRO 
– REGIONAL ATHLETES TO CONVERGE AT RIGHT-HAND BARREL IN TUAMOTU ARCHIPELAGO
– DEFENDING EVENT WINNER HEREMOANA LUCIANI (PYF) RETURNS FOR SECOND TITLE
Onlookers enjoy a show from Mauiki Raioha (PYF) as he drops into a barrel during the 2016 Rangiroa Pro.
Credit: © WSL / Poira
Haleiwa, Oahu/HAWAII – (Tuesday, February 20, 2018) — The World Surf League (WSL) Hawaii/Tahiti Nui region shifts from the North Shore of Oahu to the French Polynesian islands of Tahiti and Rangiroa for the next leg of competitive events on the regional Qualifying Series (QS). The first event of five qualification events in the region this year, the Air Tahiti Rangiroa Pro, a Men's QS1,000, has a holding window from March 5 – 9 and will take place at the hollow reef break at the Hotu a Ura pass on the ring of islets known as Rangiroa.
Now in its third year of partnering with the WSL, the Rangiroa Pro Open has consistently delivered technical barrels and high-performance opportunities to challenge athletes and create exciting competition. Defending event winner Heremoana Luciani (PYF) will look to guard his title and keep the win on home turf, however with names like 2017 World Junior Champion Finn McGill (HAW), 2017 Regional Champion Benji Brand (HAW) and Big Wave Tour No. 2 Kai Lenny (HAW) entered in the 48-man field, Luciani will have a fair amount of Hawaii threats looking to play spoiler.

Luciani carves an open face at the 2017 Air Tahiti Rangiroa Pro. Image: WSL/Rolland
"I don't feel any kind of pressure, I am just enjoying Polynesian life and really happy to compete at home," Luciani commented. "I train to win, and names are just names, everyone can win. This year I am going to follow the Hawaii/Tahiti Nui events and try to qualify for the Triple Crown, and I also will be in Europe for a few events."
After Luciani's win last year in Rangiroa, he went on to compete in seven additional events including three QS3,000's – the Martinique Surf Pro at Basse Point, Barbados Surf Pro at Drill Hall Beach and HIC Pro at Sunset Beach – and the coveted Hawaiian Pro, a QS10,000 and the first event of the Vans Triple Crown of Surfing. Luciani ranked 6th in the region for 2017; the 2018 Rangiroa Pro will be his competitive debut of the new year.
Another Tahitian standout, Ariihoe Tefaafana, will be on the hunt for his second QS victory after earning a maiden win at the 2017 Papara Pro Open. The highest placing Tahitian in the 2017 regional ratings, Tefaafana ended the year in the No. 4 position following the highly-competitive Vans Triple Crown season and will be working hard again to qualify for another coveted slot.

Tefaafana earned a 17th place finish at last year's Rangiroa event ahead of his win at Papara. Image: WSL/Rolland
Produced by the WSL and Fédération Tahitienne de Surf (Tahitian Surfing Federation), the Air Tahiti Rangiroa Pro is the third QS event of the Hawaii/Tahiti Nui season and is supported by Air Tahiti, the inter-island airline that covers 47 of the country's islands and connects more than 90 percent of the population. Surf fans can tune into live scoring and daily highlights during the Air Tahiti Rangiroa Pro at WorldSurfLeague.com, plus find daily recaps of the day's action and more on the event page.
Following the Air Tahiti Rangiroa Pro, the juniors and women will mix up the divisions for the Papara Pro Open, which features a Men's and Women's QS1,000 and a Men's and Women's Pro Junior competition. The events will take place at Tahiti's famous black sand beach of Papara, known for its punchy surf, variety of peaks and family-friendly atmosphere.
Tefaafana hopes to defend his title at his home break, the place of his first WSL victory, along with Maui's Savanna Stone (HAW), who also earned her first professional win last year at Papara. The final day of competition will be broadcast live via Polynesia 1re on local cable channels in Tahiti and online at http://la1ere.francetvinfo.fr/polynesie/.
WorldSurfLeague.com for more information.