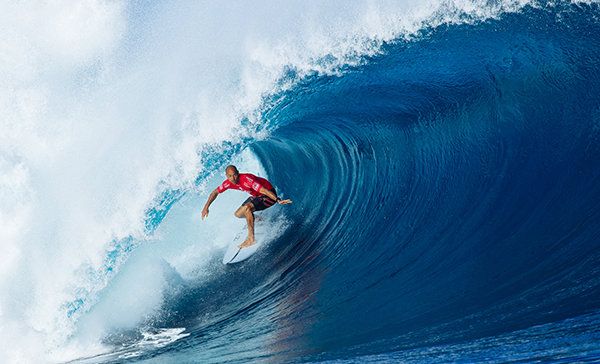 – THREE-YEAR SPONSORSHIP OF MEN'S AND WOMEN'S EVENT
11-time WSL Champion Kelly Slater (USA) & Founder of OuterKnown at the Championship Tour event in Fiji in 2016.
Credit: © WSL / Sloane
SANTA MONICA, CA/USA (Thursday, April 27, 2017) – The World Surf League (WSL) today announces Outerknown as the title sponsor of the iconic WSL Championship Tour event in Fiji. The three-year partnership includes both men's and women's competitions at the OK Fiji Pro, which runs this season from May 28 through June 16, 2017.
Founded by 11-time WSL Champion Kelly Slater and acclaimed designer John Moore, Outerknown is a coastal-minded clothing brand that explores the connections between style and sustainability. By viewing every aspect of their business through the lens of responsibility, they aim to protect natural resources, empower the people crafting their clothes, and inspire positive change within the industry. Outerknown's versatile collection is built with innovative, organic, and recycled materials sourced from factories that share their values.
Slater has delivered consistently barrier-breaking performances at the elite level in Fiji and the four-time event winner has a strong relationship with the island of Tavarua, making it his favorite wave, and the OuterKnown partnership a natural evolution.
"I fell in love with the small island of Tavarua a long time ago and I go back a few times every year." said Kelly Slater. "It's definitely my favorite escape and may be home to the happiest people on earth."
A staple on the globally-celebrated WSL Championship Tour schedule, the Fiji stop epitomizes the "Dream Tour" concept and exists as a fan and athlete favorite. Boasting two world-class lefthand reef breaks in Cloudbreak and Restaurants, Fiji consistently delivers some of the best surfing of the season. Defending event winners Johanne Defay and Gabriel Medina will lead the WSL elite back this year where Outerknown will support the event.
"We're very excited to welcome OuterKnown to the WSL family and look forward to working with them to showcase the world's best surfers at one of the most incredible events on the Championship Tour," said Beth Greve, WSL Chief Commercial Officer.
"OuterKnown was built on a foundation of style, sustainability and travel," said John Moore, Outerknown's Creative Director. "For us, Fiji brings together everything we stand for. It's the ultimate destination; lush jungles, crystal clear waters, perfect waves. You look around and are surrounded by jaw-dropping natural beauty. There's no better place on Earth to celebrate why we're working so hard to protect our ocean and wild places, and we hope to inspire new fans from all around the world to explore sustainability."
"The level of surfing on tour right now, on both the men's and women's sides, has never been higher," Stephanie Gilmore, 6X WSL Women's Champion and current 2017 tour frontrunner, said. "That's in part because we have amazing waves to perform on. Fiji has some of the best waves on the planet and is part of the fabric of the Championship Tour. Having Outerknown step up to support men's and women's surfing with the OK Fiji Pro for the next three years is a great thing for surfing."
The OK Fiji Pro gets underway with the women's competition on May 28 through June 2, followed by the men's event, which holds a competitive window of June 4 – 16. The events will be broadcast LIVE on WorldSurfLeauge.com